Summerlands Mansions Apartment
October 20, 2009
Grant Amon creates a dialogue between period, Japanese-inspired design and striking contemporary accents.
St Kilda, Melbourne is renowned for its splendid examples of apartment buildings, many of which were designed in Art Deco, Arts and Crafts and interwar Mediterranean styles. Some, like this one renovated by St Kilda architect Grant Amon, are sophisticated amalgams of styles and references. Summerland Mansions, built in 1919 on the corner of Acland and Fitzroy Streets, is significant not only for being one of the very first apartment types to combine flats, restaurants and shops in the one building, but also because of its rich interior with dark timber detailing and episodic planning. Although its design reflects late Arts and Crafts style as well as the Mediterranean and Californian bungalow styles, the interior particularly is demonstrative of Japanese influenced design, as seen in the work of Charles Rennie Mackintosh, with its gridded timber window detailing, plays of light and dark, and clarity of expression. Not surprisingly it was these qualities that both the client and architect loved about the original and mostly intact apartment and wanted to renew and maintain as part of the renovation project.
Amon''s brief was just as much about restoring some of those original elements, as it was to enliven the apartment and provide a contemporary upgrade.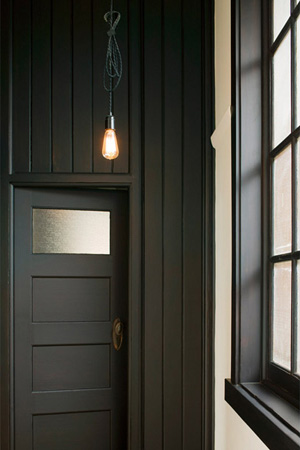 The kitchen, bathroom and laundry area have been completely renovated and a circulation opened up within the planning. An existing toilet has been replaced with a 'library passage', open at both ends with floor-to-ceiling book shelves lining one wall. At the apartment's rear an old covered-in veranda now houses a new laundry and study. And so what distinguishes this project and makes it such a refined apartment renovation is, first, the care taken to study and then restore the original architecture, its materiality, colouring, ambiance and detailing, and then, second, the elegance of the new work, which both pays heed to that original, but also offers selective moments of contrasts and the contemporary.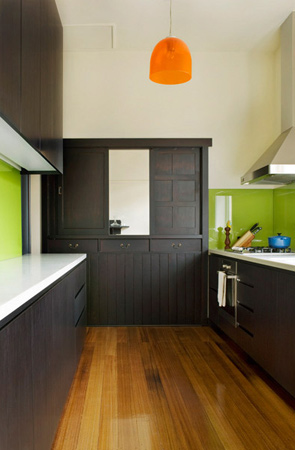 It is in the kitchen where this juxtaposition of new and old, alternatively blending into and then being distinguished sharply from the old, is most apparent. The original galley style layout has been maintained and new cupboards of dark painted timber match the original timber panelling found in the pantry, hallway and internal doors, frames and some windows. Against this, however, the architects have inserted white Corian bench tops with their seamless and moulded appearance, an apple green glass splashback and orange light fitting and shelves above the fridge. The old bathroom with its sagging floor and 70s spa bath has been completely stripped back and only the original timber panelling maintained and restored. Replacing the existing tiles, a white flecked deep brown marble has been laid that extends from the walls and down across the floor. A freestanding ovular Japanese bath, without screens and enclosure, has become the feature, placed below a new operable skylight.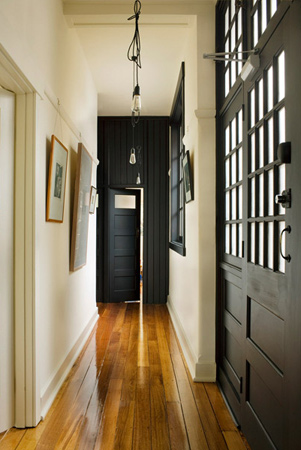 In addition to these more apparent alterations, the apartment has been repainted throughout, hydronic heating panels have been installed and the Kauri flooring repolished. Fireplaces have also been renovated with new forest green tiles laid in keeping with the feel of the 1920s interior. The new lighting and light fittings have become another feature in the design and reveal particular care and sympathy, both for the client''s own lifestyle and tastes, but also for the original interior.
Along with the brilliant orange kitchen light, beautiful drop pendant lights have been placed into the bathroom. Mance Design lights with their long drop cord pegged up and deep yellow glow illuminate one of the central passageways and in the formal dining room a black velvet-covered chandelier floats above the central table.
While Grant Amon Architects has been engaged in a variety of projects, from residential to more commercial fitouts, across all of these briefs the practice actively pursues an ongoing interest in "spatial manipulation, the crafting of objects and incorporation of local references and histories". With these renovation projects, however, there is particular opportunity to engage with the locality and context of the existing architecture. ""With the renovations there is always an interest in what was here and working that through to a contemporary proposition,"" says Amon. ""We are really interested in that overlapping and meshing between new and old, rather than drawing a line between the two. The challenge is how to imbue a sense of history and local context through into the new work without being historicist or, alternatively, without upsetting the original and beating our chest and saying, ''Well, here it is!''""
The solution for these architects involves overlap and reciprocal exchange, rather than defining a clearly identifiable separation. A broader idea of the firm is thus 'dexterity', a position that avoids deliberate style and rather pursues the particular interest in each project. The ideas and forms of each project vary accordingly and a process develops that is particular to each project and the staff. It is this open, rather humble, approach combined with this practice''s own refined architectural and material skills and knowledge that have resulted in projects such as this apartment renovation –– projects that are respectful and rigorous, but inventive and entirely delightful.