VIVID design innovation showcase returns
Start Date: 16 Jul 2015
End Date: 19 Jul 2015
---
Pictured above: Loz Abberton's Pod Noir, from whodidthat Tasmania.
The boldest and brightest young Australian designers will showcase their vision for the future of the local furniture industry when the Vibrant Visions in Design (VIVID) competition returns to DÉCOR + DESIGN next month.

The VIVID awards presentation will be held on 16 July at the Melbourne Convention and Exhibition Centre, showcasing over 114 designs from over 90 talented designers in Australia's longest running design competition. For the past 13 years, VIVID has been instrumental in revealing the nation's next generation of design talent, providing a platform for new and emerging designers while enabling established practices to stay on-trend and discover innovative new products.

The curator for the event, Caroline Caneva, will be working with award-winning interior designer, Anna Pogorelova, to identify products with a "high degree of thought, form, function, and feasibility," Caneva says. Recent years have seen a shift towards bespoke handcrafted manufacture in local products alongside an exploration of 3D printing technologies, which combine to form items made with a unique handmade feel.

The talented finalists will be competing to win one of the four Awards of Excellence in Design, and prizes will be awarded to both market-ready and prototype furniture and lighting designs.

The awards will be presented on the opening day of the fair, 16 July 2015.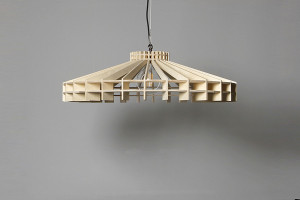 Pictured above: Ziami Pendant Light by Dean Toepfer (RMIT University)