ART + CLIMATE = CHANGE
Start Date: 11 Apr 2015
End Date: 17 May 2015
---
Above image, The Maldives Exodus Caravan Show by Søren Dahlgaard, as part of ART + CLIMATE = CHANGE.

What do art, design and culture have to do with climate change? ART + CLIMATE = CHANGE is essentially a festival of ideas aimed answering this question exactly through 25 widely located exhibitions, keynote lectures and public forums featuring local and international guests.

As part of the festival and showing until 17 May at Federation Square, 'The Maldives Exodus Carvan Show' by Danish artist Søren Dahlgaard is an inflatable island a top a caravan representing current political unrest in the Maldives. The international exhibition co curated by Elena Gilbert & Microclima also brings to light the plight of low lying Pacific island states in the face of climate change.

Forums include 'Who Speaks for the Earth?: Energy, Politics and Art' exploring how environmental risks are represented through different disciplines. It will be presented as part of the exhibition 'Japanese Art After Fukushima: Return of Godzilla' and will feature international participants the fields of art and environmental humanities.

[caption id="attachment_55621" align="aligncenter" width="700"]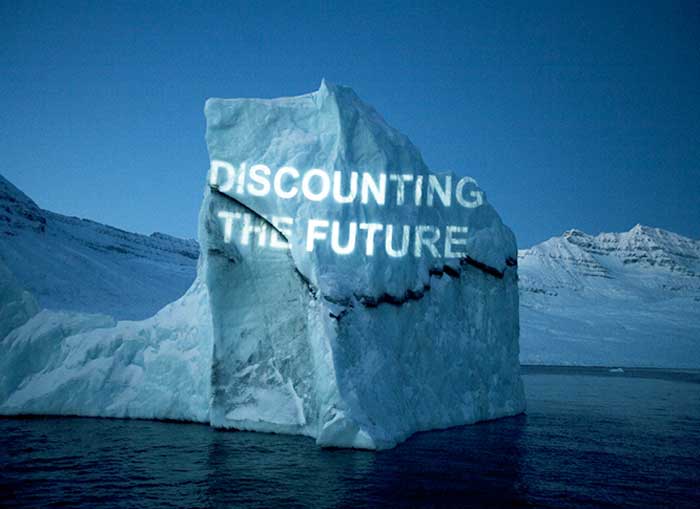 Discounting the Future, showing at Melbourne School of Design.[/caption]



Showing until 10 May at the Melbourne School of Design Dulux Gallery is David Buckland's 'Discounting the Future' which surveys a decade of artworks created by David Buckland for the Cape Farewell project an international entity that embeds artists, writers, architects, musicians and filmmakers with climate scientists.

There are many more exhibitions, lectures and forums taking place. Head to ART + CLIMATE = CHANGE. 

When: 11 April – 17 May.

Where: Melbourne and regional Victoria.