Article by Online Editor
Photography by Patrick Bingham-Hall
Designer
Above: Lower atrium, iluma, Singapore. (WOHA, 2005-2009)
This article first appeared in Architectural Review Asia Pacific #125: Architecture and the Arts.
For the past 450 years the history of architecture has been Eurocentric, updated only by the emergence of the US and Japan, but as the 21st century moves on that model lies broken. Money, impetus and challenges are to be found outside the western world and as a result architecture is suffering an identity crisis. Not for the first time at a crucial juncture in the history of civilisation, architecture is being pulled in many directions. Nikolaus Pevsner, in his assessment of the solutions to the chaotic growth of cities in the 19th century, observed that 'architecture has made a contribution to human life as great as architecture ever did', while also making the point that 'architecture and design consequently became a service, and buildings and objects of daily use were designed not only to satisfy the aesthetic wishes of their designers but also to fulfil their practical purposes fully and enthusiastically'.
The crisis of urban expansion is worse than ever, especially in the non-western world, and it has been joined by another equally depressing predicament, that of global warming. Sustainability and responsibility are now crucial to architecture's role in the new century, and these issues will determine the future assessment of contemporary design (thus rendering redundant the febrile excesses of 'iconic' shape-making that have so diminished the worth of the profession in recent years). Nowhere are the new architectural imperatives required quite so acutely as in Asia, powered by the booming economies of China and India yet home to omnipresent poverty and massively overcrowded cities. Modern Asian architecture is only now asserting itself, along with the economies and the middle classes. It has already thrown off the yoke of the colonial rulers, and is now struggling out from beneath the dead weight of western architectural practices that have treated tropical Asian cities as dumping grounds for recycled cold-climate designs.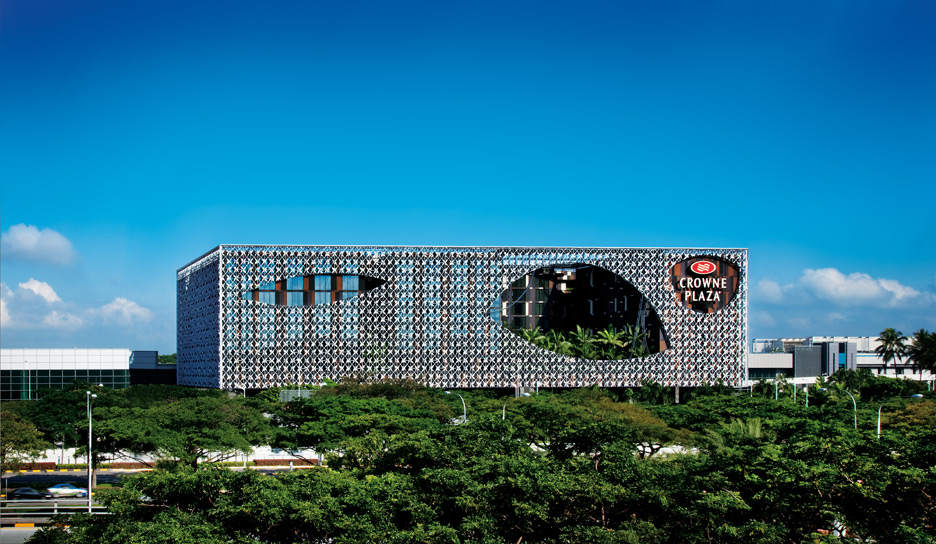 Southeast Asian architecture has been more or less overlooked in all global studies of post-WWII architecture, apart from a few cursory inclusions in monographs on regional modernism, although local publicity has been quite extensive. It is sobering to acknowledge that very few architects of distinction have emerged from such a populous region, and one with so many economic and social similarities to Sri Lanka, India, Mexico and Brazil, which have all produced globally feted architects in the post-war years. Singapore, the first country to 'emerge' from Southeast Asia's ​economically bleak postcolonial landscape, has embraced all current architectural movements with great enthusiasm since the mid-1960s, and the city has been graced by the buildings of an astonishing number of famous international architects, so, if nothing else, the local architectural community has been well informed and outward looking. The work of Singaporean architects over the past 20 years – particularly at the domestic level – has seen a basic combination of 'modern' and 'vernacular', duly categorised as 'tropical modern' or 'contemporary vernacular' depending on the ratio of elements.
While this approach has more than satisfied a certain marketplace, both in Singapore and throughout the region, none of the architecture has been notably influential. In fact the most conspicuous precedents for 'appropriate' recent work in Southeast Asia have been the languid Sri Lankan villas of Geoffrey Bawa, the vernacular Balinese resorts of the Australian architect Peter Muller and the humble, crafted houses of Laurie Baker in Kerala, India.
The adjective 'appropriate' is critical to an appreciation of tropical architecture and to Asian architecture at large. While importation of western types can be understood within the context of a new middle class that desires to show off its material wealth, the process can only be regarded as folly, rather like that of the colonial imposition of neo-classical public buildings. Appropriate architecture is now as necessary for Southeast Asia as it is anywhere, but models need to be built, precedents need to be established and innovative thinking is required.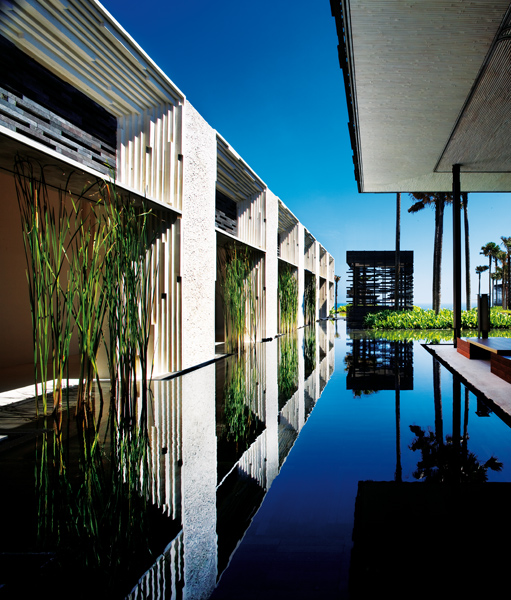 Indifferent to the seemingly entrenched anonymity of local architecture, Singapore-based WOHA has set about implementing what might possibly be described as 'the architecture of the new Asia', where respect for place and tradition must be offset by the 21st century's intimidating social realities, where architectonic aspirations must be tempered by the limitations of construction techniques, and where, above all, problems must be solved. With their early houses and the Church of St Mary of the Angels, all designed in the 1990s, WOHA straddled the gap between the local 'tropical modern' and the contemporary architecture of the western world.
By the turn of the century, the large commissions that had come their way demonstrated an absolute clarity of thought and an almost cussed pragmatism, which single-mindedly prioritised programmatic innovation over formal games. Resolutely, WOHA set about improving the architectural models, as they perceived them, of Singapore (and by extension throughout Southeast Asia), and their approach has been unflinching. They operate in their own rarefied world of virtuous creativity, much in the manner of Frank Lloyd Wright and Richard Rogers, to name but two of architecture's more self-assured, mould-breaking practitioners. Whether it be part of an ongoing quest to create 'villages in the sky' with their apartment blocks or the creation of a new resort aesthetic in Bali, or the successful natural ventilation of a 12-storey school in downtown Singapore, or the manipulations in scale of a 320-room hotel in China, WOHA is redrawing the boundaries of tropical architecture and proposing multiple visions of the future.
Whether WOHA has a peer group in Southeast Asian (or indeed pan-Asian) architecture is a moot point, but they are architects who lead rather than follow, thus assuming 'an unpopular vanguard role', to quote Deyan Sudjic on British architects Norman Foster, Rogers and James Stirling in the 1980s, of which he said: 'the attention that has been focused on them, and in particular the opportunities that this has given them to build on a large scale … has inevitably given them a function that goes beyond the simple unselfconscious practice of architecture'.
The insistence in the initial design process of prioritising the purpose of a building over its appearance should not obscure WOHA's delight in decoration and landscaping. Their palette of materials responds aesthetic­ally to the immediate context of each building and pragmatically addresses site-specific issues of weathering and sunshading, while the integration of living, breathing walls of greenery into the architecture blatantly proposes a utopian, sustainable cityscape.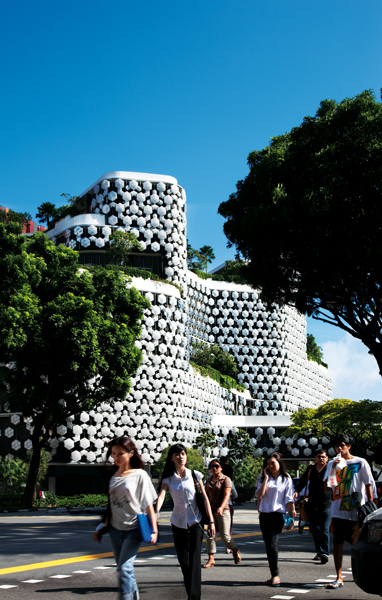 After 17 years of practice, WOHA's achievement has been, at the very least, to raise the bar for architecture in Southeast Asia, but it may well be that they have set a template for architecture in the 21st century. They have not shirked the issues that face our world, and they have not retreated to the comfort zone of excessively remunerative private commissions. WOHA's world is that of the 'new Asia', and their adaptable, pragmatic and expressive architecture is the architecture of a generation that can no longer blithely reference and reconfigure the canon of 20th century modernism as justification for self-gratification.
An individual architectural practice can only do so much to remediate the difficulties faced by a city, or by society itself, but relentless imagining and iconoclastic problem-solving may, yet again, be architecture's great contribution to human life.
All material excerpted from WOHA: Selected Projects Vol. 1 by Patrick Bingham-Hall, Pesaro Publishing 2011. With thanks to the publisher.