Article by Online Editor
Designer
Modernist architecture made the homepage of the world's most visited search engine this week, with the Google doodle commemorating the 126th year since the birth of pioneer architect Mies van der Rohe on Tuesday. German-born Mies, whose famous quote "Less is More" helped to define the modernist movement in architecture, was a hugely influential figure of 20th century architecture. Born in 1886, Mies practiced in Germany until 1937, but it is his work in American cities that is often considered his most influential. The doodle depicted the steel and glass structure of Mies' S. R. Crown Hall, the architecture school at the Illinois Institute of Technology in Chicago (1956). Also check out ArchDaily's infographic celebrating Mies' career.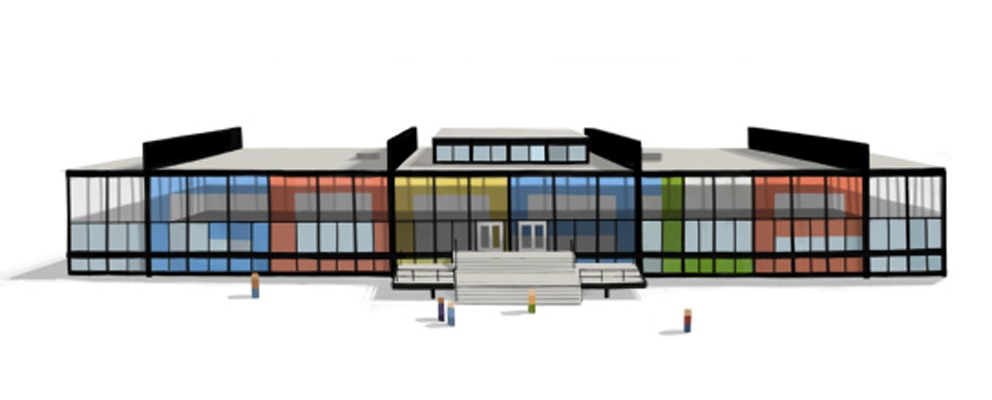 Still on the subject of Google, it seems Ingenhoven Architects' plans for the company's Mountain View headquarters in California might be on the backburner. Ingenhoven Architects were commissioned to design the über-green 'Googleplex' in June 2011, but now the Architect's Newspaper has heard rumours that Google is on the hunt for a new design team.
Bad news for fans of British brutalism this week, with the announcement that the demolition of Alison and Peter Smithson's Robin Hood Gardens residential development in London has been approved. Completed in 1972, the forty-year-old apartments embodied the Smithsons' vision for progressive social housing, with "streets in the sky" that fostered a sense of neighbourhood and community. The building has been the subject of ongoing debate for several years. In 2008, Building Design – with the support of starchitects including Richard Rogers and Zaha Hadid – launched a campaign to preserve the building, but few residents supported the move, with the BBC reporting at the time that 75% wanted the buildings demolished.  Now, the 2ha site will be redeveloped to provide an estimated 1,575 new apartments on a larger 7.7ha site. The £500 million masterplan for the redevelopment has been drawn up by Horden Cherry Lee, working with Swan Housing and Countryside Properties and architect Aedas.
Robin Hood Gardens photo (main image) by Chris Guy.
A curious-looking development in China popped up on our screens this week. The garish ten-storey Emperor Hotel in Yanjiao depicts the three gods of good fortune, prosperity and longevity – and has unsurprisingly been nominated as one of China's 10 ugliest buildings on the website, www.archcy.com. As USAToday reports: "Li Hu, a Beijing-based partner at U.S. Steven Holl Architects, said, 'Choosing 10 is very hard, choosing a million is perfectly possible.'"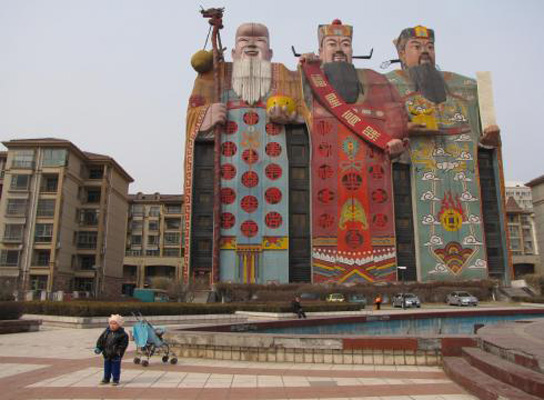 And finally this week, A Julian Assange-inspired website delving into the unofficial workplace cultures of architectural studios in Italy, Spain and the UK. Ample doses of sarcastic commentary and complaints about pay coupled with commentary on the social scene at each office submitted by anonymous readers, including: "one of the offices operating on the slavery business model," "Michael occasionally drinks red wine out of a tea mug in the office before midday," and "why are all the short people in charge!"
www.archleaks.com