Article by Online Editor
Designer
Sign up for our newsletter
Spanish architect Santiago Calatrava has found himself and his work being used as a political pawn in his home country this week, with some of his ambitious architectural endeavours accused of contributing to Valencia's significant budget deficit. Calatrava has faced stern criticism from leftwing political party, Esquerra Unida, which has slated the architect's work in his home region of Valencia, commissioned by the incumbent rightwing government, claiming Calatrava benefitted from "an unpublicised negotiating system establishing his payments as a percentage of the final cost of each project, which doubled or tripled in respect to the original budgets". The Guardian reports that Esquerra Unida has started a website called calatravatelaclava, which roughly translated means "Calatrava bleeds you dry", with the unfinished City of the Arts and Science at the centre of the controversy. Calatrava has responded to the criticism in the local press, quipping: "The attitude of those who want to take advantage of the current economic climate to criticise a project whose benefits no one has challenged is simply indescribable."
Main image: The City of the Arts and Sciences, Valencia, by Santiago Calatrava. Photograph: Heino Kalis/Reuters (via The Guardian)

In Sydney last week, Make-Space 4 Architecture's MCA: Open Conversation stirred the local debate about opinion, architectural critique, and the difference between the two. David Neustein and Gerard Reinmuth shared their views in light of the discussion on Australian Design Review, while Elizabeth Farrelly followed up on Thursday with the assertion that "criticism… must distinguish the good, the bad and the reasons… If the critic thinks something is rubbish, she must say so, and why. The phrase "positive criticism"… is a nonsense. Without dark, light is meaningless."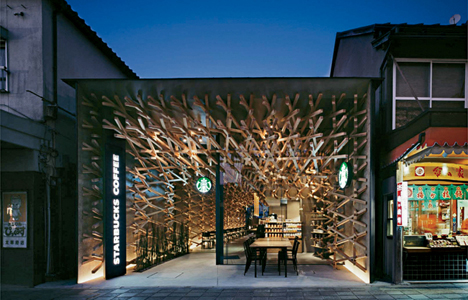 Starbucks and starchitects. You would be forgiven for assuming that the American coffee giant – which, for seven years, ran a franchise inside the walls of Beijing's Forbidden City – had little interest in the fine art of architecture. However, as ArchRecord discovers, the uniform dark green of the coffee chain is giving way to a little more design experimentation. "In recent years, the company has raised its design ambitions to venti-sized proportions, opening branches that generate considerable buzz for their distinct styles," reads the story. The article examines Kengo Kuma's woven timber interior for the franchise near Dazaifu Tenmangu, an important shrine in Japan that attracts over 2 million visitors each year, a temporary store in Washington made from (what else?) four shipping containers, as well as this fitout below, housed inside a former bank in Amsterdam.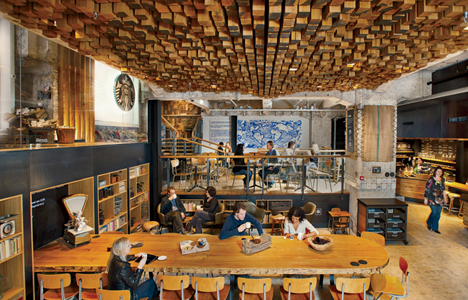 And our final pick this week is this news that Rem Koolhaas has been immortalised in an episode of The Simpsons, making a cameo appearance in season 23. As Archinect reports, Koolhaas is seen teaching 'LEGO ARCHITECTURE WITH REM KOOLHAAS' to a group of children on a cruise ship, making some minor adjustments to a Lego model of the CCTV tower. As far as we can remember, this makes Koolhaas only the second starchitect to earn a guest appearance in twenty-three years of the sitcom. Koolhaas follows in the footsteps of Frank Gehry, who parodied his own work in a 2005 episode that saw him design a new concert hall for Springfield based on a crumpled sheet of paper ­– a joke that Gehry claims has since back-fired, saying last year: "That was just a fun – fun thing. But it has – it has haunted me. People who've seen The Simpsons believe it."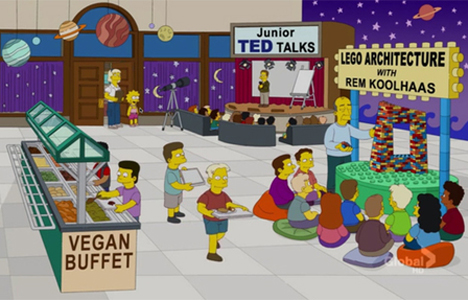 This is a like-minded community of ILVENISTA's, who share a common bond of cooking for family and friends with their ILVE cookers.