Article by Online Editor
Photography by Peter Bennetts
Designer
Architect ARM Architecture
This article was originally published in Architectural Review Asia-Pacific magazine #128: New Civic Realms.
It takes brave architects to take on the badlands of Port Hedland, to make architecture in the land of Big Objects and red-dust-covered Martian machinery, where road trains are longer than suburban rail trains and rail trains are as long as the horizon is wide. This is not a place of subtleties. You don't come here to design nice things. You make things super efficient and practical to move enormous quantities of iron ore, salt, manganese, dirt, petrol, gas, animals. Meanwhile, so the narrative goes, the town itself is left to waste. We've all heard the tales of miners sweeping through like marauding Vikings, plundering resources from the land by day, brawling in the pubs and streets by night. It's not a pretty picture and even if many of the stories are sensationalised, there's enough truth in them for locals to worry about their town's future. The problem is not really mining per se but that its culture is so transient, that the fly-in/fly-out (FIFO) approach means miners have little permanent engagement with a place where 'ordinary' people live and work.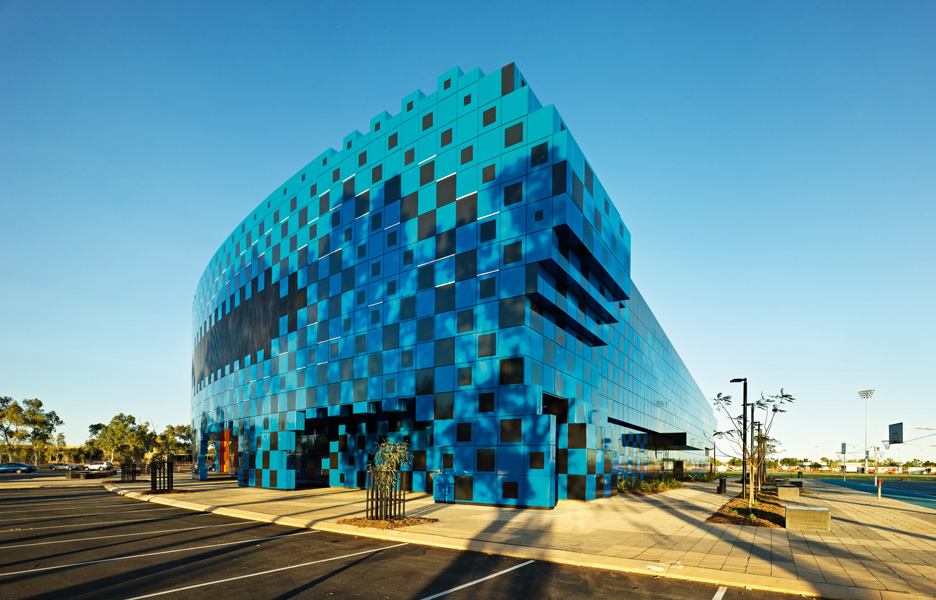 ARM's Wanangkura Stadium, in the suburb of South Hedland, has been designed to counter that, the first step in a wider plan to entice miners to put down roots in Port Hedland, with a view, perhaps, towards retirement there. It's a two-storey, multi-purpose recreation centre with indoor arena, gym, squash courts, crèche, outdoor netball courts, club change rooms and a 200-capacity function centre. It's designed to host both competition sport and public use (locals and miners) with a substantial portion of its $34 million budget coming from BHP Billiton Iron Ore and Fortescue Metals Group. Cynically speaking, you could see that kind of outlay as damage control from the mining concerns, a counter to all the bad publicity FIFO work attracts. Nonetheless, talk to anyone involved with this project – architects, politicians and mining bosses alike – and words like 'permanency', 'pride' and 'icon' crop up all the time. We all need to bond with the community we live and work in, to feel a sense of pride in our civic spaces. Despite the bad press they get, miners, it would seem, are no exception. Meanwhile, the townspeople know that mining is not going away, that it's a boon for the economy, but they don't want that at the expense of Port Hedland becoming a ghost town. Sport and recreation is seen as a morale booster in remote communities and a new sporting stadium was chosen to give this community a sense of ownership, spectacle and occasion. Put simply, it's designed to be iconic.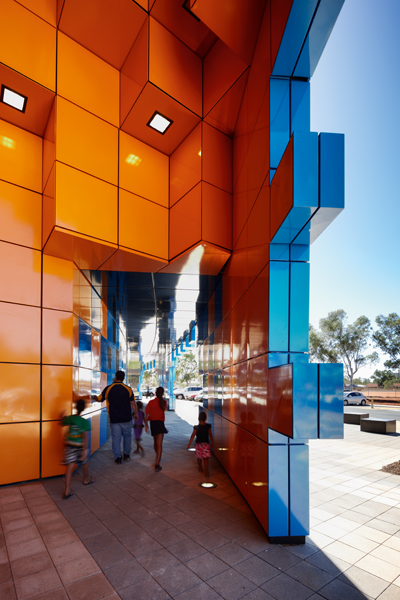 At first sight, Wanangkura doesn't seem permanent, rising like a mirage in the desert. The half-tone, blue-and-black facade blurs into the skyline and the orangey red, carved-out entrance evokes the red-dirt voodoo of the surrounding desert. Actually, according to project architect Sophie Cleland, the blurring effect generated by the layered, pixelated facade is not strictly meant to conjure up the sky and desert, but "an idea of how weather patterns are created". There are 14 different patterns on each exterior panel and the overall look is supposed to suggest the eye of a cyclone (chosen by public vote, the stadium's name, 'Wanangkura', means 'whirlwind'). The conceit filters down to the form: as the building needs to adhere to very strict cyclone ratings, the external skin had to be constructed very carefully, with little glazing and a facade resistant to impact. The skin doesn't feel bolted on or awkwardly designed though; instead, that strict limitation becomes a virtue, a way into an aesthetic that doesn't feel forced.
Upon entry, passing under what appears to be a jagged orange cave with stubby, Lego-like stalactites, the foyer fans out into an internal street, channelling visitors through the building to the Kevin Scott Oval at the rear, which looms ahead in a clear line of sight from the entrance. The oval was already a fixture in the community before ARM came to town and, due to this simple device, remains prominent. Permeable layers open up the building so that the foyer becomes in essence a public street: open and expansive, full of activity and, above all, fun to inhabit. The blue-and-black exterior and the carved-out orange entrance suggest a playfulness that has been transmuted to the internal form. Many of the public facilities fan out from this central street and generating activity becomes the main activity, so to speak. From the foyer you can see through to the gym, through to the fitness room and through to the cardio room.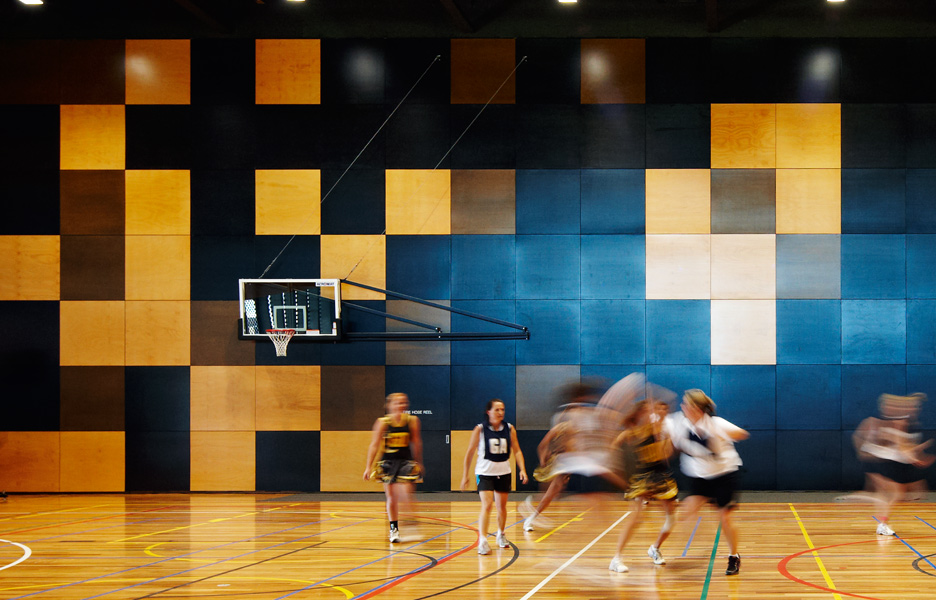 Above, on the mezzanine space, which includes a large function room, activity is calibrated to the street below via the dramatic visual experience of double-height levels. There are many other pleasing elements, such as the crèche, which draws in the colours of the exterior to the inside in blocky patterns, looking a little like an airlock from Kubrick's 2001: A Space Odyssey. The indoor hall is designed to accommodate competition basketball, netball and volleyball, with a capacity of 404 seats. It can also hold performance and theatre events and is enhanced with a muted, timber-panel version of the pixelated exterior, playing down the exuberance of the outside for a more intimate, dramatic presence. Even though the hall is spacious, there's a close, high row of seats to one side, ensuring the atmosphere is intense at big games.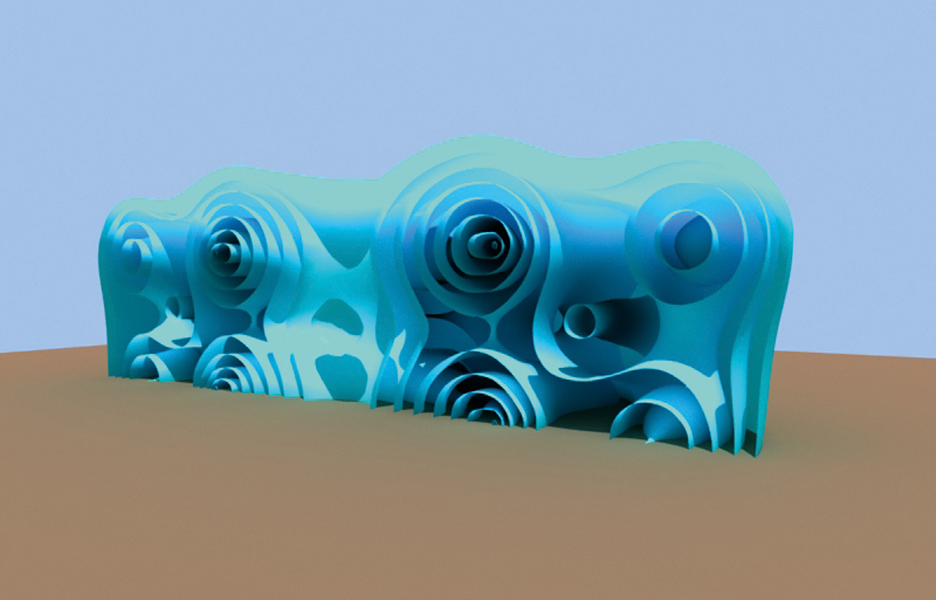 One such game was the sell-out basketball contest between NBL teams Perth Wildcats and Cairns Taipans at the stadium's opening in late July. That night was a roaring success, with fireworks to mark the new stadium
and a super-charged, convivial atmosphere, as one might expect after all the hope invested in this building. Since then, though, there have been hiccups – Wanangkura had to be closed to the public just five days after opening because of water and fire capacity limitations. Frustratingly for ARM, let alone the public, this wasn't a design problem but an engineering one. Because the stadium is in a high-risk fire area, it needs adequate water pumps and boosters, as well as increased water pressure to maintain them in an emergency. That was found to be lacking but has since been rectified, with the builders, Doric Group, negotiating with the town council to undertake remediation work.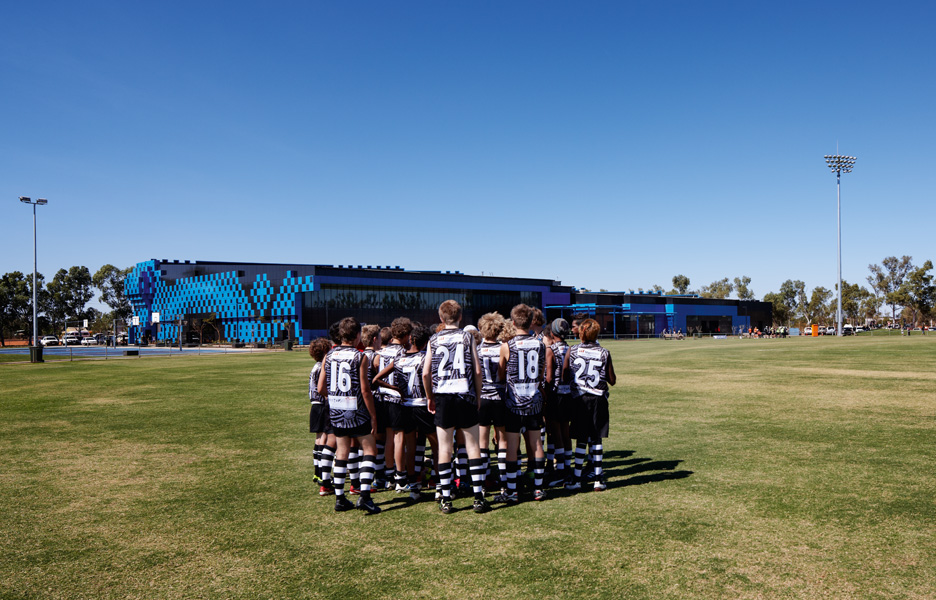 Finally, in late September, Wanangkura reopened to renewed expectation, for Port Hedland locals are impatient and want their community on track as soon as possible. Urban renewal has been high on the local government's agenda in recent times, with a focus on 'transformation projects' to turn Port and South Hedland into an actual city. With its warm climate and great fishing, the area already has its advantages in enticing people to put down roots, but there needs to be more. As Cleland says, "The thing that needs to happen next from the council's point of view is this idea of civic amenity. The stadium is the first stage of that". Although it's early days, Wanangkura is the litmus test for whether it's possible to make this township in the desert more than just a landing pad for mega-rich conglomerates.
Click here for part two of this journey: 'Red-dirt Voodoo: Re-building Australia's North West'
Tourism Western Australia and Australia's Northwest Tourism kindly sponsored AR's trip to Australia's northwest.