Article by Online Editor
Photography by Owen McGoldrick, ADCO
Designer
Architect CRAB studio
In December 2010 the office of English architects Sir Peter Cook and Gavin Robotham – Cook Robotham Architecture Bureau (CRAB) – won a two-stage, invited competition to build a new faculty of architecture at Bond University, Gold Coast, Australia. The newest building on a campus originally designed by both Arata Isozaki and Daryl Jackson, the Soheil Abedian School of Architecture is a predominantly concrete building with bespoke glazing infill and a lightweight steel roof that will house 250 students upon completion in late 2013, with a net area of 2,500 square metres. In addition to Cook's prominence as a member of Archigram, and the success of his Kunsthaus Graz, his first Australian building promises to be equally compelling.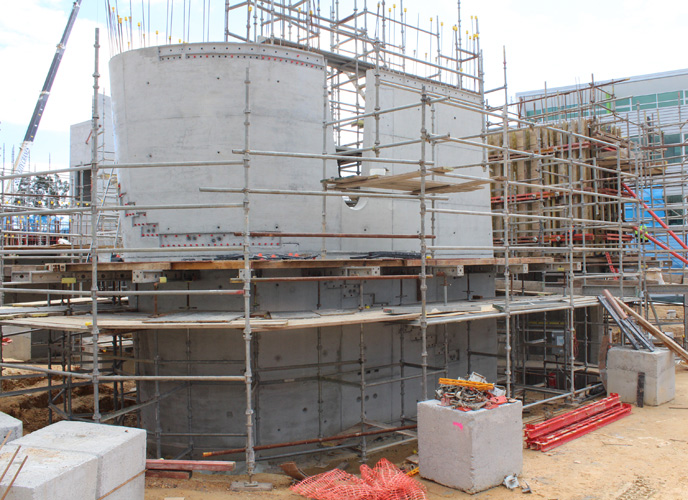 The project construction commenced in January 2012 and almost immediately upon the beginning stages of site works, one could register the dominance of the sculptural quality exhibited in a key feature: the double-curved concrete buttresses of the building's envelope and their corollary element of poché – the internal 'scoops'. In the absence of knowing CRAB's design strategy for which the scoops embody, walking around these concrete voids in the cavernous shell of the early site work elicits associations with the massive steel sculptures of artist Richard Serra – leading one to surmise that their intent may be to invoke a similar challenge to the occupant's sense of metaphysical stability. One wonders if this is CRAB's aim and, as such, it is useful to refer to an investigation of Serra's early work, Clara-Clara (1983) in Paris, reviewed by the art critic, Yve-Alain Bois.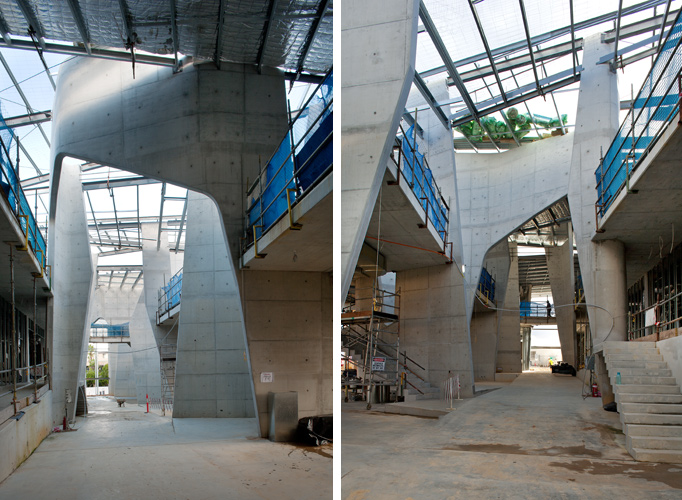 Bois asserts that Serra's work is "picturesque", which he qualifies as being quite different from the pictorial or the painterly sense of the word, but rather rooted in the Enlightenment development of the English garden and the necessary temporal unfolding of experience required to fully appreciate its inherent beauty. In Clara-Clara, and as much in CRAB's first Australian edifice, which features four individual scoops to be experienced along the route of an internal spine, one is immersed in what Bois observed in both Serra's and Le Corbusier's use of "montage [in] an art that is not satisfied to interrupt continuity temporarily, but produces continuity by a double negation, by destroying the pictorial recovery of continuity through discontinuity, dissociation and the loss of identity within the fragment". The promenade around and through CRAB's scoops challenges one's sense of presence and alignment, yet forges an intense awareness of their spatial experience, akin to Serra's well-known works such as Clara-Clara or Torqued Ellipses (1998).

Rather than experiential phenomena, CRAB refers to the scoops in more programmatic terms, in the context of designing a container for pedagogy that does not inhibit future visions of curricula. To do so, they instil "deliberate idiosyncrasies" in the building layout that will engender "the experience of a good school, which is made up of friendship, atmosphere, nuance and inspiration. There must be built elements and territories that cry out to be appropriated by those that make, draw, proclaim, fiddle about or even hide." The scoops act as the chief vehicle to deliver these attributes and, additionally, they support the roof, address lateral loads, accommodate vertical circulation, function as ventilation chimneys and carry light down into the central recesses of the building.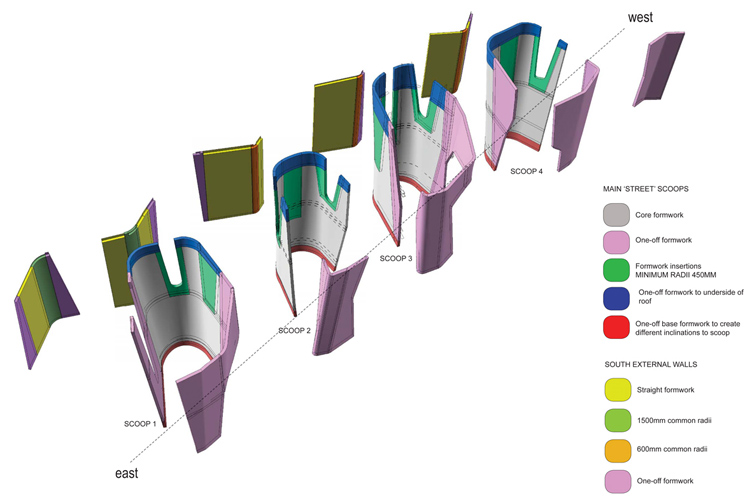 The four scoops are actually two sets of pairs, yet each are customised while sharing a common spatial and material quality in their totemic placement, much akin to Serra's own use of the double. The scoops curve in plan; they splay in multiple directions in section; they are punctuated with multiple voids and structural connections; and, in two instances, support cantilevered concrete stairways.
Fundamental to achieving the complexity of the concrete works and associated undulating roof and glazing enclosures is the use of 3D modelling software – Rhinoceros 3D (Rhino) – acting as the primary design tool from Concept to Design Development phase. The model's complex geometry is best communicated through the software in tendering, engineering, surveying, the production of shop drawings, as well as verifying accuracy during the build.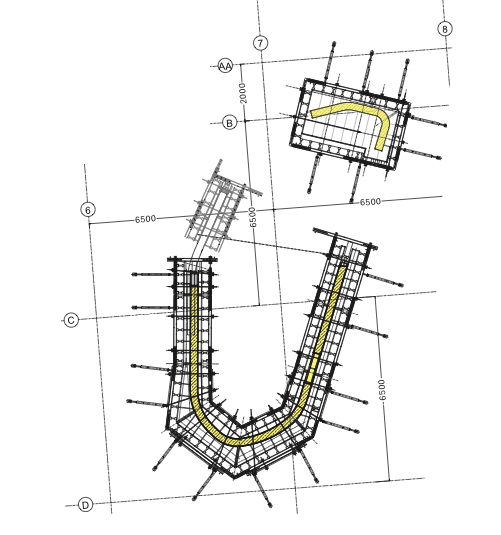 Looking more closely, of particular interest is how the complex geometry of the scoops has required digital fabrication for the production of highly bespoke formwork shuttering. The contractor, ADCO, engaged German formwork supplier, PERI, as they had previously implemented complex freeform geometry in projects by UNStudio and Santiago Calatrava. Development of the formwork shop drawings was undertaken at PERI's German headquarters using AutoCAD 3D, transferred to PERI Brisbane for implementation locally, using the Rhino model as the key reference document to achieve greater accuracy. PERI have used a system of 'waffle slab' or notched plywood formwork, with a curved plywood skin to create the scoops. This method allows for the creation of curved and raking surfaces on the pour side of the form, while maintaining a plumb and level face on the opposite side to which wailers, bracing and buttressing can be affixed. The notches in each perpendicular plywood rib allow on-site carpenters to easily and quickly jig the forms together with precision.
Each scoop in the project requires four to five lifts from top to bottom, with the average height between pours at 3.3 metres. In total, approximately 400 separate forms had to be installed for all four scoops. As such, the customisation, tracking and integration of the formwork needed to be highly detailed and organised. The forms themselves are fabricated from 18mm plywood and then surfaced with successive layers of 6mm or 12mm plywood coated with polyurethane to achieve the required finish. In total, 2,400 plywood sheets have been CNC-routed (Computer Numerical Control milling system) by a local fabricator for assembly on site of the individual forms. A team of thirty-five formwork carpenters and labourers was required for on-site scoop construction. Engineering required N-12 reinforcing steel at nominal 150mm and 300mm centres, encased by 40MPa concrete with 10mm aggregate and 100mm slump to ensure it was malleable enough to conform to the geometry without leaving voids or deformities.
The scoops and other complex works at the Soheil Abedian School of Architecture provide a valuable example of progress in the capacity of the Australian construction industry. Taking complex formal qualities into the built world within budgetary constraints and quality standards is still often an experimental process and one imbued with risk. Modelling software that allows transference of information between disciplines – particularly across the chasm that often exists between parties focused upon design and those carrying out implementation – is key in enabling the integration required for novel and progressive advances in our spatial and material environment. The complex formal and spatial objectives rendered in this project are in the process of formation toward an architecture that is a montage of programmatic nuance, idiosyncratic formalism, material expressivity and picturesque spatial experience.