Article by Online Editor
Photography by Peter Bennetts
Designer
Architect Paul Morgan Architects
The sensory and aesthetic qualities of the Australian bush rely on local specificities of latitude, topography and the make-up of the earth beneath. They also depend on the trees – their trunk, bark, canopy and leaf type – and their accompanying understory (if any) of shrub, grass, fern or secondary layer of smaller trees. At Lal Lal, an hour-and-a-half drive west from Melbourne, on a two-hectare site sloping away to the north-west, architect Paul Morgan found a forest of stringybark and ground littered with the bleached bones of sheep and kangaroos. There was also lots of ground fuel – timber that has fallen and dried, ideal for burning. Visually, the common shape was the 'V' of bifurcating tree trunks or branches. It is the same shape that indigenous Australians used as the housing element for horizontal cross members and angled props for humble dwellings, whether simple conical or gabled shelters, platforms or wiltjas (windbreaks).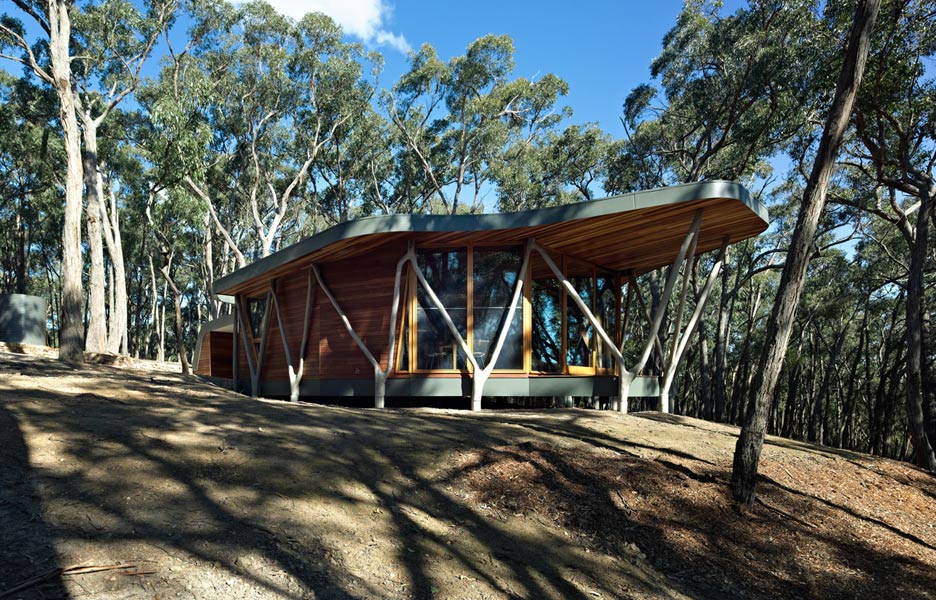 Morgan knew this but had different ideas. His clients, both with medical backgrounds but also keen choristers, wanted a small weekender, a cabin in the bush where they could fling open the doors and sing unencumbered among the trees. Morgan had vivid memories of a 1970s visit to a mud brick and recycled timber house by Alistair Knox in the bush at Eltham. He also admired architect Kevin Borland's inventive use of low-tech structural solutions, which proved lyrical when used in serendipitous combination with the chamfer (45-degree) in plan and section. These were 1970s designers whose ingenuity with found materials had a rawness and a lean economy that echoed contemporary ideas about sustainability. Morgan has also had a long admiration for the edgy experiments and engineering aspirations of 1950s architects like Peter and Dione McIntyre, whose houses employed dynamic diagonal frames, and especially Chancellor and Patrick's McCraith beach house at Dromana (1956), with its graphic frame of triangulated steel pipe columns facing Port Phillip Bay like a spindly structural visor.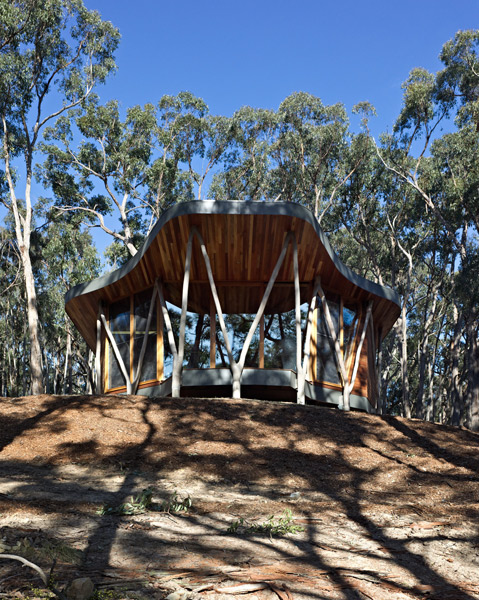 At Lal Lal, Morgan decided to create an open sheltering room that would be supported by an exposed system of bifurcating tree trunks and infilled behind with windows and non-structural timber walls. The shape of the house was to be a giant windbreak, supported by zigzagging trunks acting in compression with bifurcations at the top and bottom, something trees cannot do naturally. Morgan conceived a system whereby two naturally occurring bifurcating trunks were spliced together with concealed steel plates, connecting the two opposing trunks. Working with engineer Peter Felicetti, who confirmed that Morgan's ideas were structurally sound (much to the surprise of the local council), Morgan then collaborated with sculptor and artisan carpenter Michael Conole, commissioned to source and collect seasoned spotted gum trunks from the bush and farmland around nearby Trentham. It was Conole who then pieced the frame together, following Morgan's detail, and painstakingly filled the bolt holes, sealing and smoothing the trunks, to give them their final bony appearance.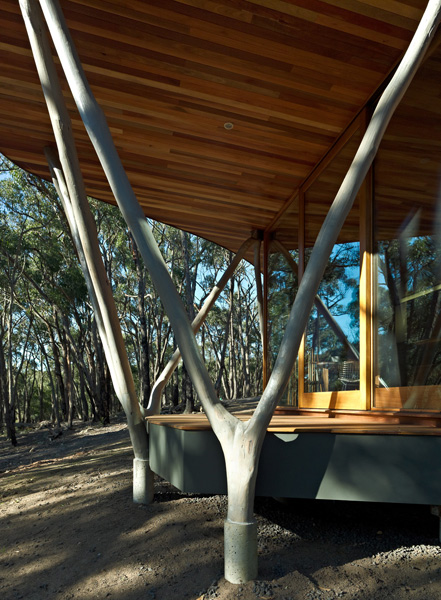 This was not just bush art but bush engineering, true to the spirit of Penders (1965), Roy Grounds' spotted gum tepee structure and geodesic domed greenhouse at Bithry Inlet in New South Wales. At the same time, Morgan's design has a sense of modernist inevitability. You arrive, passing landscape architect Cath Stutterheim's gently curving dry stone walls, and park a car under the thickened canopy of this 'primitive hut', almost as if you're driving the Citroen under the concrete undercroft of Le Corbusier's Villa Savoye.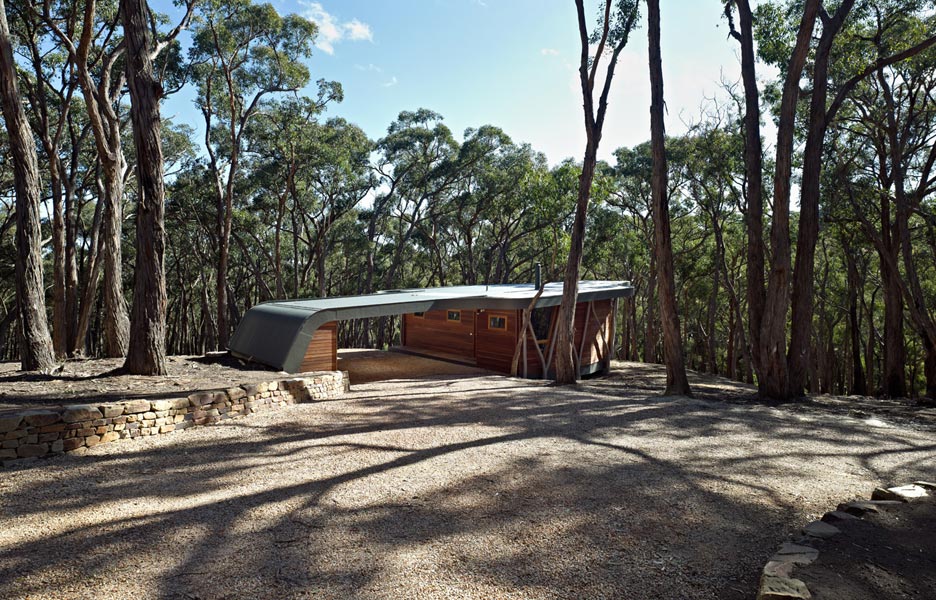 Alighting, you enter the 'cabin'. Ply-lined inside at its entry, there is the feeling of Warrandyte of the late 1940s: modest and just enough. This is an existential retreat, a celebration of simple living. On either side of a narrow corridor containing cupboards and a fridge are two tiny bedrooms, with triangular windows mirroring the rustic structure without, as well as a little bathroom. Then you emerge into the large, open living/ kitchen/dining space. It's rather like emerging from the close spaces of a cleft among rocks into an open cave, but everything is lined in timber.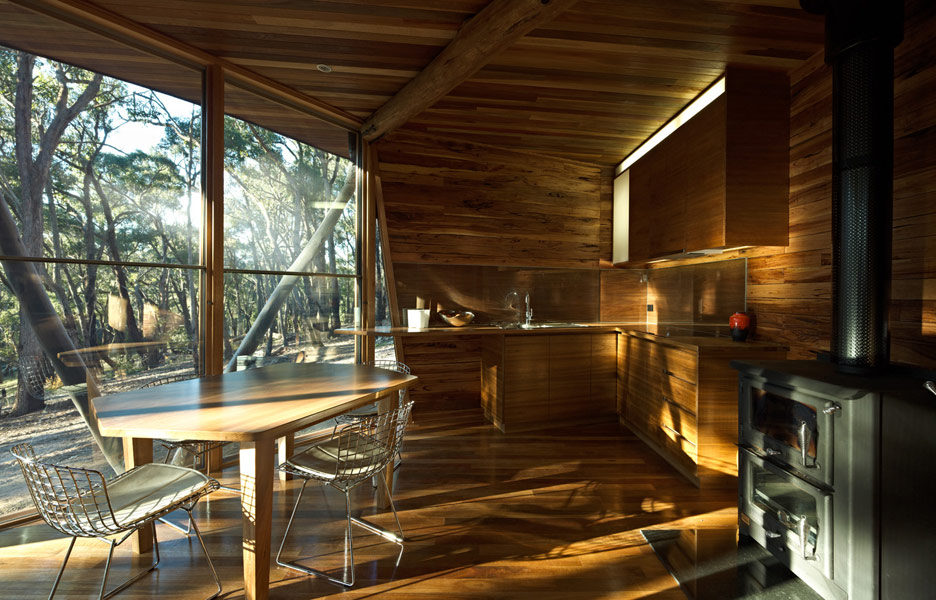 Ahead in this tall volume, the polygonal-shaped room expands outward to huge windows, deep eaves to a west-facing deck, the open diagonals of the zigzagging tree trunk frame and the forest of stringybarks beyond. To the left is a sculptured, built-in timber seat integral with the wall, with lights inset in the faceted volume. It is reminiscent of Albert Frey's quirky houses in Palm Springs, the giant rock in Peter Muller's living room at Whale Beach or the artisan craftiness of Pennsylvania sculptor Wharton Esherick. To the right are a cast-iron wood-burning stove, the kitchen and dining space. There are no exposed light fittings. Morgan enjoys the moodiness and warmth of the clear-stained timbers, their knots and wildly various grains. This is an interior that glows red-gold with the evening sun, and the walls are lined with stringybark milled directly from the site. As Morgan emphasises, the timber didn't move more than 20 metres.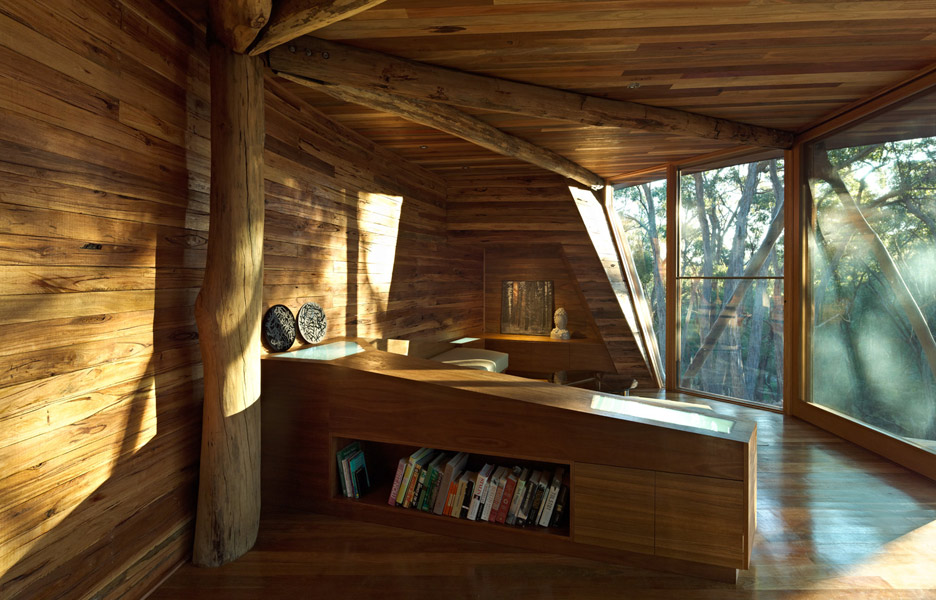 Now one begins to understand this house as an erudite essay on sustainability. It has a six-star energy rating and a low carbon footprint, but at the same time it is a house dense with ideas drawn from a lineage of local architectural experiment. It resonates with the uncertain aesthetic trials of Knox, Borland, the McIntyres, Chancellor and Patrick, Grounds and other artist-architectural researchers like Peter Burns and Morrie Shaw. The cabin at Lal Lal is another polemical statement, like Morgan's own award-winning house (2006) at Cape Schanck, Victoria, also disarmingly small and an aesthetic reflection on water collection, with its Pop-scaled, droplet-shaped water tank in the middle of the living space. Again, it's about the virtues of the small house (only 85 square metres), but it's also about the house as a type of architectural 'locavore', earning its sustenance – its structure and reason for being – from the materials and forms of its immediate surroundings. It is exactly what indigenous people did – improvise – wherever they had to create shelter.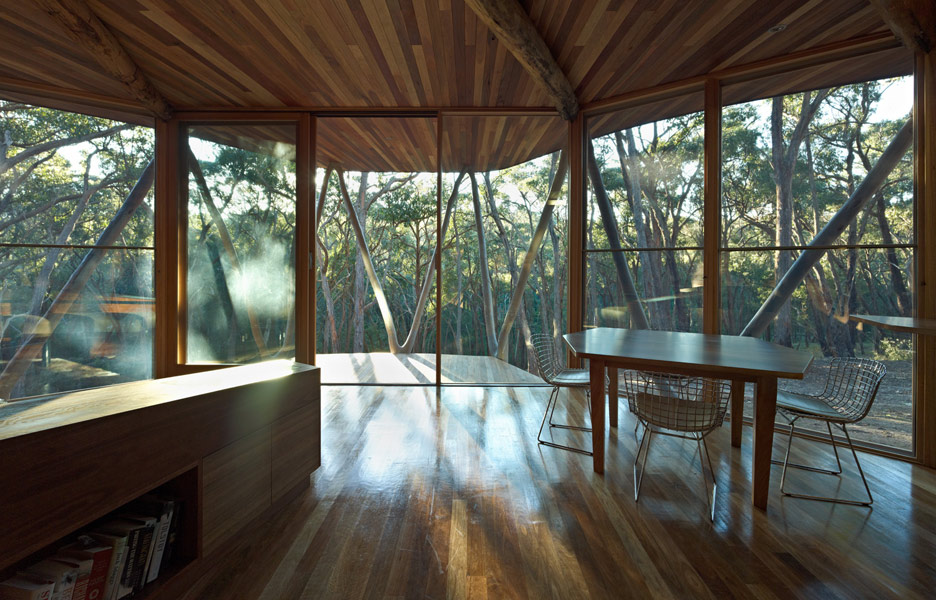 While his Melbourne-based practice focuses mainly on large-scale educational projects in the university and TAFE sectors, Morgan sees his one-off residential projects as opportunities for testing propositions, both theoretical and material. They are big with ideas and there is a sense that his houses are experimental artworks that ponder live issues.
At Lal Lal, his clients are the beneficiaries of his critique. They come and go from this expressionist cabin in the trees. When they do come, they like to sing and Morgan has made the trees sing with them.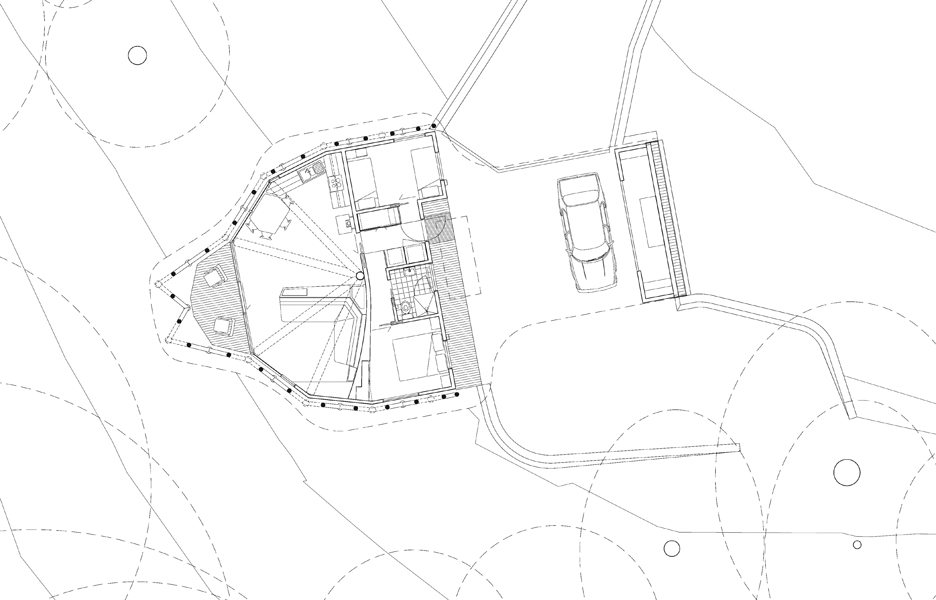 Professor Philip Goad is Chair of Architecture and Director of the Melbourne School of Design at the University of Melbourne.