Article by Online Editor
Designer
Norman Bel Geddes Designs America
Donald Albrecht (ed.), Abrams, 2012. Hardback 400pp, RRP $80.00
George Nelson once described Norman Bel Geddes as 'the PT Barnum of industrial design'. The perception of Bel Geddes as a huckster of Atomic Age escapism endures to this day – no doubt because like all good caricatures, it contains some truth. Bel Geddes is perhaps best known as the designer of Futurama, an exhibit at the 1939 New York World's Fair that was sponsored by the General Motors Corporation and is widely credited with popularising the notion of expressways. A fantasist and egoist, who made showmanship both his profession and his trademark, he was also a polymath with many significant accomplishments not just in the realm of what we would now think of as 'urbanism' but also in advertising, architecture, graphics and, of course, his pioneering work in establishing the discipline of industrial design. The publication of this book coincides with the launch of a retrospective exhibition at the Museum of the City of New York and together the two attempt to restore depth to our understanding of this enormously influential twentieth century figure. Bel Geddes was a visionary with diverse talents, but he was also a pragmatist who saw the communication of ideas as integral to achieving his design ambitions. This combination of qualities saw him shape America like few other designers before or since; in an age when the need for massive change has never been more urgent his legacy is particularly worthy of scrutiny, making this a valuable and timely book.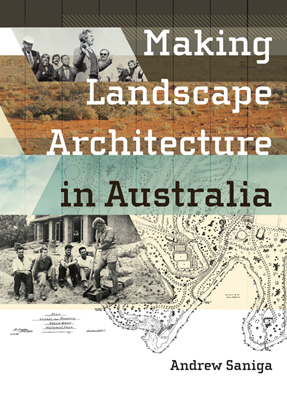 Making Landscape Architecture in Australia
Andrew Saniga, NewSouth, 2012. Softback 400pp, RRP $69.99
The publisher of this book describes it as the 'first history of landscape architecture in Australia', which is a little disingenuous. Catherin Bull's important work New Conversations with an Old Landscape, published in 2002 by Images Publishing Group, could also in some senses lay claim to that title. This new history by Andrew Saniga, however, is a much more comprehensive account of the development of landscape architecture in Australia. Whereas Bull's book takes as its starting point the professional institutionalisation of the discipline in the 1960s, a period that also coincided with a burgeoning appreciation amongst Australia's landscape architects and related professionals for the country's ecology, Saniga's title stretches right back to colonisation and indeed the very roots of the discipline itself. Likewise, whereas New Conversations took the form of a coffee table book focused on key case studies in contemporary Australian landscape architecture practice, Making Landscape is a scholarly work that foregoes rich illustration for depth and exhaustive research. For all that though, Making Landscape is a fine read; Saniga writes with clarity and seems to have an instinct for a good story, constrained as it might be by the strictures of academic rigour. This book is an impressive and invaluable contribution to our understanding of landscape architecture in Australia.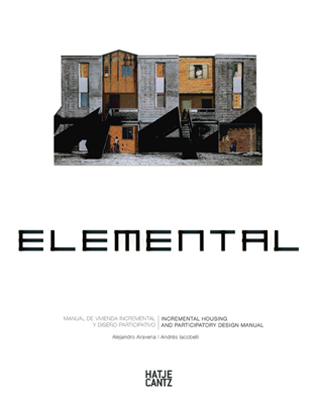 Elemental: Incremental Housing and Participatory Design Manual
Alejandro Aravena, Andrés Iacobelli, Hatje Cantz, 2012. Softback 512pp, RRP $58.99
If it wasn't such an incongruous notion, we might describe Elemental as the 'starchitects' of social housing. Led by Andrés Iacobelli, a former transportation engineer, and Alejandro Aravena, an architect who since the formation of the practice in 2000 has become something of a starchitect in his own right (being named by Spain's El Pais newspaper in 2010 as one of the world's 100 most influential people), Elemental has quickly risen to global prominence thanks to its innovative and highly successful 'incremental' housing model. First deployed in Iquique in Chile, the model is essentially a hybrid of unitised construction and self-build, an idea which in itself has been knocking about at least since the 1970s (the English critic Colin Ward for one discussed it in his columns at the time). To the best of this writer's knowledge, however, Elemental are certainly the first to implement it so successfully and at such vast scales, not just in Chile but around the Americas. As the title states, this book serves as a 'how-to' manual and gives a fascinating insight into the process and why it has been successful where so many others have failed. The secret, it seems, lies more with the strategy's social and financial framework than with its 'architecture', which is perhaps not so surprising. While the emphasis here is on social housing in the Americas, it's not hard to imagine the strategy also has application in the context of affordable housing provision in the 'developed' worlds. This book documents a rare and remarkable accomplishment and despite ending on a vainglorious note (NEXT: Elemental take on projects at the scale of whole cities!) Elemental must be one of the few practices operating today that might deserve starchitect status.