Article by Online Editor
Designer
Dashilar is one of the oldest commercial areas in Beijing. Located just a stone's throw away from Tiananmen Square, it is a maze of shops, businesses and residential buildings that stretches over 1.25 square kilometres of prime real estate. Formed during the Ming Dynasty, the area became the most prosperous and cultured quarter of the city and is still home to historical houses, temples, Peking Opera stages, courtyards and well-established brothels.
Like many hutongs (alleyways), the outer shell of conspicuous consumption masks the inconspicuous poverty in the places where the tourists seldom venture. In the last five years, Dashilar has become the focus of a real and symbolic debate about new and old values: public versus private, progress versus conservation. As Beijing develops, the run-down core of Dashilar has remained obstinately immune to any economic benefits.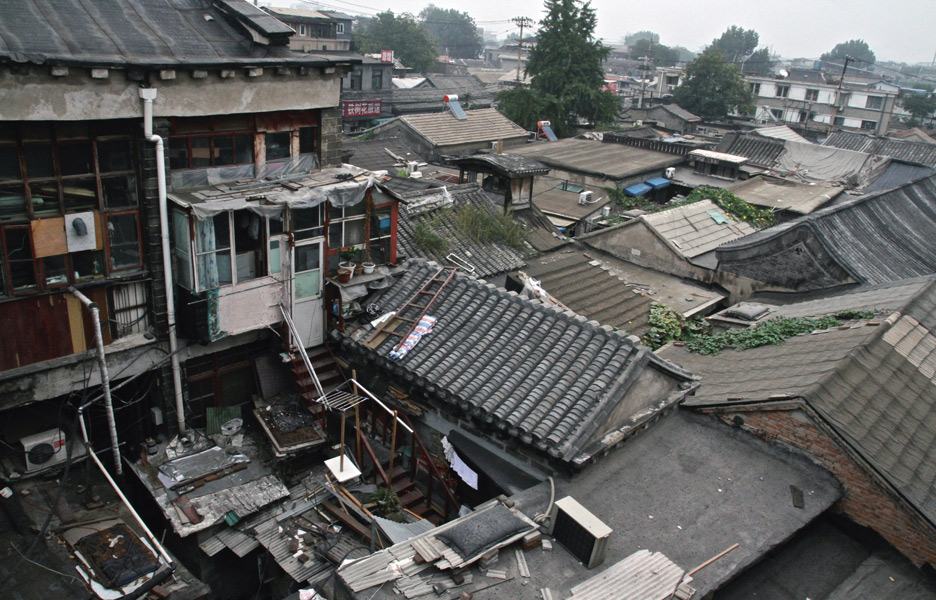 The Dashila(b) project is attempting to address this disparity. Coordinated by private developers Beijing Dashilar Investment Ltd with Approach Architecture Studio, this regeneration project is a shop window on China's dealings with its citizens. With 55,000 ordinary people living here, at a population density six times higher than the Beijing average (and more than three times that of Tokyo), this scheme is seen as a new model for improving traditional urban areas.
The Dashila(b) project team have carried out some exemplary research to compile a series of maps showing the area's urban ecology and to identify the historical and cultural connotations for the people living there. Essentially, this is an area of poor or dangerous quality, one-storey, traditional housing (less than three metres in height), half of which was built over 300 years ago. Importantly, 80 percent of it is constituted by illegal extensions and many of the buildings are under unknown or multi-party ownership.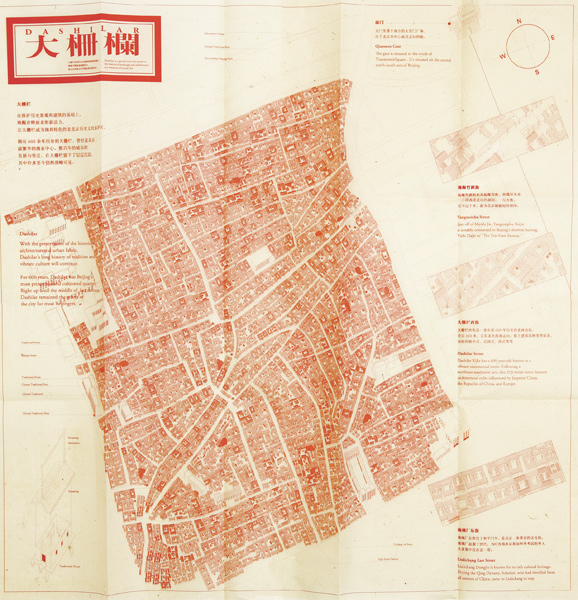 Zoning laws and the desire for lower density in inner-urban areas usually ends up with the municipal and provincial governments offering sweeteners to residents to move out, so that large-scale demolition and rebuilding can occur. But with increasing land values encouraging the residents to hold out for more compensation and the problem of uncertain property ownership, the developer has decided to adopt a piecemeal approach to regeneration or 'revitalisation' as it is called.
Rather than opt for the authoritarian tabula rasa approach to development, the authorities have stated their "respect of hutong urban fabric and vernacular building styles". This project seeks to buy out certain buildings and upgrade them for commercial use, rejuvenating the area by doing so. Since 2007 China has been experimenting with a notion of property rights, even though the state still owns all land. It is also trying to develop a notion of civil law (as opposed to legal rights) in which "the citizens' lawful private property is inviolable". This project is undoubtedly being used as a testing ground for a new way of working.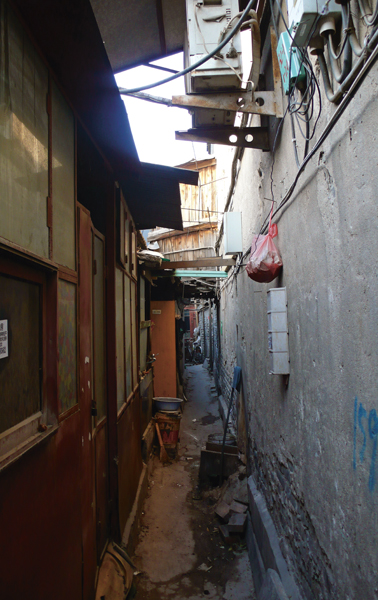 Dashila(b) is not so much an architectural intervention, but a holistic, socially driven agenda for the area. As such, it has a local and commercial focus, learning from an initial regeneration exercise in 2008 that displaced thousands but was an economic failure. On the one hand, it is part of a commercial and arts-based project to encourage businesses to move into the area. On the other, it seeks to engage local people in that project.
Dashila(b) states that "incoming businesses and activities must act as best practice examples". At the moment, one upgraded teashop has been appropriated by Ubi gallery's jewellery store and Zhang Ke of Standard Architecture intends to open a high-end restaurant. Many foreign 'design professionals' have been brought in from Europe to create small interventions in the street scene and encourage local residents to take part in these self-build projects.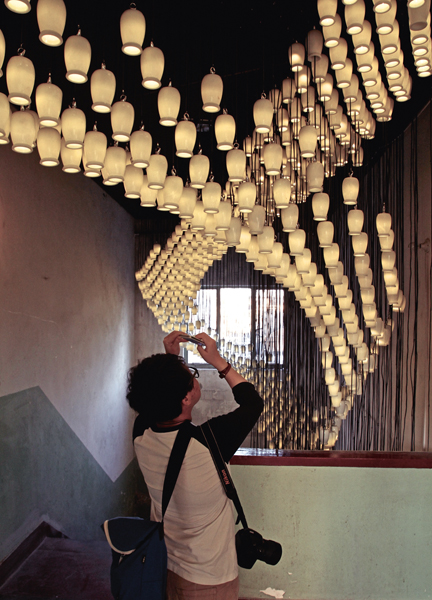 So then, is this simply an opportunity for the global creative class to indulge themselves in the formation of an artisan quarter, while revelling in the authentic poverty of their surroundings?
The reality for most residents is that they are living in slum conditions. Most homes have no running water and residents use communal toilets. Houses are un-insulated and badly constructed from scrap material. Unsurprisingly, residents do not necessarily want to stay here but are waiting for a good financial deal to get out. In this context, letting western artists gentrify the area is fine by them, raising the value of their properties and increasing their negotiating power with the developers.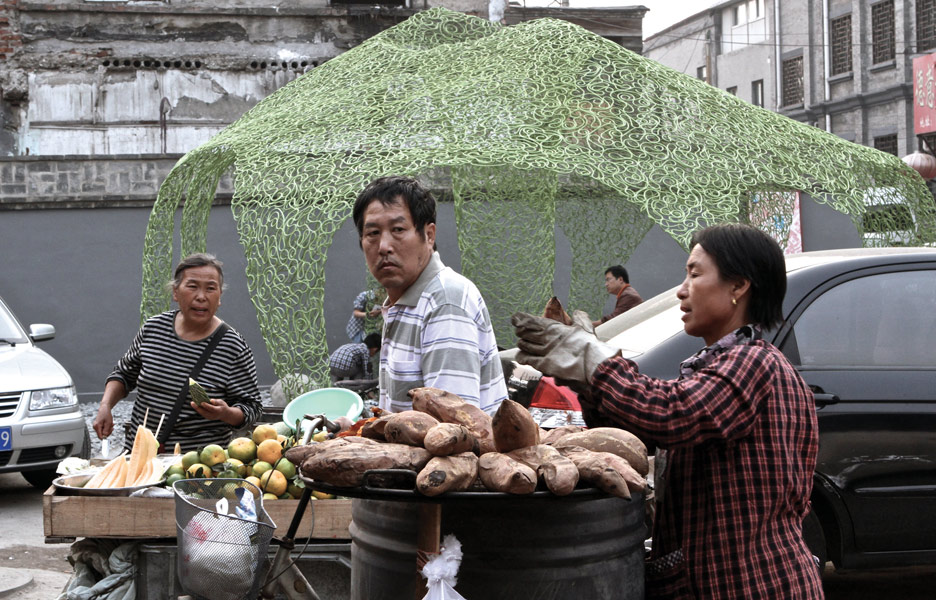 In the west, community empowerment initiatives are often thought to have a radical edge to them, by helping to facilitate a certain amount of autonomy for said communities to the state. In one-party China, such projects seem to have an additional frisson of danger. In truth, engaging local groups to upgrade their own homes hasn't displeased the authorities. As a matter of fact, given that Dashilar has been hit by major unrest about the lack of infrastructural provision in the last few years, delegating responsibility downwards is perfectly acceptable as long as it keeps the lid on protests for decent housing.
Currently, Dashila(b) speaks of "urban curation", "participatory mapping", neighbourhood hubs, pop-up cafes, "node clusters" and an "Augmented Virtual Reality History Walk". Its work for Beijing Design Week featured an "ambulatory experience… [to] occupy a hutong… [and] re-appropriate the space to reflect the concept of rejuvenation through design". But whether local hutong dwellers will be grateful for situationist interventions or whether they are ready for Richard Florida-style regeneration strategies, we will have to wait and see.