Article by Naomi Stead
Designer
Above: Park Tiergarten, the Brandenburg Gate, destroyed German tank Tiger T-IV, Berlin 1945/2010. Image courtesy: Sergey Larenkov
Let us consider, under the theme of 'present', the architectural implications of rephotography. Once practised by scientists, landscape architects and social researchers as a means of documenting change, rephotography (also known as 'then and now' or repeat photography) has in recent years become a popular amateur pastime. Locating the exact vantage point from which an original, historic photograph was taken, the rephotographer takes it again: replicating as closely as possible the framing, contents, even the lighting and weather conditions. There is a long and honourable tradition of low-tech rephotography, notably in the Rephotographic Survey Project's documentation of iconic landscapes in the American West. But these days the internet is awash with software-aided 'computational rephotography', augmented by Photoshop, such that 'then' and 'now' have been mashed-up, transposed and composited like never before.
At its most trivial, rephotography is simply a game of spot the difference. But at its most profound, it offers a visualisation of time, continuity and change, showing a glimpse of the past within the present, as well as layering history in place. In recent images online, there is a marked – perhaps mawkish – tendency towards past conflicts (World War II) and catastrophes (the San Francisco earthquake disaster of 1906), brought forward in time to their present-day location. At times, this comes uncomfortably close to the genre of 'disaster porn', but it remains powerful to see archival images of Russian tanks storming Berlin in 1945, juxtaposed with today's placid tourists and fey city dwellers walking the same ground, among the same – once ruined, now repaired – buildings.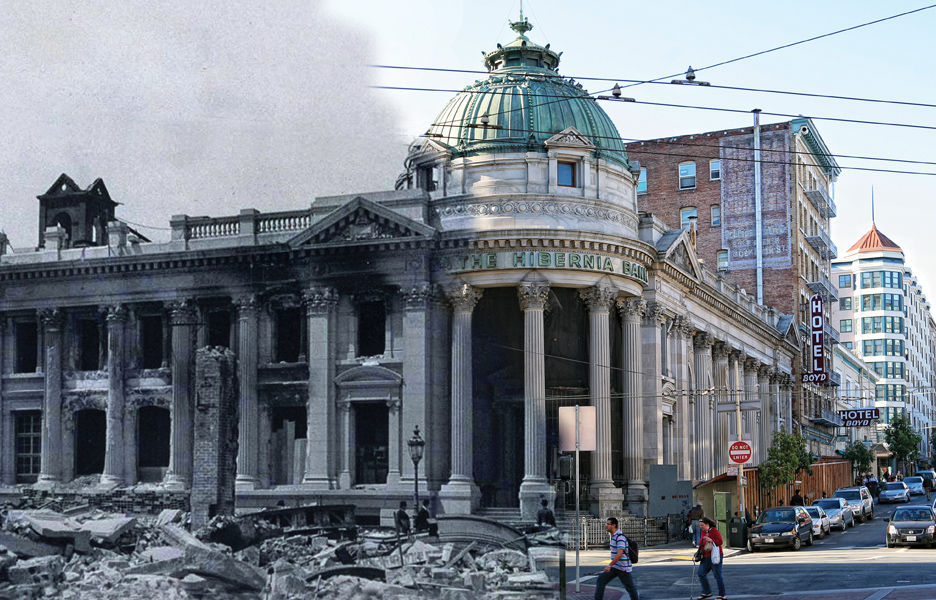 In fact, cities and urban places lend themselves particularly well to rephotography, since their change is usually incremental and only revealed in sequential visits. Buildings and streetscapes also provide a crucial visual anchor, since a rephotographed scene requires enough features in common with the historic one to be recognisable. The built environment is often the only thing that endures long enough to visually, tangibly link past events with the present, so that architecture, streets and cities provide a backdrop of continuity to the ephemeral and episodic nature of human actions.
All of this should, it seems, make rephotography a profound tool for architectural criticism. The architectural photographer has always been a kind of mute critic – emphasising some (good or bad) qualities of a building over others, constructing either a flattering or unfavourable likeness, telling a story about buildings through images. Adding the dimension of time should, on the face of it, make this critical role even more acute. That certainly seems to have been the idea behind a project devised in 2002 by John Gollings and David Pidgeon, who conceived of a book revisiting, re-judging and, importantly, rephotographing the best buildings from 75 years of Victorian Architecture Awards – from 1929 to 2003. The book was duly published in 2003 as Judging Architecture: Issues, Divisions, Triumphs, edited by Philip Goad. A flawed but fascinating book, it deserves its own re-evaluation and re-judging here, 10 years on.
Gollings and Pidgeon envisioned the review of past award recipients as, firstly, a debate amongst eminent architects, historians and critics about which buildings were the best of the best, followed by a rephotographing of their selections. Gollings describes this as "a chance to reconsider the role of photography in the documentation and illustration of architectural design". Furthermore, he predicted that "the illustrations should help justify the selection" of the shortlisted buildings.
This is a variation on an old notion: that time is the greatest judge of architecture, a truer arbiter of quality than any human critic could ever hope to be. The 'test of time' incorporates the sense of a trial by endurance, which is the withstanding of physical weathering and also of a lifetime of occupants, the hardest critics of all.
But the strongest sense of the test is 'assessment', specifically aesthetic judgement. This is also the principle behind the 'Enduring Architecture' awards in the Institute's awards system, given to buildings that "need not be previous award-winners" (read: the juries of the day may have missed a trick), but which "must be buildings of outstanding merit that, considered in contemporary context, remain important as high quality works of architecture". Contemporary critics are seen to be fickle and fallible. But time, that great judge, supposedly always gets it right, and the camera, that great documenter, is always there to capture it. But as it turns out, things are not quite so simple.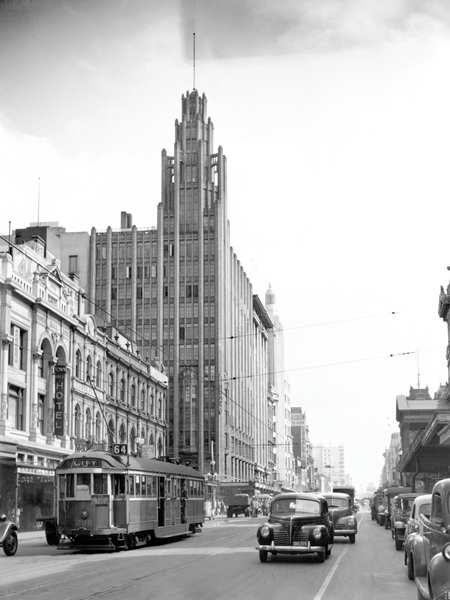 In a review of the Judging Architecture book published at the time of its release, Shelley Penn and Jennifer Calzini were equivocal. They praised the book's value as historic documentation of the awards' process and recipients, as well as its "illumination of the task of judging architecture". But among other criticisms, they found that the rephotography of the selected best projects "adds little insight to our understanding" of these buildings, being "beautiful but ultimately uninformative".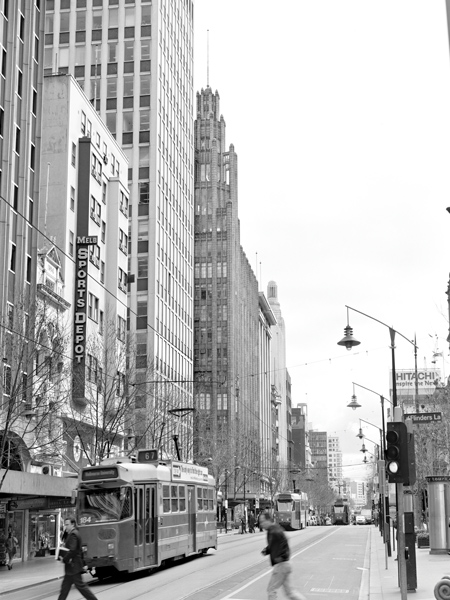 The images do tell us something, though, about the context of architecture, and the life that goes on around it. The most significant change across all of the images is the trees and gardens. Likewise, urban contexts have also changed: the city has grown up around buildings that used to be lone monuments in a low-rise landscape. Perhaps more interestingly, the images demonstrate the different cycles of fashion in architecture and consumer goods – cars are much more quickly dated than buildings, the clothes of the passers-by even more so. The buildings seem to look serenely on, unchanging, as Falcons and Kingswoods give way to Pulsars and Corollas, and flares give way to skinny jeans, with a thousand variations in between. On the other hand, trams have not changed as much as one might expect, and furniture, too, seems remarkably timeless.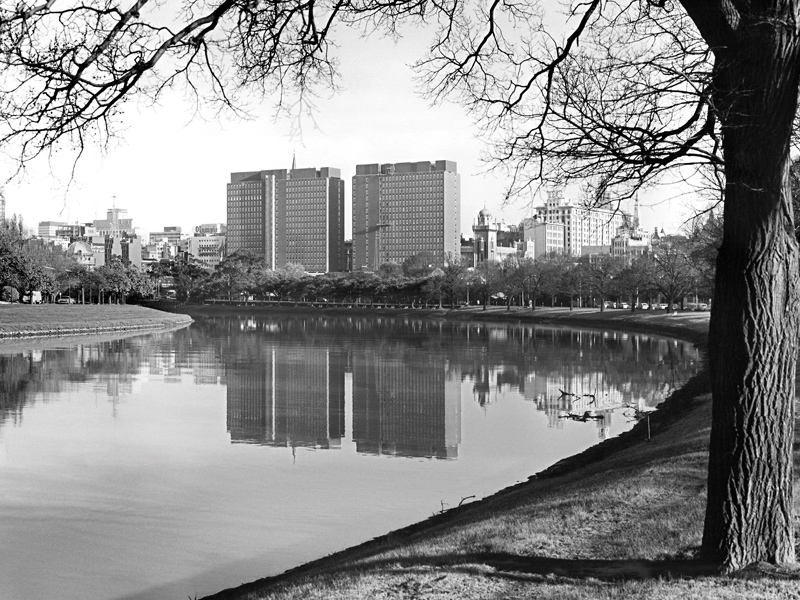 Some of the buildings look as fresh and sharp today as they did the moment they were finished, but this seems as much about the endurance of and current fashion for early to mid-century modernist styling as anything else. Some of the photographs record major architectural shifts – the enclosing of the courtyard of Roy Grounds' National Gallery of Victoria, Ashton Raggatt McDougall's addition to the Shrine of Remembrance and, most momentously of all, the construction of Federation Square in place of the Gas and Fuel Corporation of Victoria towers, which had previously occupied the site. This latter is probably the most polemically effective of the images, since it really does illustrate a major urban and architectural shift, with huge implications for the city.
Looking more closely, other subtle revelations are apparent. The two photographs of the John and Sunday Reed House (which later became the Heide Museum of Modern Art) are virtually identical, but minute inspection reveals that the building has been discreetly refitted to meet the service and safety needs of a public museum. Emergency exit signs have been added, the balustrade built in, the lighting increased, the ceiling sprouts smoke detectors, motion detectors and air-conditioning vents, while the paintings have all been given labels, which they would never have needed in a private house. The two photographs, while they show an architecture remarkably untouched in formal and material terms, trace a shift in program and the technology of architectural services, and in regulatory governance, that says much about the changed terms and circumstances in which architecture now operates.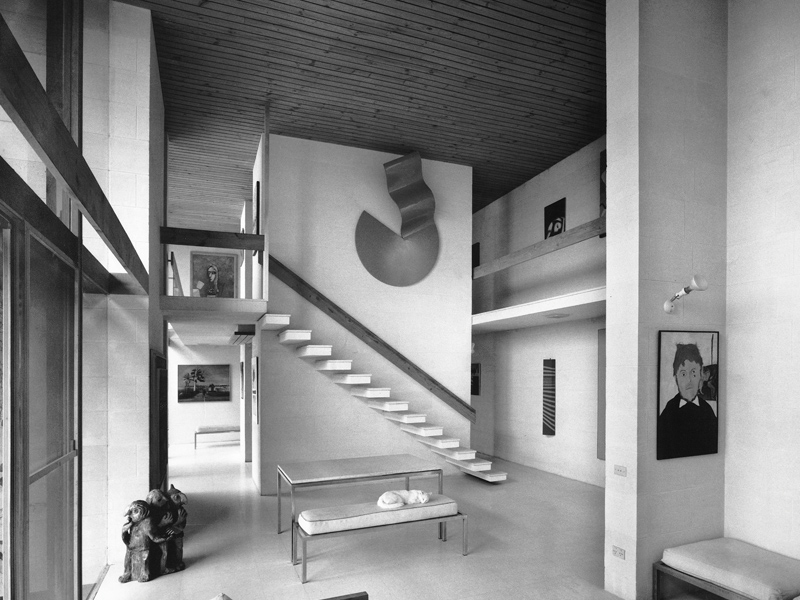 Gollings himself seems to imply, in an essay in the book, that it would have been ideal for all of the buildings to have remained entirely unchanged: "Very few of the buildings are intact or have improved with age," he writes. "Neglect, capricious change or sheer vandalism is rampant." But, taking Gollings at his word, could it actually have been expected that these buildings  had "improved with age"? And if they had, what would this actually look like? It is pleasing to think that buildings could improve over time – let's call it the fine wine school of architectural appreciation – but one wonders what visual cues would reveal this mellowing and increased sophistication. Apart from physical dilapidation or weathering (generally frowned upon as an indication of bad maintenance, hence entirely lacking in the rephotography shown in the book) or the wear and tear of everyday use or the not insignificant contextual effects of a mature garden or landscape or city, how would this improvement appear?
The tricky thing is, most of the rephotographed buildings seem strangely untouched, in some cases spookily so. Apart from its garden, the Boyd House II at South Yarra, completed in 1957, was virtually identical when rephotographed 46 years later, right down to the same Bertoia Diamond chairs in the same positions. Have these chairs not moved for nearly five decades?! It is clear that some of these buildings were more or less museums from the day they were completed; as acclaimed, award-winning works of architecture, they were less available for lively occupation and customisation than other, more ordinary and hence more malleable buildings. This means they mostly became frozen in time rather than layered with the effects of use and social life.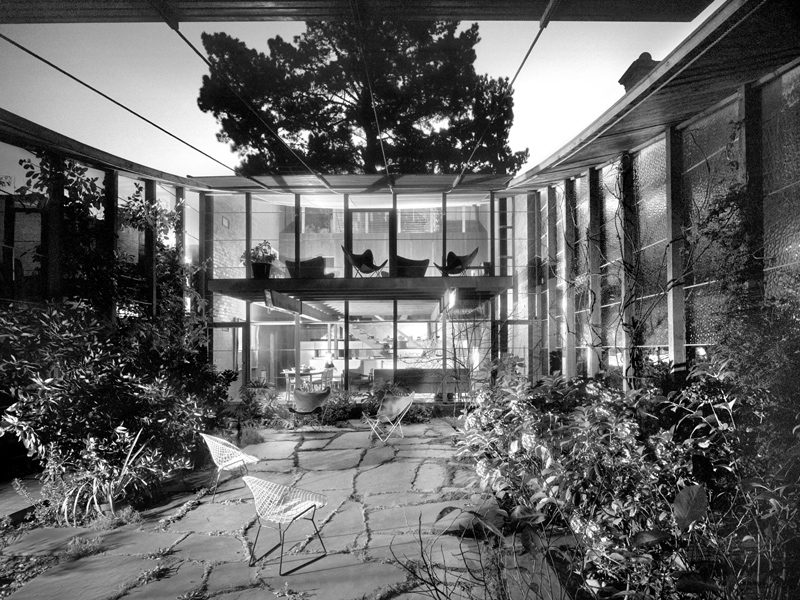 Rephotography falls down, both as a document and as an instrument of architectural critique, when there is no change to record: when the passing of time and the longstanding presence and influence of people on the built environment, is invisible.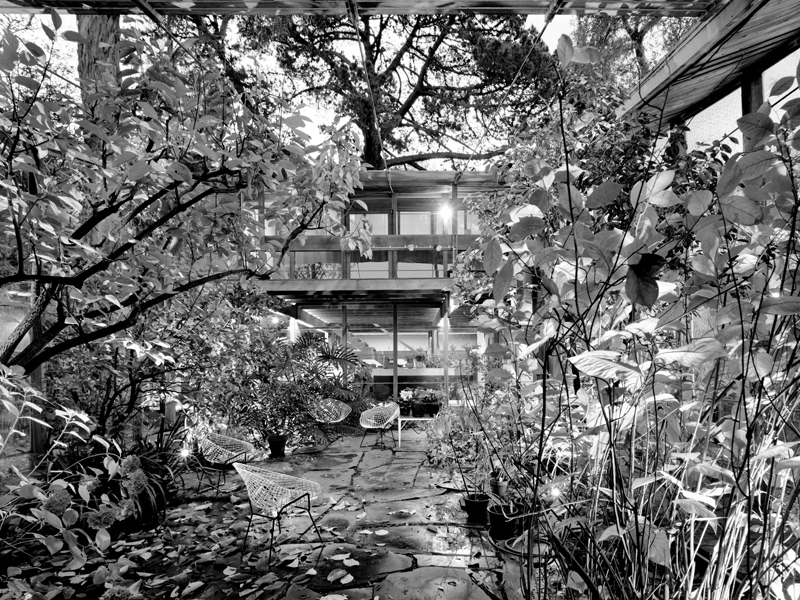 The most compelling thing about the rephotographed Heide Museum of Modern Art is the knowledge that the white cat in the original image, pictured sleeping on a tubular steel bench, must have been well and truly dead by the time the same bench was photographed in the same room 37 years later. On an abstract level we know that time has passed, but we see no evidence of that in the cryogenically preserved scene before us. Rephotography thus has very different concerns from architecture, with its fetishisation of the unchanging, authored and authorised building object. And since (apart from the occasional cat) the conventions of architectural photography so firmly exclude building occupants and their living detritus, it is precisely the passage of time and human inhabitation that it overlooks. Rephotography and architecture work at cross-purposes.
So what does this all mean? Can we look at a before and after photograph of a building and see proof of its excellence? Well, probably not. But what it does do is throw a new light on the relationship between photography and architecture and, indeed, between photography and criticism. Gollings is clearly interested in the technique and the opportunities of rephotography – he has completed a different (rather more informative) series documenting urban and social change at the Gold Coast in Australia and, in his Now and When installation for the Venice Architecture Biennale in 2010, he captured a 'before' view of three Australian cities, pre-emptive to an 'after' view yet to come. This strand of work is different to his conventional architectural photography, outstanding as that is – the rephotography is more conceptual, more experimental, more risky. In the case of the Judging Architecture book, the experiment may well have failed, but a failed experiment can be instructive.