Article by Online Editor
Designer
Above: Rafael Lozano-Hemmer's 'Solar Equation' installation at Fed Square in 2010. Photo by Julie Renouf.
Since its opening 10 years ago, 80 million people have visited Federation Square. In the last financial year alone, nearly 10 million attended more than 2000 public events hosted there. That's a far cry from what current CEO Kate Brennan describes as the square's entry into the world "as a suspect child". For Brennan, the Federation Square design concept "arose out of a yearning that the community of Melbourne had for a city square", although this yearning was rather vague and originally driven by the absence of any genuine sense of connection with the old City Square. But it was also driven by the way that Melbourne life, and the life of the city centre in particular, was changing. Large numbers of people from diverse communities were living and socialising in the city in an unprecedented manner. Public policy settings also pushed for greater levels of engagement in community activities and multicultural events.
Today, Brennan acknowledges that part of Federation Square's popularity can be attributed to its location "in the practical and emotional heart of Melbourne", as well as to the intelligent design of its physical attributes. As she says, "as an urban amphitheatre, the fundamental principles of Fed Square work very well: embracing a space and creating a forum in the traditional sense, in conjunction with interrelated spaces for exploration". However, she stresses that stewardship of a successful public space demands that the "management model itself needs to be empathetic to a broader agenda", an approach facilitated by "the fact that there was always a strong charter for how the space ought to engage with the community at large".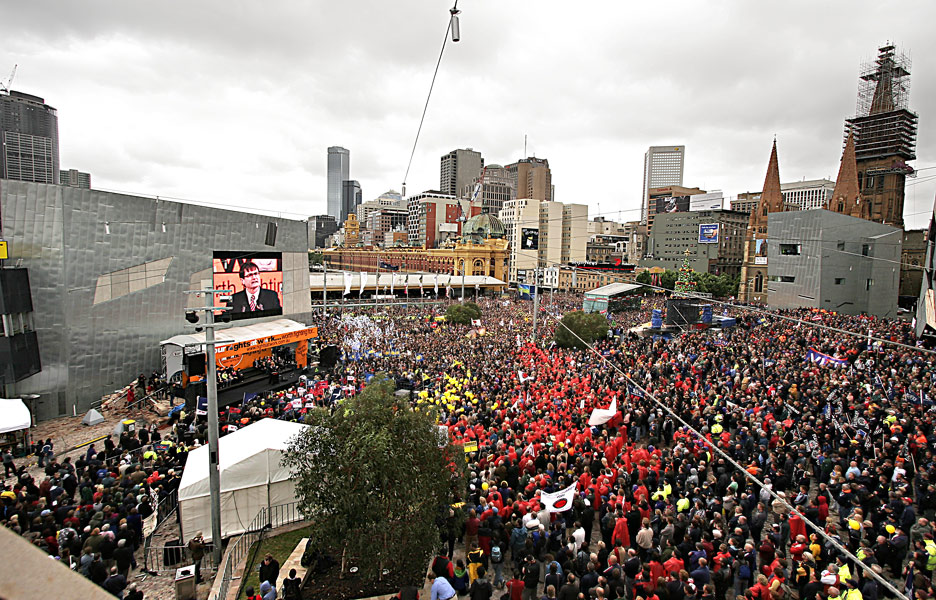 That charter has been interpreted in striking ways. Describing the amphitheatre facing onto busy Flinders Street, Brennan notes: "the moment we put the artificial turf down there it became a completely different space. People have their wedding photos taken there now. Artists come and sketch the physical surrounds because there's somewhere more comfortable for them to sit." She adds: "At a broad brush level, we've refined over time the notion of the comfort zones, where we put out cushions, deck chairs, umbrellas and bean bags. We try to do that in as casual a way as we can, so that people feel that they can own those little bits of infrastructure. And by owning them, they can actually own the space."
Donald Bates of LAB Architecture Studio, designers of the square, places great emphasis on three aspects of human interactivity. First, the square was to be enveloped by the built spaces curling around the square, creating a sense of intimacy and security from the enclosure. Second, the buildings in the square were designed with multiple throughways and axis points ­– each entrance point did not simply serve as a destination point but as a flow space and a transition zone, disrupting conventional assumptions about entrances and lobbies in museums and galleries, and even the mindset of visitors to such spaces by encouraging a more incidental and accidental passage.
One of Fed Square's most innovative focal points of public engagement has been its use of integrated media assets such as the large screen – not only an ambient source of visual information but also a key element for live public events and a platform for interacting with people in distant locations. Brennan recognises that these "media assets can make the place more plastic, more constructive, more engaging, and can contribute to its long-term sustainability as a place."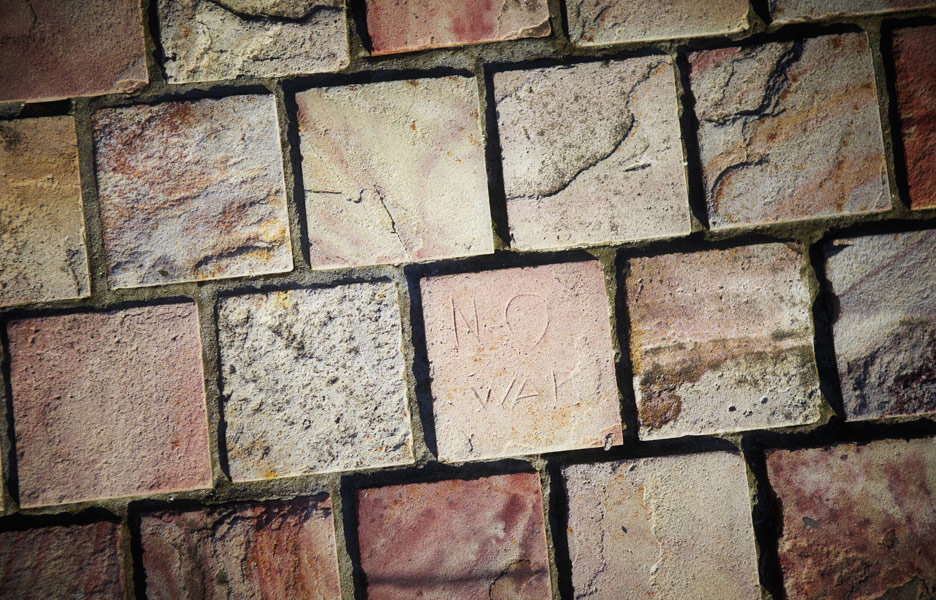 This sense of contemporary public space as both embodied and networked has been central to public appropriation of Fed Square on significant occasions. Shortly after it opened, it was the locus for the 2003 protest marches against the war in Iraq and the image of people gathered in the square was also broadcast via the large screen to other major cities around the world in a coordinated global protest movement. Then in 2008, for the 'National Apology to the Stolen Generations', over 10,000 people gathered to witness the live screening of the speeches, contributing comments to the screen via text messaging. Brennan acknowledges that the level of response took them by surprise: "In the lead up to the National Apology, we had no really genuine sense that the community at large would come down here in the numbers that they did to watch it on the screen. That was an extraordinary human experience. Regarding the role Fed Square plays in the life of the community, it was a great learning experience for us. It was said to me that people have a huge expectation of how the public realm works for them, and that we better get really good at finding ways to be responsive to that."
To further that, Fed Square has supported artists from Australia and Korea, who participated in the world's first live transnational telematic exchange by using interactive art to link large screens in the two countries. In a related vein, Brennan recalls "our first town square conversation at a senior citizens' festival five years ago, where we Skyped in older citizens from different town halls in Victoria onto the big screen. That was our first ever run at using multimedia assets for town square conversations." Another example of this desire for connected togetherness was provided during the commemoration service for the victims of the 2009 Victorian bushfires, when Fed Square screened parts of the memorial service being held in the nearby Rod Laver Arena. While most people were in the arena, another 500 gathered at Fed Square seeking company for the occasion.
This sense of connection, and interplay between physical and media space, redefines the meaning of engagement in a public square. "Once upon a time," says Brennan, "when we connected with everybody else we were in a community hall, or we were going to church, or we were in our football club. Increasingly, people do less and less of that and their lives become busier and busier with non-connecting activities. By contrast, at Fed Square there's something always going on. You don't have to be by yourself experiencing something – you can go to Fed Square and do it." Nonetheless, she does raise the question: Is the quality of your interaction any better?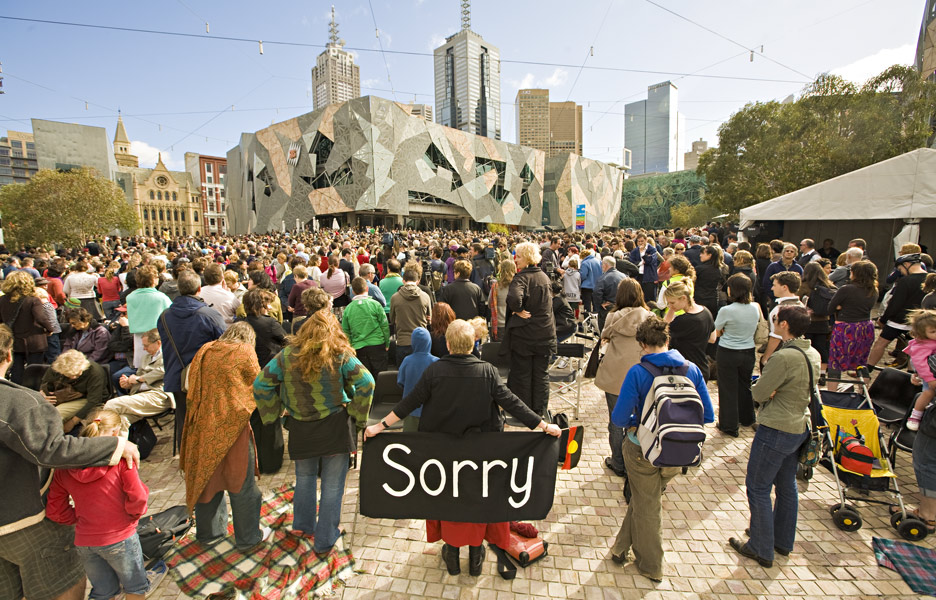 The answer to that rests upon exploring new combinations of curatorial programming and technical delivery of live events to not only match community needs but also extend aspirations. To this end Fed Square has established a process called 'deepening connections', with the aim of enhancing the democratic spirit of engagement with – and ownership of – the public space. According to Brennan, "We want the people who've picked up the deck chair and moved it around to feel like they've got a connection with Fed Square. We want them to see that Fed Square is not just this big open space that somebody manages but that it is a living, breathing entity that supports the community at large."
Bates raised a similar point when discussing LAB's collaboration with artist and writer Paul Carter: "A key element of the square is Paul's design work, and the choice of stone, which has a remarkably clean and soft appearance. I'm often astounded to see how willing people are to sit on it – it's as dirty as any other part of the city, and yet for most people it's an inviting space. The stone strongly references indigenous history and also creates a unique feel of the interior landscape transported into the city. To enable that, we confined the stone to the square's interior and bounded it by the normal concrete footpath."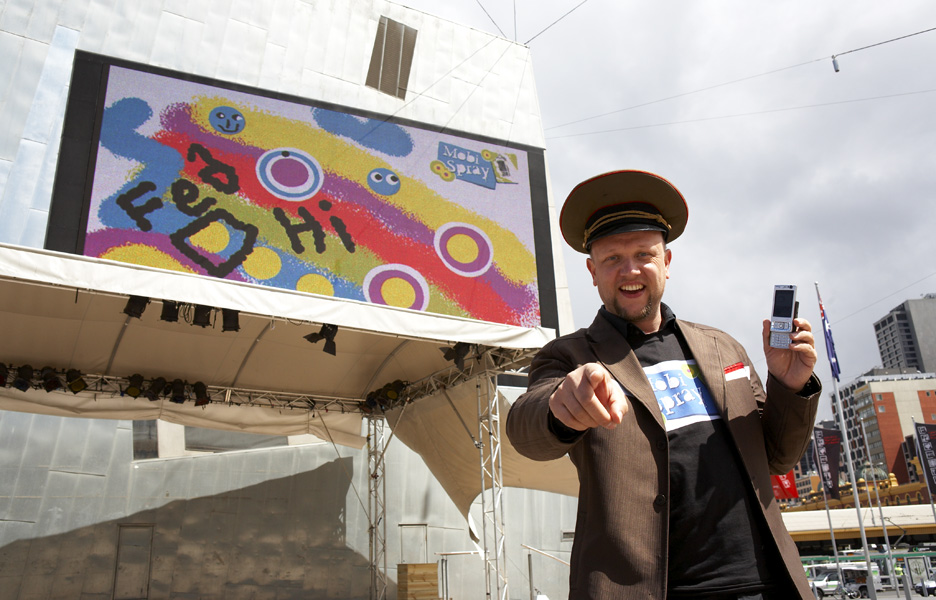 This early example of artistic experimentation in the urban design has been extended in recent projects. Reflecting on Fed Square's support for Rafael Lozano-Hemmer's Solar Equation project as the key element of 2010's Light in Winter festival, Brennan observes: "When you decide to do something, like bringing the world's leading installation artist into the space to do something he's never done before, and flying the largest balloon in the world above the square – well, we didn't really know how to do that."
For Brennan, the reward is immediate: 'When you get to the end of those projects, and you think "I did it", and you get feedback from the community about the experience changing perceptions of the city and its art, you sort of go, "Wow, that's incredible." I tear up when I think about it. It's great to know that the risks that you take in that very complex environment have actually enabled that.'
This article will appear in the forthcoming Architectural Review Asia Pacific magazine #128.