Article by Online Editor
Designer
The Big Weekend event at this year's Sustainable Living Festival covered a huge range of topics and ideas – far too many for one person to attend. I chose to focus on the talks on offer, particularly those relating to population, energy, housing alternatives, community integration and biomimicry. What's striking is how interconnected and consequential all these topics are, and the Sustainable Living Festival definitely illustrates the depth of the determined and visionary advocates who are pushing for change in these areas with a 'bottom-up' approach.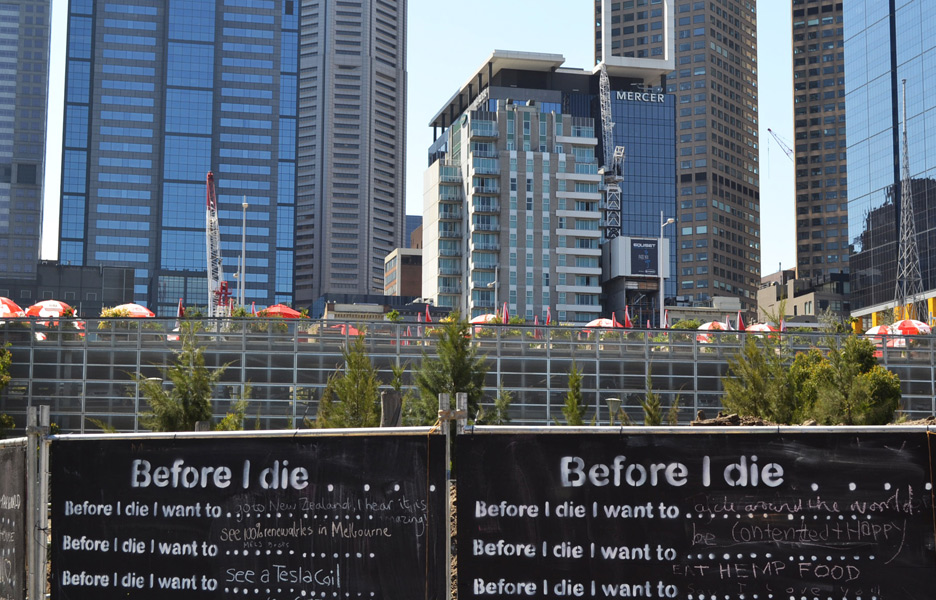 This approach was highlighted during the Living Sustainably Through Co-Housing talk. The speakers were mainly from Urban Coup, a group looking for space to set up a co-housing community who were keen to point out that they weren't just "a bunch of hippes" – rather, "a diverse group trying to reduce their footprint" by sharing facilities and resources such as gardens, a community kitchen, childcare, spare rooms for visitors and cars. They advocate a strong sense of community; private houses are reached via common areas fostering integration. The space the Coup are searching for is ideally within 10km of the CBD, near a train line, and with space for approximately 30 houses of differing sizes.  They will apply to Council for dispensation on car numbers; the requirement will be for 40 spaces, though they will ask for half that due to their desire for a public transport and walkable lifestyle. A key aim of theirs is to create a working, sustainable model that can be adopted throughout cities; interestingly they cited Denmark as being strong leaders in co-housing, with approximately 10% of new developments being such.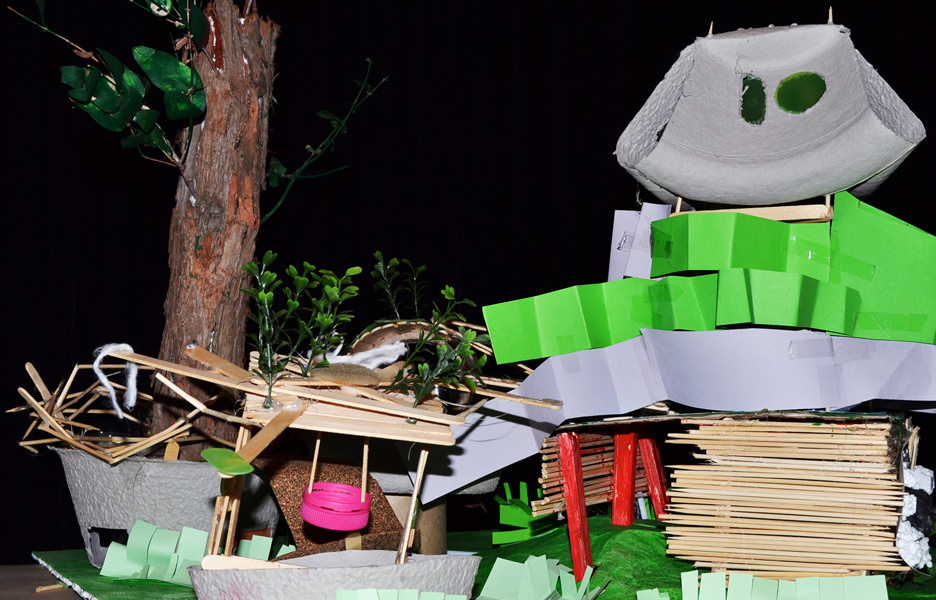 The idea of looking to Europe for inspiration arose during the interactive A Populous & Liveable Melbourne talk; in this case regarding density in both negative and positive lights. Attendees assembled into groups to discuss topics such as peak oil, community governance, transport and urban sprawl, via Edward de Bono's Six Thinking Hats process. I joined the food shortage group, which came up with solutions of community gardens being incorporated into large developments, more support for local food production and an edible landscape. Putting food growing and production into the school curriculum was also mooted as an option. Later I visited Eco-Cubby, an exhibition of work from architects and designers visiting primary schools and helping pupils design sustainable house prototypes – an encouraging program supporting sustainability education at a young age.
Another population talk, Population Policies Vs. "Big Australia", gave rise to some heated debate during the Q&A session. With Australia's population standing at 21 million, the Australian Academy of Science advises Australia not to exceed 23 million in order to maintain a decent quality of life in the current climate. Interestingly, current projections suggest figures between 30.9 and 42.5 million will make up the population by 2056. The speaker also alluded to a lack of government acknowledgement of the many issues and problems associated with a growing population. The main solution offered – a reduction in immigration – unsurprisingly led to heated debate.
Next up – a venture to the decidedly more sedate 'Pop-up Patch': a series of 1sqm growing boxes. The company behind it have rented the space for a 12-24 month trial. Some 85% of the boxes are now rented out by a mixture of CBD residents, restaurants and cafes. One of their aims is to promote organic food production as being a fun and easy thing to do; they have weekly workshops encouraging this. The project makes excellent use of what was formerly a redundant space above Federation Square's car park.
The Future Energy in Victoria talk I attended next yielded some confronting statistics, most memorably the fact that Victoria is the most polluting state in Australia, relying on 90% fossil fuels for energy. This compares embarrassingly with South Australia, who currently get 30% of their energy from wind farms. Wind energy has been heralded as a viable renewable option, while some other renewable technologies are not yet advanced enough for large scale production.
Zero Carbon Australia has claimed that it is possible for Australia to be powered by 100% renewable energy by 2020. Unfortunately an incomprehensible governmental response (or lack thereof) is making it look an unlikely scenario, and the uptake of wind farms is being prevented by numerous 'no-go' areas and regulations.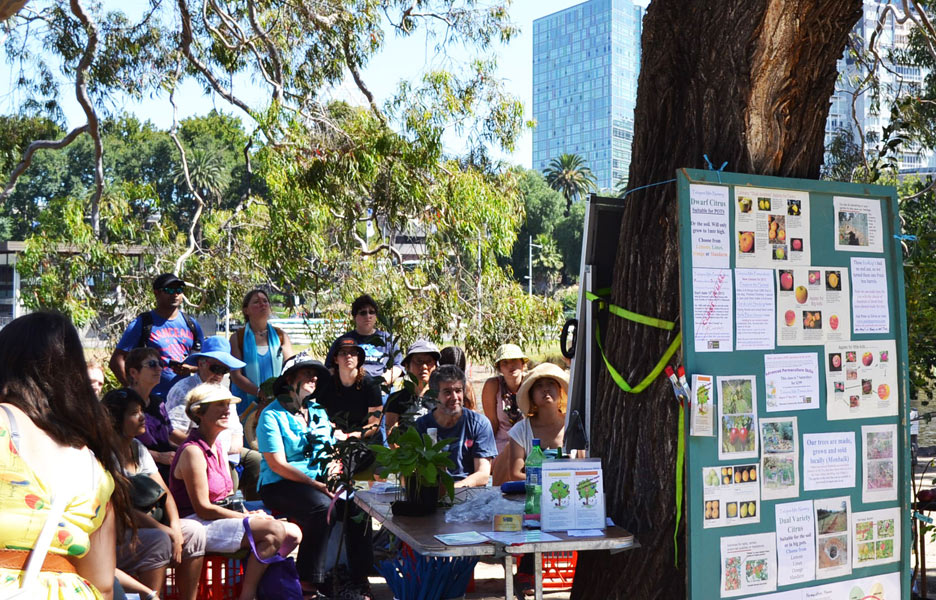 Wind power was also mentioned during a delightful talk, Biomimicry in Australia, detailing how wind turbine blades have become 40% more efficient due to an observation of the humpback whale's skeletal make up. Biomimicry examines the natural world and emulates successful patterns, strategies and techniques that are common to it. The speaker described the six life principles that define natural processes: being resource efficient, locally attuned & responsive, adapting to changing conditions, integrating development and growth, using available chemistry and evolving to survive. This was in stark contrast to human growth, which has involved over-expansion, resource depletion and pollution.
The Better Block talk outlined the process of building better blocks and streets via temporary, short interventions involving the community. Led by two enthusiastic speakers who have had remarkable success with what started as a guerilla community movement, the talk explained how simple, temporary strategies are used to transform soulless streets. Four car lanes become two car lanes a cycling lane and a pedestrian lane, while awnings, flowers and other street furniture adorn streets to make them pleasant and functional. The temporariness of these ideas was questioned during the talk, to which the speaker responded that their nonpermanent nature actually allows for more intervention, and that once the advantages of these interventions becomes apparent, perhaps the community will want them to remain. A fine ending to a Big Weekend.