Article by Online Editor
Photography by Anson Smart
Designer
This article appeared in Inside magazine 72: Homegrown.
Photography by Anson Smart with styling by Glen Proebstel. Photos originally published in Inside Out Mar/Apr 2012; courtesy of Supercyclers.
The Supercyclers blog says it all. While other blogs change daily or weekly, this one, according to Supercyclers co-founder Sarah K, "is pathetic really – it has a new entry every three months, it's the slowest blog on earth". Not pathetic at all – it accidentally, and yet very conveniently, taps into the whole Supercyclers ethos, the idea that we all need to be more mindful about consumption and consumerism. Who needs something new every five minutes?
Supercyclers was invited to exhibit as an international entity for the first time at this year's Ventura Lambrate, the experimental hub of Milan Design Week. As curators, Sarah K and Supercyclers' co-founder Liane Rossler chose nine exhibitors of mainly functional objects – six from Australia, the rest from Europe – to be part of the show, Supercycle our Souls. "We represent ourselves much better as a group than we do singly," says Sarah K. "While we may still be excited by the celebrity of one person, I think there's more satisfaction in being part of something."
The fact there was a Supercyclers exhibition in Milan this year is extraordinary in itself; the genesis of Supercyclers had only come about a little over a year before, "as a meeting of minds" between designer and curator Sarah K and designer Liane Rossler, co-founder of Dinosaur Designs.
"I ran into Liane for the fifth time socially and had it in my mind to do something with her," says Sarah K. "We knew we both had modernist tendencies and set ourselves the task of doing something with refuse, with plastic bags in particular."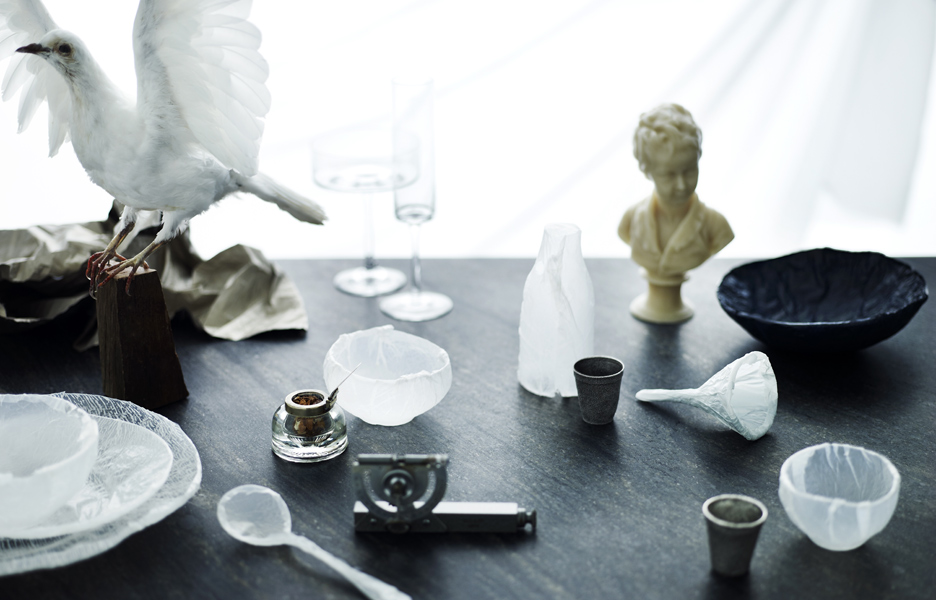 What they were both keen to do, she says, was take whatever they did beyond the 'craft-y' feel of most recycled products. "We wanted to make something you'd want, instead of something you'd want to throw out." Hence the name Supercyclers, which seems so appropriate it's hard to believe no one has come up with it before. "I think it was there in the air, waiting for someone," says Sarah K. Their first collaboration was on Plastic Fantastic, a series of completely covetable, subtly and irregularly coloured vessels, which were shown in Ventura Lambrate last year as part of The Other Hemisphere, an exhibition on Antipodean design curated by Sarah K.
While she was in Milan, she noticed that plenty of other people were doing interesting things with rubbish or thinking about environmental issues in lateral and unexpected ways. The concept of Supercyclers, says Sarah K, is more a state of mind than a fixed idea or even a fixed group of people. The blog declares: "We are Supercyclers and we hope you are too." In its broadest sense, even those who donated a few dollars, through Pozible, to help get the Supercyclers exhibition to Milan this year can be considered Supercyclers, says Sarah K. The blog is a way of drawing attention to designers and their products rather than a commercial entity – there's no retail component to it. "Hopefully, we're promoting behind the scenes, so everyone can make a living out of what they're doing," says Sarah K.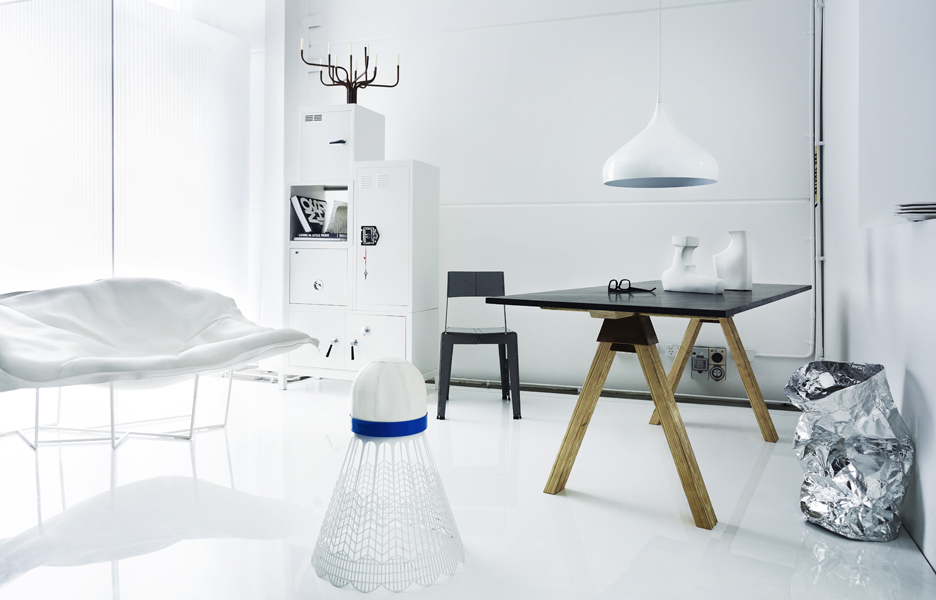 The concept is constantly stretching and evolving as she and Rossler come across work or ideas that intrigue them. "There are plenty of people out there doing sustainable and recycled stuff, but our point of difference is that it's got some conceptual approach to it and is a bit of a surprise," says Sarah K. "We're both pretty hard to impress, I suppose."
A case in point, and one of Supercyclers' exhibitors in Milan this year, is Postfossil, a collective of emerging designers from Switzerland, who were neighbours of The Other Hemisphere last year. The collective's Juri cutlery set, hand finished and with a particularly refined profile, is not made out of recycled materials but, instead, the knife is purposely left unpolished to make meat hard to eat, bringing the whole issue of land use to the fore.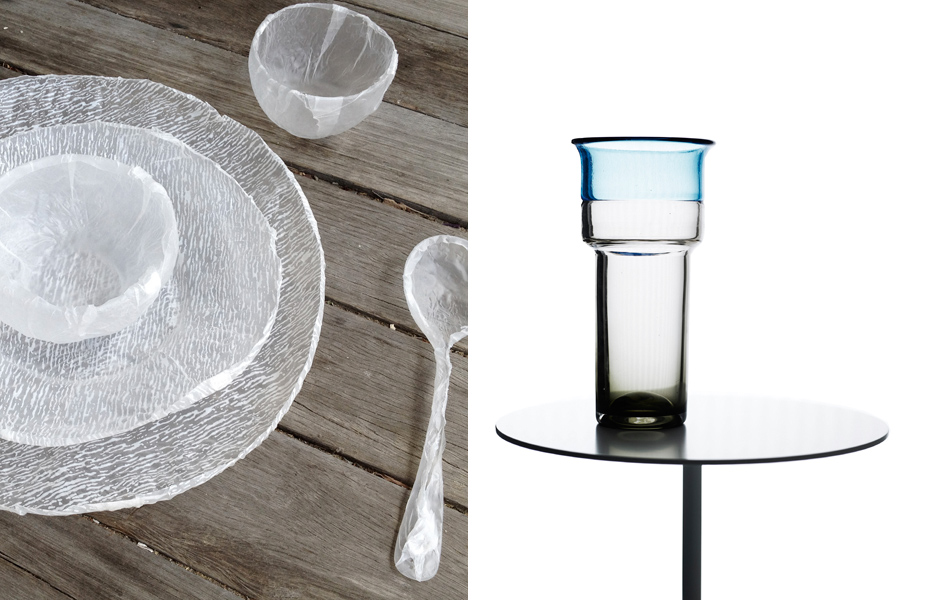 Equally surprising is Australian Andrew Simpson's Solar vase, which looks as if it could have come out of a very stylish laboratory but, in fact, is made purely out of recycled solar panels. "I can't understand why I love it so much," says Sarah K. "It's something about the fact that you don't think about having to recycle solar panels."
And then there's Ontwerplabel Vij5's NewspaperWood – "a clever Dutch idea, so cute", which Sarah K also first spotted at Ventura Lambrate last year. In it, newspaper is recycled in such a way that it ends up with wood-like grains and rings, and is tough enough to be made into furniture. The evolution of timber to paper and back to timber is too appealing for words.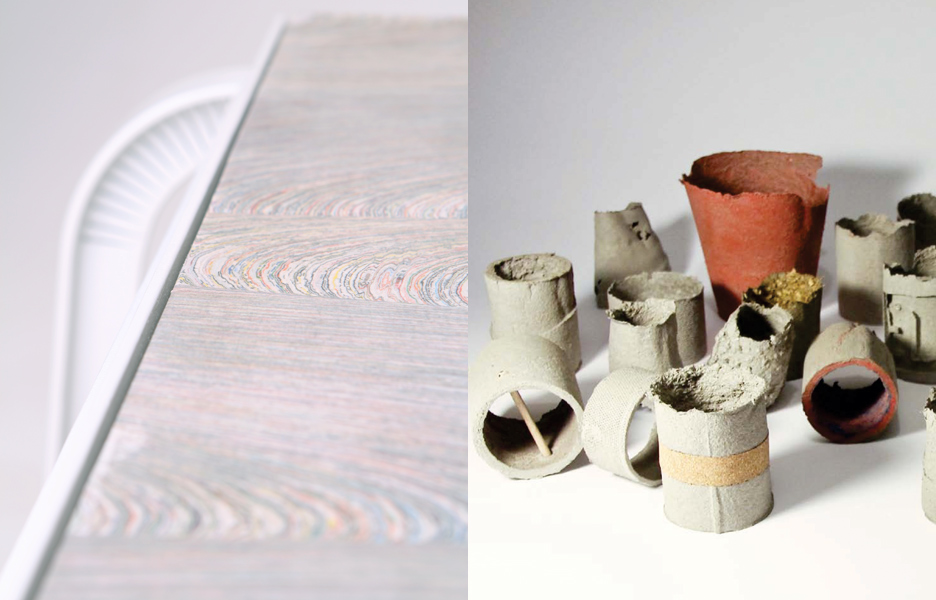 Also showing was the Berlin-based design firm, ett la benn, with its lamps and pots made of 100 per cent biodegradable cellulose, and Australian Tamara Maynes, whose lights come readymade or, in true Supercyclers style, people can buy the templates to make their own. Australian Mark Vaarwerk makes incredibly elegant vessels out of such things as shrunken down polystyrene cups and uses "stuff you don't want to know about, like cigarette butts" for tinting his materials. Blakebrough + King (Sarah K and her husband, Ben Blakebrough) showed a chair made of old broom and other utensil handles with recycled paper cord, while the A Joint, by Australian Henry Wilson, who studied and worked in the Netherlands, is a sustainable way of satisfying our appetite for the new by creating and recreating furniture from found materials. Also under the Supercyclers label is Sarah K and Liane Rossler's Plastic Fantastic collection.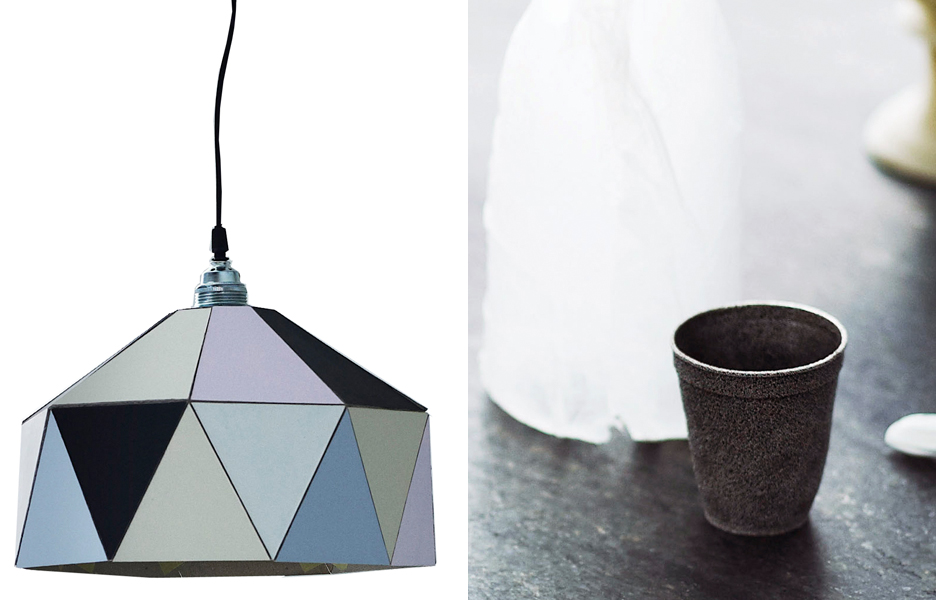 For many small exhibitors at Milan, the best thing to happen would be for a major manufacturer to come in and pick up their product. But in the case of Supercyclers, says Sarah K, "if somebody came along and said we want to produce all the Supercycler works, and we want to make them into a range, that wouldn't be the perfect thing". It would go against what Supercyclers is about, which, she says, "is about acknowledging difference, not blending it all into one".
Where Supercyclers goes from here is anybody's guess. "We want to keep it open," says Sarah K. "The next thing that comes along will be the next thing – each thing seems to lead to the next."