Article by Online Editor
Photography by Brett Boardman
Designer
Architect
Architecture, like art, science, mathematics, music and other disciplines, is based on the evolution of knowledge. In each discipline, revolution can only occur with an acute appreciation of what has gone before. Given that history is an infinite body of information, often manipulated to suit a given agenda, the judicious selection of material studied in the evolution of a given body of work is as significant as the work itself.
The recent exhibition of the personal art collection of Pablo Picasso at the Gallery of Modern Art in Queensland exemplifies this notion in reference to one of the most influential figures in modern art. The exhibition brings together works by Braque, Cézanne, Chardin, Matisse, Renoir, Miró, Modigliani, Rousseau and more. The media release from the show notes the collection "…paints in its own way an intimate portrait of Picasso the artist". This tongue-in-cheek pun highlights that Picasso's appreciation of his forebears and contemporaries influenced his work as much as he has influenced many of the artists that followed him in the 20th and now 21st centuries. Despite the post-modern and digital revolutions, modernism still has enormous sway in the evolution of architecture nearly 100 years after the fact.
A particular strand of ideals from this heroic era are manifest in this recently completed commercial building in the centre of Sydney by architect Angelo Candalepas; Le Corbusier, Kahn, Scarpa and a hint of Aalto are all at play here. Candalepas Associates has produced an admirable body of work that has evolved steadily since his competition-winning scheme for Pyrmont Point Housing was built in 1998. The project comprises 17 levels of speculative office space on a narrow city block wedged between an 1860s former bank building and a non-descript 1970s apartment block.
The narrow site, prescriptive program and commercial imperatives left little room to move in plan and the architects have emphasised the sectional qualities and façade treatment to create appealing interiors and make a meaningful contribution to the urban fabric. The east facing street façade is a complex composition based around the golden section. The study of this and other lessons from classicism are issues dear to the architect's heart.
A 'base' of Sydney sandstone, off-form concrete, fritted glass and Carrara marble picks up the original parapet line of the building to the south. The sandstone is an obvious contextual response to its immediate neighbour, while the inclusion of 'white' Carrara is a tenuous reference to the white steelwork of the AWA Tower a few doors to the north. An initial reading of this element recalls Le Corbusier's brise-soleil à la Villa Shodan or Mill Owners Association. Like Le Corbusier in India, the response in Sydney represents deference to the play of light into private spaces beyond the street. A single pivot door, detailed with subtle references to Sigurd Lewerentz, leads a small entry lobby over which hovers a four-storey void. I jokingly suggest that the blank travertine walls may be a good home for a work by Candalepas' friend Richard Goodwin. He contemplates this momentarily and replies with a soft, yet stern, "No. No, this is a calm space, a silent space…." I eerily sense the presence of Kahn himself.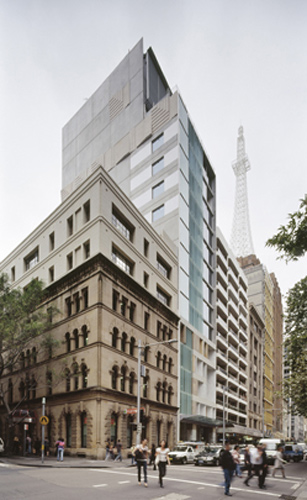 Each of the main floor plates is a simple plan with a side core and a deep east facing balcony/winter garden. From the interior of the lower levels the brise-soleil composition makes more sense than its apparently random street composition. Each element is arranged to orient views away from an unremarkable 1980s office block immediately opposite and focus them toward Wynyard Park to the north. The composition of the entire façade has been arranged around this idea. At the higher levels, the deep recesses of stone and marble give way to a glazed façade divided into three unequal parts. One bay emphasises verticality on a façade that would otherwise be squat by default.
Toward the centre, a flurry of fritted glass louvres seems purely decorative yet plays an important role, blurring views of the bronze glazed edifice across the way. That they are oriented to the south, where the view to the park is to the north, suggests they are partly decorative, as this arrangement ensures that the louvres shimmer in the morning sun, which refracts into the balcony. The staggered depths of the louvres themselves, which are arranged according to a musical rondo sequence, are a decorative indulgence. This is not to dismiss decoration by any means – in fact decoration plays an essential functional role, conveying meaning and beauty. Form clearly follows function if we allow function to extend beyond pragmatics, a tenet not readily accepted during the height of the modernist era.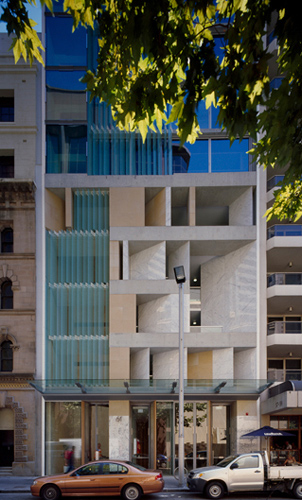 In an era of computational flamboyance, Candalepas has chosen to study classical proportion, remaining true to the tenets of modernism and applying these through the evolution of 14 years of successful built work. This resistant mode of practice is but one form of valid operation in the new millennium; there were numerous other paths made available to the profession by a league of revolutionaries nearly 100 years ago. It could be argued that elements of modernism itself are alive and well in contemporary architecture through the use of new technologies, techniques and materials without deference to form or detail. Zaha Hadid Architects is one practice of note that clearly illustrates this point. While there is little direct reference to the masters of modernism in its projects, Hadid incessantly refers to the work as a continuation of the modernist agenda.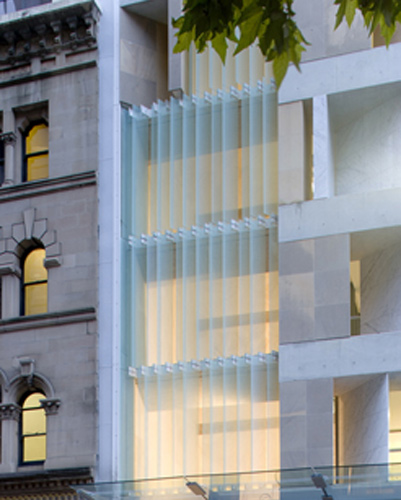 For our profession to evolve effectively, perhaps the key lesson to be learned from modernism's revolutionaries is that while it is essential that we judicially glance back through history, we might also carefully look sideways to our peers, as Picasso did with Braque, Matisse et al, and optimistically seek a better future.