Article by Online Editor
Photography by John Gollings, Shannon McGrath
Designer
Architect Billard Leece Partnership and Bates Smart Architects
Erratum: When this story was originally published in Architectural Review Asia Pacific #124, coordination of the hospital's wayfinding and graphics was erroneously attributed to Mark Healey of Bates Smart. In fact, Buro North was responsible for the coordination of these elements. The text has been amended here. Apologies to Buro North. 
When the Royal Children's Hospital (RCH) opened on its present site in 1963, it was an efficient, air-conditioned cream-brick slab that failed to take advantage of the site's exposure to Royal Park. Although an icon in the community's eye, it barely seemed to address the psychological needs of sick children. Banishing nature, it was typical of the hermetically sealed slabs associated with hospitals of the era.
Fast forward nearly 50 years, where ideals of light, air and landscape have returned to Australian hospital building, becoming key drivers of the new RCH's form and finish, as well as its masterplanning, internal organisation, wayfinding strategies, interior design and artwork. Considering the scale of this $1 billion project, the concept developed by the BLBS Joint Venture (Billard Leece Partnership and Bates Smart Architects) achieves remarkable design integrity across a vast campus.
An early hurdle was the controversial siting of the new building adjacent to the existing facility. Community concerns were raised about public parkland being lost, but while the old hospital occupied 4.1 hectares, the response took up exactly the same area, progressively demolishing the old complex so that parkland remains untouched. Even during construction, builders' huts were arranged around existing eucalypts, and community opposition gradually turned to support.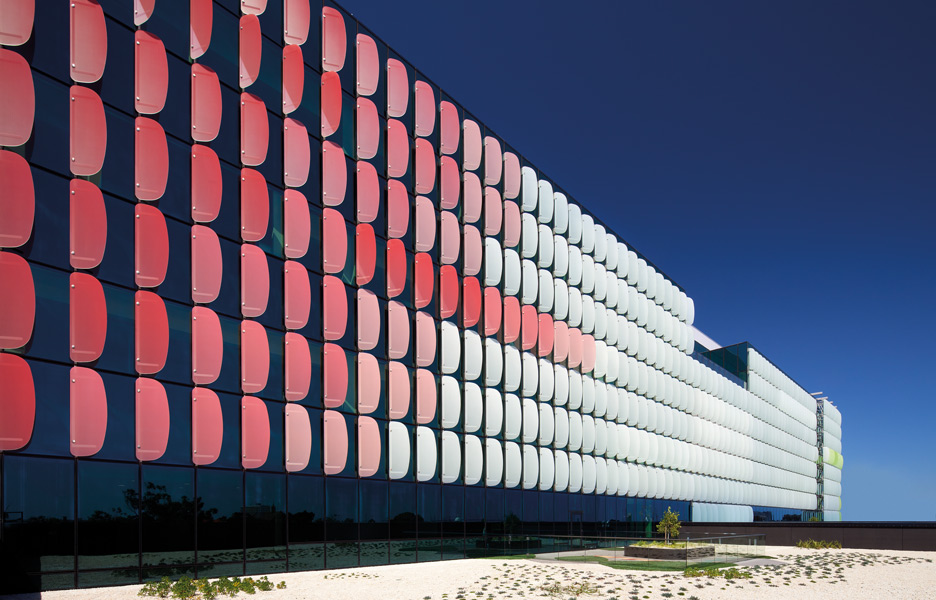 The project's masterplanner, Ron Billard, employed a fundamental planning strategy: using the sloping site to locate the Emergency Department just below grade at Flemington Road, along with all public parking and services. The result is a complete absence of ugly service roads ringing the complex. The building's main face to Flemington Road floats like a tree canopy, adorned with sun-shading 'leaf/petals' in colours that change from red to green, while the massive Outpatients block is bisected by a series of courtyard gardens. On the quiet northwest side of the site, in discrete star-shaped inpatient blocks, each bedroom has the salubrity of a hotel and a courtyard view, or of Royal Park. Each corridor ends in a glazed sitting bay. It may still be hermetically sealed, but there is the prospect of nature, surprisingly for a city building.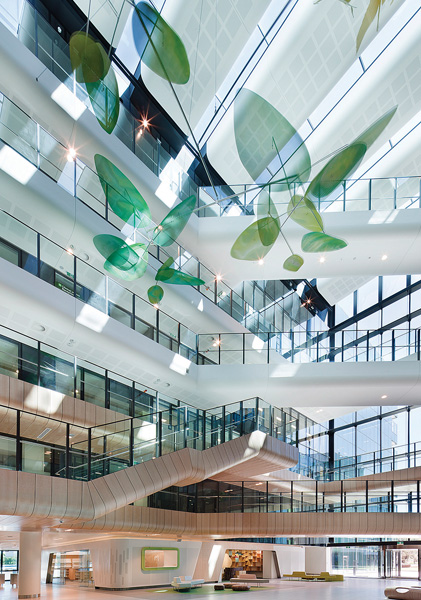 The hospital's internal organisational spine, the broad, light-filled 'Main Street', terminates in a landscaped garden mound with views beyond to Royal Park. Running the length of Main Street is 'Sky Garden', five delicate, mobile-like leaf canopies by artist Jade Oakley. These design strategies were directed towards how an ill child might feel, nullifying pain not just with medical care but also with normalising environmental and experiential measures. Families were considered, too. When a child is in hospital, visitors invariably include not just parents but also brothers, sisters and often grandparents, which means public visitor numbers can be very high. The hospital had to incorporate memorable visual cues and expansive and appropriate group seating for families – it had to be a place where people would want to come. According to Bates Smart's Kristen Whittle, director of design on the project, "Evidence-based design in a children's hospital calls for designed 'distractions'", so the design team produced interior experiences for children that are magical, tactile and engaging. Thankfully, they've avoided the cloying Disneyland aspect of much 1990s hospital design, instead striking an unusual balance, an appeal to both the innocent and sophisticated.
On entering the six-storey Main Street – with its blonde-plywood lower-level walls, balcony reveals and ceilings, and upper levels of white – there is an immediate sense of 'Scandinavian' calm. The information counter is a dramatic, white-polished squiggle, a piece of 'art'. To the right, children are drawn immediately to the giant two-storey, cylindrical fish tank. It's a 'distraction', yes, but also a vertical marker for the Emergency Department on the level below. Beyond is the Creature, a huge, multi-coloured sculpture by Melbourne artist Alexander Knox, and another cue for visitors emerging from the public carpark below, a directional marker towards Outpatients.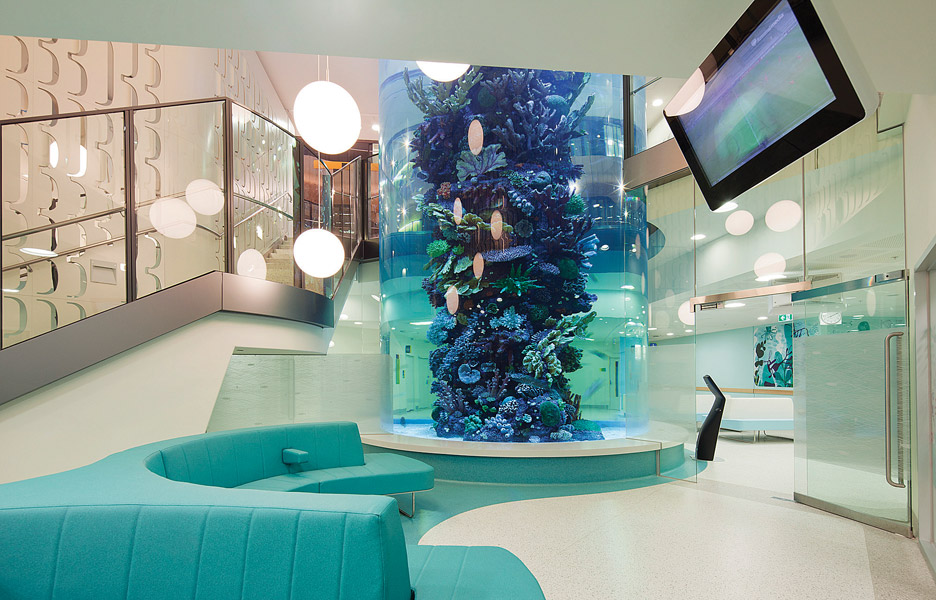 This major intersection delineates an axis of courtyards and adjoining waiting area pods before the major outpatient waiting area. There, in the final courtyard, children and parents can enjoy the meerkat enclosure, another 'distraction' and a special collaboration between the RCH and Zoos Victoria. Such markers help visitors navigate the vast scale of the complex, and each interior scheme relates in colour, texture and introduced artwork (many done by children) to the flora and fauna of eight Victorian landscapes, from Port Phillip Bay to alpine Victoria. This child-friendly wayfinding device was produced by Melbourne illustrator Jane Reiseger and coordinated by Buro North.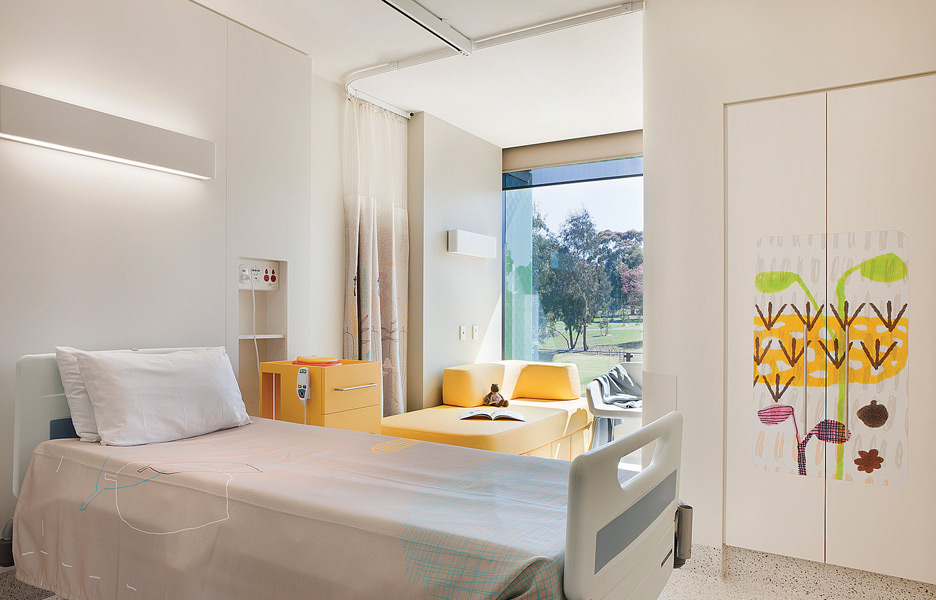 In 1950 G.E. Kidder Smith, writing on Hjalmar Cederström's Southern Hospital in Stockholm, questioned "whether a building as enormous as this does not begin to become inhuman by its very mass and to so dominate both the patient and the town that its size begins to defeat itself". By contrast, the RCH is legible, easy to navigate and tranquil. When I visited, it was buzzing with people. Light, air and landscape, long heralded virtues for a healthy body, were everywhere in evidence. Remarkably, every child I saw seemed genuinely happy to be there.