Article by Online Editor
Designer
This year's Melbourne Architecture Annual, centred around the theme of 'Community & Architecture' to coincide with Federation Square's 10th Birthday, featured a range of events, lectures and exhibitions. The first lecture I attended was the bluntly named 'Does anyone care about architecture anymore?' – and judging by the turnout in NH Architecture's canteen, despite the archi-centric crowd, the answer was a resounding 'yes'.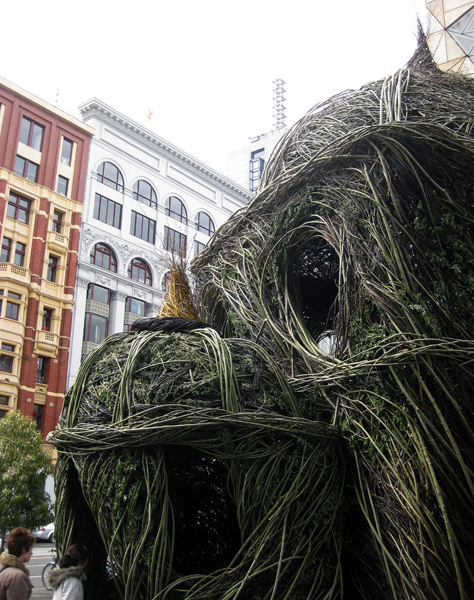 Beginning with the fairly decisive claim that there are two main types of architecture (city and suburban), the discussion continued to outline a brief history of the developing city. This covered the Australian version of the Industrial revolution, which led to mass migration to cities and the relaxation of liquor licensing laws – which was the impetus for accessibility and hospitality within the city, contrasting with the previously staunch Victorian era.
Other themes raised included competitiveness in architecture (and the idea that architects are among the most competitive of professions) and the diminishing role that architects have. According to the panel – moderated by Don Bates (LAB Architects) and featuring Adrian FitzGerald (DCM), Debbie Ryan (McBride Charles Ryan) and Peter Maddison (Maddison Architects) – the former theme leads to good, healthy competition but can also be detrimental to smaller up-and-coming practices. One member said "there is an assumption that you can't do a certain type of building if you have not previously done so". Of the latter theme, the consensus, generally, was that architects are losing their autonomy and control, while ways of commissioning architecture have reduced and been negated. Adrian FitzGerald felt this to be off the mark, in particular for buildings above one storey in height, noting that anyone can design a one-storey building, but an architect is a pre-requisite once the 3-5 storey mark is reached. The panel also recognised that architects have to be more accessible to the public and perhaps use less jargon when engaging with them.
One of the most interesting points of the lecture related to suburban architecture, and was raised by an audience member, who asked "why do no decent architects get involved with suburban sprawl?" Answers were decidedly brief: "because we can't compete" and "developers don't want us involved, they are selling an idea not design". The latter answer is, unfortunately, rather pertinent: a certain lifestyle, alongside a large property, is key among decision-makers, and sadly quantity seems to rule over quality in many of the suburbs. One answer alluded to the European model, whereby drawings have to be signed off by an architect as opposed to the local situation, where a developer can do so. Some European countries are also addressing the issue of suburban sprawl by commissioning architects to produce exemplars that raise the bar for current developers. Perhaps this is something Australia needs to take heed of. It's a complex issue, and I wish this subject had become more of a debate among both the very knowledgeable panel and the enthusiastic audience.
The subject of the next lecture, 'Community and architecture: cultural appropriations', had a more utilitarian approach as the speakers discussed some of the decidedly less glamorous aspects of architecture, including waste management and toilet installation. Project locations ranged from Asia-Pacific and Africa to indigenous communities across Australia, and included orphanages, cultural and community centres, and house refurbishments. Heartwarming stories ensued, as well as some more practical lessons learnt, including. "only work where you've been invited and/or have partnerships already in place". An overriding notion was the importance of teaching locals how to be able to design and build in the future; to leave behind not only a building, but also a legacy of transferable education and skills.
A miscommunication, sadly, prevented a trip on the Architours walking tour, but the guides behind Federation Square's Tenth birthday celebrations kindly offered me a place on the Behind the Scenes Fed Square tour.  I naively – or perhaps wistfully –hoped that we would be met by a vast, dark, cavernous space when going 'underground'. Unfortunately a series of service corridors formed the reality, although a sneak peek into the Labyrinth and the Square's almighty maze of serrated concrete, used for passive heating and cooling, was closer to my earlier imaginings. The Square is the largest artificial platform over live rails in the world, and all rainwater from the platform is collected and used for toilet flushing – part of the Square's plan to be carbon neutral by 2013. The tour guide proudly mentioned the lack of vandalism and crime associated with Fed Square – those deckchairs would be easy pickings in many other places – suggesting that the sense of ownership Melbournians have of the Square helps prevent this from happening.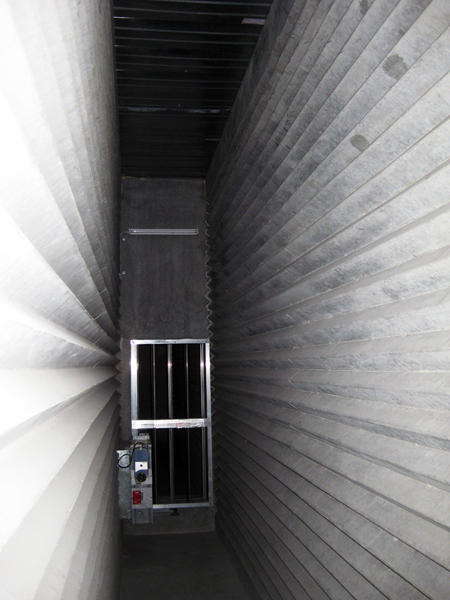 Simon Knott (BKK Architects) raised the importance of imparting a sense of ownership or civic pride on a place or building in the final lecture I attended, 'What is Public Architecture?' He also queried whether the humble 'dunny' can be a good example of civic building. While celebrating the utilitarian aspect of such buildings, he also acknowledged that, rather surprisingly, toilet blocks are the most expensive buildings they do per square metre. The blocks are all off grid, fully sustainable, elemental buildings with rainwater harvesting and PV panels (a marked contrast to some of the toilet installations mentioned in the previous Community lecture).
An interesting question followed, regarding the poor quality of healthcare buildings – citing low ceilings and claustrophobic spaces as contributory factors. I felt this question was perhaps a little out of date; the quality of such buildings has increased dramatically in recent years, and the panel highlighted the Royal Children's Hospital and numerous Maggie's Centres in the UK as proof of this. Yet a very pertinent concept was raised: that certain Ministries – namely Health, Education and Justice – require statistics, research and hard data to change from their existing, utilitarian models. Proof is required that inhabitants' health, concentration and wellbeing can improve beyond recognition through good design, and that this leads to better outcomes and added value.
Paul Pholeros (Healthabitat) shared some confronting statistics during the 'Community: Architecture' conference, inferring that hospital admissions had dropped by 40 per cent in indigenous communities where houses had been refurbished, including where they had simply been made sanitary and electrically safe. Perhaps more research should be done, across a range of building typologies, that proffers proof of such outcomes. As architects, we know the multi-faceted significance of good design; but there are numerous situations we face where this is questioned for a multitude of reasons. Although not seen as a creative answer, perhaps the provision of cold hard facts in these situations could lead to the uptake of more considered design.