Above image: The Thames and the City by Canaletto, National Gallery Prague
The City of London, in its post-Olympics euphoria, is in the midst of a construction boom brought on by a self-conscious desire to reshape its skyline and declare its relevance as a global city. In less than a decade, the city's skyline has been transformed from one that was low-scale punctuated by a few tall buildings (that were publicly considered to be monstrosities), to a contemporary global skyline to rival those in the emerging Asian tiger economies. A series of iconic new skyscrapers, with nicknames such as the Gherkin, the Cheesegrater, the Shard and the Walkie Talkie, are recreating the skyline of this historic city without the fear of overdevelopment, loss of heritage or change so often seen in Australia. So what are the planning policies that allow it to happen, and what quality of architecture is being delivered in this risqué development boom?
There are three key ingredients: the political desire for construction, a flexible planning framework and a popular acceptance of tall buildings.
London's planning framework has been informed by its history. Canaletto's 1750 painting of London from across the River Thames depicts a low-rise, reddish-brown brick city with Christopher Wren's domed St Paul's Cathedral eclipsing the scale and height of all before it. Canaletto's skyline also depicts various elegant church spires of local parishes creating points in the urban-scape of the city. This image still dominates the psychology and planning instruments of the city. The London View Management Framework (LVMF) was created to protect views to historic monuments, particularly St Paul's Cathedral and Westminster Abbey, from various locations around London, enshrining the historic dominance of these public buildings. Some of these vistas date back to the time of Henry VIII and his views across London from various parks and palaces.
As Sir Terry Farrell has observed, the LVMF forms a type of 'air rights' covenant across vast swaths of London. An important consequence, however, of the LVMF is that although it restricts development in large areas of the city, it does allow clusters of tall buildings to occur between the view cones. In addition to the historic protection of vantages, the City of London's planning framework is performance-based rather than prescriptive, thus allowing considerable flexibility to the planning authority. There are no FSRs (floor space ratios) or height limits and, indeed, as Peter Rees, city planning officer for the City of London has noted, there are "no rules about what you can do, only what you can't do".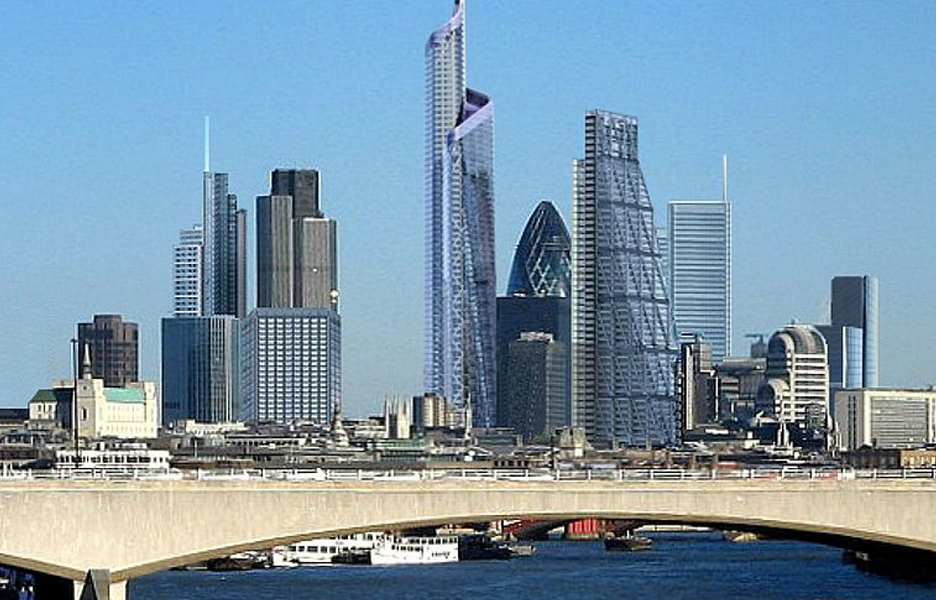 The city also has a set of design principles about maintaining the historic fabric – such as its alleyways – and providing public domain benefits; however, beyond this there is great flexibility for design to be negotiated with planners. Therefore, the design of new buildings has become a discussion at the Greater London Authority (GLA), putting it in a position whereby it is consciously designing London's skyline cognisant of its history as well as its future. Building designs are creatively interpreting their relationship to St Paul's, as well as to each other and, in the process, creating one of the most interesting and dynamic city skylines in the history of urban settlement.
London's planning authority, the aforementioned GLA, was re-established in 2000, some 14 years after the Thatcher Government abolished it. Labour candidate, Ken Livingstone was the first mayor-elect and, interestingly, was also mayor when the GLC was abolished. His opening speech in 2000 stated, "As I was saying before I was so rudely interrupted…" Livingstone is pro tall buildings, recognising they provide the necessary office space for a burgeoning financial services sector, and are vital to maintaining London's status as a world city. He also understands tall buildings as signifiers of global business: "I support high buildings both as clusters and as standalone buildings, where they are in close proximity to a major transport interchange and contribute to London's environment. I have no objection in principle to London having the tallest of buildings."
Livingstone's plan sought to promote London as a world-city status leader through its built environment, focusing on the execution of a number of tall buildings; at the helm as chief architectural adviser was renowned architect Lord Richard Rogers, notable to many in Australia for the Barangaroo development in Sydney.
With popular acceptance of tall buildings – brought on in large part by the notoriety of Foster and Partners' 30 Mary Axe building (the Gherkin), approved in 2000 and completed in 2004 – as symbols of new London, commercial confidence notably increased. Indeed, the Gherkin, the iconic image of which is used for brand association with a range of consumer products, is known as enhancing the skyline rather than detracting from it. The Gherkin's approval was followed by a plethora of approvals: Heron Tower by US firm Kohn Pedersen Fox (KPF, 2001); the Shard by Renzo Piano (2003), Rogers Stirk Harbour and Partners' Leadenhall Building (2005), KPF's Pinnacle in 2006, and Rafael Viñoly's 20 Fenchurch Street (2007).
In furthering this global projection, New London Architecture – an organisation hosting events, symposia and exhibitions as well as publishing a magazine, the New London Quarterly – creates a cross-disciplinary forum for property, architecture, planning and construction professionals, as well as the general public.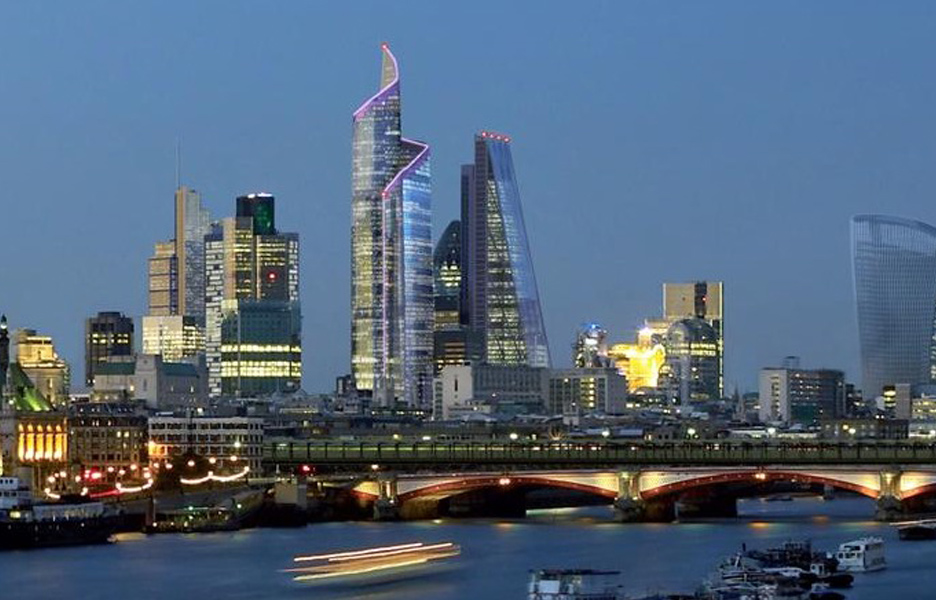 But what of the quality of the new, individual buildings? The Gherkin broke new ground in the late 1990s, set to become an 180-metre tall, elegant tapering design minimising the building's bulk and perceived height. Rogers Stirk Harbour and Partners' Leadenhall Building, currently nearing completion, is a magnificent complement to Foster's Gherkin. Adjacent to Lord Rogers' iconic Lloyds of London building from the mid-80s, this building leans away from St Paul's to open up the sky-plane and enhance the skyline and is possibly the most architecturally interesting new building in London. A tour de force of steel construction, the building has a glazed, side lift core servicing an open floor plate – a ventilated double-skin encapsulating the expressed steel frame construction, providing a transparent skin. The base is eroded to create a five-storey public plaza that frames views of the neighbouring Heritage buildings.
Nearby Rafael Viñoly's 'Walkie Talkie', also nearing completion, is a parametric design that incorporates concave and convex geometries in a plan to respect adjoining streetscapes and heritage, while leaning outwards in elevation – creating a garish commercial statement, a dubious complement to the city's skyline. To add insult to injury the large 4000-square metre 'publicly accessible' garden, at its top, was a spurious basis for its approval.
Meanwhile KPF's The Pinnacle, designed to be the tallest building in the city, is currently on hold. This curvaceous building has a sinuous plan that deftly negotiates its medieval site location, while incorporating a through site alleyway. The curved outline spirals up at the top to create a distinctive, although somewhat over exuberant, Mr Whippy top. One hopes that KPF can restrain its usually over expressive detailing to allow this design's natural attributes to speak for themselves.
The Shard by Renzo Piano is the sole, new tall building outside the City of London's primary cluster. Piano's tower is the tallest building in Europe, incorporating office floors at the base, a Shangri-La Hotel, 10 exclusive residences, and a public viewing platform at its top. Together with its smaller neighbour, The Place, it has revitalised the run-down transport hub of London Bridge Station, creating a new concourse and public domain in the surrounding area. Another technical and detailing tour de force from Piano, the building tapers to create a classic landmark in the tradition of an obelisk. The building's irregular plan form has been articulated into a series of vertical 'shards' of glass that literally form splinters when they come together at the top.
In addition, there are numerous buildings proposed, in construction or already built; including KPF's Heron Tower, Foster's Willis Headquarters and Allies and Morrison/Woods Bagot's 100 Bishopsgate Tower. Indeed, between 2000 and 2008, while Livingstone was Mayor of London, there were no fewer than 40 tall buildings proposed.
How, then, is it that a historic city with a medieval fabric, and stringent planning laws – including rights to light and view cones – is able to reinvent its skyline within a relatively short time and support density, height and economic development? An especially prescient question when in Sydney – a relatively young city, with a preponderance of 1960s and 70s building stock, lacking in as much heritage – it is difficult to promote development, instead adopting a prescriptive set of planning laws that govern decision-making without an ability to discuss the merits of a building design. Without flexibility, the city has resorted to design competitions as the only means to achieve good design outcomes.
London's blend of prescriptive and performance-based planning codes could provide a benchmark for Sydney. While London has enshrined the critical aspects of its planning in a prescriptive code – notably the protection of historic buildings, monuments and views via the LVMF – it leaves aspects of form, density and height as performance-based, engaging in dialogue with the planning authority. The equivalent in Sydney might be to have the protection of solar access as prescriptive, while form density and height can be performance-based. This is not removing these controls, only allowing the planning authority latitude when assessing applications on merit. In addition, the flexibility would provide the authority with the means to create incentives for desired planning outcomes in return for relaxation of planning codes. But planning codes do not account for political will to embrace development, rather than oppose it, as was the case at Barangaroo; nor does it take into consideration the lack of public acceptance for density and development.
There are, of course, disadvantages to London's approach. Disagreements between the planning authority and the landowner due to a lack of planning certainty can lead to long and expensive legal enquiries. The upside, however, is worth considering: good design is encouraged through dialogue with the city, and indeed is an expected outcome. Height, bulk and density are not strictly enforced by a set of abstract rules; they are merit-based and arrived at through consultation. Interestingly FSRs in excess of 30:1 have been achieved in London. Finally, and perhaps most importantly, planning rules can be broken. This is achieved in return for a public benefit, which must surely be the desired outcome of any planning policy.