Article by Online Editor
Designer
This article first appeared in Architectural Review Asia Pacific issue 127: The Residential Issue.
All images courtesy FAT & AF.
The south London suburb of Croydon is sometimes known as 'Mini-Manhattan'. This somewhat ironic moniker reflects the number of 1960s-built office blocks that dominate its skyline: 48 buildings over 25 metres tall. It may not sound like an example of Rem Koolhaas' 'culture of congestion' but it's about as spectacular as this bit of south London gets.
These buildings reflect a period of optimistic modernity in Croydon's history, a moment when this suburban outcrop aspired to be an alternative to London's central business district, surpassed only by Canary Wharf in square metres. However fanciful that may appear now, Croydon's full-on embracement of modernist spatial planning has resulted in a very particular set of problems and opportunities today.
Most of the buildings are becoming obsolete, no longer able to accommodate contemporary office needs and commanding rent values a fraction of the city centre. Their heating and ventilation systems are antiquated and their curtain-walled facades no longer comply with current building regulations and thermal efficiency requirements. Servicing issues are exacerbated by floor-to-floor heights and loading constraints.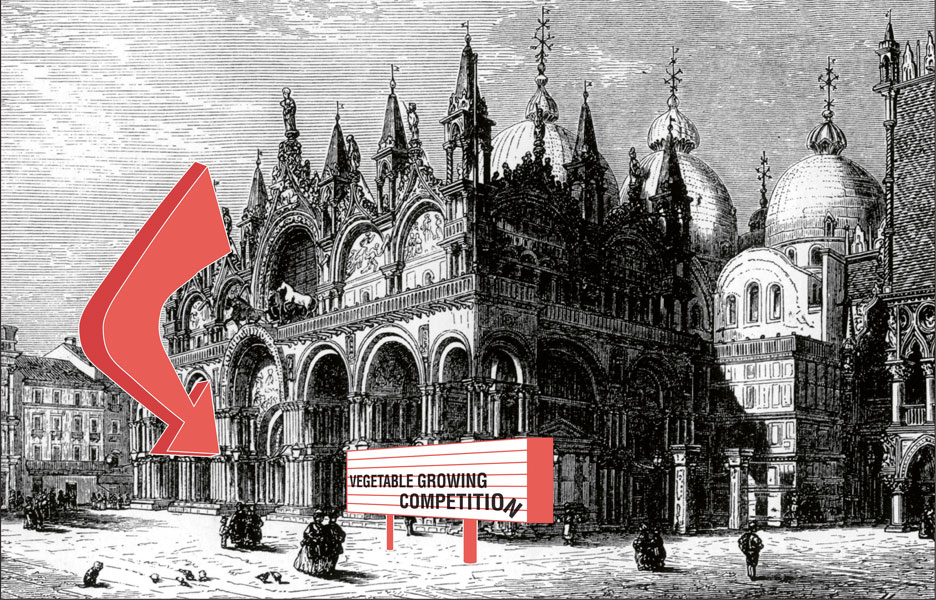 The dominant tower and podium typology of 60s office blocks contributes directly to the problems associated with a lack of office tenants. The changing nature of businesses in the area and the shift from large public sector employers to smaller start-ups and service industry businesses further contributes to their redundancy. Thirty per cent of the office buildings in the area are currently vacant, compared to an average of 18 per cent across the rest of England.
As a result, 22 per cent of the town centre's streets have dead building frontage. This is a mono-functional district with not a lot of business going on, resulting in a landscape littered with 'To Let' signs and a depopulated centre that few call home. What's more, these buildings no longer fit with Croydon's future vision of itself as London's third city.
Croydon's local council has ambitious plans to achieve some 8000 new homes in the centre of the town. What correlation is there between a large quantity of unused office space and the desire to create a significant number of new houses? Could one be used to provide the other? What challenges and constraints are there in the conversion of existing office space to residential (and other) uses? What other facilities might need to be provided for new residents? And what kind of residents are they?
We could start to answer these questions by looking at some basic numbers. There is currently 550,000sqm of office space in Croydon's town centre, of which 165,000sqm is vacant. Eight thousand new homes equates to approximately 580,000sqm of residential space. Based on these figures, existing unlet office space could provide up to 2000 of the planned new homes.
The council's aspiration is for a mix of two- and three-bed housing, accommodating some 1731 children under the age of 16. This will require 17,000sqm of play area, according to the current London Plan. While Croydon as a borough may have suitable social infrastructure, the proposed location of new family housing in its central area is a critical issue. In a classic 'chicken and egg' scenario, the town centre lacks the civic buildings and educational infrastructure to attract families to such a place.
These issues are not unique to Croydon and are relevant to the regeneration of metropolitan city centres everywhere. Over the last six months, London-based FAT Architecture and Adaptable Futures (AF), a research unit at Loughborough University, have been looking in detail at the issue of converting redundant office space. The research they have conducted has uncovered a number of vital questions about reusing and adapting existing structures, the technical challenges involved and the ecological and financial benefits of doing so. It also raises profound questions of where and how we want to live.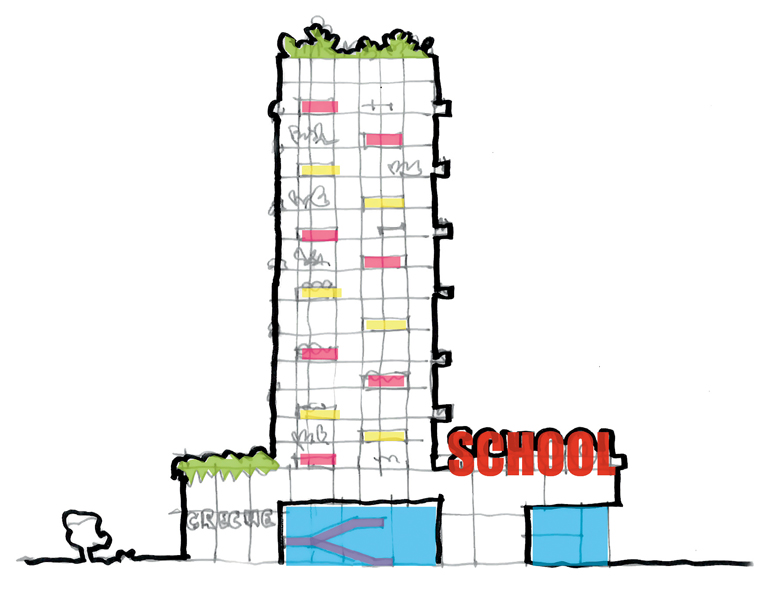 Firstly, there is the issue of whom the city centre is for and how people might want to use it. In shifting the centre of gravity from attracting businesses to attracting residents, we need to challenge preconceptions about the kinds of places that we might choose to bring up a family.
Secondly, there is an implicit critique of the modernist dictum of form following function. The capacity for a specific architectural language to communicate new meanings questions the extent to which architectural form defines a building's 'social' life.
Retrofitting and adapting buildings for different uses requires a commitment to loose-fit design and simpler structures. Historically, architects have struggled with these concepts, preferring to focus on formalised ideas of mechanical flexibility – Archigram's Plug-In City, for example – rather than less ostentatious structures capable of subtle change over time.
The office blocks of the 1950s and 60s pursued an aesthetic of mechanical repetition and organisational efficiency. These buildings express their uniformity, clearly articulating that each floor is the same both in terms of its external character – a curtain wall draped over repetitive floor slabs – and internally in the form of cellular office space.
This egalitarian quality is out-of-step with current architectural taste and wider cultural beliefs in the importance of individual expression. This is particularly acute in the field of housing, where the ability to adjust and adapt spaces over time to suit changing desires is hugely important. Transforming redundant office space into residential use might then also involve a dramatic shift in the ability of these buildings to reflect difference and diversity of occupation.
Unlike offices, housing – particularly housing for families – requires external space. There are a number of potential ways this could be created. Most obviously, balconies can be added, either as 'clip-on' elements added to the existing structure or by pushing the facade back off the existing floor plate. Both options offer possibilities for adding variety and expression to existing facades.
In an earlier project looking at rejuvenating existing residential blocks, FAT had already experimented with the formal possibilities of such devices. Open and enclosed balcony space offered a variety of additional domestic spaces – winter gardens, home offices, terraces – as well as the possibility for customisation and personal expression.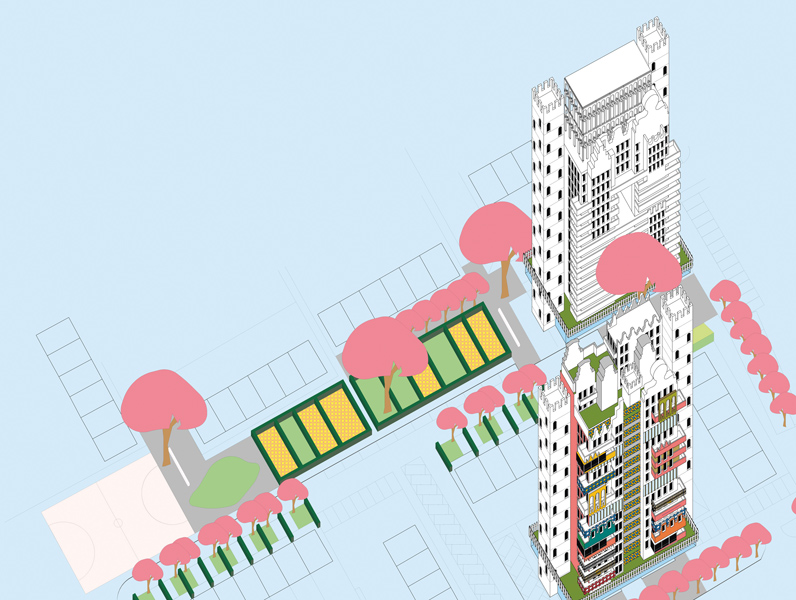 In the same project, FAT also proposed carving out larger voids within the structure to create shared 'vertical gardens'. Family apartments opened directly onto this communal space and provided dramatic shifts in scale on the external facade. The roof level was turned over to gardens, with additional storeys used to create 'sky homes' facing onto them. This presented the opportunity for enhancing the roofscape and creating a playful 'mini-city' on the skyline. There was also something appealing about directly reversing accepted wisdom about the relative position of family housing and one- or two-bed apartments in tall buildings.
As well as residential uses, existing office towers can become home to other programs, such as educational – nursery and primary schools as well as incubator offices, libraries and other civic functions. Austerity-led economics means that in the current climate it is difficult to imagine a set of shiny new buildings accompanying new residential units, suggesting instead a set of tactical interventions at street and podium level in order to provide for these. What subtle changes can convey new architectural meaning – a coat of paint, a new sign, a shift in access, an active wall or roof?
While the risks associated with converting buildings to new uses remain higher than new build, statistics show the overall costs remain lower. While conversion to residential use is likely to cost more than continued commercial use (on average 20 per cent more), this can be offset by the increased land value of residential over commercial space. The majority of costs for any action (refit or conversion) will result from recladding the exterior and upgrading and redistributing services. The primary cost gap between refit and conversion is an outcome of (re) compartmentalising the space and services.
While the environmental benefits of adapting buildings are difficult to quantify, extending the useful life of buildings allows for less new material use (which helps meet C02 reduction targets), minimisation of waste (through the retention of embodied energy) and potential containment of urban sprawl. Adaptation allows for environmental stability with the continued use of local landmarks while allowing for new uses, users and identities. What's more, the growing transient context in which buildings are enmeshed will continue to raise questions for designers about buildings as stable images of specific functions.
The FAT/AF work also seeks to question the negative connotations associated with tower blocks and high-rise living. Despite the phenomenal presence of the Shard and the ever-expanding cluster of skyscrapers on the London skyline, such places are rarely associated with families or even with particularly benign environments. There is an undeniably celebratory aspect to tall buildings, a sense that these are emblematic structures that express society's highest aspirations. The programs we place in such buildings carry an enormous symbolic weight. Wouldn't it be refreshing then to see their futurist forms coupled with socially progressive uses again?
By re-making/re-modelling tower blocks in form, use and expression, it's possible to provide something other than more luxury apartments or buy-to-let opportunities. If we are to have tall structures on our city skylines, better that some of them should provide inspiring civic and residential spaces for ordinary citizens. They can also reconnect modern architecture to its initial impulse to seek out new forms of living.
Of course, these issues are not limited to the situation in the UK or to office buildings in particular. The obsolescence of all building types as a result of technological and social shifts presents massive challenges in a world of finite resources. Clearly it is senseless to simply tear down buildings after a mere 30 or 40 years of life. The alternative is to learn how to design buildings that are more adaptable to change and, as our research suggests, to learn how to adapt and develop the ones we already have.