Article by Online Editor
Photography by Brett Boardman
Designer
Architect Fox Johnston
Architect's Statement
Marked by two distinctive heritage listed homes, this expansive site in Randwick called for an innovative solution to provide 12 townhouses at the rear of the property. The unsympathetic additions to the existing homes were to be removed and the site reconfigured to provide separate entrances to each of the dwellings.
The design response involved providing a large central courtyard garden from the street – delineating the two homes and providing a clear entry to the townhouses beyond. Entry to the townhouses is via this garden along a central walkway – inserted between the two homes – leading to an intimate mews space through which access is provided to the townhouses.
Each of the mews townhouses was conceived of as a walled garden taking the form of a series of private courtyard spaces at ground level. A central courtyard breathes light and air into the house interconnecting open plan living spaces and allowing north light into upper floor spaces. Living and kitchen areas embrace this north facing central courtyard and open completely onto a rear garden. Bedroom, bathroom and study spaces are located above, also benefiting from good light filtration and ventilation. A lightweight stair connects all levels, and leads to a private roof garden terrace and sundeck benefiting from expansive city views.
Review
In fewer than 50 years, over the period from 1967 to 2008, the world's population almost doubled – from roughly 3.5 billion to 6.8 billion. With Australia's liberal immigration policy and rising birth rates, our population too is growing at a rapid rate – Sydney alone is expanding at more than 40,000 people a year¹. This kind of expansion places great pressure on economies and ecologies with serious implications both globally and locally – the earth's capacity to meet the demands of this increasing number of people is almost stretched to breaking point. While Australia may not face the same issues as, say, developing nations in Africa, if we are to curb the depletion of natural resources then accommodating people in a manner that consumes less raw materials, land, water and energy is an essential line of inquiry for governments, communities and the professions that support them.
In an effort to minimise carbon footprints and rationalise social infrastructure, the NSW government's Sydney Metropolitan Strategy promotes the densification of existing urban and suburban centres across Sydney's greater metropolitan region. The Strategy has had a mixed reception, running foul of a NIMBY (not-in-my-back-yard) mentality in some communities. To give one example, residents in Ku-ring-gai on Sydney's North Shore have, with the support of the National Trust, vigorously rallied against density and height increases in the name of "protection of local character" – ignoring the pressing global issues that must be addressed at a local level. Thankfully, other local governments have taken a more liberal approach.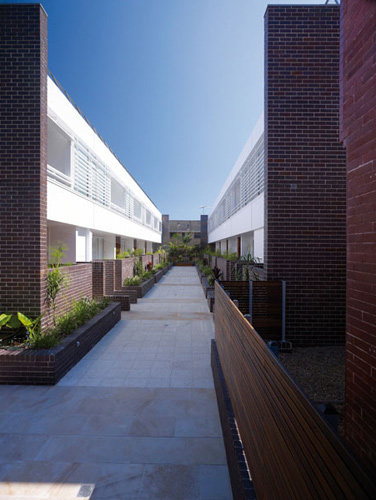 Fox Johnston's recently completed townhouses complex in Randwick illustrates the later – it is literally an IMBY (IN-my-backyard) project, located in the former rear gardens of two stunning Federation-era houses once joined and used as a Catholic convent. At only two storeys, the project does not fall under the requirements of the NSW SEPP 65², allowing the architects to contravene some of the conventions that now govern housing development in NSW. The development comprises 12 townhouse dwellings in a mews arrangement behind the two large houses, which have been carefully restored as part of the project.
Neither Conrad Johnston nor Emili Fox can take credit for the mews typology. Mews were originally servant quarters located above inner city stables in London – the stables were often located at the rear of large terrace houses to keep the sound and smell of horses at a distance. Usually accessed by narrow lanes with little presence in the public domain, the type is often shunned by contemporary urban designers and planners, who insist the 'pizza guy' needs a street address in order to make a delivery, even though contemporary modes of communication make this problem redundant.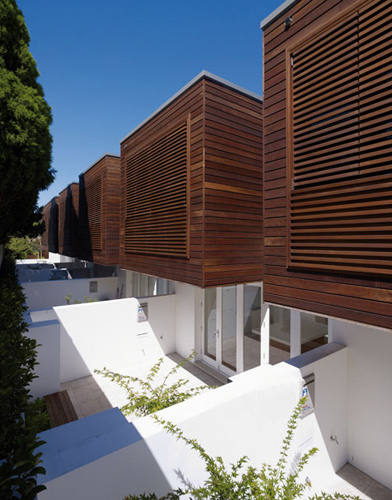 Entry for pedestrians into the site is via a delightful courtyard dominated by a large Hills weeping fig tree. Passing through a steel palisade fence one traverses a dog-legged alley into the lush landscape of the narrow central lane. The extruded white faces of the upper levels of the houses reflect light and unify the space, while the combination of dense planting and articulated brick walls create an intimate communal sensibility.
The dwellings themselves are akin to a Victorian terrace, each arranged around a small internal courtyard. In terms of the floor area given over to outdoor space, this move might be seen as a luxury, but it is essential to the conceptual framework. It ensures every room is naturally ventilated and facilitates solar penetration into the deep plan. The court space adds a unique layer of complexity to the interiors of these large terrace houses.
The timber clad master bedroom at the rear of each dwelling steps to allow views from the third bedroom to the landscape beyond. Louvered bi-fold screens provide privacy and animate the façade. Internal finishes are restrained, pitched at the speculative market of off-the-plan-purchasers; the inoffensive palette of off-white walls and joinery, rich timbers and stone is carefully composed and well detailed. A great asset to occupants is the large roof deck – this elevated platform offers views to the city skyline only a few kilometres away.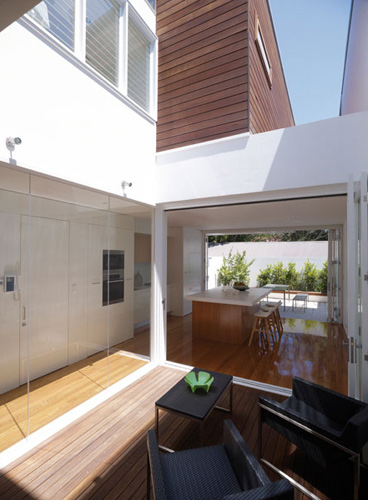 It is no longer news that urban sprawl for new housing is a model that is extremely inefficient in terms of energy consumption and ecological impact. Nor is it news that densification of existing land is essential. There have been a number of interesting theoretical explorations of the infill model in recent times – from Tribe Studio's Sydney 2050, which proposed building narrow apartment buildings down the centre of Sydney's city streets, to suburban models such as Nobbs Radford Architects' Pool Rehabilitation scheme where disused backyard pools are converted into single person dwellings and Owen and Vokes' concept for Garden Oriented Development in Brisbane's New Farm. At Randwick, Fox Johnston have revisited an existing typology and deployed it with great care and consideration in a competitive, developer-led environment. The developer in this instance says that even in the soft market of the GFC, the spatial complexity and attention to detail present within this project have made it a great success. The other key ingredient in its success though is the proximity of social infrastructure – parks, schools, shops and public transport are all close at hand. If governments are serious about planning for future population growth and minimising energy consumption, they must not only promote densification through rezoning, but also invest in expanding and improving social infrastructure – innovative architectural solutions alone will not address this complex issue.
footnotes
1. http://www.metrostrategy.nsw.gov.au/dev/uploads/paper/introduction/BACKGROUND%20ANALYSIS-3.html (cited 14.SEPT.2008)
2. State Environmental Planning Policy No 65-Design Quality of Residential Flat Development
John de Manincor is a practising architect, part-time educator and the Sydney editor of Architectural Review Australia. John is a principal at DE MANINCOR RUSSELL ARCHITECTURE WORKSHOP.