Article by Online Editor
Photography by John Gollings
Designer
Architect Robert Simeoni Architects
This article first appeared in Architectural Review Asia Pacific issue 127: The Residential Issue.
Melbourne's inner northern suburbs frustrate most attempts to classify or encode them, quilted in a mix of workers cottages, well-to-do terraces, apartment buildings and the residue of a defunct manufacturing industry. Look long and hard, however, and patterns, seemingly awkward and ad hoc, begin to appear. Robert Simeoni spent much of his youth working as a brick layer in these suburbs and is fascinated and inspired by them. He channels that passion through photography, which he uses to document their architecture, in turn influencing his own practice.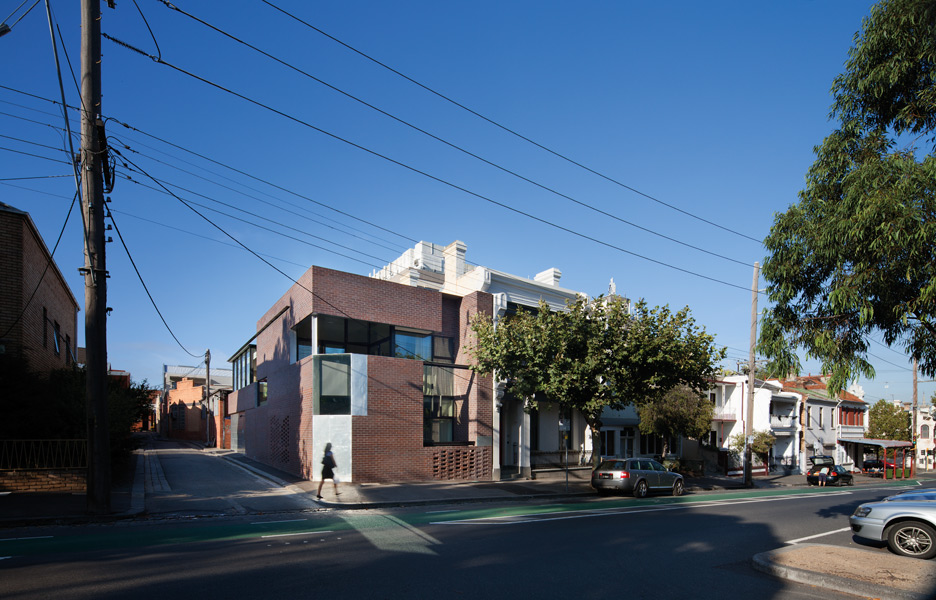 As he sees it, despite their apparent eccentricity, these buildings demonstrate totality, utility and detail. In response, he has developed a body of work highly attuned to the contextual and material qualities of the inner north. The Queensberry Street House is typical, brokering a dialogue between eras, typologies and functions, and a better test of the value of Simeoni's photographic study of awkward precedents could hardly be imagined.
The house sits on the site of a former cheese factory in North Melbourne, in a neighbourhood combining the big, blunt volumes of warehouses and factories with Victorian terraced housing, mid-century walk-ups and wide, tree-lined streets. It's an eclectic quilt, typical of the suburb, although the site itself is a little unusual, on a corner location on one of North Melbourne's busier streets. The house, a two-storey, brick-clad volume, effectively bookends a somewhat grand row of attached and semi-detached 19th and 20th-century terraces, dignified as much by their age as by the quality of their architecture. Opposite is a mid-century walk-up in buttery yellow brick, the two residential buildings capping a thoroughfare otherwise dominated by buildings of a commercial or light industrial origin.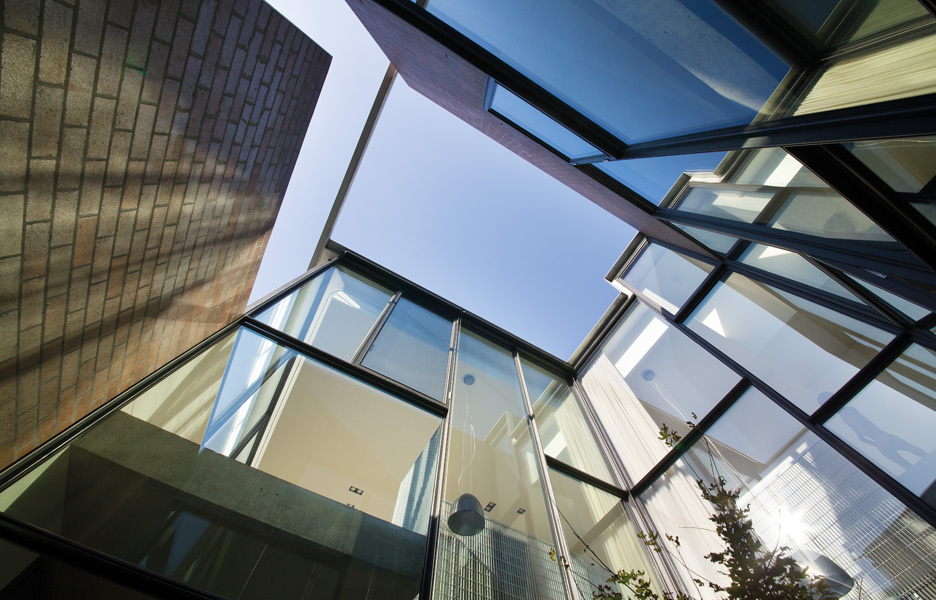 When Simeoni's clients bought the cheese factory, they wanted to build a house to retire in, but one that could also serve as a home office and a sometime-residence for their adult children. The brief asked for privacy, protection and the flexibility to accommodate shifting modes of occupation, a challenge compounded by the comparatively tight site and the corner setting. In some sense, though, the location is a boon. Open on three of its four sides, it benefits from unusually unfettered access to light and air, a rare luxury for a terrace house. Responding to this opportunity, while also conscious of the need to preserve privacy, Simeoni invests the seemingly solid and impenetrable mass of the building's walls with a degree of porosity, using hit-and-miss brickwork to form breezeways that filter light and air through the perimeter.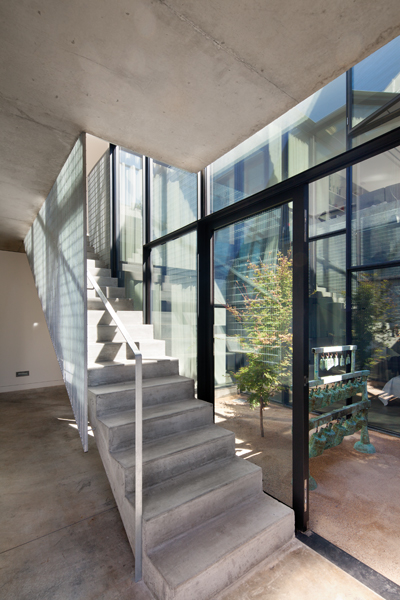 While the massing of the house has much of the protective qualities of a warehouse, or even fortification, it is no dumb box. Simeoni continues this strategy of both porosity and protection in the layering of operable screening devices, found both within and without the building. These range from the thickset panels on horizontal runners that serve as doors; to electronically controlled, internal and external fabric roller blinds; to a perforated black panel made from steel treads on the building's eastern facade, which, in a slightly mediaeval note, is manually operable via winch. A soft pith of internal, diaphanous curtains forms the final layer.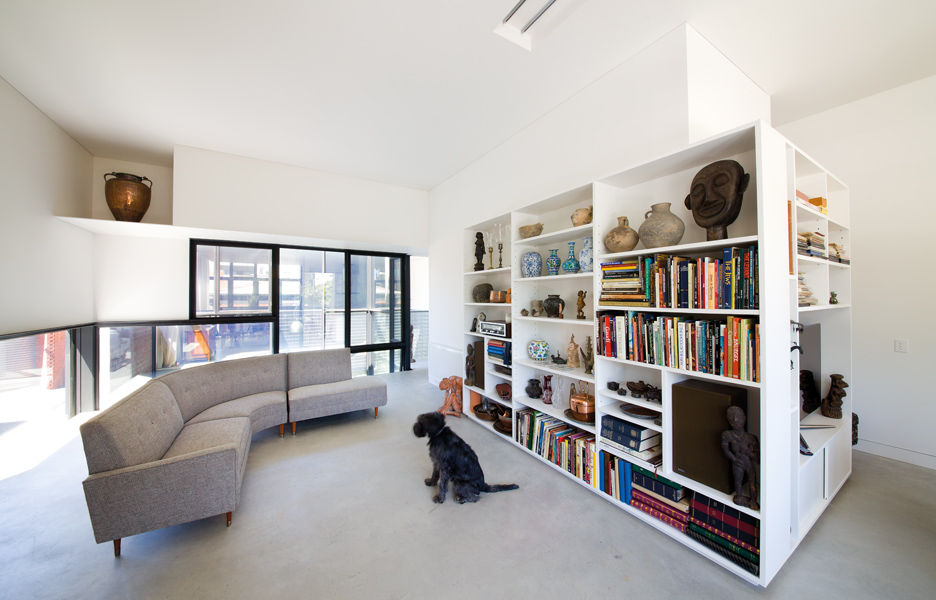 The effect of all these layers is both pragmatic and poetic. It allows the occupants to modulate internal spaces, preserving or apportioning the generously scaled volumes according to need and mediating their relationship to the external environment. You could say the house is a smart box, delivering the utmost flexibility and hence utility. What elevates it beyond this level, becoming an accomplished work of architecture, is how the blunt instrument of pragmatic consideration has been turned to craft an environment sensitive not only to need but also the quiet pleasures of inhabitation.
With this commission there was always the possibility that protection and privacy concerns would translate into a bunker-like insularity, a trap deftly avoided. While the building's mass and robust material palette of brick, polished concrete and steel connote solidity, and its screens and sheltered courtyards have more than a hint of the Moorish riad about them, it is neither blind to the street outside nor introspective. A better comparison might come from Japan, where, in response to intense levels of density, architects have refined an approach that curates and draws pleasure from both the 'natural' and manmade elements of Japanese cities. To borrow the words of the architect Kazunari Sakamoto, it's a sensibility that privileges the poetics of the ordinary.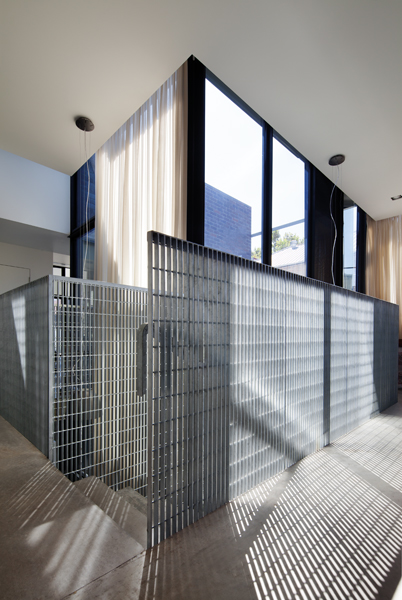 The Queensberry Street House is filled with such moments: a breezeway opening up to reveal aspects to the clock tower of the North Melbourne Town Hall; the glazing above the steel panel on the building's chamfered corner, framing views to the south transept of the church. Perhaps the most telling moment is found in the spacious, east-facing kitchen and dining area. With the perforated black steel panels of its brise soleil in place, this room's cool concrete surfaces flutter with light and shadow. Winched back, however, they expose an architectural fabric that is quotidian rather than ecclesiastical: the ad hoc jumble of pitched roofs, brick-clad lean-tos and permanently provisional warehousing of Melbourne's inner north.
Effectively, the window becomes a lens to capture this corporeal landscape. The house, made in its image, becomes a celebration of its awkward beauty.