Article by Online Editor
Photography by
Designer
Architect Bates Smart
Sign up for our newsletter
Queanbeyan is situated on the far edge of New South Wales' Monaro plains, on the fringe of the ACT border, so close to Canberra that the township could almost be called a suburb of the Federal capital. Historically an agricultural centre for the region, Queanbeyan was later populated by the European construction workers who came to Australia to work on the nearby Snowy Mountain Dam, Australia's largest engineering project ever undertaken. Despite its proximity to Canberra, the town's identity is very much its own.
On the day I visit with Philip Vivian, design director of Bates Smart's Sydney office, there is a distinctly toothy edge to the breeze whisking up Queanbeyan's main drag, Monaro Street, fittingly named after the nearby wind-bitten plains. It's making short work of the linen jacket that I've donned for our tour around the perimeter of Bates Smart's recently completed Queanbeyan Government Service Centre.
"Urgh… that is seriously cold!" I remark to Vivian, who is briskly pacing along beside me.
"It's not cold Mat – it's bracing…"
Vivian, I can't help but observe, has come to this outing sensibly braced in a thick black leather jacket, zipped to the chin.
Queanbeyan has a ruggedness to it, a tough quality that, as Vivian describes, is reflected in its people, the farmers and descendants of the immigrants who came to Australia to expend their blood, sweat and tears on one of the country's most brutally demanding construction projects. He should know. He had the unenviable task of convincing many of them that a resolutely contemporary four-storey, rusted steel box would be appropriate to the township's scale and to its character – low-rise, heritage brick and timber.
Vivian recalls a community consultation meeting where he made the mistake of describing the corten cladding as a fitting response to the area's cold climate. One lady immediately took offense. Her objection? That Queanbeyan wasn't cold – it was bracing. Many in the community, it seemed, were determined to be affronted by the project no matter what the logic.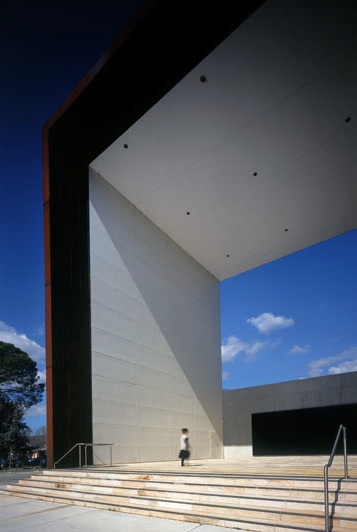 Sited in what is effectively Queanbeyan's civic centre, the area surrounding the building is home to the town's law courts, police station, museum and information centre. Its immediate neighbours also include several historic buildings constructed of brick, and it is this character that Bates Smart was in part responding to in its use of steel cladding, which has weathered to take on a variegated hue of rich, reddish ochre.
From a rational perspective (and the building is without a doubt a consummately rational work) there is much to recommend it. The project, also known as the John Akister Building, is the first in a series of 'one-stop shops' that the New South Wales government is hoping to roll out across the state. This initiative will see public services, which in many regional townships are scattered across scores of disparate locations, brought together into one purpose-built facility. The hope, of course, is that this will allow for greater efficiency, both in terms of government expenditure, but also in terms of ease of use for the general public.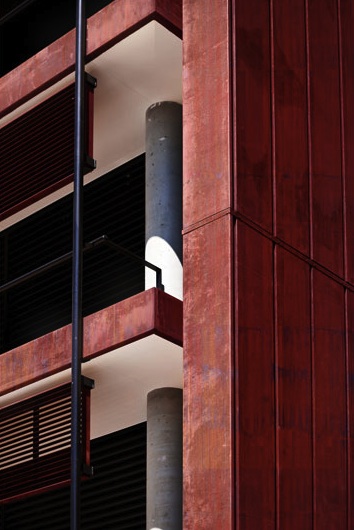 As Vivian points out, the government was very keen that the building be cost-competitive with the private commercial office alternative, given this is the first project of its kind to be rolled out. It was also a requirement of the brief that the resulting building meet with New South Wales government office fit-out requirements. The floorplate is a direct result of this constraint – open plan, flexible offices broken into rectangular modules of 10.8sqm, supported by a long span structure of 13.5 metres by six metres. Somewhere between these two constraints – the need to provide a solution that was cost-competitive with the nearest market alternative, and the need to provide standard issue government office stock – Bates Smart also hoped to be able to squeeze in a little architecture. Far from designing another blandly utilitarian, anonymous box, Bates Smart's ambition was to create a building that spoke of its function with an inflection, at least in part, a product of locality. It was, in other words, to have something of that very old fashioned notion – a sense of the civic. As Vivian describes, "We didn't want to have to hang a sign out; we wanted the building to speak for itself."
The strategy that Bates Smart has employed towards addressing these challenges seems to be, as is often the case with projects of this nature, a question of picking your battles. The building's orthogonal form reads as an extrusion of the rectilinear modules that define its floorplate. In this respect, it is very much in keeping with the ethos of commercial office development – a box-like volume, which maximises net lettable floor area. Internally, Bates Smart has focused resources pragmatically. While the lobby does boast some judiciously deployed natural timber and marble, as Vivian comfortably admits, there is nothing especially remarkable about the offices proper. These areas benefit less from the quality of their finishes, and more from sensible planning. All offices and pods are setback from the floor-to-ceiling windows, forming a circulation channel around the edge of the floorplate, which ensures that everybody is guaranteed ample natural light and aspects to Queanbeyan's bush-clad hills. Service cores are positioned at either end of the building, while the south-western corner includes breakout zones for staff. On the first floor, this includes an outdoor garden-cum-terrace, accessible to all of the building's occupants. When we toured the building at lunchtime, many of the staff were taking full advantage of the terrace's evidently quite productive herb garden.
Floorplates have been extended beyond the thermally resistant, argon-filled double-glazing on the north-western and south-eastern elevations to create a veranda-like space on each of the office levels. On the north-eastern elevation, additional sun protection is provided by a series of suspended steel sunshades.
The impression of the building in this respect is one of a series of very pragmatic strategies, robust enough in their simplicity to secure a strong outcome no matter what outrageous misfortunes befell the project during public consultation, cost-rationalisation or construction – which was just as well, for if many in the community had had their way, the entire building would have been clad in brick veneer. As the security guard recounts to me as Vivian and I are touring the premises, the corten was initially cause for complaint among some of the locals, who couldn't get their heads around the idea of rusted metal as an effective and genuinely beautiful cladding. In truly hard-headed country town fashion though, they were eventually convinced of the choice on the grounds that it would save a fortune on paint.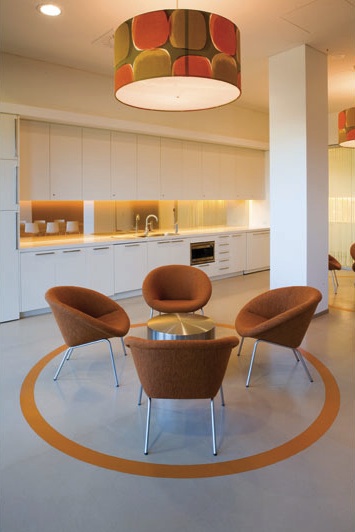 Now that it has been built, most of those initial concerns about the project's appropriateness have been assuaged – from anecdotal reports, it seems the locals are now actually quite proud of their rusty Service Centre. This doesn't come as much of a surprise, as despite the initial sentiment of some of the locals to the contrary, the Service Centre is not a radical project – it does a lot of sensible, simple things, and it does them well. At the ground plane, a colonnaded walkway set back a suitably respectful distance from Monaro Street makes a significant contribution to the public domain. Composed of off-white, regularly spaced pilotis (which contrast elegantly with the rusty reds and glossy blacks of the cladding and glazing), Vivian saw this move as re-instating the rhythm of the township's original streetscape, which like most Australian towns was once characterised by an orderly series of columns supporting verandas and street awnings. This generous address to the street tempers the building's potentially monolithic quality and is a far cry from the less than challenging precedent set by the police station across the road – a two-and-a-half-storey volume combining zero setbacks and blunt concrete walls that wouldn't look out of place in Baghdad's Green Zone.
The walkway also serves another purpose though, and is designed to address one of the challenges presented by the aggregation of all of Queanbeyan's government services into one location. Several of the facilities provide highly sensitive human services and the building's design needed to allow for discreet access to these. Separate shopfronts have been incorporated, accessible from the walkway, and here the colonnades provide a degree of privacy.
For all of these sensible strategies though, it is the project's romantic qualities, not its rational ones, which are most affecting. When conceptualising the building, Vivian drew inspiration from the work of Rosalie Gasgoigne. A New Zealand-born artist, Gasgoigne made her home in Canberra and fell in love with the wide-open spaces of its surrounding plains. She became famous for her assemblages of found objects – compositions of the rusted scrap metal and road signs she would stumble on while wandering the landscape of her adopted hometown. Vivian has succeeded in channelling something of the sentiment of Gasgoigne's art in the forecourt to the Service Centre. Here, the folded form of the rusted steel roof creates a protective canopy, but also a suitably expansive frame for Queanbeyan's sweeping landscape and big skies. It's the element of the building that Vivian is proudest of, and it's easy to understand why – it is a simple but dramatic gesture. Through it, the building speaks volumes about both itself and its relationship to the tough beauty and tough people of this place. Embracing the surrounding environment while also providing shelter from it, it lends the building gravitas. No signage, thankfully, is required.
Maitiú Ward is the editor of Architectural Review Australia and founding editor of AustralianDesignReview.com
Now in its eleventh year, Shaw Contract's Design Awards program honors architecture and design firms that are changing the way people engage and interact with a space.