Article by Online Editor
Photography by Brett Boardman
Designer
Architect Tonkin Zulaikha Greer, James Mather Delaney Design
Water is essential to human existence, without it we quickly perish. A viable water source is crucial for the survival of any human settlement, be it stream, river or well. As villages grew to towns, and towns into cities, humans have experimented with ways to adapt their surrounds through engineering and architecture to provide sufficient water for their growing populations.
In 1570 Mogul Emperor Akbar ordered a new palace and city to be built atop a steep rise outside Agra, Uttar Pradesh, in northern India. Known as Fatehpur Sikri, it contained wondrous buildings ornately carved in red sandstone and white marble. Yet it only served as the region's capital for 15 years and was all but abandoned by 1885. A contributing factor to its failure was the lack of a reliable water source. Today the abandoned buildings remain in excellent condition and are listed by UNESCO as a World Heritage Site.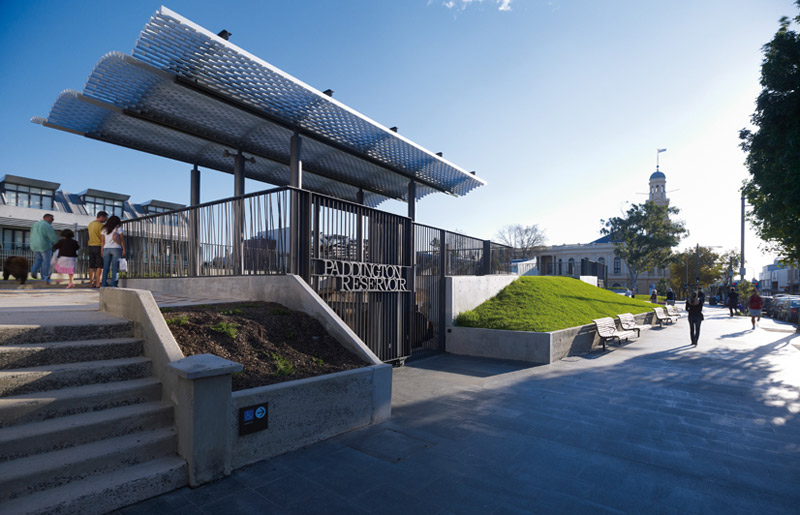 Three hundred years later in Australia, as Sydney grew to the east, a new source of fresh water was required for the good folk of Paddington. In 1866 Edward Bell designed a new water reservoir along the ridge served by what is now Oxford Street. Completed in 1878, the unusual structure comprised two major chambers of brick vaults spanning between steel beams supported on Ironbark columns. The reservoir was only in use for 20 years as it had insufficient elevation to create enough pressure to function properly, the water that flowed from it was often brackish. It was decommissioned and adapted to serve as a municipal depot for a number of years. For most of the period of my own memory a service station occupied the site, with bowsers on Oxford Street and workshops behind in the western chamber of the reservoir, while the small public space over the eastern chamber had little street presence. Following the collapse of a major section of the vaults in 1991, the petrol station closed and the site remained dormant for nearly 20 years. Now known as Paddington Reservoir Gardens the site is a new public space designed by Tonkin Zulaikha Greer Architects (TZG) with landscape architects James Mather Delaney Design (JMD).
I visit the project with Tim Greer of TZG shortly after its opening in March 2009. When I arrive I forget for a moment that the 1950s petrol station I have long associated with the site ever existed. The public presence of the 'ruined' structure a few metres below is now so strong it obliterates immediate history save for a bright red seat that marks where the petrol bowsers once stood. Greer explains that the client envisaged restoring the structure in its entirety and reinstating a public park above. Together with JMD, the architects saw a rare opportunity to create a unique space in Sydney, a sunken subtropical garden set amongst the ruins of the collapsed western chamber. This single decision is the great success of the project; it creates a powerful contrast to the conserved eastern chamber where the mass of the brick vaults loom overhead. Almost every other design move is subtle, with the new insertions silent and subservient to Bell's work of 1866. Through a process of evolution over the course of numerous adaptive reuse projects, TZG has perfected the art of material dialogue – the conversation is always in hushed tones, voices are rarely raised.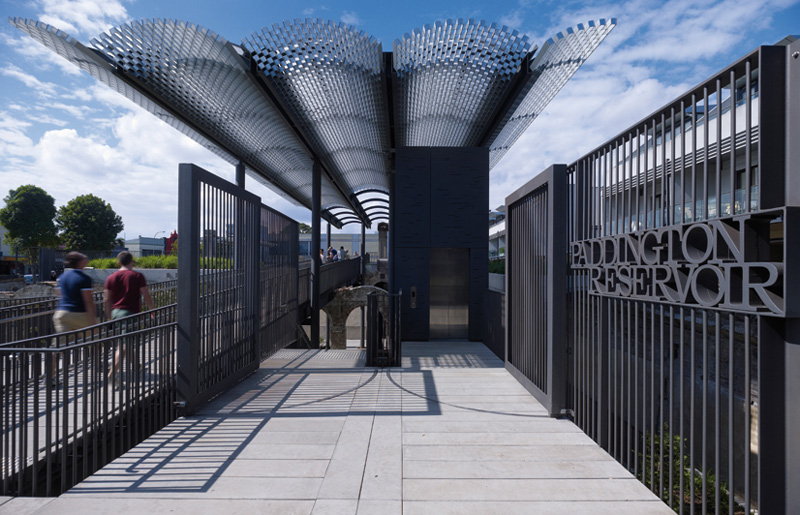 At Paddington the new work's limited palette of refined off-form concrete vaults, precast paving slabs, painted steel and aluminium provide a contrast to the rich texture of existing brick and timber.
Numerous options were considered for the two new roof structures that rise to signal entries to the park and subterranean spaces. Rectilinear, folded and 'wacky' forms were tabled in the office, but a simple extrusion of the curve of the vaults prevailed. The curves "just felt right," explains Greer. These are partially enclosed by an aluminium grid that whimsically references the older masonry mortar joints. The project is characterised by its well-resolved junctions between old and new. The general alignment of the original structure is used as an ordering device for the precast concrete pavers that sit above the floor of the western chamber. As no three columns actually conform to a perfect grid, TZG devised a clever solution of a bespoke grate at each base to take up these anomalies. Below the pavers and garden bed are a series of new tanks that collect rainwater from the adjacent Paddington Town Hall to fill the new pond and irrigate the park and gardens.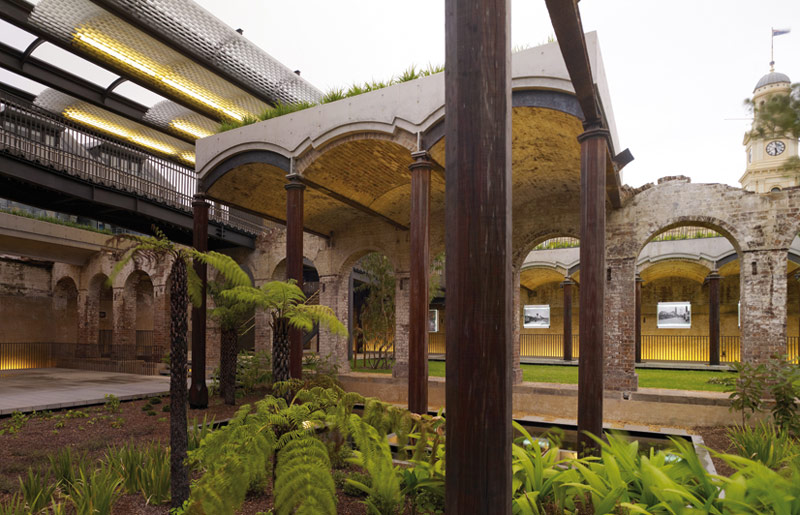 It is a shame that this water body is hidden from the public view, as it seems to be a perfect opportunity to make a direct engagement with the original use.
The character of the more interesting cities in the world has evolved through the preservation of important elements of their built history (be they significant works of architecture, social spaces or industrial relics) nestled amongst contemporary structures. Layered over time this process maps the evolution of the city in physical terms, allowing for individual and collective readings of history and what a society has held up as valuable at any given point in time. It helps inform future generations as to how the process might continue to evolve. 'Society' here has a broad definition and includes the often conflicting agenda of the development community and special interest groups. That Fatehpur Sikri and Paddington Reservoir have survived despite not being 'fit' for their original purpose is interesting when considered in evolutionary terms. Their survival is not their original fitness, but the ability of humans to adapt them to new uses. More important is that the value systems humans place on the artefact evolves over time, which in turn influences what will survive and what will not.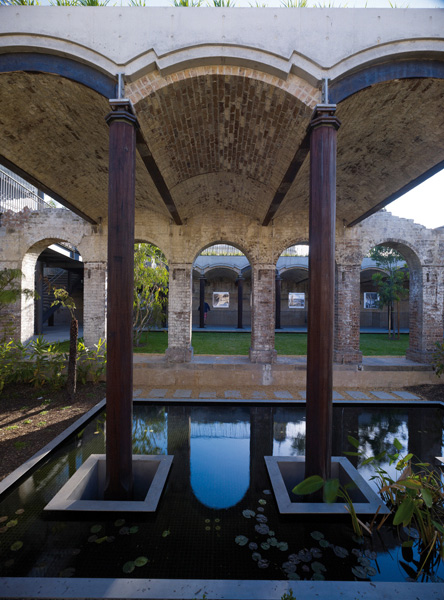 Sydney is just over 200 years old and is only now starting to come to terms with how to manage the fabric of its own history. Unlike the cities of antiquity there are no colosseums, pantheons or even deserted mosques scattered through the city. Opportunities to adapt important layers from our relatively short history and turn them into meaningful, vibrant places nestled amongst these remnants of past inhabitations are rare. The City of Sydney has seized this opportunity to stitch an obsolete object back into the fabric of the city. Here TZG and JMD have tailored an almost invisible solution that will allow the reservoir to survive until its next evolution.