Article by Online Editor
Designer
Melbourne-based MAKE architecture studio, founded in 2006 and led by sole director Melissa Bright, is an example of the need for contemporary practice to provide socially and environmentally driven design solutions that work hard to give back to the community – especially pertinent at a time of economic uncertainty and the pressure for denser yet more sustainable cities.
Testament to this is a number of recent awards, including 2012 Houses Awards' Sustainability category and a High Commendation in the Alterations and Additions category for House Reduction, as well as a shortlisted entry at the 2013 Victorian Architecture Awards' Small Project Architecture (Little Brick Studio) and the Residential Alterations and Additions Award (House Reduction). Bright was also the 2013 AAA Awards: Dulux Study Tour award winner.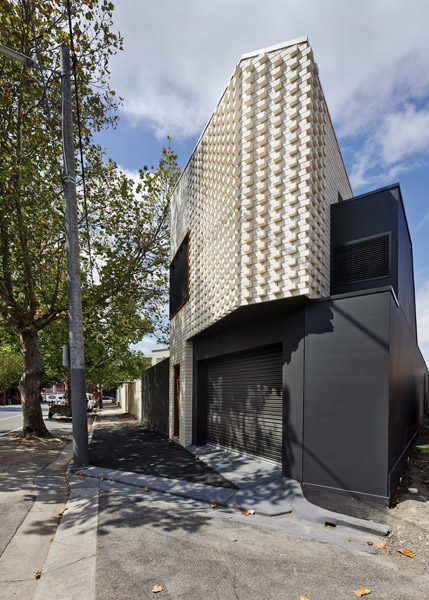 Along with her small team, including senior architect Bruce Rowe, Bright looks opportunistically and thoughtfully at all their architecture projects, no matter how small, with the ambition that they 'do more' – offer more – for the client, the neighbourhood and the broader site context.
What might begin as a typical constrained backyard renovation – as in the House Reduction project (2011) – becomes a rethinking of how the clients could actually live. Rather than expanding the house and making large singular use spaces, such as formal dining rooms or oversized living spaces, Bright consolidated the plan so that a flexible outdoor space, a pool and a 'teenage retreat'/granny flat and garage could be introduced.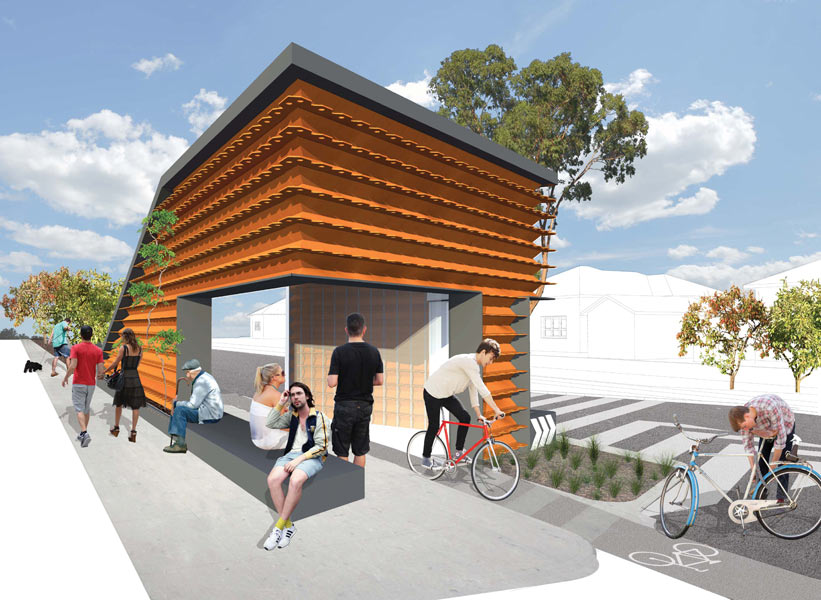 Fixed spaces such as bathrooms and laundries were reworked and folded back tightly into the existing house envelope and, with the new lounge, dining and kitchen, spaces were kept to a minimum. To counter this, Bright added a 'loose-fit' north-facing flexible covered outdoor deck with patterned sliding screen doors that, when opened, extend the dining room to accommodate events or extend the living space towards the pool.
As Bright says: 'We make spaces do multiple things and to work hard, so a kitchen might have a flexible desk space and so when not entertaining the kitchen can also work as a home office.' Strategies for finding spatial economies, introducing flexible indoor and outdoor spaces while maintaining green space, characterise MAKE architecture studio and are notable in their earliest projects, including the Front Extension project. Here, a similarly adaptive room was added to the front of a typical suburban Californian bungalow.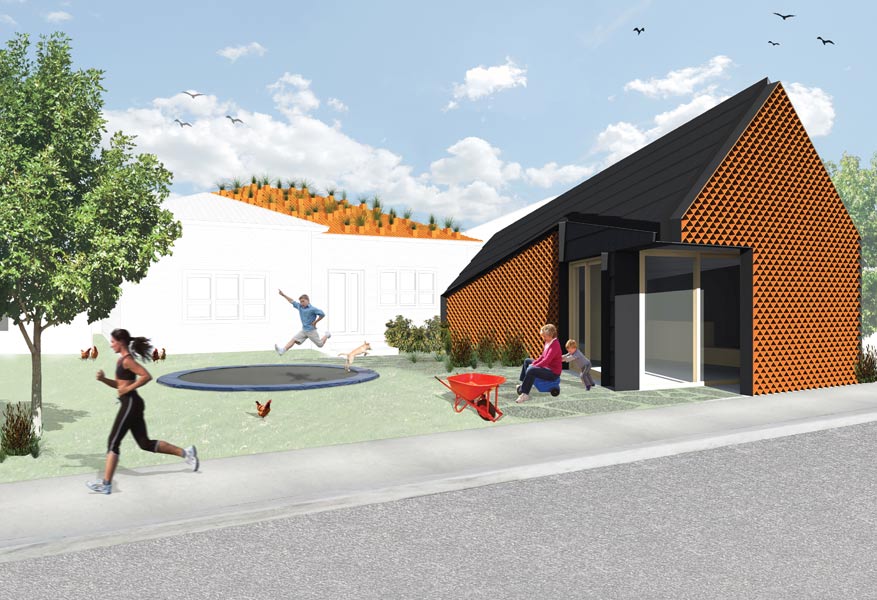 As Bright says: 'Even though we are not doing public buildings, we make small projects that engage with larger public issues that have a sense of community, a social agenda and are more than just a nice house for someone to live in. We are excited by projects that give an opportunity to engage with the street or a rear laneway context and give something back.'
An example of this is a current house project that comprises a new volume, with living spaces, kitchen and then, at the property's rear, a garage with flexible studio, office and 'teenage retreat' that also works to activate the rear of the site. Direct engagement with the back lane is made through the addition of a seat and little garden, a chatting nook at that threshold between garage and lane, while the blue cobblestone continues from the laneway into the garage space.
For offices such as MAKE, engaged in research and expanding the possibilities of what architecture can do, competitions are a useful vehicle through which to evolve and refine ideas. Notably, MAKE was one of four practitioners invited to participate in the 2013 Think Brick: Raise the Roof competition.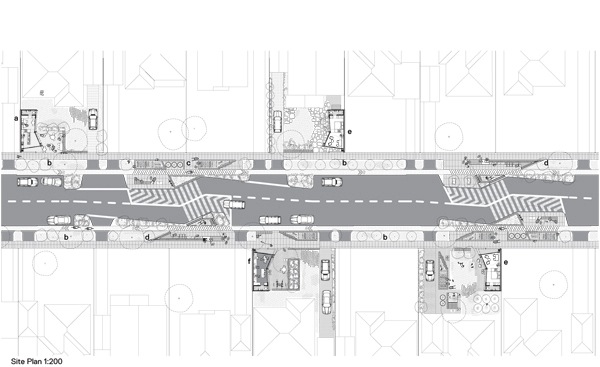 With a brief to reimagine the Australian suburb using roof tiles in a particularly innovative way, the brief allowed MAKE to explore the 1:1 scale of materials and product prototypes – additional elements deemed important to the practice. This recently completed competition project was particularly valuable for Bright and her team because of its scope to explore issues from the smallest through to the urban, as well as issues relating to the possibility of sustainable Australian suburban densification.
As Bright explains, while thinking about planning regulations and the typical requirements for 'set-backs', they had been discussing the idea of a 'set-forward'. An idea that privileges streetscape presence and has precedent in the much larger-scaled European perimeter block housing strategies found in much of the Modernist works of the mid-twentieth century. What if the requirement was not for dwellings and additions to be pushed back, thus creating more 'decorative' but unused frontyards, but for those structures to be pushed forward increasing the density and community engagement? Set right up against the footpaths and closer to the streets, the potential is for a dynamic activation of the suburban street.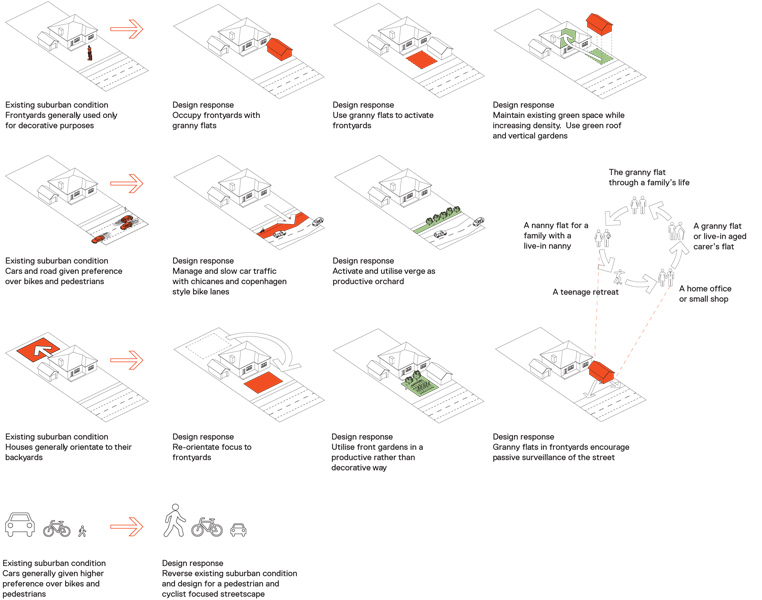 MAKE's competition entry – entitled The Set Forward Street – draws on several of the practice's ideas. Beginning with a typical suburban Australian condition, adding density to the blocks through their set forward strategy and the inclusion of flexible, small buildings at the front, they also designed in chicanes and bike paths to the street so as to slow vehicular traffic and give priority to cyclists and pedestrians.
Along the verge, and adjacent to the bike paths, a series of smaller 'loose-fit' buildings were proposed: verge community buildings that include a communal workspace shed used to support the street orchard and bike commuters. Water tanks, a rain garden to filter the roadway rainwater and a community garden form part of their urban agriculture strategy. Bespoke terracotta 'green' roof tiles, designed by MAKE and made by Rowe, are a witty blend of the well-loved terracotta pot and the ubiquitous suburban roof tile – forming a green landscape gesture that could be retrofitted to every suburban roof.
With an ability to create liveable and sustainable spaces, MAKE is at the forefront of domestic architecture in Australia and it is hoped that such ideas can have an impact on the city's residential landscape and, more broadly, the discipline.