Article by Online Editor
Designer
This article first appeared in Architectural Review Asia Pacific #125: Architecture and the Arts.
Above: Hannah Tribe (far right) and the team at Tribe Studio Architects. Photo: Brett Boardman.
Perched high above the fashion houses of Surry Hill's backstreets in Sydney, Tribe Studio occupies the simple rectangular volume of an inner-city office block. As the rain pours down outside, I talk with Hannah Tribe about the beginnings of the practice and the challenges and joys of architecture. Tribe recalls some of her earliest memories of architecture, with summer holidays spent in the basement archiving files from her father Tony's office (he of Giles Tribe Architects). Her first impressions were of drawing boards, ashtrays and men in coats, a vision that contrasts with her minimalist office interior, the neat rows of Mac-lined desks, a table covered in balsa models and a wall neatly collaged with images. Tribe describes the studio's beginnings as if it was casual and unplanned, but it has quickly grown into a successful practice largely un­affected by the "lack of opportunity" lamented by so many emerging architects.
Beginning her career with an arts degree and a stint at language school in Perugia in Italy, Tribe brought her skills in mathematics and art back to what she describes as "the well-rounded education of an architecture degree". She spent an invigorating exchange year at Cornell University and worked with Durbach Block and her father before launching her own studio in 2003, while teaching at various Sydney universities. Aside from a long list of well-crafted houses, Tribe works across the scales of retail, commercial, installation and multi-residential housing. What may have started whimsically has become a serious practice involved in local and international projects, complementing Tribe's self-described "passion for houses and housing".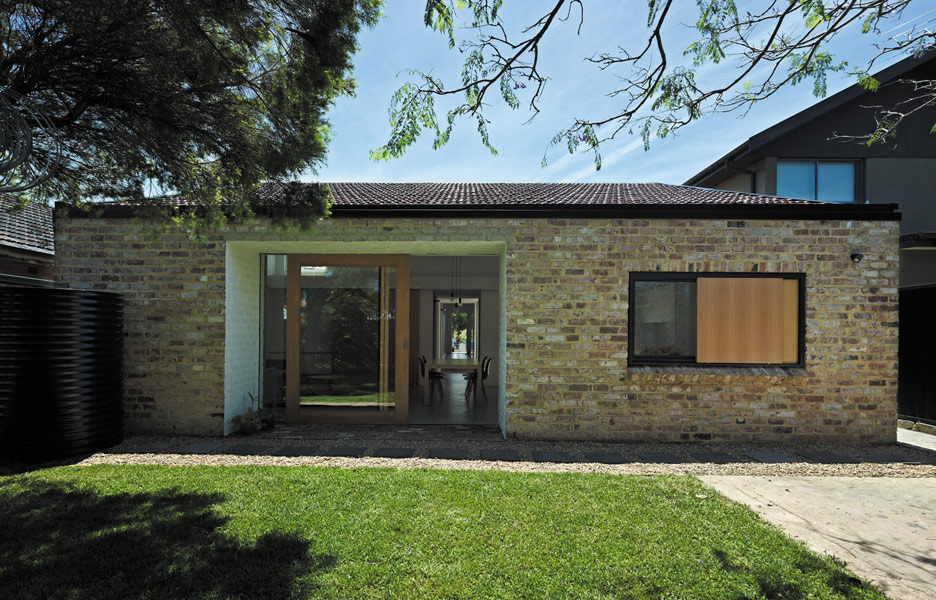 The studio almost began with a prize-winning scheme for the North Sydney Bus Shelters in collaboration with Super Colossal in 2006. A sculptural series of towers with reflective interiors, "this would have been a good way to start the office," Tribe says, laughing, and it was followed by an invitation to design a public sculpture. Both unbuilt projects are examples of the city's failure to follow through with building architectural competition winners, but these were the first of many awards the practice would receive for housing, interiors, sustainability and installation.
Tribe is the sole director, managing a busy six-person practice as well as her own young family. For her every project is considered "an opportunity for learning and investigation", and regardless of the adventurousness of the client, level of constraints or limits of budget, she loves to build. This thirst for building is coupled with a desire to explore ideas of permanence and impermanence, the nature of sustainable design and what it means to build homes in cities today.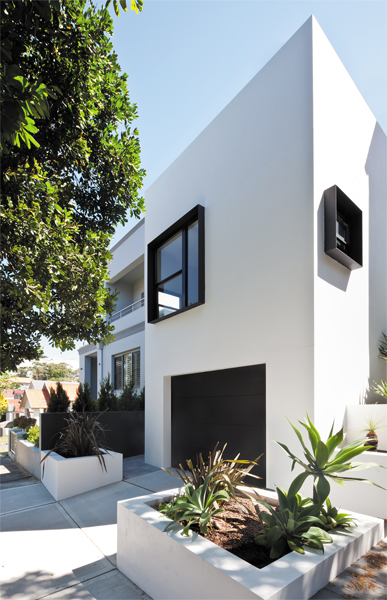 Tribe's houses seem to express attention to the details of the lives of the families that dwell in them. Without making claims for any rigid stylistic approach, she recognises her "city breeding", with little desire to camp on site and more interest in the idea of a house being a fundamental unit within a street, forming part of a community that makes a suburb, which in turn shapes a city. She describes successful city housing as finding opportunities within constraints, experimenting at different scales, understanding the nature of changing lifestyles and providing intelligent flexibility. Underpinning it all is her philosophy "that housing plays an essential part in city-making", demonstrated through well-considered renovations such as her House Eadie. Robust and raw, this project skilfully provides a once-dilapidated inner-city terrace with a light-filled courtyard and ample storage.
Tribe describes her design process as "people-centric" and for her it is completely rewarding, allowing her to explore the psychology of architecture and to build "a house as portrait". It is this connection with clients and an overriding pragmatism articulated through material and compositional skill that makes Tribe Studio distinct. For Tribe, architects are not artists, although "you hope to be artful and bring some poetry to the design". However, as she explains, built solutions must respond to complex and often highly personal briefs, unable to escape the realities of budget, site councils or the environmental imperative to design more thoughtfully.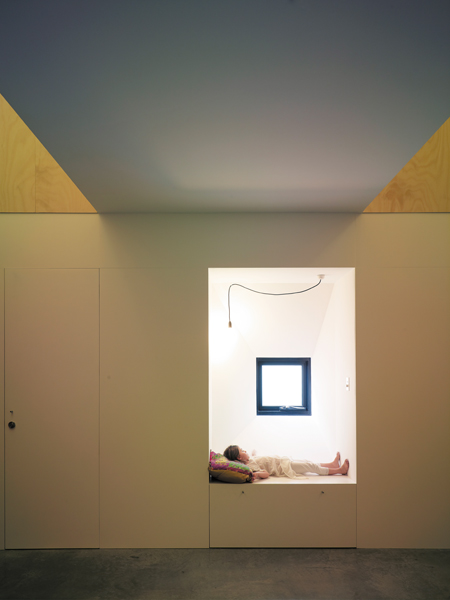 Recent works have been recognised for crisp interiors, a sustainable ethic and innovative arrangement of internal spaces. With House Shmukler, Tribe says, the experimental provision of insulated bedroom boxes suspended in the voids of the home's 'public' volumes represents the rich "potential for sustainability as form-making". The house reveals how material and spatial responses might be generated by environmental strategies, leading to original design outcomes and happy clients.
Tribe is hopeful about the future of the profession and perceives positive changes in the public's growing appetite for design, where more informed conversations enable a richer design culture to evolve. This positivity is reinforced by ongoing work in public installation, such as the fluorescent barcode hovering in the void of Abercrombie Lane for the City of Sydney's 'Laneways, By George!' initiative or the spiralling plywood ceiling in 'Eat Green Design', housing a pop-up restaurant at the Powerhouse Museum. These projects help increase public connection with architecture while allowing the office to produce more experimental and fast-paced work.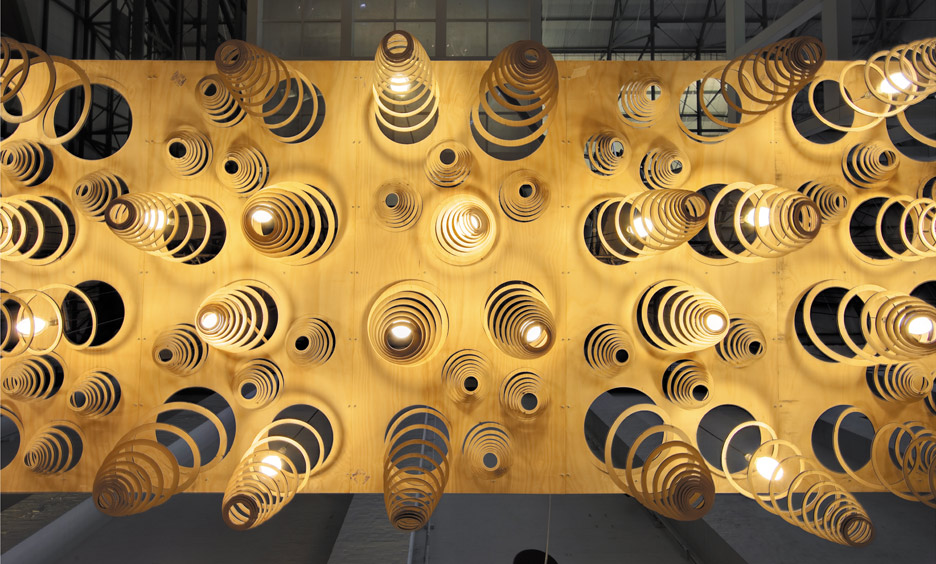 Tribe Studio embraces collaborative practices, and Tribe affirms the importance of involving staff in design charrettes to increase the diversity of roles and provide a dynamic work environment. Inter-office, the studio initiates seminars entitled 'Bright Young Things', inviting colleagues and an invaluable database of contacts to present new work to a network of potential clients. In business, Tribe collaborates with larger practices in order to work on projects that might not be possible otherwise.
In order to grow, Tribe recognises the need to hand over responsibility to staff, giving them "the difficult task of beginning". Indeed, it's the beginning for her that is most exciting and challenging: "Starting – there's magic in it," she says. In architectural terms, the practice is only just emerging, yet it boasts an impressive portfolio of contributions to Sydney's building fabric and policy. At the end of each, Tribe describes a "great freedom in realising that each building won't be your last". With plenty of time to grow, the dedication to fundamental issues of housing, sustainable building and designing for personalities will surely continue.
From the beginning, Tribe has beautifully demonstrated the pursuit of these ideas through its unique built and unbuilt architecture.