Article by Online Editor
Photography by Eric sierens, Martin van der Wall
Designer
Architect Fitzpatrick Partners
Sydney's One Shelley Street Building at King Street Wharf is planned with two rectangular floor-plates separated by an 8.5-metre-wide void. Its two low-rise slab blocks and attendant void are cloaked in dark glass overlain with a white diagrid structure. Architects Fitzpatrick + Partners have eschewed the default solution of meekly cladding the building with a ubiquitous curtain wall of glass. Instead, they have shifted the entire perimeter structure to the outside of the curtain wall giving it the form of a diamond patterned external skeleton. Of course, expressed structure has long been a cause célèbre of architecture; now, as compu-design has stimulated interest amongst many architects in sculptural form and its surface (often at the expense of tectonic expression) the call to order from senior critics like Kenneth Frampton seems justified:
"Rather than join in a recapitulation of avant-gardist tropes or enter into historicist pastiche, or into superfluous proliferation of sculptural gestures – all of which have an arbitrary dimension to the degree that they are based neither on structure nor in construction – we may return instead to the structural unit as the irreducible essence of architectural form."
This appeal (in Studies in Tectonic Culture, 1995) is for built works with a palpable sense of order derived from structure, specifically telling the story of how a structure is able to resist vertical and horizontal forces. Does this building do this? Yes, but with embellishments that appear to test the tectonic paradigm.
The building's structure is fully expressed in that it is lifted off the external wall except for the structural node points at the diagrid crossings that connect it to the building's floors. Fitzpatrick & Partners' empathy with the 'tectonic' approach is also evident in its design processes, which use computer imaging to explore the three-dimensionality of components and assemblages, and in its construction of full size mock-ups of other major built elements, such as the structural node connecting the diagrid to the slab edges. It departs from this approach though in the contrived way in which the diagrid turns corners. The architects see the diagrid as a large-scale garment enveloping and folding its way around the site. To support this 'wrapping' idea, the diagrid is actually constructed continuously around corners. Structurally, it could have stopped and not been connected at the corners, in which case each side would present like a giant steel truss. By running around the corner the diagrid is emphasised not just as a primary structure, but as a continuous surface – a garment 'clothing' the building. The diagrid, incidentally, is made up of 420 by 420-millimetre aluminium clad members configured into a grid of repeated six by six-metre parallelograms. Structurally, the frame consists of a notionally standard 310UC member.
Diagrids (actually a portmanteau of diagonal and grid) are related to another structural type: the space frame. There are differences, however: space frames are more three-dimensional and often found in long span, multi-directional applications such as roofs; whereas diagrids, particularly since the 1980s, have been used more in planar applications such as perimeter wall structures for large office buildings.
Konrad Wachsmann developed a large span, lightweight metal tube space frame system – the 'Mobilar Structure' – in 1942. Buckminster Fuller patented his 'Geodesic Dome' design in 1954 and then Louis Kahn, using similar ideas of triangulation and standardisation, used a diagrid arrangement of the concrete floor structure to create column free spaces in his mid-fifties Yale University Art Building. The influence of Fuller on Kahn was also evident when Kahn, working between 1952 and 1957 with Anne Tyng, designed a multistorey City Hall project for Philadelphia. He called its diagrid structure –… a vertical truss against the wind – and, although it remained unbuilt, its radical, iconographic nature entered the thinking of younger architects in the Fuller-Kahn circle, specifically Renzo Piano, Richard Rogers and Norman Foster.
Rogers and Foster met while studying at Yale (the location of Kahn's Art Gallery) and in 1961 Foster worked in Kahn's office. Piano spent the years 1965 to 1970 working in Kahn's office and that of the London structural engineer ZS Makowsky. Foster also began a working relationship with Fuller that lasted from 1968 until the latter's death in 1983. Piano and Rogers won the Pompidou Centre competition in 1971. When completed in 1977 the building, with its expressed trusses verging on the diagrid configuration, added to the evolution of this structural form. By the late 1960s diagrid-like expressed structural bracing appeared on Chicago's John Hancock Tower, the work of Fazlur Khan of SOM. This type re-emerged on IM Pei's Bank of China Tower (1989) in Hong Kong. Foster used the curvilinear diagrid variant in his 1995 Law Library at Cambridge University. Here, the diagrid structure is in-filled with glazing, a technique that underwent further development in Foster's hands – the 2003 Swiss Re Tower in London being the best-known example.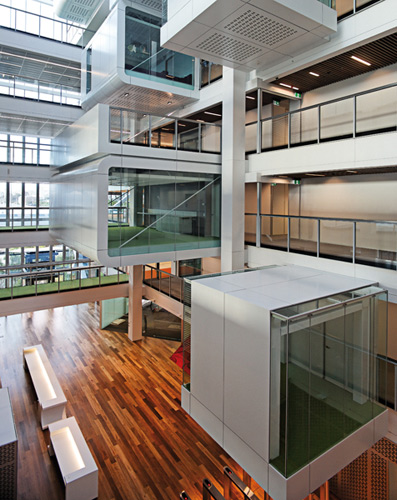 James Fitzpatrick cites the Hancock Tower, the Swiss Re building and Herzog de Meuron's Prada shop in Shibuya as precedents for the King Street Wharf diagrid; however, none of these have exo-skeletons in the way the Sydney building does. This project scores highly on all the commercial parameters of floor space ratio, ground floor planning, usable floor plates and so on. The King Street Wharf Master Plan mandated its total floor space and low rise massing. Take these predetermined factors away and there is really not much scope for architecture – the mind-numbing reality of commercial projects. The success story here is the crafting of an iconographic urban presence from the manipulation of externalised structure so that the boundaries between the disciplines of architecture and structural engineering are called into question. Structuro-architecture then emerges as the project's real point of difference. This suggestion that structure can also be a wrapping may imply a rebuttal of the tectonic canon, but the One Shelley Street project has added an icon of commerce to the Sydney grid that gets attention even in a world littered with media and signs.