Article by Online Editor
Photography by Jonathan Wherrett
Designer
Architect Rosevear Architects
Amid his observations on the plight of Australian cities in his seminal text The Australian Ugliness (1960), Robin Boyd also took aim at Tasmania's overzealous preoccupation with the "commercial possibilities of antiquity" in buildings that were "choked with the tourist trappings of chintzy old-lavender charm indoors and outdoors".
Although this preoccupation endures more than fifty years later, recent tourism ventures have presented a shift from the romanticised, quaint heritage market towards a more ecologically and culturally minded tourist. Ken Latona initiated the first wave in the 1990s, with the 'glamping' (glamorous camping) retreats of Friendly Beaches Lodge (1993) and the Bay of Fires Lodge (2000) on the east coast, providing exquisite settings within extraordinary landscapes. At the other end of the spectrum, Circa Morris-Nunn's Saffire Resort (2011) at Freycinet provided a more self-consciously iconic alternative to the twee 'ye olde world' offerings.
These were followed by two projects by Rosevear Architects for developer Brett Torossi: Avalon Coastal Retreat (2004), a neo-Modernist glass building perched on the headlands near the east coast town of Swansea; and the Rocky Hills Retreat (2010), which recently won the Unique Accommodation award at this year's Australian Tourism Awards.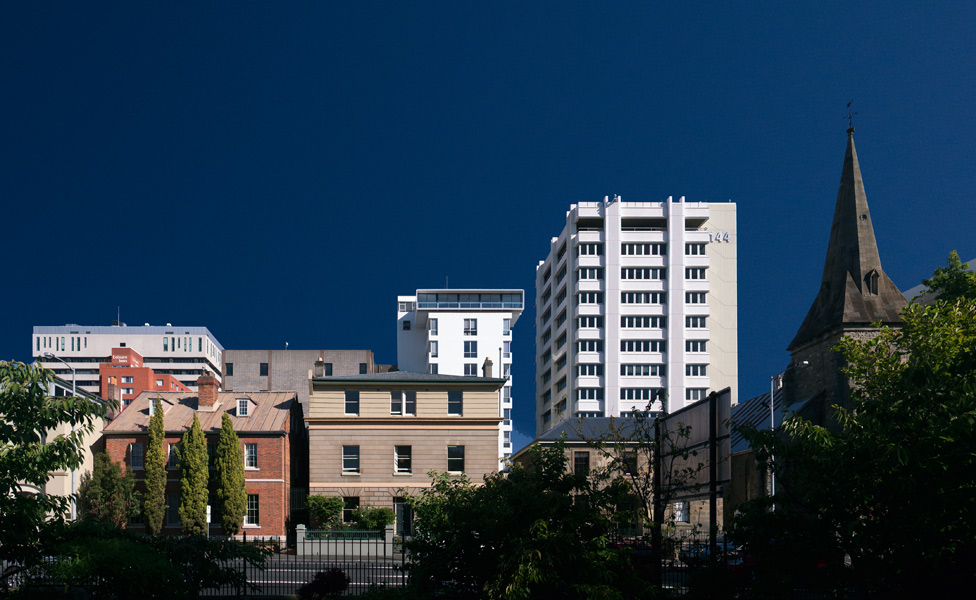 Rosevear and Torossi's latest project, Avalon City Retreat, offers another alternative that is aimed at the savvy 'mainland' and international market, fuelled by new cultural initiatives such as Museum of Old and New Art and its annual Festival of Music and Art that are central to the cultural vibrancy of Hobart – earning it a place on Lonely Planet's 2013 list of top ten travel destinations.
The prefabricated modular penthouse apartment is perched on top of a eight-storey, Boyd-era office block by Dutch-born Modernist, Dirk Bolt, in Hobart's inner city. While formally and spatially the project conforms to Rosevear's characteristic minimalist oeuvre, the project is highly inventive and experimental on a range of levels. Avalon City Retreat is the first prototype of a system that is designed to be deployed in a range of iterations.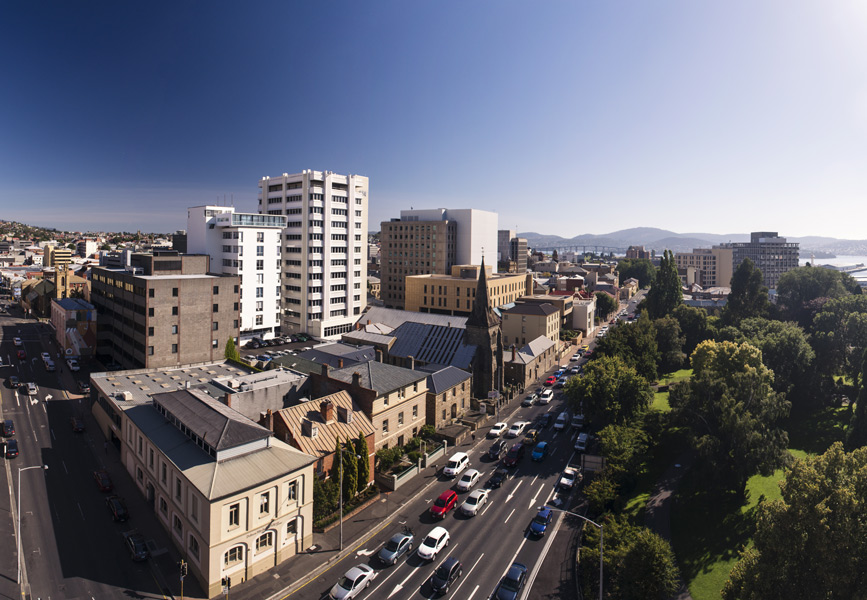 Its omnipod system employs two module types: bedroom/ensuite segments, which are placed at either end to brace the structure; with central, open-planned segments containing kitchen, dining and lounge spaces. The modules, which are six and four tonnes respectively, are designed to fit on an unescorted truck. Additional steel structure in the roof and base provides bracing to allow the modules to be top-lifted by crane or helicopter, allowing a potential model for accommodation in remote areas.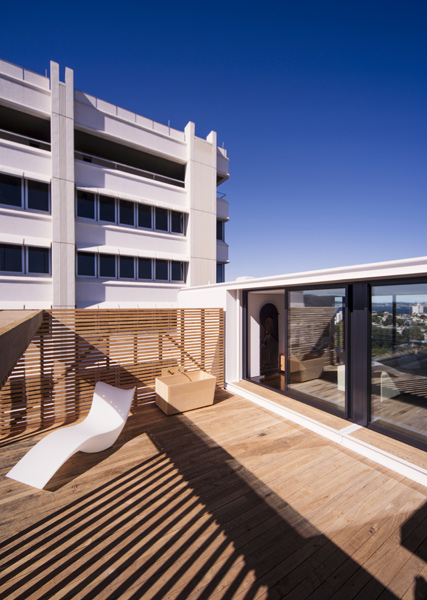 Avalon City Retreat comprises five modules that cantilever over the edge of the host building on a pair of steel transfer beams. The modules were installed complete with joinery, finishes and fittings, and were craned in place in less than 12 hours.
The building provides two bedrooms and a generous living area that offer extraordinary views over the city and the harbour beyond. Part of the roof of the host building is commandeered as a patio,which creates the archetypal 'Tasmanian veranda' condition of sheltering from the southerly wind, while allowing full exposure to the northern sun.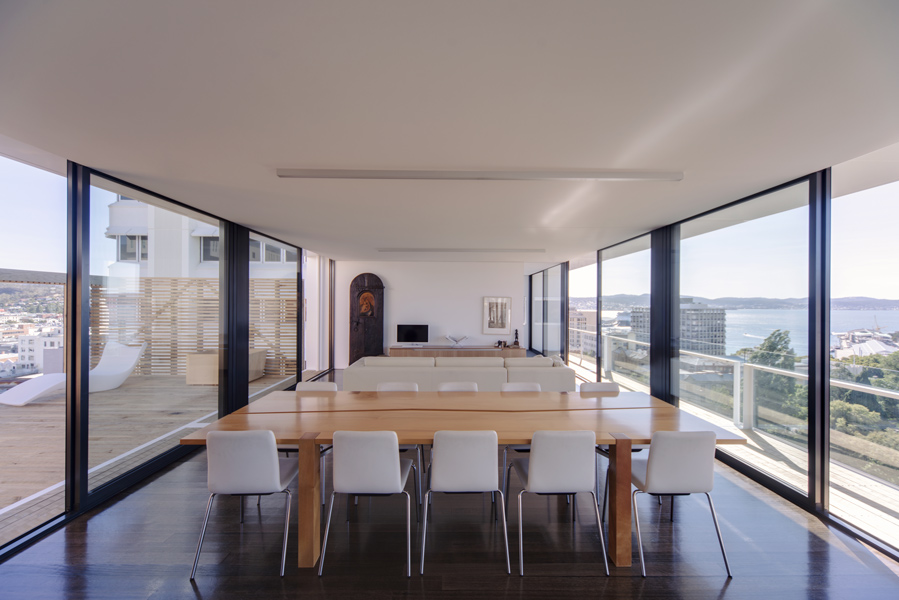 Boyd would be doubly pleased with the omnipod, as it is not merely the latest boutique accommodation that looks forward to the future, rather than back to the past,
it is also conceived of as a way of breaking into the nearly nascent (but almost non-existent) inner-city housing market. Torossi recognised the potential of the abundance of ageing, small office towers that are generally underutilised in the city centre. She identified that many of these buildings are over engineered, allowing capacity for additional floors. They also contain an abundance of car parking and the relatively small 12 x 15m floor plates offer the potential for adaptation for a range of future uses.
Seeking an alternative to outer ring, suburban developments that have been the mainstay of her New Ground Network development portfolio, Torossi is in the process of refurbishing the eight-storey building floor-by-floor so that it can be strata titled for mixed-use. During this process the omnipod on the roof provides income and generates speculative interest in further developments of this type. Once the market has firmed up, the pod will be removed and four additional floors of commercial/residential space will be added on to the top of the building.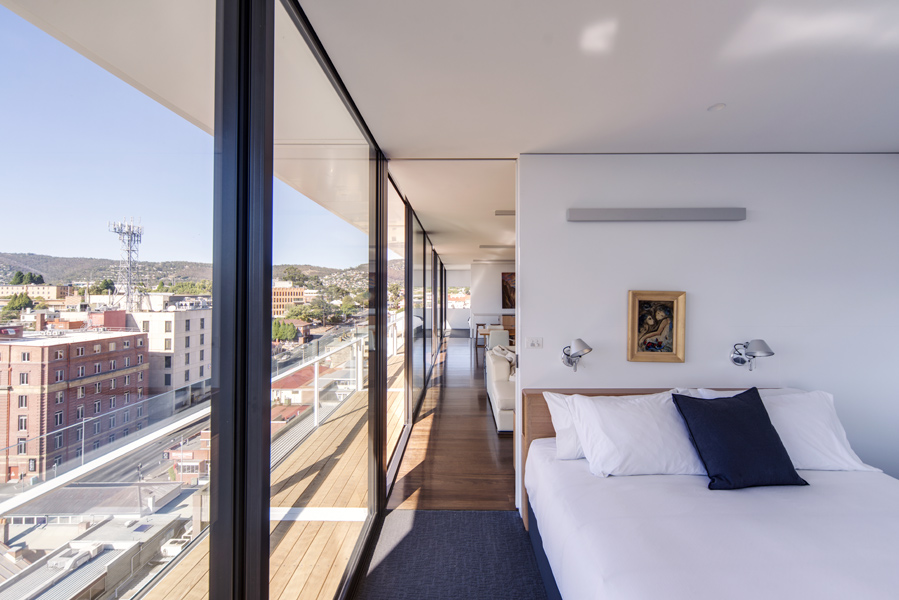 Although the project is a stroke of genius on many levels, Torossi protests that, "[it's] not genius to have people where all the infrastructure is". However, she recognises that the current zoning and height restrictions in Hobart impact the commercial viability of existing vacant lots and that it is very difficult to get inner-city medium density residential development to stack up financially, when it's still possible to purchase a three-bedroom house on a quarter-acre block ten minutes' drive from the city centre for around $300,000.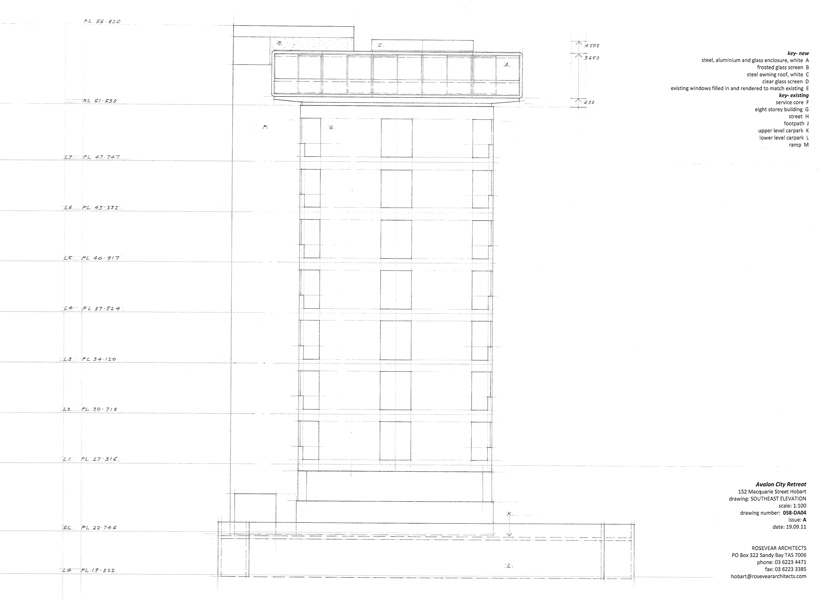 The relatively low property prices, however, make the purchase of prime real estate possible and the lateral thinking of transforming the single-use office block into a contemporary, mixed-use tower is a game-changer. With demand for inner-city residential development largely unrealised, the project is one step ahead of the market. In something reminiscent of Archigram's Plug-In City, with its future-orientated polemics and desires for iterative interchangeability to an urban framework through cellular dwelling, the omnipod presents two ideas for future housing: a simple but refined single dwelling that can be sited in a range of locations; and a housing model that provides a mascot for inner-city living.
The omnipod allows for flexibility to expand or condense linearly: the addition of more central modules providing extra living/study spaces; or less modules creating a smaller one-bedroom or studio arrangement; or a small house in which you can hold a dinner party for twelve people. The home becomes a giant inhabitable suitcase or, as Torossi suggests, "like a snail shell that one could carry around". It could be located on a rooftop for ten years and then transported to the bush or the beach.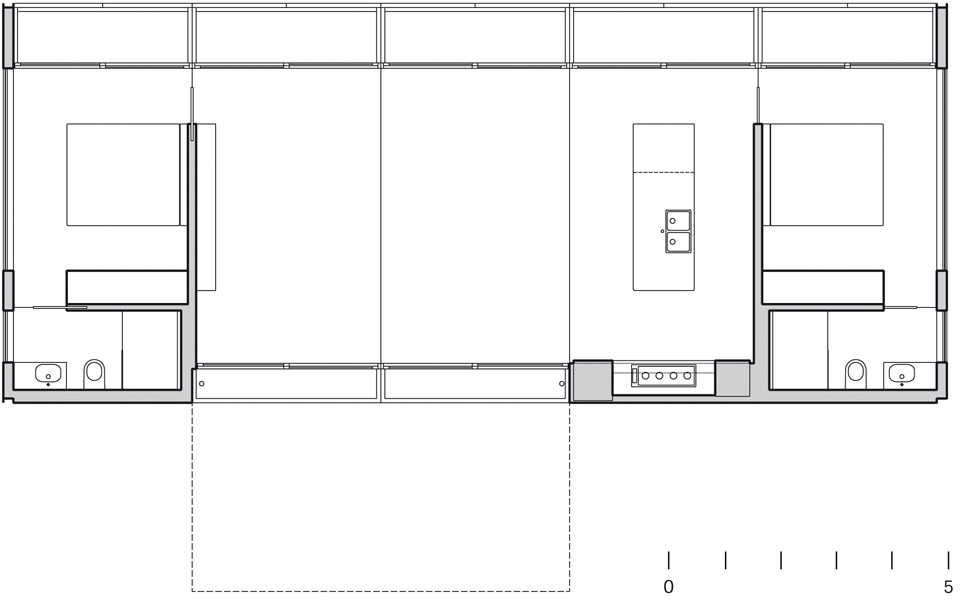 Torossi is excited by the idea of filling the empty rooftops of the city with little pods and it will be very interesting if neighbouring building owners might replicate this project. The multi-layered development strategy also allows for a long-term investment. Like in chess – where the end-game is played out in a series of subtle and almost undetectable small, patient moves – this project is a small piece in a much larger speculative game. And like the humble pawn, the omnipod could become a professionally transformative example – a potential major piece – in the urban strategy for future development.
roseveararchitects.com
avalonretreats.com.au
In an earlier version of this article, the photography was incorrectly attributed. Jonathan Wherrett is the photographer of all images used in this review.