Article by Online Editor
Photography by Brett Boardman
Designer
Architect Tonkin Zulaikha Greer, Taylor Cullity Lethlean
Conventionally, Australia's designed public landscapes are seldom organised on a regular, geometric plan. As in Renaissance England, twenty-first century Australian 'nature' apparently continues, to paraphrase English landscape designer Humphry Repton, to "abhor a straight line". In February, however, a remarkable rule-breaker opened in Australia's national capital, Canberra – the National Arboretum Canberra.

The Arboretum's design, titled 100 Forests/100 Gardens, was the outcome of a two-stage competition (launched in 2004), won by Tonkin Zulaikha Greer Architects (TZG) in collaboration with landscape architects Taylor Cullity Lethlean (TCL). Boldly composed on a grid extrapolated from Marion Mahony and Walter Burley Griffin's Water Axis, the Arboretum "comprises a hundred forests, created with a hundred of the world's endangered tree species, interspersed with a hundred gardens". When first publicising the prize-winner and alluding to the design's formal layout, the Canberra Times labelled the plan "radical".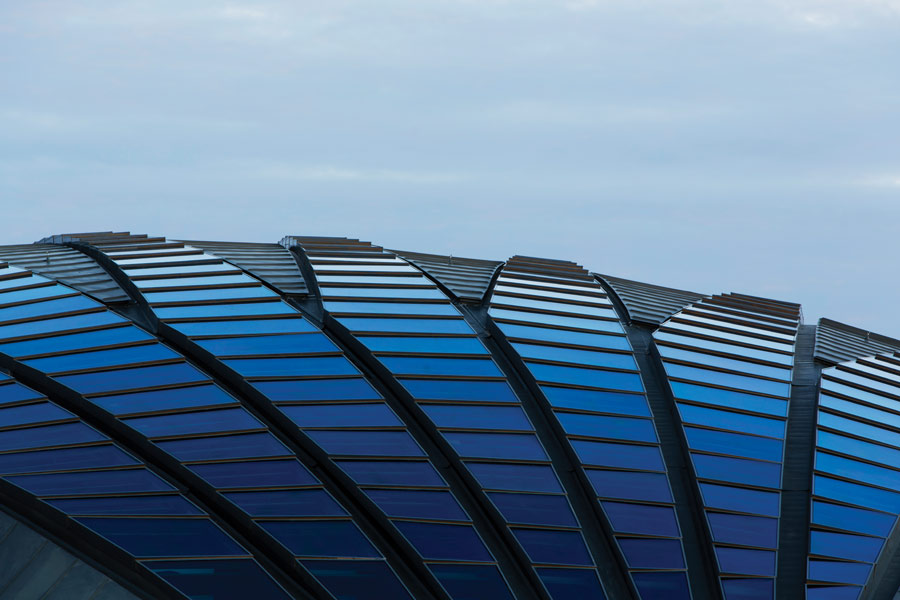 Arboretums have a lengthy history, especially in the United States, one most prominently evinced by Harvard University's Arnold Arboretum (1872), designed by pioneering landscape architect Frederick Law Olmsted. Indeed, Walter Burley Griffin gained early 'hands-on' landscape gardening experience by maintaining the University of Illinois Arboretum Ornamental Grounds (1871) while a student there. Nonetheless, 'arboretum' remains a relatively unfamiliar term in Australia; the Australian Capital Territory (ACT) government defines it as a "living museum where trees, shrubs and herbaceous plants are cultivated for scientific and educational purposes".
Like the proverbial phoenix, the project's genesis can be traced to 2001 and 2003, when bushfires swept across Canberra and through the 250-hectare site, incinerating a tinderbox pine plantation. The idea of redressing the fire-ravaged site with an arboretum originated with and was politically championed by former ACT Chief Minister Jon Stanhope.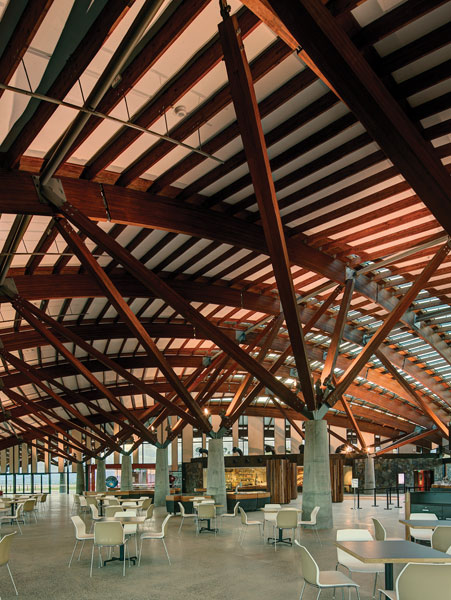 The site, located near the western end of Lake Burley Griffin, is of a dramatically rolling terrain with local summits offering panoramic views. It commenced in 2006 with the Camden white gum (eucalyptus benthamii), a threatened Australian native species, and, quite aptly, it embraces relict plantings of cork oaks (quercus suber) and Himalayan cedars (cedrus deodara) made under Griffin's direction. As an aside, it should be noted that the Himalayan cedar plantation is identified with a sign that includes the quotation: "The best friend on Earth of man is the tree. When we use the tree respectfully and economically, we have one of the greatest resources of the Earth." Its author, ironically, was none other than Griffin's nemesis, US architect Frank Lloyd Wright. The plantation's author receives no mention whatsoever. Signage, however, was beyond the architect and landscape architect's purview.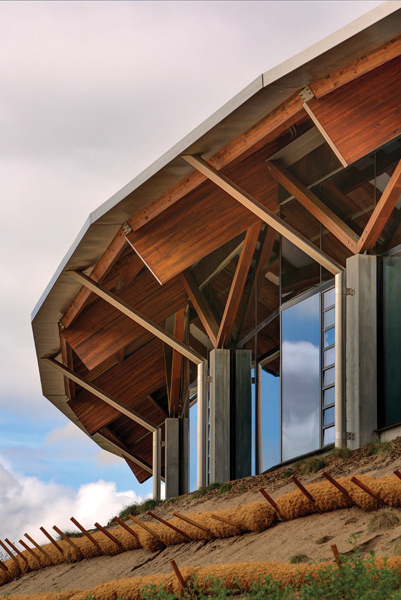 Circulation through the Arboretum is via a loop road, connecting the forest and garden mosaic, village centre, amphitheatre, events terrace and pavilion. The circuit is also episodically embellished with sculptures, such as Richard Moffatt's remarkable Nest III. Resonant with TCL's departure from the otherwise ubiquitous picturesque, TZG's architecture laudably avoids the trope of the 'rustic' (the picturesque's architectural analogue). Alternatively, TZG's structures articulate an elegant, disciplined monumentality appropriate to the scale of the site and exude a landscape sensibility. Indeed, TZG's Paddington Reservoir Gardens, designed in association with JMD Design, is a contemporary landscape architecture benchmark.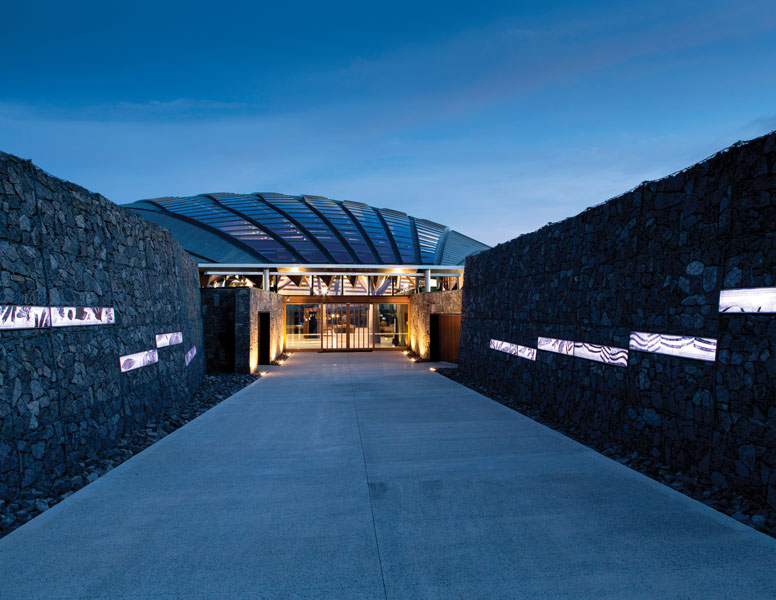 The village centre's form and roofline, for instance, evoke the hills within and beyond the site's confines. Funnelled into the building – sited in an elevated position – through a compressed 'trench' of high stone walls, one emerges to encounter a spectacular glass-veiled panoramic view across Lake Burley Griffin, giving a surreal sensation of architecture, which is at once floating and yet earth-bound. By contrast, the pavilion's crystalline form reminds one of the structure of leaves and, at the broader scale, registers the juxtaposition of culture with nature.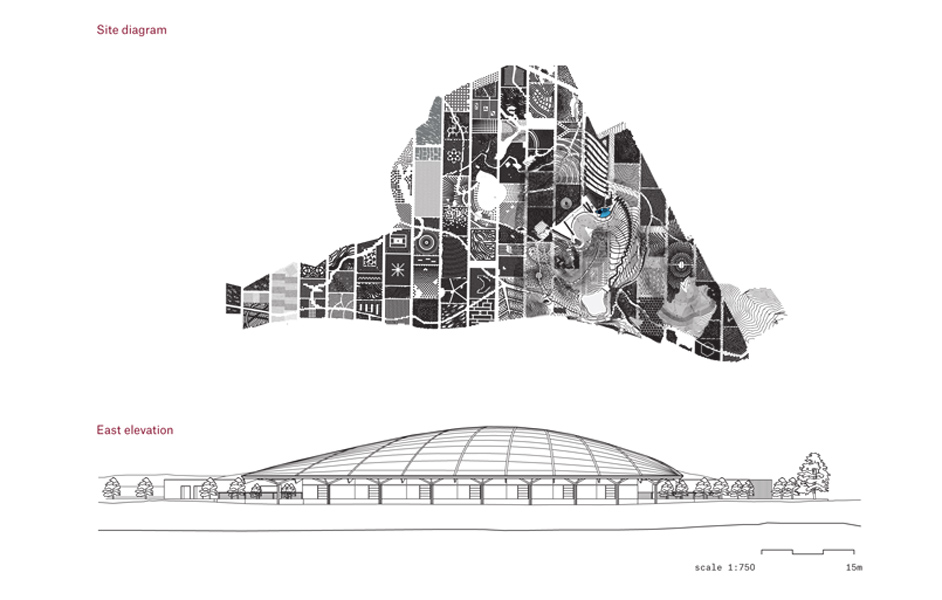 Perhaps most laudably, TCL's design fuses scientific utility with beauty. Along with functioning as seed banks for the future – a sylvan 'Noah's Ark' of sorts – the forests offer visitors, in the designers' words, "solitude … the pleasure of being enveloped in a forest of one species" and the opportunity "to appreciate the quality of light, trunk and leaf texture, the sounds and colours of a particular species". Although the Arboretum richly rewards visitors who explore it on foot, for many, like much of Canberra's wider landscape, it will more routinely be experienced only visually, through the frame of a vehicular windscreen (sadly, it is difficult to access the Arboretum via public transport).
Even from this vantage, however, the Arboretum does not disappoint. At this macro-scale, motorists enjoy the visual spectacle of a polychromatic, dynamic vegetal tapestry that accentuates the undulating topography. Ethereally, almost a century ago, Walter Burley Griffin proposed a national arboretum be located approximately on the present site. This, however, is a happy coincidence; Stanhope claims Griffin's proposal had nothing to do with his own.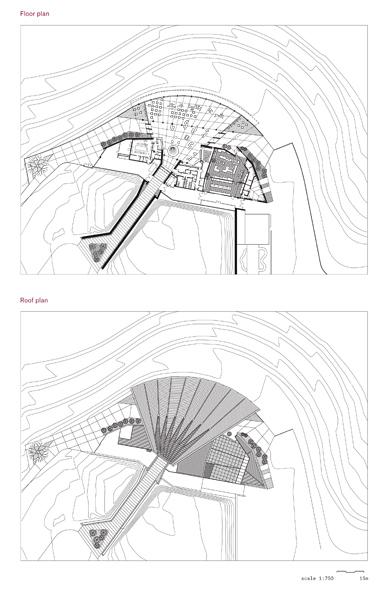 Early on in the project, however, Stanhope advocated that "we owe it to Walter Burley Griffin, we owe it to the future and we owe it to Canberra's place as the national capital of Australia to actually allow ourselves with courage to imagine what is possible and develop [the Arboretum]". With the National Arboretum Canberra's opening, Stanhope's long-standing mission is now accomplished and another component of the Griffins' vision for Australia's capital has been belatedly realised. Ultimately, within the realm of imagination, the National Arboretum Canberra is an object lesson as to the beauty that can be achieved when architects and landscape architects collaborate on equal footing.