Article by Online Editor
Photography by Leigh Carmichael
Designer
Architect Fender Katsalidis
Disclosure: I love David Walsh. I love him like a 12-year-old girl loves Justin Bieber: from a distance, with cartoon hearts for eyes. I love him for being arrogant, single-minded and unapologetically intellectual, and for building an institution that will shake the conservative foundations of Australian culture. The tone of this article, which reviews Walsh's newly opened art museum, will therefore be biased. It will not match the standard of dispassionate architectural writing that you might expect from an established journal such as this. I visited Walsh's MONA, the Museum of Old and New Art, a month before it opened to the public. The art was half-installed. A giant celestial painting by Anselm Kiefer lay on its side. In the library, workers furiously trowelled grout. I have since spent months deciding what to write about it. This is because there is far too much to write, too many narratives and details and pithy quotes. My editor was pulling his hair out.
I first learned of MONA three or four years ago. David Walsh, stated a magazine story, was the multimillionaire owner of a gambling syndicate; he was constructing a gallery at his Moorilla Estate winery in Hobart, dedicated to the themes of sex and death (by which he claimed all art was inspired). Asked the journalist: 'What will you do if no one comes?' Walsh responded that this would be fine. He would simply switch off the air-conditioning system, open a bottle of wine, and enjoy watching the art rot on the walls. I immediately thought of Gail Wynand, the eccentric and ruthless newspaper magnate in Ayn Rand's novel The Fountainhead. Wynand, like Walsh, is an autodidact and self-made man. He has an idiosyncratic collection of art that he displays for his pleasure alone: 'The top floor of the building under his penthouse was his private art gallery. It was locked. He had never admitted anyone, except the caretaker.' Walsh, however, has never intended for his gallery to be hidden away. In the late 1990s he opened a small antiquities museum at Moorilla, within a house designed by modernist architect Roy Grounds. No one came, says Walsh, so he decided to build something bigger. 'I started something and then I got carried away a bit,' he quips.
Arriving by ferry from Hobart, gridded concrete walls, punctuated by Corten steel battlements, loom over the Derwent River. From the jetty, a flight of steps rises dramatically within a sandstone cutting. The steep path to the temple atop the Greek island of Naxos, says Walsh, inspired this sequence. If you instead arrive from the winery, only the protruding parapets of the river walls are visible. Tucked in behind the winery's sheds, this aspect of the museum is deliberately underwhelming. A synthetic tennis court conspicuously occupies the foreground. The court is not an artwork. It is there because Walsh likes tennis. The two approaches to the museum speak volumes about his relationship to his hometown Hobart and his simultaneous need for recognition and autonomy. Research curator, Delia Nicholls, describes MONA as a 'peninsula complex', but the term could apply equally to Walsh's persona. Having grown up in 'a council flat on the wrong side of [Hobart's] Mount Wellington', he feels the need to both celebrate the magnitude of his accomplishment and remain true to his roots. Walsh tells me that his is the first new jetty on the Derwent 'in a very long time', and that he'd happily now demolish the museum and just enjoy access to the river. Like its site on a peninsula in suburban Berriedale, MONA is an island of aspiration that remains tethered to the mainland.
On the far side of the tennis court, a mirrored portal attached to the 1958 Roy Grounds house announces the entry. The spiral staircase that descends, like a corkscrew in a bottle, from the courtyard of the house, through a glass cylinder, and into the subterranean museum, was closed during construction. So at the outset of my MONA visit I had to enter via the loading dock, donning hardhat and vest. At the bottom of a seemingly endless flight of stairs, I emerged into a dark, lofty space contained by walls of sheer rock. It is like going down into Petra, or alternatively, like entering a mine. Rock clamps protrude from the 20-metre-tall sandstone walls, while the foundations of the house above are exposed, seemingly hanging overhead. Contrasting with the raw rock is the precise geometry of a concrete waffle slab ceiling, which flattens, folds, or is thickened by beams in accordance with the gravitational loads above.
At the foot of the spiral staircase, the museum lobby hosts a charred timber bar and a collection of eclectic furnishings. Behind a frayed curtain by Melbourne artist Julia deVille, is a columbarium in which urns containing the ashes of Walsh's father and brother are installed. MONA's vast 6500 square metre subterranean gallery space extends over three levels, but has no windows. With its macabre contents (including the urns, an Egyptian mummy in a sarcophagus, rotting beef carcasses and a mutilated corpse sculpture by the infamous Chapman brothers), you could describe the museum as a sort of catacomb. However, as the sounds of power drills and warning tones echoed, the image of the mine lingered. This impression was only strengthened by the discovery of a round tunnel, like a storm drain or a Mexican smuggling shaft, leading to the library. It seemed appropriate in Tasmania, a state with a long history of resource extraction and exploitation, that Walsh should be digging his artefacts out of the ground. Or perhaps MONA attempts a prehistory, going below the bedrock to an authentic stratum of Australian culture. The use of rusted metal throughout would seem to confirm this interpretation. Connecting the museum's three levels, a tortured Piranesian staircase is clad in Corten steel.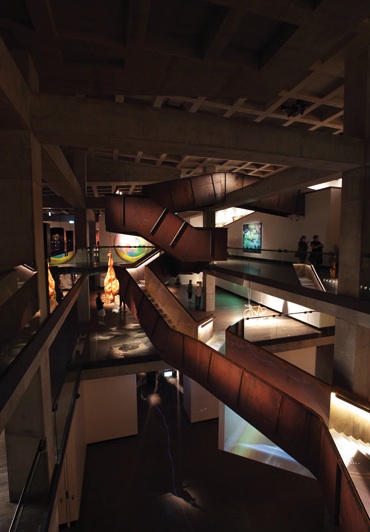 Walsh says that he was forced to place his museum underground to preserve the heritage setting of the two Roy Grounds houses on the property. He also says that he wanted to create an 'anti-British Museum', a building that could sneak up on visitors rather than broadcast its presence. More importantly, however, Walsh sought a 'sense of danger' that would enliven the experience of viewing art. His dark and labyrinthine institution is about as menacing as a public space can be. A trip to Kiefer's (now former) house and studio in the South of France inspired MONA's ominous atmosphere. Walsh vividly recalls the house's underground tunnels, its 'horrifying and beautiful' walls of raw earth. Another key reference was Paris' Palais de Tokyo, a 1937 pavilion that was converted into a museum by architects Lacaton and Vassal in 2003. The architects chose to preserve the pavilion in a state of elegant decay, like an artists' squat, setting the scene for unconventional contemporary art. 'A museum has to follow codes, it has to have a certain amount of polish,' Walsh laments. While there are certainly handrails and exit signs at MONA, lighting is kept to a minimum, surfaces are often painted black and shadowy corners abound. Visitors are given an iPod touch, rather than a spool of thread, to find their way.
Playing Daedalus to Walsh's Minos, Imhotep to his Djoser, is architect, Nonda Katsalidis. Katsalidis was commissioned to design the museum following a suitably maze-like schematic design by young Melbourne practice, Tandem Design Studio. The entrepreneur and architect became friends after Walsh moved into the penthouse of Katsalidis' Republic apartment building in Melbourne. 'He is the greatest architect in the world for my purposes, in terms of what I wanted to do,' claims Walsh. 'He doesn't build the same building over and over again.' When I enquired about the pair's creative relationship, Walsh stated, 'Most of this reflects Nonda and not me.' I countered that Katsalidis had said the exact opposite. 'That's because we're both honest,' Walsh replied with a shrug. There is no question that this building has been jointly authored. During my visit, Walsh carefully scrutinised the construction and fitout. He made notes of paintings to be raised or lowered, or dictated orders into his mobile phone, demanding that stones in a rebuilt retaining wall be reordered. For his part, Katsalidis appears to have toned down his typically expressive, sculptural style. Reminiscent of Steven Holl's Simmons Hall student centre at MIT, the repeated grid element that defines the ceiling and river walls, while never monotonous, is certainly more monolithic than much of Katsalidis' recent work. Walsh paraphrases the architect's ethos, saying that, 'the best architecture is a site in chaos, trying to bring it together.' MONA reflects the singular bringing together of a cacophony of ideas and influences. Soaring, confounding, and full of memorable spaces, MONA is testament to a productive collaboration.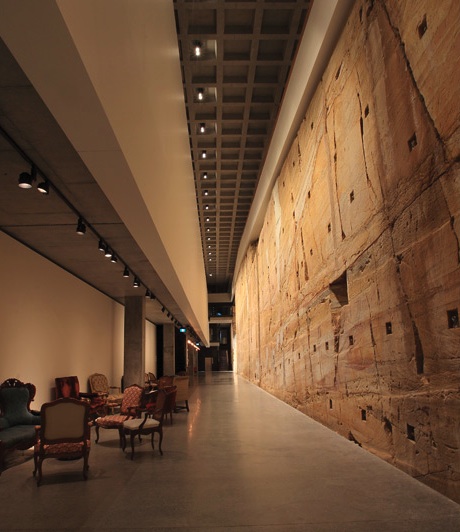 At the time of opening, MONA was still in progress, with the library (which features Walsh's private book collection and extends a second Roy Grounds house in a series of radiating rooms) completed in May 2011. Its inaugural exhibition, Monanism, was on show until 19 July, and its next show is due to begin in August. It is hard to know how many of the current works will be retained, given that so many of the larger pieces feature elaborate installations and would be both costly and labour intensive to replace. However, there are presently just 400 pieces from Walsh's 2000 piece, $120 million collection on display, and he has no plans to cease collecting.
'David doesn't like to hide anything,' says Nicholls. This is why, on the intermediate level that houses the building's ventilation system, visitors can enter a cage to view the mechanical services at work. Monanism is a play on the word onanism, or masturbation. Unlike the reclusive Wynand, Walsh has here laid himself bare. The exhibition both acknowledges the self-involvement that underlies his vision, and sincerely attempts to share his unflinching worldview, predicated on 'spirituality without the undercurrent of belief'. In person, Walsh was less gruff and autistic than his mythology had led me to believe. He was disarmingly forthright in answering questions. When I suggested that many in the art establishment would see Walsh's new enterprise as a shameless attempt to purchase credibility, he was unperturbed. 'Let's imagine that I was trying to buy credibility and I did something interesting accidentally,' he said. 'Wouldn't that be good anyway? If I had too many drinks and built a gallery, would that be such a bad thing?'
David Neustein is the Sydney editor of Architectural Review Australia. David travelled to Hobart courtesy of Tourism Tasmania and stayed at the MONA Pavilions courtesy of the Museum of Old and New Art.