Article by Online Editor
Photography by Mark-Munro
Designer
Q&A with Simon Thornton. Originally published in Architectural Review Asia Pacific #124: Architecture and the Body.
Explain 'fiction architecture'.
I always incline towards intuitive starting points in design, and a make-believe quality. My designs are rather like novels in that they begin with an agreement to pretend.
Is the 'pure, organic, low-fat, unhomogenised' branding on the Milk Carton extension a comment on sustainable architecture?
These are words that are linked with an approach to food and exercise that I agree with, but which may become obsessive, even fanatical, and some architects may become extreme about using recycled materials and planning minimal space. In both cases there is a danger of a judgemental and inflexible approach, which can become puritanical.
You say that dreams and the subconscious mind can provide fertile material for architecture. But who dreams of milk?
A good fiction concept appears simple but is actually complex and universal. It allows multiple interpretations. It springs from a mechanism in the brain that solves problems far more intricate than a conscious thinking process can tackle, and addresses practical, emotional, intellectual and spiritual issues simultaneously. The most difficult aspect, one that requires bravery, is to treat such a concept seriously, and ask others to do so. In this case, the owners responded well: they, too, dream of milk!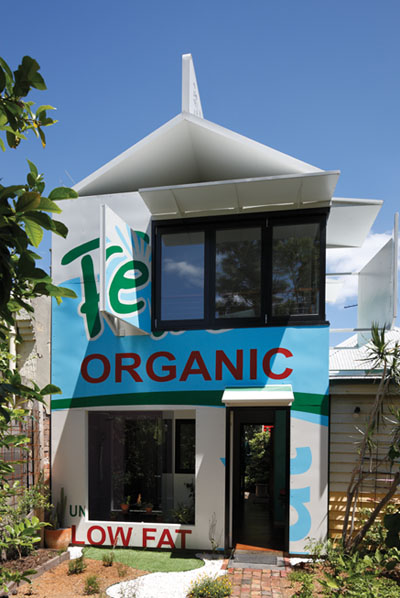 How does the project sit within your body of work?
Like the Lighthouse (1993), the Gryphon Extension (2004) and the Aqueduct and Tent House (2009), the extension begins with a fictional narrative demanding the adoption of a suitable aesthetic language. It employs literal representation rather than abstraction, and a shift in scale: 'What was in that drink?' The Milk Carton differs from the earlier houses, though, in that it deals with the relationship between contemporary house design and product packaging, and it has a sub-text regarding the quest for purity.
How would you sum up the aims and purpose of the Milk Carton House?
To amuse and entertain. And to provide somewhere dry and comfortable for the owners to live.