Article by Alexa Kempton
Designer
Sign up for our newsletter
Much is made of the unprecedented growth of Chinese cities: the vast acceleration of industrial production, the swell of migrants moving into the cities, and the resultant boom in construction. At the other end of this burgeoning economy, however, lies a dwindling landscape groaning under the weight of an unregulated system of waste disposal. This 72-minute documentary, made by photographer Wang Jiuliang, shines a spotlight on the thousands of tonnes of waste, excrement and rubble that has a stranglehold on the city of Beijing.
Wang's project began in 2008, when he started following the trucks that collected and processed his own rubbish for a story on consumerism. Tracking the journey from collection through local sorting centres and out to the city fringe, Wang was confronted with a vast site littered with unsorted waste, destined for landfill. Delving further into the problem, his focus shifted as he began filming and photographing the city's landfills, ultimately visiting almost 500 sites over the course of three years and marking each new site with yellow dots on a map. As the realisation dawned on Wang, so too the scale of the issue unravels in this film – viewed from above, the map of greater Beijing begins to glow with a yellow ring of landfills that encircle the city.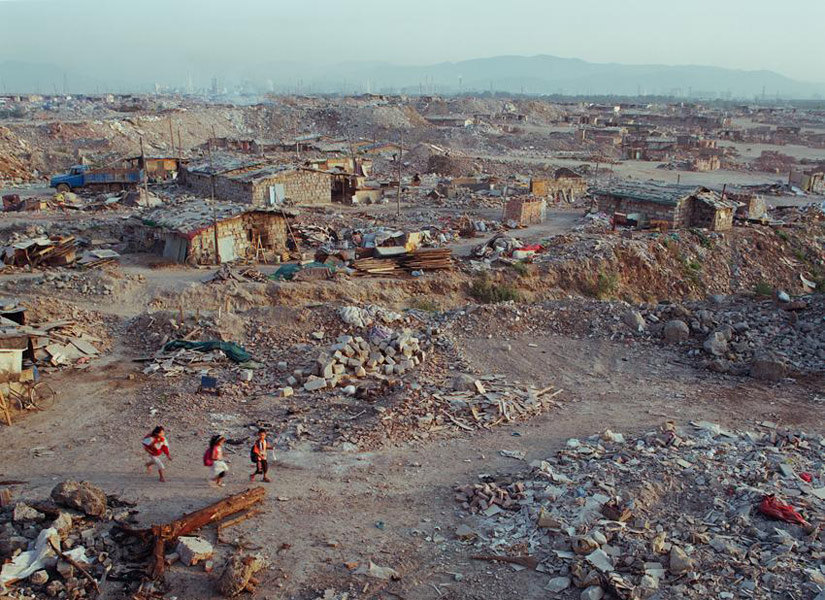 As Wang quickly discovers, many of these sites are unregulated. The city's 3,000 tonnes of daily rubbish is unceremoniously dumped, layer on top of layer, as the sprawling landscape of waste chokes the rivers, damages the local ecology, and irrevocably changes the lives of local farmers. On land that would once have been used for grazing, Wang films shepherds herding their goats and cows through the rubbish – picking for food scraps among the plastic bags, as the cranes atop new developments swing slowly in the distance. In one bizarre scene, two newlyweds in search of a pastoral setting for their wedding photographs are directed by their photographer to edge in alongside the sheep and hold a lamb.
As he is confronted with the scale of the city's waste problem, Wang encounters communities of scavengers living among the waste, many of whom have left home in rural China in search of work in the city. Surrounded by a sea of unsorted and hazardous garbage, these scavengers ­– who number close to 100,000 by Wang's estimates – scour the refuse for discarded clothes, food scraps and construction waste with which to build makeshift shelters. Many of them eye Wang and his camera with suspicion, while others are baffled by his interest in them. One concedes that they won't admit to their families that their new lives in the metropolis are eked out sorting waste on an illegal landfill site. On one site on the Wenyu River, Wang encounters families raising swill pigs on food scraps purchased from restaurants in the city, who then illegally sell the stomach-churning swill oil back to the restaurants.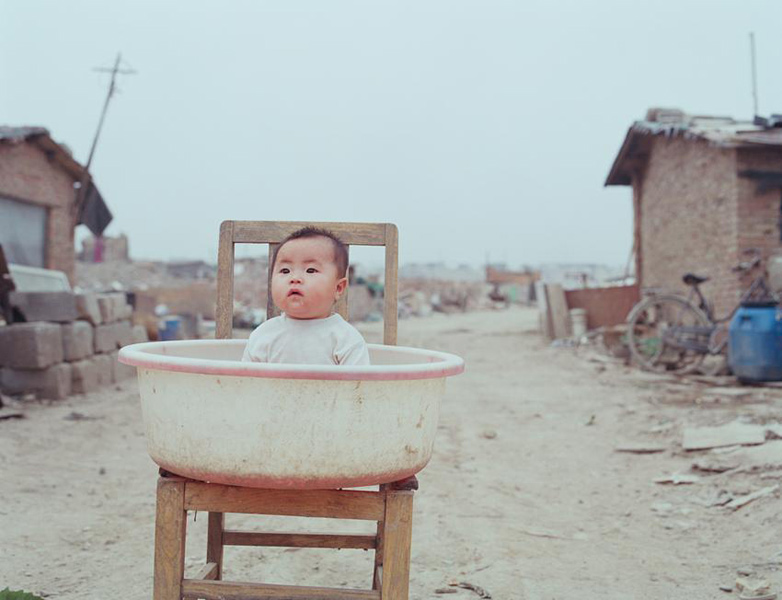 Beijing Besieged by Waste has been pieced together from more than 60 hours spent covertly filming the city's landfill sites, with the aim of exposing poor government regulation and a reckless lack of official accountability. The documentary style of this film, together with Wang's plain-speaking dialogue, conveys his sense of activism. Though any official voice is absent for the course of the film, a note at the end asserts that, as a result of the film, many of the illegal sites have now been closed. Whether this is a sign of real change or merely a quick fix, Wang's film serves as a confronting reminder of the social and environmental cost of a voracious global appetite for consumption.
Beijing Besieged by Waste, Wang Jiuliang, dGenerate Films, 2011, 72 minutes. Mandarin with English subtitles. This film was screened at Melbourne International Film Festival (2-19 August) as part of the 'Street Level Visions: Indie Docs from China' program.
www.miff.com.au
This is a like-minded community of ILVENISTA's, who share a common bond of cooking for family and friends with their ILVE cookers.