Article by Online Editor
Designer
There's a poignant moment in Ai Weiwei: Never Sorry when China's most famous artist is asked to comment on his bravery, and he responds by saying: "I am fearful, that's why I act brave, otherwise danger becomes stronger". But, of course, it's one of many poignant moments in this documentary because we already know the ending.
First time director Alison Klayman was by Ai's side for three years – from 2009 until just after his arrest in 2011 – and her intelligent and insightful moving portrait documents him as artist, activist, husband and son. For those who first heard of Ai upon his arrest, this documentary fills in the holes in the story, and for those already familiar with his work, it further reveals his motivations, vision and fearlessness. That Klayman has in Ai an extraordinary subject almost goes without saying: charismatic, intelligent, creatively gifted and socially and politically astute, he makes for very good viewing. But it is the events of those three years and their subsequent documentation by Klayman that makes for a compelling narrative.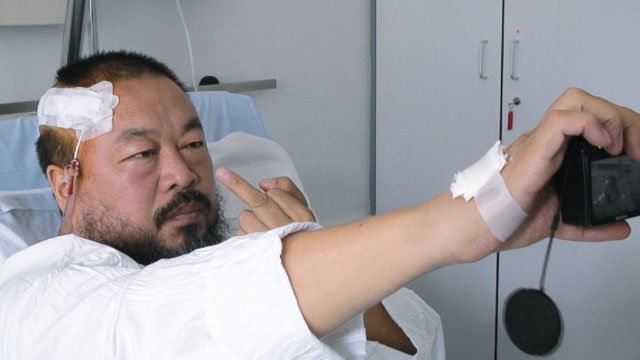 The Chinese government's oppression of Ai following his launch of a citizen investigation into the deaths of students as a result of shoddy construction in the 2008 Sichuan earthquake is palpable. The resulting Sichuan Earthquake Names Project, which collated the names of the dead students, was posted on his blog. Accused of creating anti-government noise on the internet, the blog was shut down and surveillance cameras installed in Ai's home. So he took to Twitter.
Ai's use of social media within the broad spectrum of his practice is crucial, as it compounds his activism with his artwork so that the two become indistinguishable. Klayman follows Ai to Munich for the opening of his So Sorry exhibition, which included the installation of 9000 children's backpacks – each representing a child Sichuan earthquake victim – on the exterior wall of the Haus der Kunst. She is there, too, in London for the opening of his Sunflower Seeds installation at the Tate Modern. Klayman is also there when Ai confronts the Chengdu policeman who hit him on the head during an earlier police raid in the middle of the night. Following the incident, Ai underwent emergency surgery for a subdural hematoma – a brain injury caused by blunt trauma – and Klayman is again there, filming Ai in the hospital bed as he documents his recovery.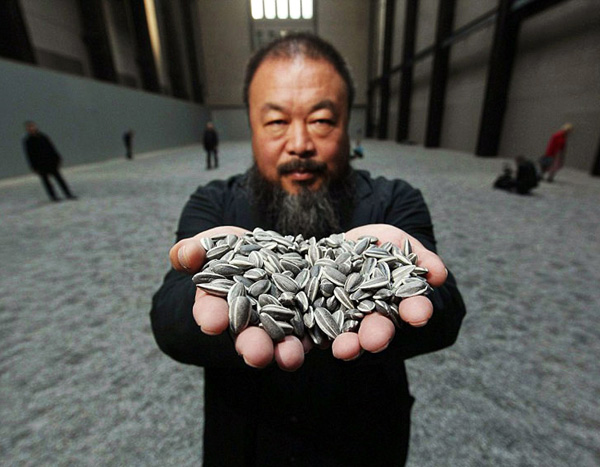 It soon becomes evident that Ai's international profile won't be able to protect him forever, and when the Chinese government orders the demolition of his new Shanghai studio, the writing's on the wall. Ai is arrested three months later.
At the documentary's beginning an interviewer asks Ai what type of artist he is, and Ai responds by saying that he is more of a chess player. Klayman has captured a riveting subject with a riveting story. For a man under constant government scrutiny, his sense of humour and heart is all the more extraordinary. The times we see him with his mother and young son are heart warming, and his generosity with his supporters and assistants is genuine. He may have come out of the 81-day detention, where he was held without trial, a much thinner, quieter man but as one of his friends lets us know early on: "Ai has a hooligan side, so he knows how to deal with hooligans".
Ai Weiwei: Never Sorry, Alison Klayman, Madman Entertainment, 2012, 91 minutes. English/Mandarin with English subtitles. This film was screened at Melbourne International Film Festival (2-19 August) as part of the 'Documentaries' program.
www.miff.com.au