Article by Online Editor
Photography by Iwan Baan, Luis Ros
Designer
Architect Cloud 9
The ambitious architecture of Barcelona
In the space of less than a decade, Barcelona's Poblenou has been transformed from what was once a fading and decrepit agglomeration of old industry manufacturing workshops into a humming centre of "new economy" activity. Perhaps most famous in architectural circles as the site of Jean Nouvel's priapic Torre Agbar, the area is quickly becoming populated by a strutting profusion of architectural objects, all jostling for attention in the carefully composed urban grid east of Barcelona's city centre. These buildings constitute the built infrastructure that the powers-that-be hope will facilitate Catalonia's drive towards a knowledge economy. They provide facilities, of course, but as evinced by the Torre Agbar, they also serve as symbols of this ambition, beacons to attract the attention of fickle international talent and investment in a crowded global market littered with "design cities", "knowledge economies" and "creative capitals".
The title of this project is "22@Barcelona" – the transformation of two hundred hectares of industrial land from within Poblenou into an "innovation" district that concentrates knowledge-based activities from three core industries: medical technologies, energy and design, and media, information and communication technologies.
The cluster pertaining to information and communication technologies (in Spanish "Tecnologías de la Información y la Comunicación", or TIC) is located in the Barcelona Media Park, the crown jewel of which is a striking structure of steel, ETFE and glow-in-the-dark green paint known as the Media-TIC. The Media-TIC is intended to serve as a nucleus connecting the Media and TIC clusters of the 22@ Barcelona district, a meeting point for companies and professionals, and an innovation "incubator". It is fitting, then, that the practice selected to design this bastion of high technology and entrepreneurial new economy spirit was Cloud 9. Founded by Enric Ruiz-Geli, a former set designer for American avant-garde stage director Robert Wilson, Cloud 9 has pursued a radically experimental, technology-driven agenda from its outset. Perhaps unsurprisingly as a result, its international notoriety has been largely built not in bricks and mortar, but rather through its 'paper' architecture and temporary exhibits. To date, its most famous projects are the competition-winning proposal for alterations to New York's Coney Island Aquarium, and Villa Nurbs, a private residential project on the Costa Brava subject to an apparently interminable construction process. The Media-TIC, then, is the first substantial project that Cloud 9 has seen through to completion, and it is a major one.
The Media-TIC façade
A 40-metre high transparent cube, clad in a warped mesh of steel cables and ETFE bubbles, there is nothing ambiguous about the Media-TIC's amorous relationship to the high tech. Set back from the road by a spacious pedestrian plaza, the south-eastern elevation serves as entry point and addresses the street with an eye-grabbing façade clad in clusters of ETFE. The use of ETFE lends the building a quality of transparency, but also serves as the basis for two very unique environmental controls that are perhaps the project's most remarkable features. Indeed, both of these have already led to two innovation patents.
ETFE and solar shading
Both the south-western and south-eastern facades of the building are subject to high solar loads. Normally, it would be either perverse or negligent to use transparent ETFE in these circumstances, without a concomitant application of sun-shading. In keeping with their reputation for experimentation, however, Cloud 9 has embedded the material with an intelligent responsive system that allows for both transparency and solar protection. On the south-eastern façade, this intelligence takes the form of what Cloud 9 are calling the "ETFE Diaphragm" configuration, while on the south-western it takes the form of a system described as the "ETFE Lenticular" configuration. In both cases, the performance of the ETFE skin has been enhanced with light meter sensors that can automatically activate pneumatic mechanisms in response to the presence of solar energy.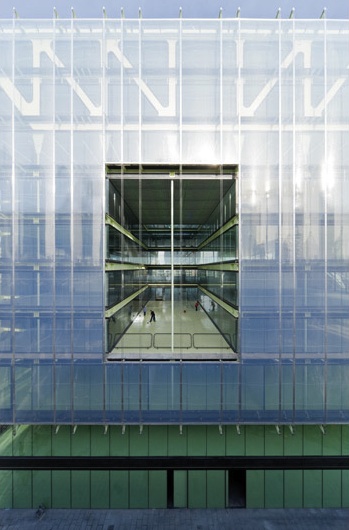 The ETFE Diaphragm on the south-eastern elevation incorporates three layers of material. The first layer of ETFE is transparent, but the second and third layers have a reverse-pattern "polka-dot" design which, when inflated or deflated, makes the façade transparent or opaque, thereby blocking solar penetration if need be. On the south-western side, the ETFE Lenticular configuration employs an even more imaginative solution. Here, the material is arranged as a series of longitudinal bags – when sun strikes the sensors, the automated system instantly injects the pillows with a dense cloud of nitrogen gas, to near instantly diffuse the sun's rays.
At least, this is how the architects believe these systems will perform. On the day that I visited the project, neither of the two were active – one, in fact, was still waiting for its "black box", the hardware that would serve as its control centre. Which brings us to what is also, depending on your ideological persuasion, perhaps the project's most problematic quality…
"An architecture of performance"
If the objective of the Media-TIC building is to provide a hub of learning, business and innovation that embodies the very essence of the media and technology landscapes of today, Barcelona could hardly have found a better architect for the job than Ruiz-Geli. Ruiz-Geli describes his work as an architecture of "performance", and he is explicitly interested in the implications the digital might have for both society and the built environment. In attempting to manifest these values within the Media TIC, however, Ruiz-Geli has come up hard against a fundamental disjuncture between the singular "hardware" of built form and the "software" of an industry that is defined by its ephemeral and dispersed qualities. How, exactly, do you go about articulating the intangible in a building?
As Ruiz-Geli observes, a structure in a digital environment has no gravity or mass, but is nonetheless in a state of connectivity; or, to use his words, "in traction with strings." Ruiz-Geli's first strategy then, was to create a structure that is in essence a distributed network of supports, refined parametrically for maximum structural efficiency. The core structure is composed of four rigid, braced frames, 14.25 metres apart, from which the building's eight floorplates are essentially hung with cables. This strategy allows the floorplates a remarkable openness and flexibility, and the structure is expressed in a network of cables and support beams on the building's façade – as Ruiz-Geli describes, the building becomes "a habitable skeleton framework designed for life surrounded by the net."
Then, of course, there is the distributed intelligence of the building's systems: there are more than 300 sensors in the Media-TIC to automatically regulate light levels and temperature, which Cloud 9 hopes will help deliver exceptional energy efficiency.
Strip away the whiz bang technology, however, and what you are left with really isn't such a radical departure from the traditional modernist office block – indeed, the Media-TIC is essentially a refinement of these core principles, a hermetically sealed box of expressed structures that delivers remarkable transparency, and even more remarkable efficiencies in net lettable floor area. In this sense, you could argue the building has struggled to fully come to terms with what is a defining quality of the media and information technology sectors; namely, the free flow of information and ideas. If the intention is for this building to function as a "cluster" that gives priority to spatial intercommunication and the exchange of knowledge, you could argue there are better ways to facilitate this than by segregating that cluster's member organisations across an eight-storey medium-rise office block.
When I visited it the building had only just been finished (bar the addition of the aforementioned black box), and as a result was largely empty, so it is difficult to gauge just how successful it will be at achieving the desired urban and internal integration. The primary strategy for facilitating interaction at present though seems to hang on the planned utilisation of the building's entry level as a café and public meeting place, which seems a fairly conventional response to this rather tricky challenge.
To return to the missing black box discussed earlier, however, the most problematic element of this project relates to redundancy. One of the greatest strengths of a network after all is that it is robust and adaptable. Despite all of the connections drawn between the Media TIC and distributed intelligence, what Cloud 9 seems to have created here is a building that's smarts, and the efficiency of its environmental systems, are entirely dependant on a pair of bespoke (and patented at that) computer systems.
Is it a Mac, or a PC?
The most memorable presentation I have ever seen on environmentally sustainable design was given by a heritage consultant. Hired by building owners to bring their heritage-listed properties up to "contemporary" environmental standards, she spent most of her time ripping out the contemporary additions in an attempt to restore the perfectly good, 100-year-old passive systems technology the buildings had originally been fitted with. You can't help but wonder whether a facility manager in 20, 10 or even five years time will have the necessary knowledge or technology to repair or replace a Media TIC black box, should it fail. Despite these issues, however, the Media TIC could not be described as a failure, neither in terms of performance (a subject on which even Ruiz-Geli recognises the jury is still out, pending post-occupancy evaluation) nor in terms of its aspirations as a physical embodiment of all that makes the media and technology sectors so vital. By way of illustration, a simple question from the information technology sector undoubtedly familiar to everyone will serve: is this building a Mac, or a PC?
It may seem facetious, but this question relates to two very different, but equally successful conceptual models that define the infrastructural hardware of the information technology and media industries. Built entirely from off-the-shelf, generically interchangeable parts, the PC is infinitely re-configurable – if something breaks down, or requires upgrading, it can be easily replaced. This makes it robust, but also often comes at the cost of a loss of performance – the inevitable idiosyncrasies of a system of such mongrel variation. And, let's be honest, all that clumsy hybridity does tend to leave the PC with a bit of an image problem.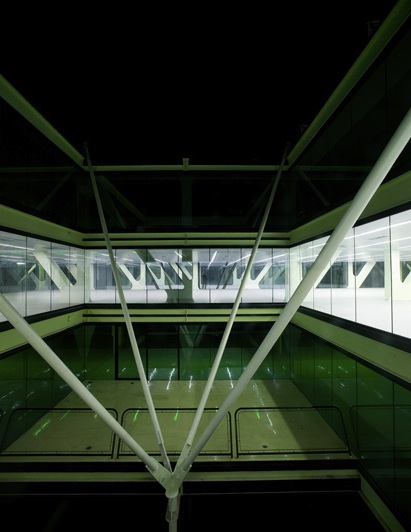 The Media TIC is not a PC. A bespoke system of non-interchangeable parts, what the Media TIC loses in adaptability it nevertheless stands to gain in finely tuned performance and innovative design… and all of this encased in a distinctive shell that radiates with a knowing, technological savvy. The Media TIC, you might say, is a Mac.
Cloud 9 has designed a building that pairs ingenious technological innovation with a singular image that will proliferate throughout the world's networks unhindered for years to come, provoking lust and wonder in equal measure in many of those who encounter it. As uncomfortable as I am with the rhetoric of high technology driven "performance", as an icon of Barcelona's brave embrace of innovation and the new economy, the Media TIC delivers.