Article by Gillian Serisier
Photography by Brett Boardman
Designer
To say that there has been a lot of hoopla around the MCA's renovation would be something of an understatement. Much has been made of the addition's outward appearance, the politics of architectural competition and, subsequently, the ways in which we critique the work of others (read more here and here). Granted, the external presence is important and the style may date, as Elizabeth Farrelly pointed out in her Sydney Morning Herald column in March, but the simple fact of the renovation is that a much more effective set of exhibition spaces has been created.
This functionality is squarely condoned by MCA curator Glenn Barkley: "It's working beautifully, it's working the way it was meant to work: from a curatorial perspective we are all really happy." Effectively, architect Sam Marshall has transformed a rather quaint set of colonial corridors and clumsy stairs into glamorous exhibition spaces where light and the lack of light are exploited with equal merit. The result is a gallery that feels international from arrival and adds significant gravitas to the exhibited works. Compounding this is the exceedingly well-curated opening exhibitions by MCA curators, Barkley and Rachel Kent.
Programmatically, Marshall has placed the foyer as a fulcrum at the juncture of old and new. This is visually reinforced from the quay, where the museum is now entered via a substantial plaza and grand staircase of broad cement stairs creating an undeniably extravagant sense of arrival. Leading the visitor upwards is a commissioned wall work of orange triangles, Tango, 2012, by Helen Eager. From George Street, the entrance is less grand, but a vast improvement on the confusing previous incarnation. To the south, the older part of the museum exists as large corridors that open and flow through a variety of exhibition spaces. To the north resides the new Mordant Wing, with the first and second floors merged as an enclosed double height exhibition space, recently showing the major video work, The Clock, by Christian Marclay. This extraordinary piece comprises a 24-hour video of edited sections from movies where each shot of a clock correlates with the current real time – a tour de force of cinematic obsession and an absolute delight to watch. It is also a parallel work to Marking Time, one of two curated exhibitions that were on view in the main exhibition spaces.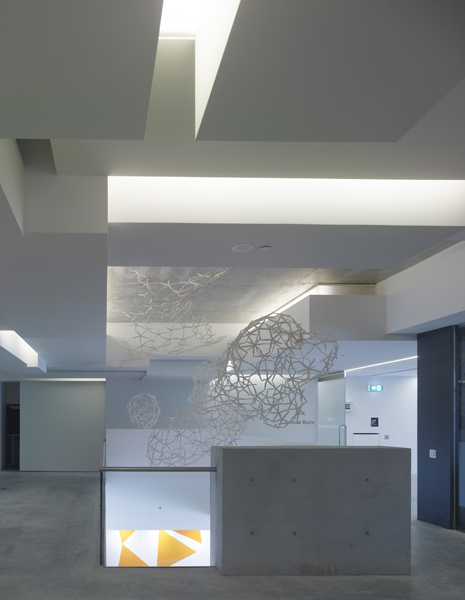 From the foyer, the floors are connected by a raw and open staircase that provides cohesion while allowing an abundance of light to flood the foyers and spread inwards to the exhibition spaces. Within the actual galleries, conservation requires that direct light in the museum be controlled through screens, which are not raised until midday. Stairs had previously connected the floors by taking up the end portion of each level; however, now the floors are individually continuous and provide much grander visual length, with the row of galleries forming an enfilade. As Marshall explains: "In response to the old building's circulation problems we wanted to create a circulation that was seamless and that visitors wouldn't have to think about."
Access has been a major consideration of the renovation and to this end elevators travel to all floors while the George Street entrance is a gentle rise, free of stairs. By operating between the foyers they avoid the previous state of confusion where visitors were deposited mid exhibition with no clear understanding of which direction to take, often leaving the left avenue overlooked. The spatial demands of an exhibition were also paramount and Marshall has addressed this with moveable walls.
De rigueur to contemporary curation is video art, with most museums struggling to keep up with different artists' needs. Marshall's layout has allowed this medium a far more varied form of exhibition, and effectively this affords the intimacy of Pan No.9, 2012 by Daniel Crooks the same calibre of experience as the vast openness of John Gerrard's enigmatic Oil Stick Work (Angelo Martinez/Richfield, Kansas), 2008.
While the second floor of the Mordant Wing houses the museum's library, the third floor is characterised by several large spaces with spectacular views of Sydney Harbour. For the third floor foyer Marshall has not shied away from the use of bright colours, with entire walls painted in bright orange, hot fuchsia and pillar box red. "When we can, we like to use colour, and strong colour at that – it lifts people's spirits," says Marshall. These colours are carried through in the bathrooms where pink, orange and yellow walls sit crisply against a white tile backdrop. It is fabulously and excessively bright, but this is the Museum of Contemporary Art and to shy away from the extreme in favour of safe would have missed the point.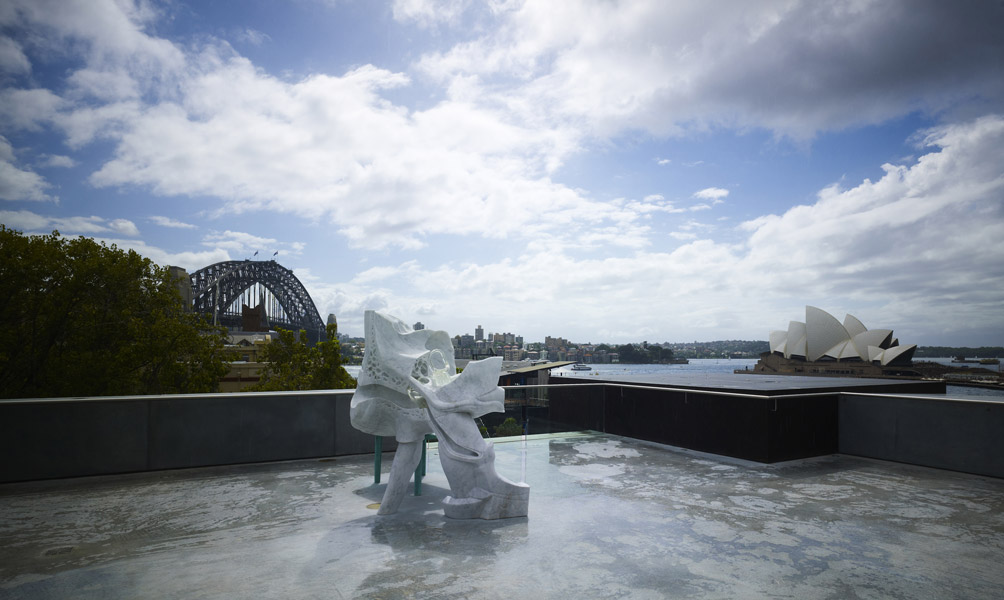 The fourth floor uses the existing space for offices while the new is reserved for the sculptural terrace and MCA cafe. It is an impressive decision that allows visitors the full advantage of the view. The cafe itself presents a visual language of contemporary design completely devoid of fuss, but with the fun of orange Jasper Morrison Air chairs. It also positions the MCA as an entirely accessible lunch destination to rival most in Sydney and places it firmly among its counterparts in America and Europe. Farrelly felt that it was "under-nuanced as to feel like an IKEA special," and arguably she is right; it is not luxurious or plush, but nor are the cafes of MoMA, Tate Modern, Louvre or even the starkly glamorous, Tadao Ando-designed The Modern Art Museum in Fort Worth, Texas.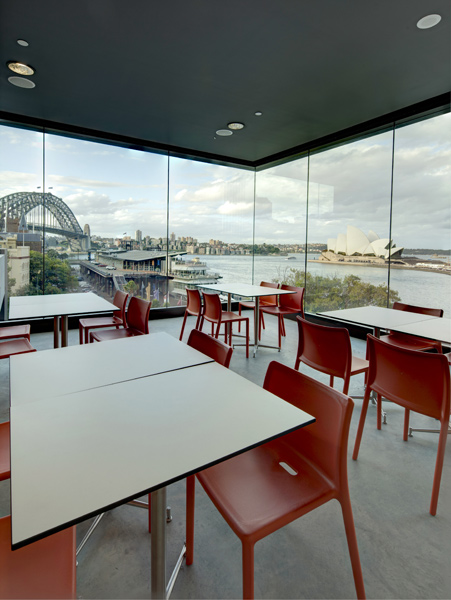 The simultaneous opening exhibition, Volume One: MCA Collection, similarly places the museum at the forefront of contemporary museums with work of significant calibre. Colour is a considerable facet of this exhibition with particular flamboyance in the form of a large wall work by Robert Owen, Sunrise #3, which comprises large solid blocks of painted colour applied directly to the main wall of a primary exhibition space. It is a standout work, commissioned by the MCA in 2005 and reconfigured for this installation to provide a brilliant cornerstone for the works surrounding it.
Rebecca Baumann's Automated Colourfield, 2011, made from 100 flip clock mechanisms and laser cut paper displayed in a grid, is another exceptional and ebulliently colourful work. Stalwarts of Australian institutional collecting such as Ricky Swallow and Lindy Lee have been reframed outside expectations with work that is not immediately identified with the artist. This is countered by seminal works such as Shaun Gladwell's Storm Sequence, 2000, and Tracey Moffatt's Something More #3, 1989, which while expected, allow a point of entry that is completely accessible to all.
The ultimate exhibition space may be a large enclosed square in the middle of a field, such as The Menil Collection in Houston. Unfortunately, the MCA sits on Sydney Harbour so any architectural decision is destined for criticism. That said, the box stack of Marshall's exterior may be destined to date, but the interior is exceptional. The transformation is, in fact, astonishing, particularly the grand arrival and equally grand halls. That they are the same halls beggars belief, with every trace of pokiness eradicated thanks to Marshall's pursuit of a continuous line.