Article by Online Editor
Photography by Robert Frith
Designer
Architect Formworks
This article was originally published in Architectural Review Asia-Pacific magazine #128: New Civic Realms.
East Perth in Western Australia is a somewhat domestic, low-lying collar of the City of Perth precinct. It has undergone an array of transformations over the past few years, enhancing its potential as a social and cultural destination, albeit mainly along one main strip leading to Claisebrook Cove. With the Lime Street project, the immediate site is highly underdeveloped, angular and separated from the austerity of reticent government buildings via an arterial road. Its boundary is defined to the north by train tracks and a series of inaccessible level changes ending at a major highway, although the saving grace is the notable city farm to the east. Rather than this leftover space becoming a negative factor, Kelly Rattigan, Lime Street's principal architect, has used it to compose a vibrant building and a commendable, multi-dimensional social housing facility.
Lime Street, a newly designed complex for St Bartholomew's House, an organisation supporting homeless people, features a range of short and long-term accommodation units for men's crisis, transitional, aged care and independent living accommodation programs. Rattigan has worked tirelessly to ensure that the client's vision and needs have amalgamated with Formworks' design response, resulting in a split tower with secure crisis care to the south and a more open courtyard scheme to the north – all from a relatively modest, primarily state-funded budget of $34 million. Importantly, this project is also an archetype for the potential of the immediate, highly unplanned area, with Lime Street creating the stepping- stone for the future development of East Perth. Its internal open-ended 'street' will allow for a pedestrian thoroughfare that will connect the site laterally, cutting through what are currently two Transperth car parks, with no street level engagement. In addition, Rattigan fought for a minimal setback to the Lime Street facade, placing the more public services – a cafe, hairdresser and podiatrist – along the street. This streetscape attempt will hopefully begin to define the prototype for master planning of the area.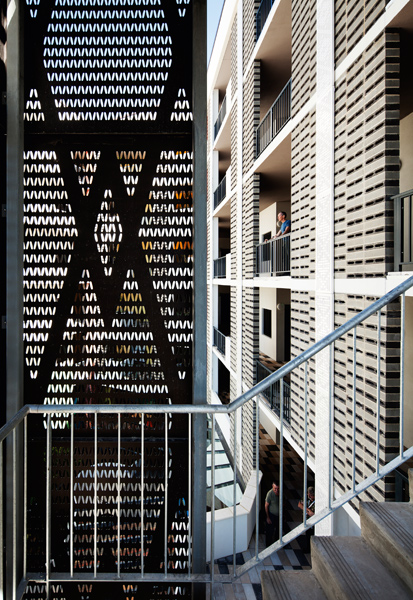 Following on from the St Bart's mantra of reconnecting lives, the design is first and foremost about a safe, secure and intrinsically domestic environment for the men who will pass through its doors. As a result, the scheme takes on a somewhat introverted approach to common ideologies of public space. There are two roof gardens, which allow for multiple sight vantages, not only internally but also externally to the surrounding neighbourhood, and define some aspects of the building's public nature. The project is oriented around privacy and protection for the residents, which also allows for a public interface and a sense of community belonging. Throughout, especially within the northern wing, there are constant attempts to imprint codes of meaning, tapping into emotional memory with sensory cues. Strategically placed and designed alcoves, colours and domestic references are scattered throughout communal spaces to ensure that a reflective sense of identity and ownership prospers. In time the residents will make the external passageways and roof gardens their own, the spaces will change and grow continuously and how the residents interact with them will strengthen. This is the notable design decision of the building, one where the architect has allowed for maximum social interaction among residents, essentially the catalyst for a community atmosphere.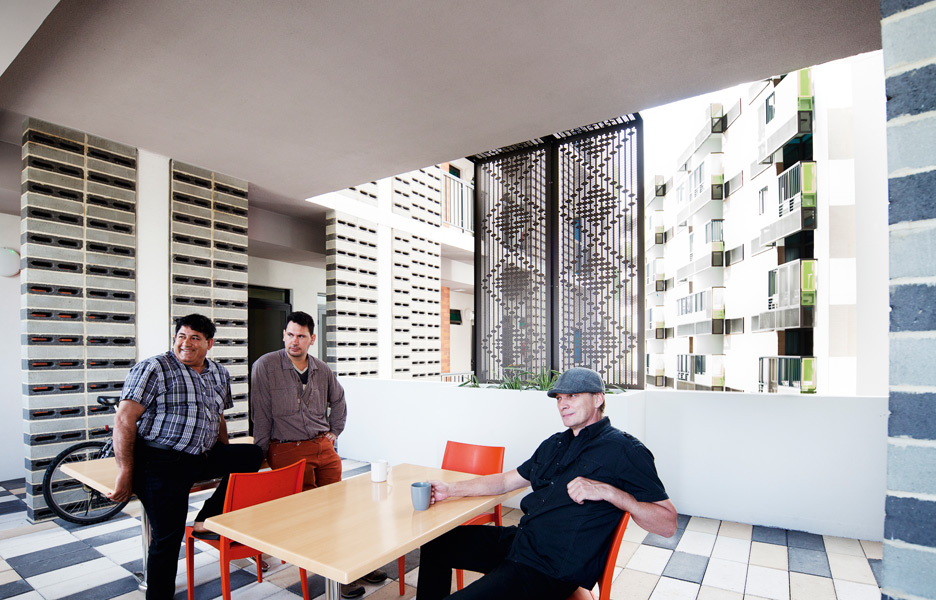 Despite its striking external presence, the building possesses a simplicity that stems from the strict control of materials, which are used to create a domestic, scaled feel. The verticality and mass of the project against its innately flat and low-lying surroundings is broken up through a series of rhythmic, appropriately scaled and referenced facade treatments to all sides of the building. The two St Bart's housing towers are grafted onto a somewhat nostalgic reference to former housing facilities scattered throughout Perth – buildings that fit the brown double-brick, pitched roof suburban pastiche defining greater Perth. Elsewhere, brown brick is an undesirable aspect of the morphology of urban landscapes, but here it references a memory, a place that is familiar. Home is at the core of our emotional identity, our sense of aspiration and ideology, defined by what makes us feel safe and balances our relationship to others. Take this rudimentary need out of the equation and you are left with a sense of isolation – that's the void this project and the St Bartholomew's program hope to fill.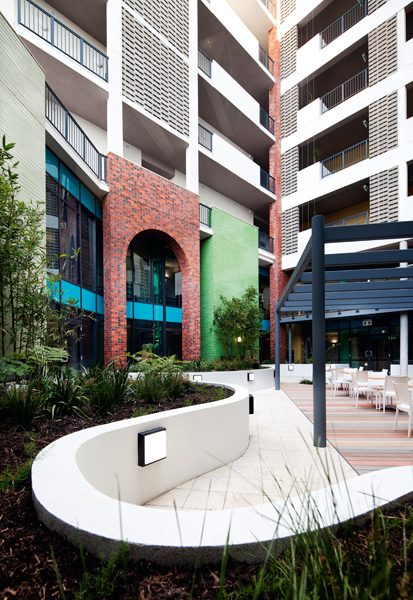 Good places give people who inhabit or visit them an identity. Places with authentic atmosphere inspire and allow for improved human relations, providing continuous opportunities for beneficial relations and interactions to occur. The Lime Street project is set to become an oasis for its residents among East Perth's scattered, alienating buildings. It is not only an exemplary model for future crisis and homeless care facilities, but also an example of how a housing complex, regardless of program, can allow for effective civic exchanges and community ideals.