Article by Online Editor
Photography by John Gollings
Designer
Architect Elenberg Fraser
From a balcony of Lilli, his practice's recently completed South Yarra apartment tower, Callum Fraser gestures down several storeys below to a hulking building in terracotta and cream brick. "Now that is the dead-end of postmodernism…" he says. Replete with pitched roof and Victorian-esque details that wouldn't look out of place on a terraced worker's cottage, the five-storey building bulges hard up against its Chapel Street boundary, a bizarre hybrid of suburban pastiche and inner-city scale. It is an abject lesson in the importance of context – physical, cultural, temporal – to architectural design.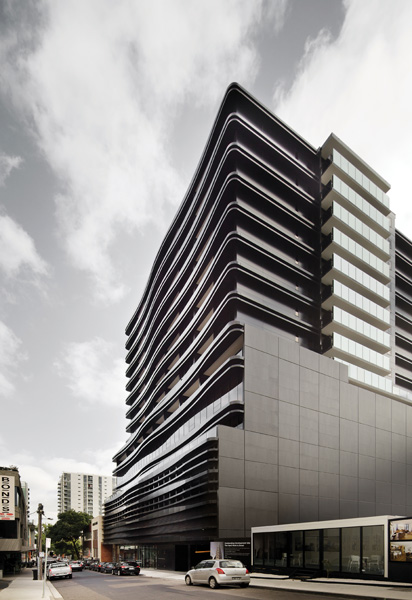 As Fraser has just finished telling me in no uncertain terms, his practice is not interested in what he so bluntly calls "the dead-end of postmodernism", but modernism. It isn't the International Style's hard, orthogonal edges that he cites as inspiration, however, but the sensuous and organic regional modernism of Oscar Niemeyer. In Australia, where the notion of regional modernism has come to be associated with environmentally sensitive work that borrows from the agrarian architectural typologies of shack and shed (often thought of as Australian architecture's 'vernacular' precedents), this seems a strange touchstone. Elenberg Fraser has built its reputation designing apartment towers for inner-city dwellers, its signature approach combining the hardnosed pragmatics of high-density development with a formal experimentation only made possible by digital design tools. Shearing sheds these buildings are not.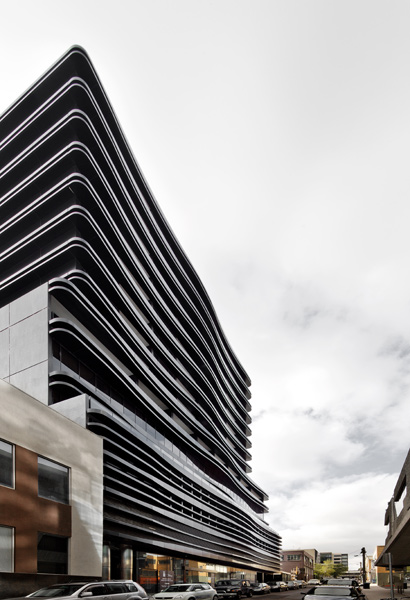 In Lilli, the pragmatism of the equation is manifest in very compact one- and two-bedroom plans (38sqm – 69sqm), floor plates with double-loaded corridors, and inboard bedrooms (necessitating what has become known in real estate as the 'borrowing' of natural light from adjacent rooms). Thanks to permissive Victorian regulations, these are all, for better or worse, commonplace characteristics of Melbourne's high-density residential design.
As others have identified, however, Elenberg Fraser has become adept at wrapping these "machines that make the land pay" (to paraphrase Cass Gilbert) in an outer skin that modulates their brutally efficient inner workings into something decidedly more organic and, well, human. Certainly, the deep obsidian ribbons that form Lilli's high gloss facade exude a heady sensuality – a black swan alter-ego, perhaps, to the white, curvaceous architecture of Niemeyer. But while these facades serve as livery for Elenberg Fraser's buildings, allowing them their own distinct (and readily marketable) identities, they're more than a semiotic embellishment – they also tailor them to the unique environmental conditions of their sites.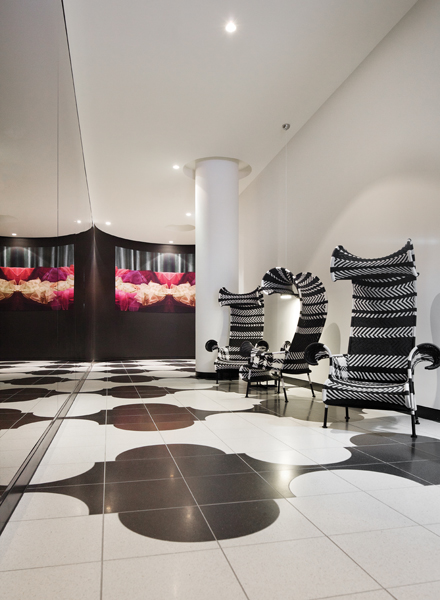 For the last 10 years, Elenberg Fraser has been developing a design approach that marries aerodynamic modelling and research with formal and tectonic architectural experimentation. The outcomes of this work move the design of passive environmentally responsive facades beyond traditional sunshading, and even the more contemporary dual-skin systems, into what is still very new and largely unexplored terrain. The practice's 2002 Liberty Tower project employed a raking, perforated aluminium facade for the twin purposes of directing downdrafts away from surrounding pedestrian traffic (a common problem with high rise, typically addressed through the use of a clunky podium), and increasing airflow internally. In 2005 Elenberg Fraser went on to deploy a semi-passive 'cross-ventilation' system in Watergate Place in Melbourne's Docklands. Much like Lilli, Watergate Place features double-loaded corridors, but here vertical stacks are used at the end of each corridor to suck air through the building from vents incorporated in the apartment balconies, the ceiling spine of the central corridor in each floor plate effectively becoming a ventilation plenum.
Despite the challenges of working mainly within the tight constraints of high-rise residential development, it is Elenberg Fraser's stated ambition to introduce one new environmental feature into every building it designs. As Fraser describes it, to date Lilli is the most successful exploration of the wind-model driven, passive systems approach it has been developing. While aesthetically striking, the distinctive scalloped striations of Lilli's balconies have actually been carefully designed to draw air into the apartment interiors. Working with engineering company VIPAC from data on site-specific solar and wind patterns, the facade elements have been modelled to not only provide sunshading, but also emphasise pressure differentials between the balconies off the living rooms and windows in the bedrooms. In effect, rather than cross ventilation, what this creates is 'through' ventilation, as wind is trained across the facade and then sucked laterally through the apartment interior, in one opening and out the other.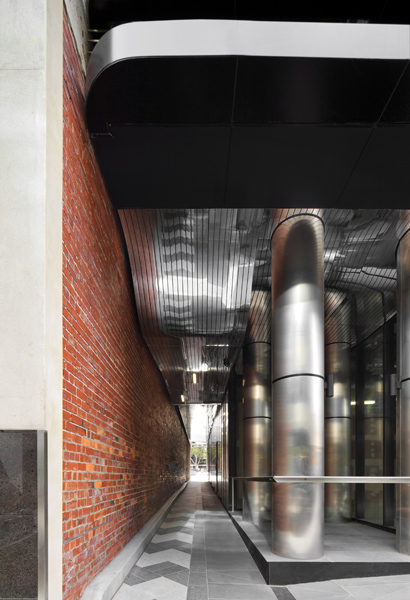 Leaving the window to the surprisingly deep balcony open a crack, Fraser pops the casement window in the main bedroom, and sure enough, from my spot in the centre of the living room I feel a distinct breeze begin to play across my skin. It seems like such a small thing – a gentle eddy so subtle that many occupants may not even notice it; enough, perhaps, to keep them just those few degrees shy of reaching for the air conditioner remote – but it has wide implications.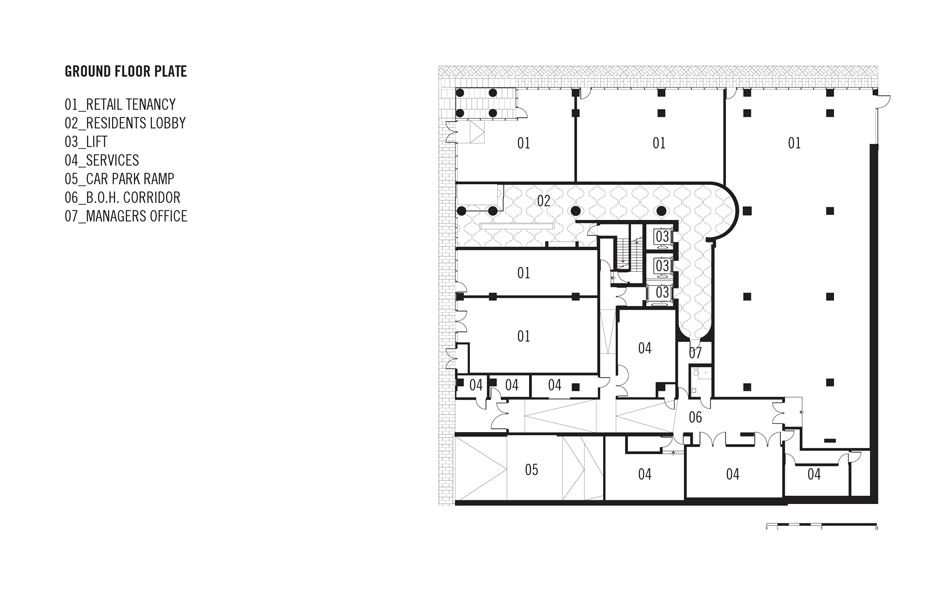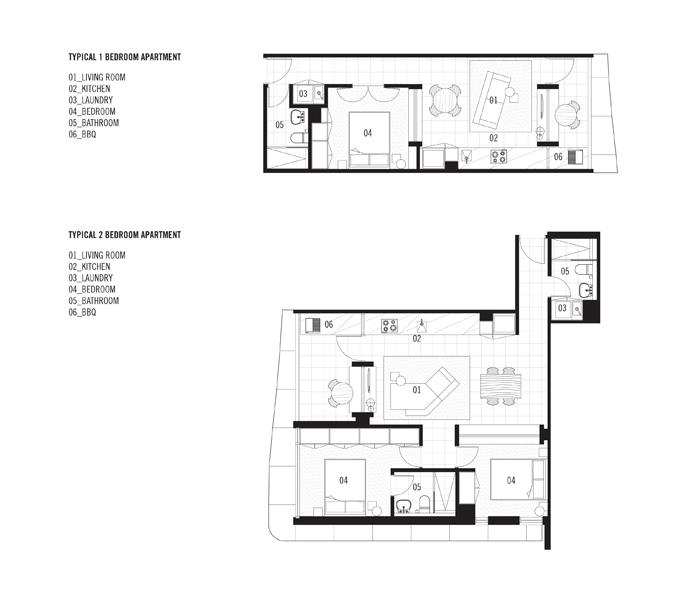 Elenberg Fraser is a commercial animal, finely tuned to the dictates and demands of inner-city apartment development. However, despite (or perhaps because of) these conditions, it has evolved a unique, site- responsive approach that drags the principles of regional modernism from an isolated redundancy in the bush, into the city. In Lilli, then, we find a product adapted to survival in two environments: the physical environment of the city, and the immaterial environment of the market – a realm that for all its intangibility largely dictates the shape and quality of the former. In responding to both conditions, Lilli is a convincing demonstration of a more sustainable mode of growth for our cities.