Article by Elizabeth Farrelly
All images courtesy Penelope Seidler and State Library of New South Wales.
Harry Seidler had been in Australia nine years, Dick Dusseldorp, six. Each had metabolised the bleak lessons of European history into an impatience for a future that Australia had yet to imagine.
No doubt each man would have been successful regardless: each had energy, charm, smarts, boundless self-belief and a natural feel for the levers of power. In a city where the development 'game' was still largely humdrum, primitive and suburban, this made them towering sophisticates.
Seidler had already produced a string of uncompromising Sydney houses that were turning heads and forming round-the-block queues, as well as an eight-storey city office block for Horwitz publishing house.
Dusseldorp, for his part, had worked on the Snowy River Scheme for Bredero and, with his new company Lend Lease, had part-built the 20-storey Caltex House on Kent Street. Exploiting a loophole in the 12-storey Height of Buildings Act that had blanketed Sydney for 45 years, it was the nation's tallest building to date.
Yet, had the meeting not occurred, Seidler might have remained largely a society house designer and Dusseldorp another clever developer. Together, they catapulted Sydney into the modern century.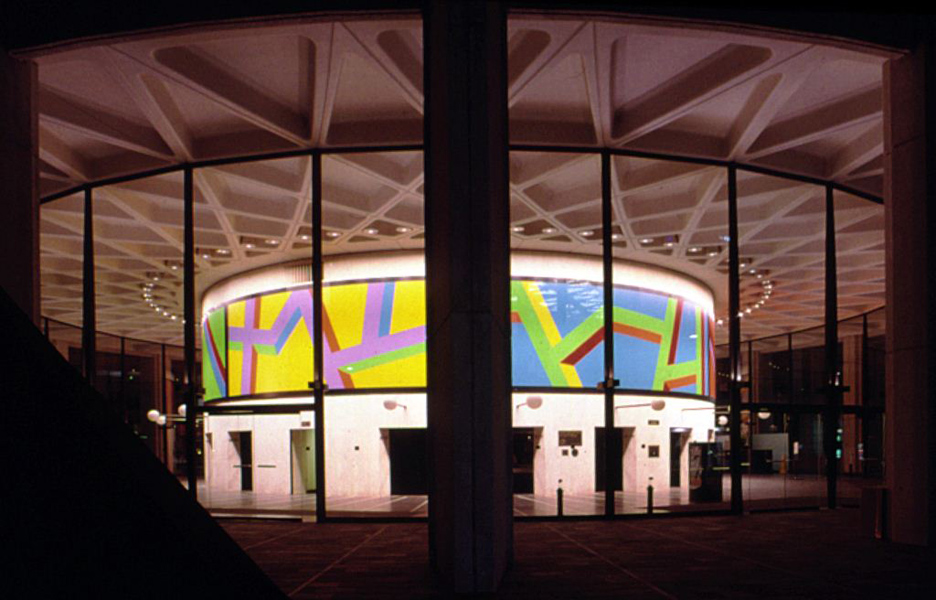 In the mid-1950s Harry's brother Marcell, frustrated with working in the family firm, purchased a piece of land in pretty, slightly shabby Elizabeth Bay. Harry produced a scheme, a block of two-storey townhouses and Marcell took it to Dusseldorp, who rejected it outright.
"Monks' cells," he called them; too narrow, too austere, too split-level and too glassy for a mainly middle-aged market. He advised the brothers to get some real estate advice.
They did and the redesign allowed Seidler to demonstrate his belief in high-density apartment dwelling as the answer for modern cities. Ithaca Gardens was the result, the 11-storey slab of 40 harbour-facing apartments that would win for Seidler the Australian Journal for Architecture and the Arts 'Best Building' award 1959–60.
Already, by the mid-1950s, Seidler was developing the punchy professional style that would distinguish his entire career, engaging eloquently and relentlessly in the struggle against 'slums', backwardness and council stupidity.
North Sydney Municipal Council's 1957 proposal to rezone McMahons Point as "waterfront industrial" is one such example. Seidler took the opportunity afforded by the residents' Progress Association opposition to design an "integrated suburb". Covering the entire peninsula, it comprised eight towers, a dozen or more eight-storey slab blocks and as many long, low-rise waterfronts blocks, all from prefabricated components.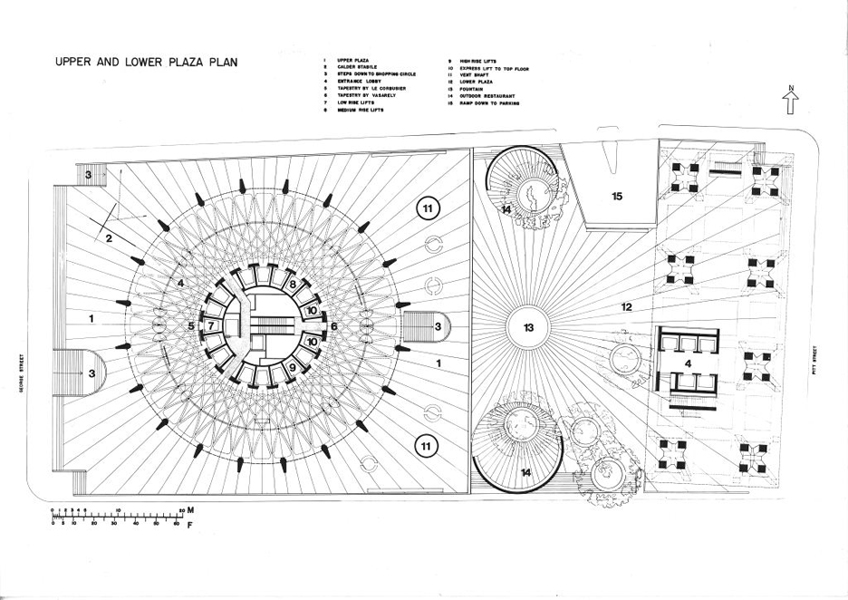 "This is how Sydney will look in 2007 AD," announced the Sun Herald, "clean and atomic powered… a well-organised city of fast expressways, swift transport and beautiful buildings."
Only one of these "beautiful buildings" was ever built. It was the second Seidler-Dusseldorp collaboration, the 25-storey Blues Point Tower (1962) that became, for the next decade, Australia's tallest and most controversial residential building.
Wholly unabashed, Seidler and Dusseldorp produced a similar scheme for the Rocks (1961) and well into the 1990s Seidler still regarded most of Sydney's designated heritage as 'slums', ripe for demolition.
But it was Australia Square that – with the assistance of a third like-minded visionary, Max Dupain – cemented the relationship and tipped Sydney into full-blown modernism.
It is typical of Dusseldorp that from the late 1950s, before embarking on the Blues Point project, he campaigned actively to reform the law on apartment ownership, eventually producing the NSW Conveyancing (Strata Titles) Act 1961 that enabled Australians to own individual "home units" for the first time.
Equally, it is typical of Seidler that, from the early 1950s, he lobbied actively for the legal amendments to make high-rise possible. Seidler campaigned on at least three fronts. He was a vocal member of the RAIA's Acts and Regulations Committee that from 1954 pressured the chief secretary. He lobbied the Height of Buildings Advisory Committee, or HOBAC, to abolish the statutory height limit and the city council to establish in its place a floor space index based on daylight indicators; all letters beautifully set out on his Bauhaus-face typewriter.
Both men couched their arguments as public benefit; Dusseldorp insisting that strata ownership would make inner-city living more affordable for the 'average guy' and Seidler arguing that a floor space index was necessary to 'prevent the present traffic congestion in the city from becoming intolerable'.
Even when in 1957 the height limit was abolished and a de facto FSI introduced, Seidler continued to argue the public benefit of tower plaza planning, "opening up the ground plane" as opposed to "buildings packed like sardines along street frontages" for the next 50 years.
Together, the two made a formidable team. They were players in a city whose authorities (having lived under the Act's artificial ceiling for half a century) barely understood the parameters of development control. For the next three decades, over a dozen or more projects, Sydney was their sandpit.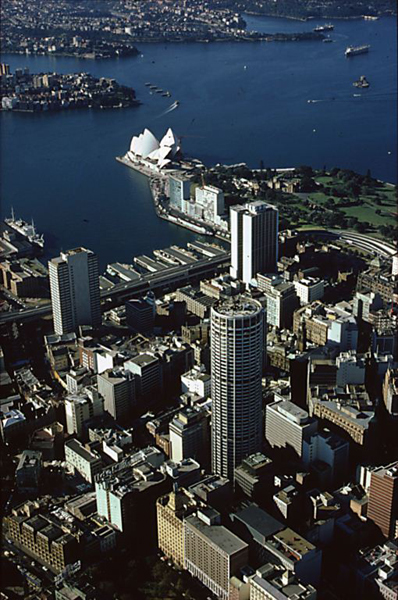 Australia Square wasn't Sydney's first (legal) skyscraper; that was the elegant AMP Building by Peddle Thorp and Walker on Circular Quay. But it was the most intensely symbolic, the most innovative (tallest reinforced concrete structure in the world) and the most famous. In a town trapped too long in a brown past, Australia Square – round, white, spacious and heroic – radiated future.
This was clear from its plan, which erased the hugger-mugger of densely built blocks and narrow dogleg lanes with a brilliant, open-petalled sunflower. It was clear from the heroic morphology, which turned the lightwell-centred perimeter block inside out. It was clear from the structure and construction; a tepee of fast-build, self-scaffolding tapered, reinforced columns. Australia Square was the radiant city reified.
The approval process was a classic. HOBAC, despite years of preparatory discussion, seemed to have been caught short by the abolition of the building height limit, finding itself with no clear policy in place. Because the 150-foot rule had been effectively a 12-storey limit, they inclined to an FSI of 12:1. But already there was an embarrassment since, partly through a failure of site purchases, they had approved the AMP building at almost 15:1.
This allowed Dusseldorp to argue precedent, telling HOBAC on 15 March 1962 that reducing his expected 15:1 to 12:1 was "too sudden" and that Australia Square was of too great "advantage to the city" to be so constrained. Both Seidler and Dusseldorp were in attendance and such was their charm that HOBAC kindly agreed not to count the two largest levels – plaza and ground – as floor space. This helpful sleight-of-hand disguised an FSI that was closer to 15:1, while also allowing Dusseldorp and Seidler to maximise floor space up in the dollarsphere.
Dusseldorp was Seidler's "ideal client". His brief was for a 50-storey skyscraper without internal columns or external scaffolding; beyond that, he just wanted the best.
Seidler quickly established a pattern of study tours; from the ill-fated, year-long collaboration with former classmate, IM Pei to a meeting with Philip Johnson in the Seagram Building, with Marcel Breuer in Amsterdam, with Jørn Utzon (whom he had passionately supported in Sydney) in Denmark, a look at town planning in Harvard Graduate School of Design and Roehampton University in the UK.
Later, there was Rome, to enlist the structural genius (and ferrocement) of Pier Luigi Nervi and Zurich, Paris and America, to also commission artworks.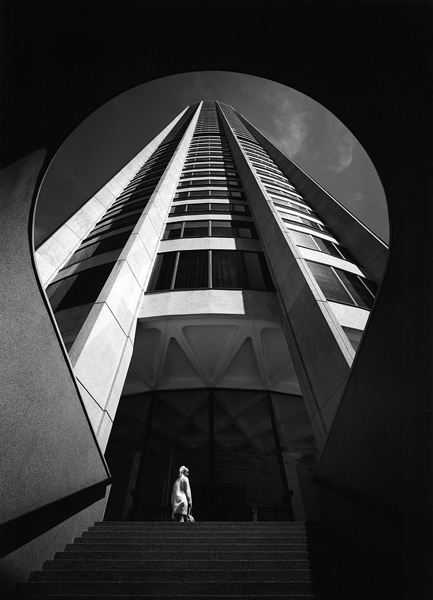 Australia Square had its sceptics, but Seidler and Dusseldorp made it work, by sheer force of will. Then, encouraged by success, set their sights on a higher, more impressive tower, the 60-storey MLC Centre.
Seidler's initial MLC design was an elongated hourglass that, again, maximised floor space on high. Dusseldorp loved it, but it was a dozen iterations down the line before the final design emerged. Still, Seidler thought it a better building than Australia Square, stronger and more resolved.
Yet its most significant and enduring impact was on the city. Requiring consolidation of 17 separate sites and demolition of some of Sydney's best-loved moments (The Australia Hotel on Martin Place, the Theatre Royal and the bohemian Rowe Street) the MLC aroused the scorn of George Clarke, then directing the city council's strategic plan. A city "composed entirely of Australia Squares," he presciently told the Sydney Morning Herald, "would be a desolate place."
However, HOBAC, the government committee, had jurisdiction, and it was unmoved. "This committee favours and, in fact, attempts to promote comprehensive and integrated development over whole blocks in the city area," it said of the MLC "…and even perhaps in excess of 12:1 if a large-scale hotel was included."
The MLC's Commercial Travellers Club was hardly large-scale, but the development was approved anyway, at almost 15:1, and the precedent was set for 20 years of deliberate site consolidation, laneway obliteration, incentive zoning, deal-doing and textural coarsening across the entire city centre.
The Seidler-Dusseldorp relationship was just beginning, but as far as the city was concerned, the toothpaste was out of the tube.
This article originally appeared in AR 129: The Price of Building.