Article by Online Editor
Photography by Robert Frith
Designer
"It is a big building, and I think a handsome one."

State Premier David Brand, 1966
Since 1966, when it was opened by the then Premier of Western Australia, David Brand, Dumas House has always accommodated government offices and civil servants of one department or another. It was designed by the team of Gordon Finn, Eduard Herbert Van Mens and Peter Charles Maidment, who left the Public Works Department upon winning a national masterplan competition for an extensive government precinct, at the height of one of the state's mineral-fuelled boom decades of prosperity and progress. Although only 14 floors high – with many towers in the city now taller – Dumas House occupies a very prominent position on the elevated scarp of Mount Eliza. You can't help but notice it on the way into the city from the west, or from the entrance to Fraser Avenue and Kings Park. It is listed on the Western Australian state heritage register, and in 2010 was selected by Docomomo Australia as one of five outstanding national examples of mid-century buildings representing administrative, political or judicial power. It has also featured in a number of excellent exhibitions and catalogues created in the 1990s on the public architecture of Western Australia.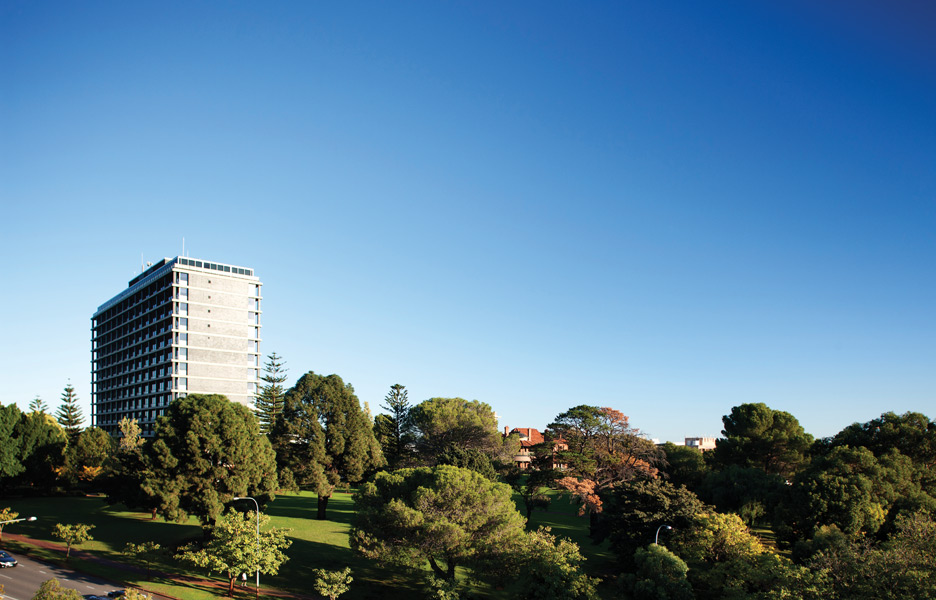 At first glance, this 'international style' edifice is typical of many office developments of its time, in Australia and elsewhere. But the building is not just a normative exemplar of international modernism: it has always seemed to me, and many others, somewhat strange and even uncanny in its displacement – an elegantly designed monolith in a fiercely sunny and exposed expanse. So I recently returned to Perth to re-visit and photograph the building. I have also been looking through archival photographs depicting its construction and opening, such as the series by the photographer Fritz Kos, who was responsible for documenting much of Western Australia's architecture during this time. In one memorable image, Kos shows us the wide elevation facing Kings Park, with a small group of primly dressed onlookers in hats and coats framed by trees in the foreground – perhaps an attempt to render picturesque this uncompromisingly new structure.
From my own observations, and from reading the words of others, I think the peculiarity of Dumas House stems from its unfinished nature, its slightly awkward siting, and its status of being at once particular and yet also of an imported architectural style that became internationally ubiquitous. The area of open land around Parliament House, adjacent to Kings Park, had been earmarked since the 1950s for development as a site that would centralise all government departments of the time into one precinct. Only one of the five towers envisaged in the winning design scheme was ever in fact completed; this curtailment being attributed to anxieties about making a 'government ghetto', conveying the negative symbolism of a bureaucratic big-brother statement. (The building has often been disparagingly called 'the Kremlin'). Indeed, if all five towers were completed, it could well have created a mini Australian version of the series of government ministry buildings that line Brasilia's Eixo Monumental, laid out by Lucia Costa in the mid-1950s and completed by Oscar Niemeyer in 1960.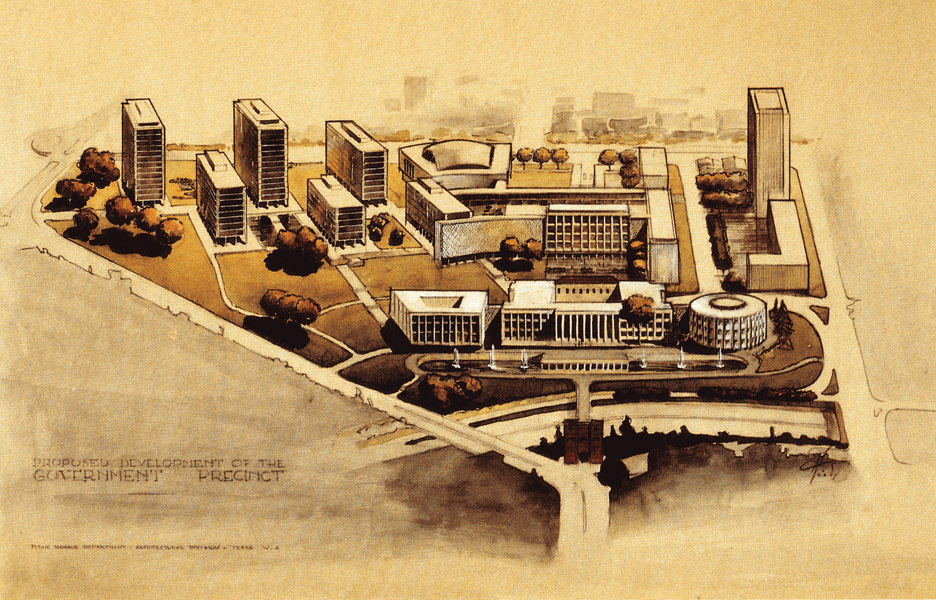 Simone de Beauvoir famously complained that the modern buildings of Brasilia exuded an "air of elegant monotony". There is instead an air of thwarted monotony surrounding the Dumas House precinct; cut back (many would say just in time) before it could properly take hold. In his influential television series, The Shock of the New, Robert Hughes was far more disparaging about Costa and Niemeyer's utopian vision for Brasilia, stating that: "Nothing dates faster than people's visions about the future. This is what you get when perfectly decent, intelligent, and talented men start thinking in terms of space rather than place… It's what you get when you design for political aspirations rather than real human needs. You get miles of jerry-built platonic nowhere…" But this building is not 'nowhere', and arguably has helped to shape the place of Mount Eliza. It has been attributed with 'landmark' value in recent heritage listing. And perhaps the popular viewing deck on the top floor might one day be re-opened so its vantage of the city can again be fully appreciated. However, I suspect the building's landmark status would still by no means be unanimously supported. The geographer and historian George Seddon suggested in his 1986 book, A City and its Setting, that Dumas House signalled the beginning of a period of detrimental changes to the skyline of Perth. Valuing the natural setting over architectural interventions – a common theme in Perth's urban story – Seddon described the "friendly whale" of Mount Eliza that "brooded" over the town below as being imprisoned by the vertical "bars" of this modern building.
There is no doubt that this singular building is awkwardly marooned in its setting, a relatively recent addition to Mount Eliza's strangely disparate constellation of buildings, monuments, statues and gardens.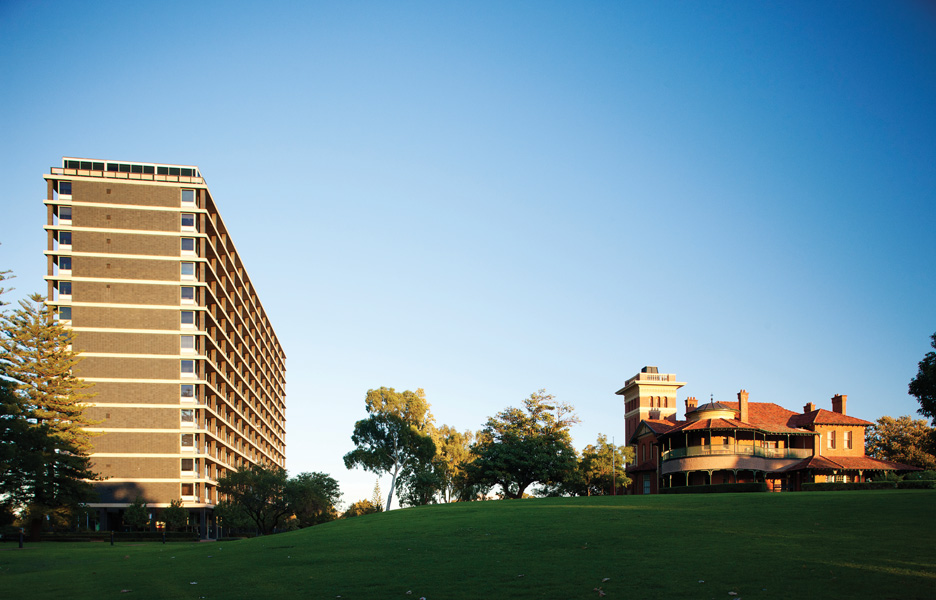 This unlikely group includes the historically eclectic barracks (or what is left of it), the old observatory (also designed by the Public Works Department in another boom period, the 1890s), Parliament House, and the Hale School buildings. In this sense, the scarp of Kings Park has long functioned as the mantelpiece of Perth, where 19th century statues, discarded 20th century canons and memorials to WWI and WWII have been collected and placed, alongside institutions of civic, political and scientific importance. The only thing uniting them seems to be the characteristic red-brown staining of Perth's bore water reticulation.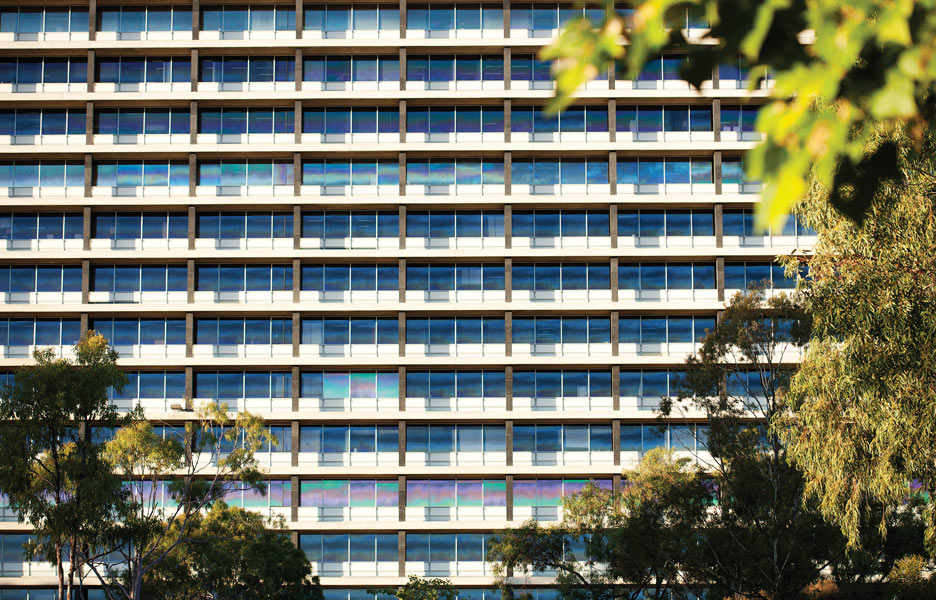 Returning to those dimensions of strangeness, we have the language of the building, which is an obvious import from the international corporate and bureaucratic modernism prevailing at the time of its design. The project architect, Gordon Finn, worked in England and travelled widely in the US and Europe, where he was highly influenced by new works of public modern architecture. Like so many other buildings of its type, Dumas House is planned on an expressed modular grid, with glazed infill panels, its bulk raised above the ground with an open piazza and transparent glazed foyer enclosed under the columns. By the mid-1960s, this brand of modernism was already the subject of satire, such as the French director Jacque Tati's Playtime – a film famous for its elaborate stage-set of models and photographs, known as 'Tativille', which predicted the effects of monotonous, cold and placeless modernism on Paris. Some might argue that this is a sobering vision of what the Dumas House site could have resembled if all five towers had been built.
But taking a slower and subtler look at the building, which is required of curtain-wall structures that seemingly present cold abstraction, and you see a different kind of modulation, warmth and texture. The facade is more articulated than the typically thin curtain-wall building, with floor slabs projecting robustly forward to protect from the climatic stresses of heat and sun. Materials include fine white quartzite exposed aggregate, polished black marble and granite tiles. Appreciating the Eucalypts and blue-sky reflections in the facade, somehow the building could not be anywhere else.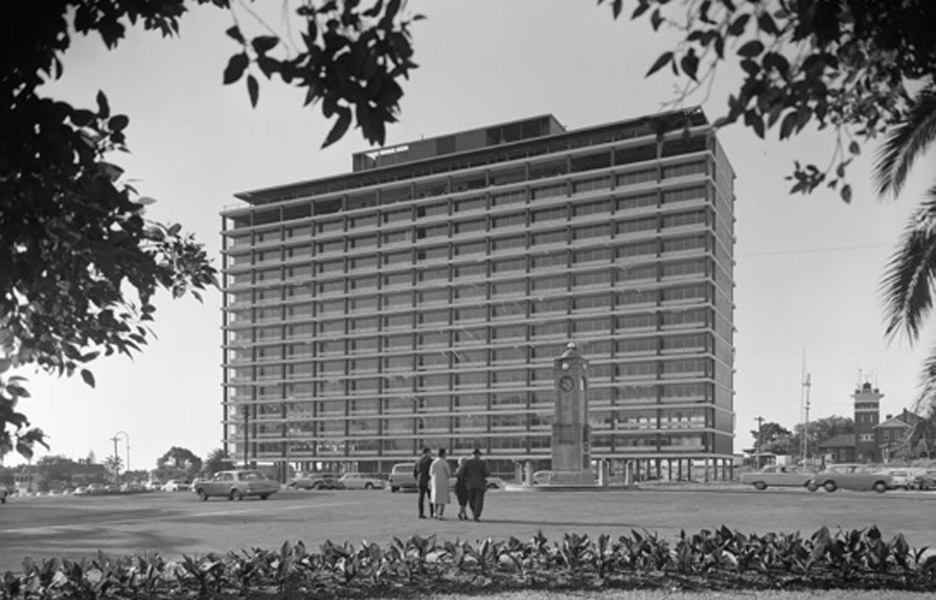 When Dumas House was opened, Premier Brand said: "I believe history will look back on the sixties as one of the landmarks in the story of our state." In contrast, Seddon claimed: "The sixties were a period of unrestrained civic vandalism." To my mind, both prophecies have missed the mark. The architectural achievements of the 1960s are still not properly valued, and other notable buildings contemporary to Dumas House have in turn been demolished or unsympathetically vandalised in recent decades. There is currently a call for a new strategic masterplan for the Parliamentary Precinct by the Department of Premier and Cabinet. It is early days, but so far the sparse announcements on the initiative reveal some recognition of the architectural disparity of the heritage-listed buildings, including Dumas House, that must be retained. If the commission goes ahead, the winner will need an acute ability to grapple with an abundance of open space. Hopefully, they will also have an eye for the strange.
Review taken from Architectural Review Australia 121: Community Building.
Dr Hannah Lewi is an associate professor in the Faculty of Architecture, Building and Planning at the University of Melbourne, where she teaches architecture history and design. She is the current chair of Docomomo Australia, and is co-editor of the book Community: Building Modern Australia, UNSW Press, 2010.
Docomomo stands for the documentation and conservation of buildings, sites and neighbourhoods of the modern movement. This international organisation was founded in the Netherlands in 1990, inspired by the recognition that urgent attention was needed to document, conserve and pro- mote awareness and appreciation of the architecture of the modern era. Docomomo Australia has been involved in the ongoing compilation of an international register of significant modernist works, and has spoken out against the destruction or disfigurement of notable modern Australian sites.
www.docomomoaustralia.com.au