Article by Online Editor
Designer
Are we ready for the real world?
Discussions whirling through industry peers are that the educational spaces of yesterday and today aren't adequately preparing graduates for the expectations and demands of 'the real world'.
The physical environment plays an important role in determining the reputation of an educational institution, and the success of the inhabitants that occupy its spaces – the teachers and the students.
Future trends in teaching and learning indicate that student collaboration will continue to thrive and grow, supported by increasingly complex educational technologies and the use of social media. The 'known' format of today's lectures is set to drastically transform and edge towards a format of greater interactivity between students.
So what does this mean spatially? Woods Bagot recently launched 'Issues For a New Future' – a commentary on the current issues facing business schools in the 21st century and beyond. Within this series of papers, we touch on this shift in teaching patterns and table some ideas of exactly what it might mean spatially.
Enter ideas of communities and villages. We believe that diverse environments – from cafés to learning spaces, media hubs and private nooks – all contribute to the idea of a campus village. In the same way that a village is simultaneously fragmented (through separate facilities and services) and united (through a sense of community and public space), the business school 'village' can be designed to similarly fragment and unite.
By creating a varying terrain of spaces from large to small, noisy to quiet, public to private, and collaborative to individual, the village concept has the capacity to instil a strong campus-based learning experience.
So why does the creation of communities on campus prepare students for the real world? In many ways this approach emulates the business workplace: a series of terrains, presenting alternative work environments according to the activities being undertaken and with whom.
In brief, the future direction of learning on university campuses is similar in many respects to the strategy behind future workplace environments. Learning is moving away from a focus on the teacher to direct more attention to the student. Hence, more emphasis is placed upon students developing generic skills such as working in teams, project management, and problem solving – an attempt to prepare graduates to hit the ground running in the real world. We are also witnessing this trend in our academic spaces for tomorrow: this change in the future direction of learning is quite obviously affecting the academic environment. This theory has been put into practice in Woods Bagot's design for Deakin University's new Burwood Highway Frontage Building.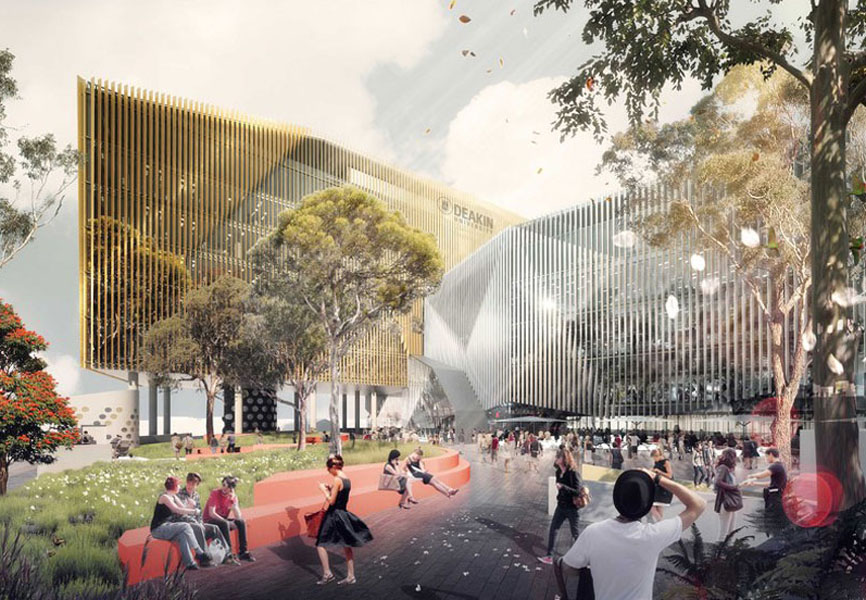 Set to be a world-class educational facility, what's unique about this project is that the spaces are more akin to today's workplace environments than your traditional academic office spaces. Inside the building, new generation academic workspaces feature strongly. A combination of office and more open-plan work spaces alongside informal and formal meeting spaces enables increased interaction and collaboration. The design provides task, social and rest spaces to promote collegiality and seeks to connect departments, students and the faculty by fostering a sense of community among every individual that uses the building.
Sarah Ball is a Principal of Woods Bagot and is one of the company's leading education specialists in architecture, interiors and masterplanning, with extensive experience in both Australia and overseas. Recently, Sarah has been instrumental in the design of leading educational projects such as Deakin University Building I in Melbourne – a project shortlisted for the prestigious World Architecture Festival Awards in 2011.