Article by Online Editor
Designer
Above: Woods of Net in Ninotaira, Japan, by Tezuka Architects and Toshiko Horiuchi Macadam. All images from Learn for Life; copyright Gestalten 2012.
This article first published in Inside issue 75: The Hospitality Issue.
Education, it would seem, is the excuse architects and interior designers have been waiting for to fully explode in creativity, colour, zing and exuberance. Learn for Life, a new book from Gestalten,
is a compilation of innovative and experimental architecture and interior design projects that embrace new modes of learning. The selection of projects is rivetingly good, offering an extraordinarily broad range of interiors, befitting an equally broad range of clients that encompass all socioeconomic groups, ages and wants. The book also permits an extended interpretation of what constitutes a learning environment, with some surprising typologies given fresh consideration.
Operating on the premise that life is an ongoing education, this collection of architectural wonders begins with kindergartens and extends through universities, the workplace, libraries and the more conceptual experience of the art installation. Common to all, however, is a sense that play and work can happily co-exist in spaces designed to foster exploration and imagination. The individual, too, is a key thread, with each project providing spaces conducive to small or solo occupancy, as well as larger spaces for the shared learning experience.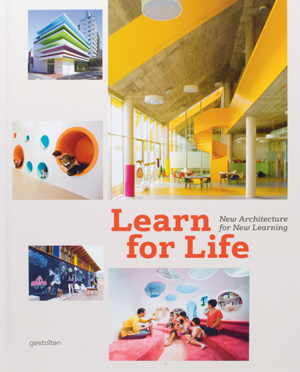 Colour is the singular most prevalent theme. Elap Arquitectos' Nursery 8 units in Vélez-Rubio, Spain, is a world of light and colour, where walls, windows, floors and furniture are mixed and matched in heady shades to stimulate minds and create an atmosphere of fun. Corridors are ebullient in a riotous chequerboard of colour, while circular windows tinted emerald, aqua, rose and tangerine stream a rainbow of sunlight across the interior. Alejandro Muñoz Miranda's Education Centre in Granada, Spain, also uses coloured glass to create stripes of colour throughout the interior.
In primary school, the spaces may be larger and the colours less intense, but the fun factor remains. Sako Architects' Zigzag school in Tianjin, China, for example, demonstrates an extraordinary level of creative thinking. Built to withstand the region's extreme weather conditions, the school features two four-storey buildings connected by an internal atrium that functions as an area for casual interaction and play. Bridges cross the atrium and connect the classrooms, while skylights in the roof allow light into the building's core. A red brick bunker with a view of asphalt it is not!
This represents a significant shift in the design of educational facilities: windows. In place of enclosed classrooms that shut out the exterior for fear of distraction, many of these interiors engage with their surroundings – with large picture windows framing views of verdant forests (the Lübeck Kindergarten of Music and Art in Germany by Petersen Pörksen Partner Architekten and Stadtplaner) and snow-capped mountains (Chermignon School, Kindergarten and Multipurpose Hall in Switzerland by Frei Rezakhanlou Architects).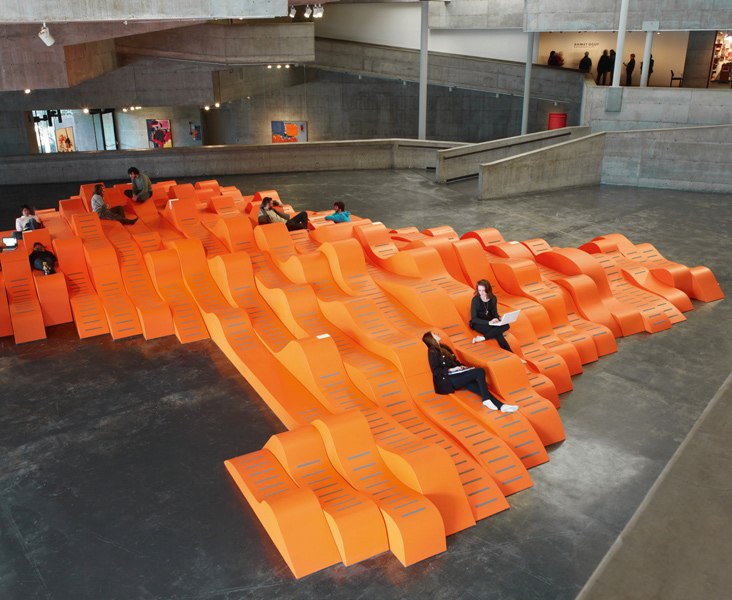 Playgrounds are defined to include indoor play areas, with some magnificent environments of spectacular invention. Japanese firm Tezuka Architects collaborated with artist, Toshiko Horiuchi Macadam, to create Woods of Net in Ninotaira, Japan – a hand-knitted structure, suspended inside a wooden pavilion, that children can crawl and jump on: an extraordinary land of colour and form. Nature, too, has not been forgotten with Helen & Hard's Base Camp in Strand, Norway, designed to introduce young teens to nature and featuring cocoon-like treehouses connected by meshed walkways.
Though the workplace is not traditionally considered a place of learning, there are some examples that demonstrate how the new approach to designing creative educational facilities can infiltrate workplace design. Falling into this category is Albert France-Lanord Architects' Pionen – White Mountain in Stockholm, Sweden: an underground datacentre that draws inspiration from science fiction and James Bond film sets.
Within the arts it is generally accepted that imaginatively designed spaces are conducive to higher levels of retention, improved creative thinking and increased capacity for learning. The projects that feature in Learn for Life firmly endorse this theory – as do the statistics cited in the book's introduction. At times, the connections to learning are tentative, but if – as the book argues – life is considered a continuous learning process, then the more creativity we surround ourselves with, the better.