Article by Online Editor
Photography by Sonia Mangiapane
Designer
Architect Tandem Design Studio
Architect's Statement
The Kensington Lighthouse is situated on a 160-square metre strip of land between a former factory and its kitchen in a dense, mixed-use inner city context. To the north, the neighbouring house presents a four-metre high wall overshadowing the site.
North facing sun shells were created to capture and reflect natural light, articulated by exposed timber portal frames lined with veneered plywood panels. On the exterior, the shells were clad in a lightweight metal skin of dark grey and deep blue corrugated metal, creating the roof and south façade. On the north, west and east patterns of double-glazed glass and translucent polycarbonate panels frame views and admit light while preserving privacy – the translucent skin capturing shadows of nearby trees, the variance of clouds passing overhead and filtering light to the interior.
The house is made from two sun shells connected around a courtyard – featuring a solitary coral bark maple – by a rectangular timber-lined volume running the length of the north boundary. Floating above a polished concrete platform, the west sun shell shelters entry, lounge, kitchen and a double-height dining space on the lower level, and a study, guest bed and bathroom on the mezzanine. The east sun shell, across the courtyard and on a mid-level spanning between V-column and north boundary wall, houses the master bedroom and en suite. Below is a double carport accessed from the rear lane.
Concertina doors open from the master bedroom and dining room across the courtyard, creating a series of continuously linked open platforms in summer. To the west, three pivot doors connect the lounge to the front garden while creating privacy from the street. Opening windows – on the lower, southern façade of the sun shells, and the upper northern glazed face – regulate naturally occurring ventilation across the shells, and combine with the thermal mass of the heated concrete slab to control temperature and ventilation.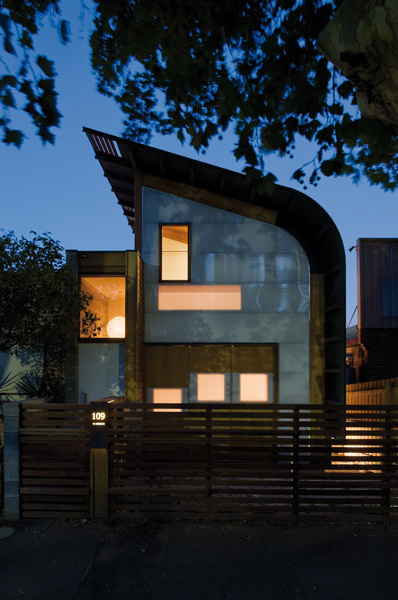 Review
For me the role of the critic is determined by Joseph Conrad's admonition that creative endeavour is advanced by "discriminating praise". Much of my practice is therefore a search for works that deserve such attention, and the critique includes defining the grounds on which each such selection has been made. Over the years I have been motivated by an interest in unusual ambitions: signs that an architect or partnership is trying to do something that has not been tried before, even if this is only a slight expanding of the boundaries of the familiar, or the trying out within very particular local circumstances of ideas that are bothering people in many places.
The Kensington Lighthouse is one of these cases. Hauntingly familiar in its forms and yet utterly particular in its material and spatial manifestation, this house takes on two systems of architectural thinking. Tim Hill calls the first "visual systems thinking" – an approach derived from Daniel Libeskind's Cranbrook experiments and distilled into something much more generally usable by Attilio Terragni, Peter Davidson and Donald Bates of LAB Architecture. The second can be called (following Ignasi de Solà Morales¹) the "weak architecture" approach: "that strength that art and architecture are capable of producing precisely when they adopt a posture that is not aggressive and dominating, but tangential and weak". The design cross-fertilises these two ways of thinking architecturally and combines them into something compellingly new. In the Kensington Lighthouse, this amalgam was propelled by a partnership between two architects.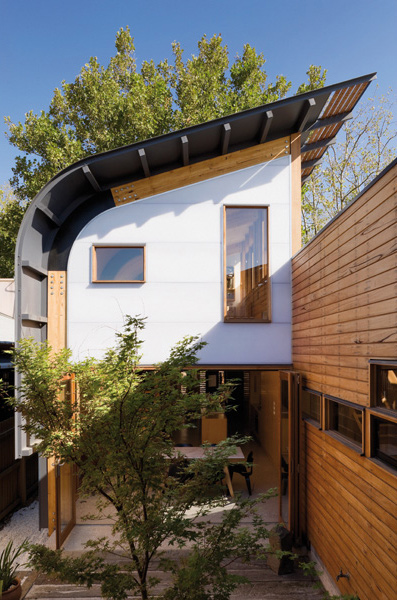 Dominique Ng studied fine arts at Sydney College of the Arts, Sydney University, majoring in jewellery and object design. Moving on to architecture, she went to Austin Texas on a scholarship and, having worked in New York for a few years, she returned to complete her studies at RMIT, where her articulate intelligence left an indelible impression on her peers and tutors. Tim Hill, born to a family in the diplomatic service, grew up studying at international schools across Asia, returning to study architecture at Melbourne University where he was particularly drawn to the teachings of Kathi Holt-Damant, a migrant from Natal, South Africa. Damant was a product of a school of architecture that had fathered through Barry Biermann a particularly lyrical subtropical sensibility with a flowing spatiality that denied separations between inside and out, and a diffuse materiality that accentuated this blurring. Ng and Hill met working on Federation Square, part of the stellar team recruited by LAB when it set up its office in Melbourne.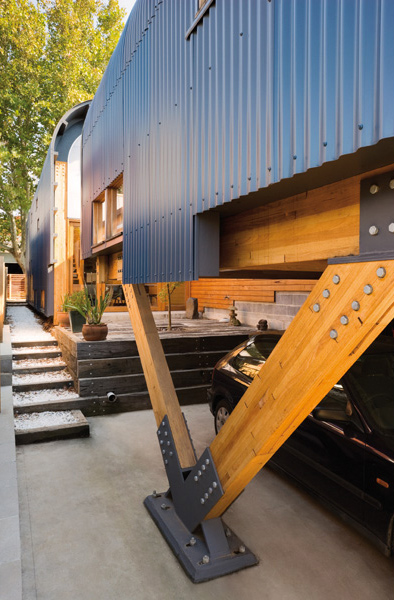 Ng (primarily in the museum team) and Hill (atrium and BMW Edge) worked together on the catenary lighting over the central west-facing amphitheatre, helping to define that acknowledged triumph of Federation Square's urban presence. For eight years they lived together in St Kilda in a tiny, dark fl at and dreamed of a house. The opportunity arose and they spent a year drawing and making study models every evening and at weekends. James Murray, now Hill's partner in Tandem Design Studio and then also at LAB, was their sounding board. Included eventually in this designing was Marcus Hamilton, a friend made by Hill while sailing, a carpenter who they determined would build the house. This decision formed the construction idea, and carpentry radiated through the detailing, making being inside sometimes a little like being inside a giant piece of furniture.
The site – sloping down long and narrow between a plane tree-dwarfed street that is lined with houses, flats, light industry sheds and a service lane – faces west, with one long boundary facing north. The design establishes a solid landscape: it erects along the north boundary a tall block wall and two very solid platforms on the ground. One supports the living areas, its level struck off the threshold at the street side, projecting along the site like a pier. The other, removed from the first by a courtyard and floating half a level up, bridging from the wall to a 'V' pole, supports the main bedroom and en suite. Below is a car and yacht port at the grade of the rear lane. These platforms and the boundary wall are the solid 'grounding' of the design. The wall thickens out at first floor level and forms a wide gutter (they planned to plant turf in it) that sets back the clerestory from the boundary, defines a service/circulation zone below, and – seen from the street – adds a step to the adjoining house's cream brick stepped gable. Floating over the 'grounding' is a curtain of corrugated iron lined with ply sheeting, supported as it curves to cup the internal space by curved laminated beams made of pieces that two men could – quite literally – manhandle into position.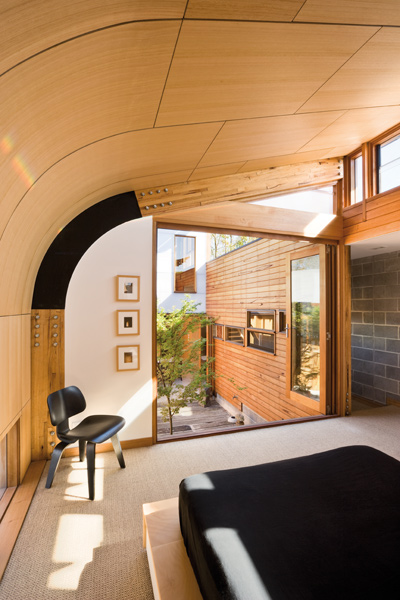 The visual system created breaks up almost every expectation of normative rhythmical logics: a pattern created is then broken. Of three square windows in equal panels, one window drops down. A row of clerestory windows "hops and skips"². A feathered eave seems solid, but breaks down into lattice squares. The cladding to the narrow stair to the bedroom wing steps up revealing the solid block-work base. The mezzanine in the double-volume living area reads like a large joinery unit; the stair, though conforming to regulation minimums, has open deep treads that assert a planarity that delivers ease in rising and brings you onto a surprisingly substantial platform holding the spare room and study.
The 'weak' effects are created by an even spread of porosity in the detailing, by the carefully controlled ambiguities that keep obscure certain key relationships. They planned to stencil the cabinetry with a grillage of plant tendrils. The curved curtain of iron hovers above the solid ground structures. As a consequence the interior is suffused with light in confounding but alluring ways – deeply shaded in summer, completely penetrated and undercut by the sun in winter. The iron is in two shades of blue, deliberately countering the unity of its simple form, making it seem to fold like fabric in certain lights. The urban impact is extraordinary. Through its 'weakness' this little building draws into its composition every other building in the street. The neighbouring cream brick house and industrial shed seem to be part of the same composition. The Victorian pediments and palings of the next pair of houses are caught in the eaves. It is as if these two peripatetic architects have developed a love for the strangely particular context of this street in this suburb of this city. Thanks to its 'weakness' the building makes serial references to the surrounding buildings, coopting them into a streetscape that has a powerful poetic iconography – almost akin to a Russell Drysdale painting in intensity.
Hill and Ng were concerned that the house be modest in scale. They pored over exemplars in Japan. They tightened dimensions well below Australian norms. During construction they threw a 'slab completion' party. They worried that the house would be too small. When the frame went up, they worried that it would be too large. Completed, it seemed that the tight dimensions of the stairway to the bedroom could have been tighter. Ng worried that they had in fact made something too grandiose. She reconciled herself to this by conceiving of the house as a gift, from her to Hill, from him to her. From them to this particular neighbourhood, I conclude.
Tim Hill makes this dedication: "In loving memory of Dominique Lee Moi Ng who passed suddenly and unexpectedly after our house was complete."
footnotes
1. Ignasi de Sola-Morales, translated by Graham Thompson and Sarah Whiting (1995) Differences: Topographies of Contemporary Architecture, MIT Press, pp 68-71
2. Gerard Manley Hopkins' description of syncopation.
Leon van Schaik is Professor of Architecture (Innovation Chair) at RMIT, from which base he has promoted local and international architectural culture through practice-based research.