Article by Online Editor
Designer
All images courtesy Dennis Zanone.
From American Apparel's 'Memphis' socks and Christian Dior's Fall-Winter 2011 collection to Kitsch Nitch's Memphis-inspired hair salon and Karim Rashid's Float sofa, it's no secret that designers from a number of disciplines have been increasingly revisiting the iconic Memphis Milano style, popularised by the Memphis Group in the eighties. Founded by Ettore Sottsass in 1981 and following on from the Italian Radical design movement's 'counter-design' principles, the Memphis Group produced decadent, bright objects that broke the rules of minimalism. The lurid, often cartoonish and eternally divisive designs have continued to reappear both as homage from admirers and from Memphis Group members themselves (like Nathalie du Pasquier's 2011 collaboration with Third Drawer Down in Melbourne). In the past few years, a renewed interest in Memphis Milano – an archetype of postmodern design – has continued to grow.
Sottsass, along with Nathalie du Pasquier, Barbara Radice, Martine Bedin and Michele de Lucchi – among others – is the name most commonly associated with Memphis design, though one name you might not hear so often is Dennis Zanone. Working by day as a wedding photographer in Memphis (his location a happy coincidence), Zanone has been a prolific collector of Memphis Milano for the past 20 years, and is both an avid fan of and expert on this colourful period of design. We speak to Zanone about his highly sought-after collection and take a look inside his house filled with over 100 Memphis design relics.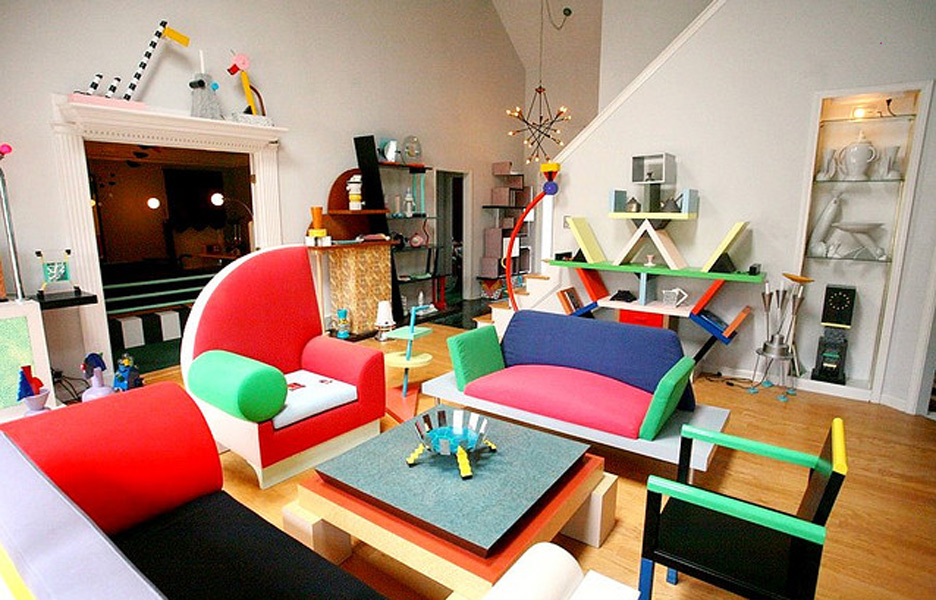 Where did the interest in Memphis Milano come from?
When I was in my mid-twenties a museum here, Brooks Museum of Art, held one of the first American Museum series exhibitions of Memphis design in late 1984 through early 1985. It was the first time I saw design displayed as art but I think most museum visitors at the time were just curious and thought it interesting that there was an Italian design movement partially named after our city.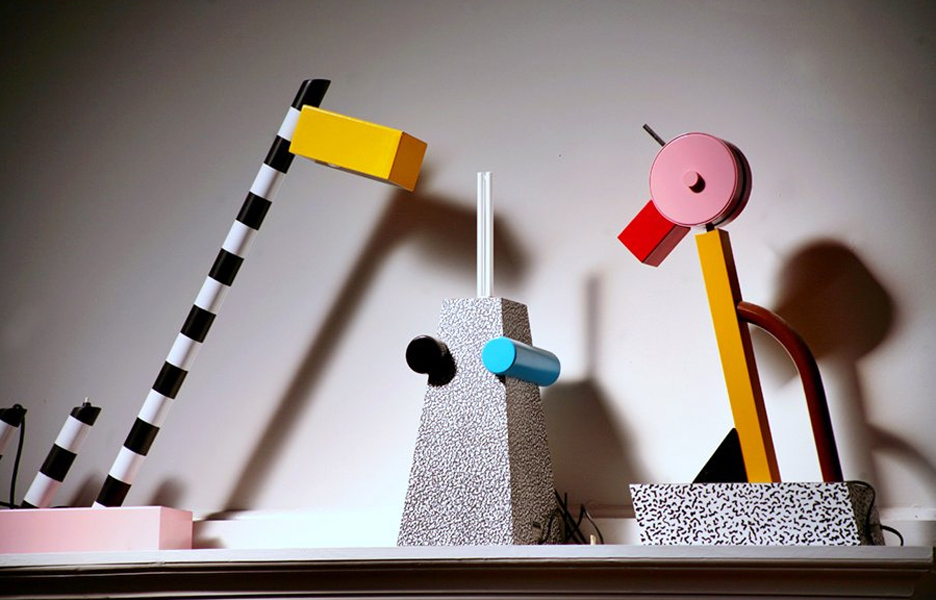 What does Memphis design mean to you?
As a concept, to me it was an exercise in design thinking rather than construction, in the way that it challenged us to see design differently to the old 'form follows function' notions.
I like that Sottsass didn't see Memphis as a lasting design movement – only a mild revolution to shake things up a bit. Memphis was never meant to be a reaction to the fine Mid-Century modern designs, only the banality of mid-to-late seventies design. In reality the designs actually do function as intended, even though they  don't look like they possibly could, but I use mine every day.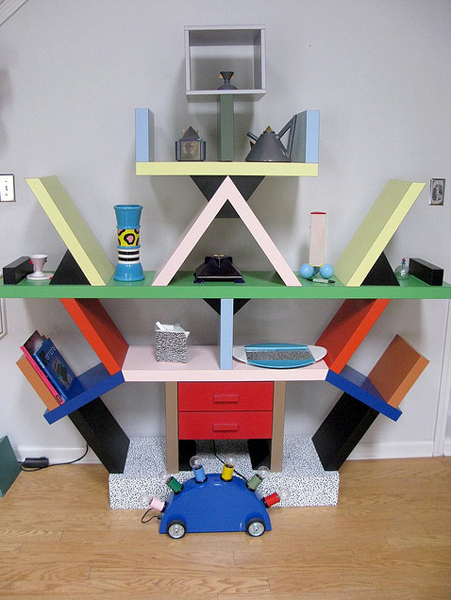 Tell me about your collection. How big is it now?
I started collecting 20 years ago to fill space with what I liked, the same reason people buy other types of art – you collect what you like. This way if it doesn't appreciate in value you still have something you love and can use. I have over 100 pieces, but there are many I do not have from the seven years shown in the catalogues. Some were never produced beyond prototype stage and others were more mass-produced. Some, like the iconic Carlton, were produced in limited numbers.
I've tried to collect the earlier pieces, from 1981 to 1984, but the last year pieces had a more contemporary look than the earlier more conceptual aesthetic.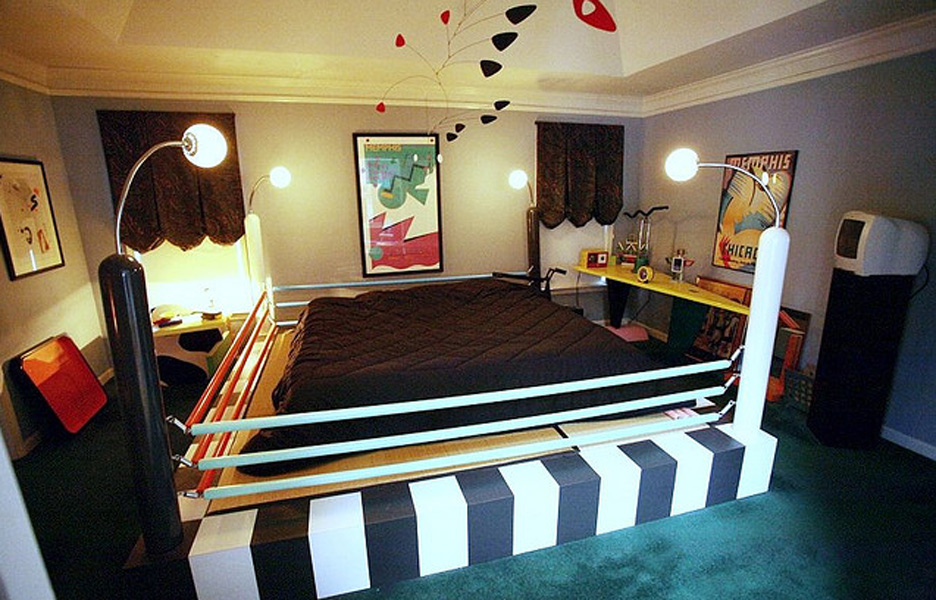 Of the pieces that you own, do you have a favourite?
Yes, Masanori Umeda's Tawaraya 'boxing ring' pit is my favourite – one of the conceptual uses for it is as a bed, so I put a mattress on mine and sleep in it every night. The most fun piece, other than the bed, is the Ginza Robot cabinet due to its toy-like appearance.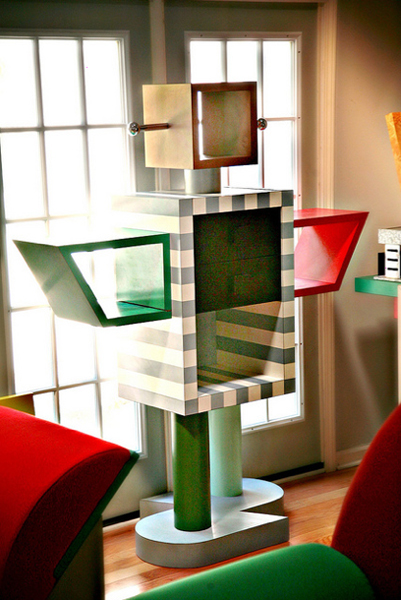 Do you have a favourite Memphis Group designer?
Yes, Sottsass of course, who brought the group of international designers together and was the patriarch of the movement. Also Peter Shire, an LA artist who was asked by Sottsass to join the Group. Shire's Bel Air chair is used on several Memphis design posters. Sowden, du Pasquier and de Lucchi are other favourites of mine.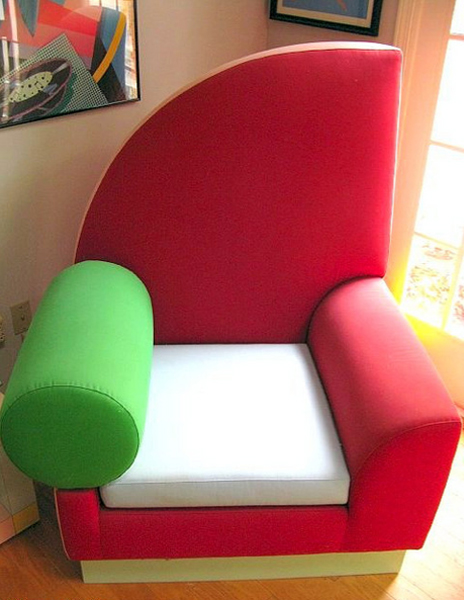 There's been a renewed interest in Memphis Milano in the last few years, in both furniture design and other areas like fashion. What do you consider to be the reason for this?
I wish I had a better answer than that style and design is always inspired by past design, but this is the case with Memphis. I just think everything comes back around again at some point as Art Deco, Mid Century modern and Scandinavian design did… or did they ever go out of style? I don't think so entirely.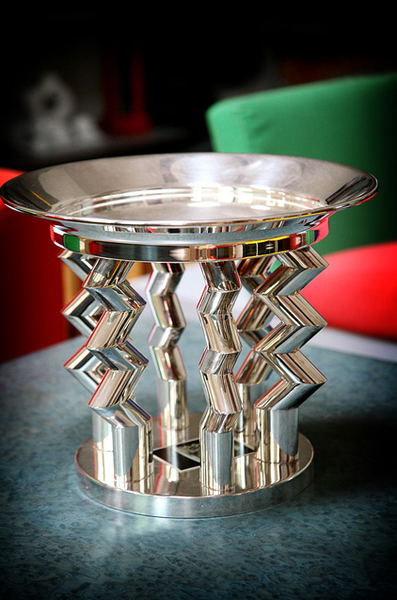 Has your collection been featured in museum exhibitions?
I'm working with a museum to hold a thirty-year retrospective of Memphis design that will show all of my Memphis and even Memphis-influenced pieces from the eighties. I think it will be the first big exhibition of the design here in the States since the Cooper-Hewitt held the last exhibition in 1986. It should bring a lot of young fans, since so many were born in the eighties and early nineties. I loaned a Peter Shire lamp to the LACMA in 2006 for his section of the Sottsass exhibition. Another museum has shown interest and I will let it travel if possible and if they want to move a house full of furniture.