Article by Online Editor
Photography by Scottie Cameron, Dianna Snape
Designer
Above: The ceiling in the Canberra store for Marcs is characterised by a sculptural ceiling of folded aluminium. Photo by Dianna Snape
Taking its first bite of the Big Apple, the work of Melbourne-based DesignOffice exudes calm with a gloriously subtle flagship store for ceramic brand, Mud Australia. Like most of the projects this young firm has contrived, including Corporate Culture's Melbourne showroom and the store for fashion label James Cameron, also in Melbourne, there is a composed theatricality underscoring the contextual possibilities of display. It is unsurprising, then, that while the firm's portfolio includes retail, residential and commercial design, it also boasts exhibition displays as diverse as Grace Kelly: A Style Icon and Afghanistan: Hidden Treasures.
A partnership between Mark Simpson and Damien Mulvihill, DesignOffice has grown from a friendship that has spanned some of the best architectural firms in the world. Simpson and Mulvihill's paths first converged in London while working for Allies and Morrison and BVN respectively. An interest in the emotional and tactile qualities of interior design led Simpson to Universal Design Studio. Working directly with Universal's founders, Edward Barber and Jay Osgerby, Simpson became increasingly appreciative of a craft-driven approach now implemented by DesignOffice.
"What appealed was such an interest in detail and exploration through model making – a real understanding of craft and materiality. The other side that really struck a chord was the interest in understanding brand and challenging briefs; something that unites Damien and me in terms of design approaches."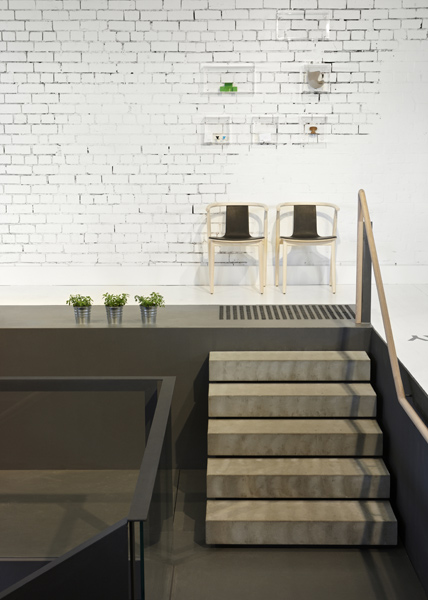 The level of accord between Simpson and Mulvihill is palpable, and when Simpson left Allies and Morrison to work with Universal Design Studio it was Mulvihill who assumed his role. A year later, when Universal took on the commission for the retail precinct at London's Battersea Power Station, Simpson suggested Mulvihill join the team, and from there they started working together in earnest, delivering projects as diverse as the Canteen restaurants (Simpson, 2005) and Liberty of London store (Mulvihill, 2007).
In 2006 Simpson moved to Australia and worked with Carr Design Group, followed shortly after by Mulvihill, who resumed work with BVN. Arguably, a partnership was inevitable and a casual dinner with Barber and Osgerby in 2008 (in Australia to launch their Tab lamps for Flos) fortuitously led to too much wine and the decision to open a practice.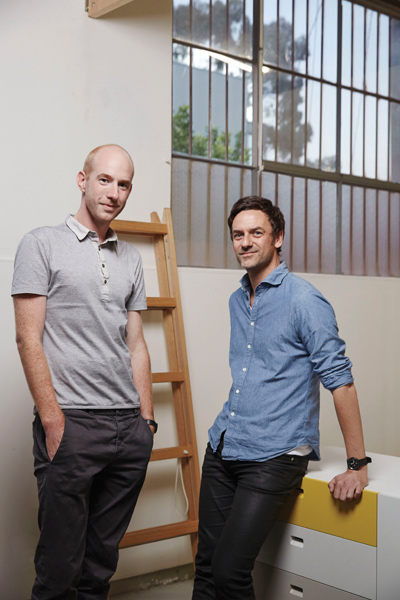 Initially operating as Universal Design Studio's Australian office, DesignOffice emerged as its own identity in 2011 at a time when Barber and Osgerby were commissioned to design the London Olympic Torch and simply had no time to be in Australia. That said, the working relationship between Simpson and Mulvihill needs very little external support. "We are very good friends and that is a big part of it. We have the same sort of values in life and aesthetic, but we have different skills. For me, that is what makes it work. I tend to be good at the bigger picture, whereas Damien is more thorough and meticulous with details, and those skills complement each other very well," explains Simpson.
While only a third of the firm's practice is retail, it is perhaps the most visible presence – with Marcs, Mimco, Bendon, Corporate Culture and Mud among its clients. One of the practice's earliest projects was the James Cameron store of 2008. On a limited budget, the project began as a compilation of ideas, including the classic 1960s French film noir, Le Samouraï, stored in a mint green archive box. As the project progressed, that one simple box was transformed into a feature wall filled with more than 400 identical boxes.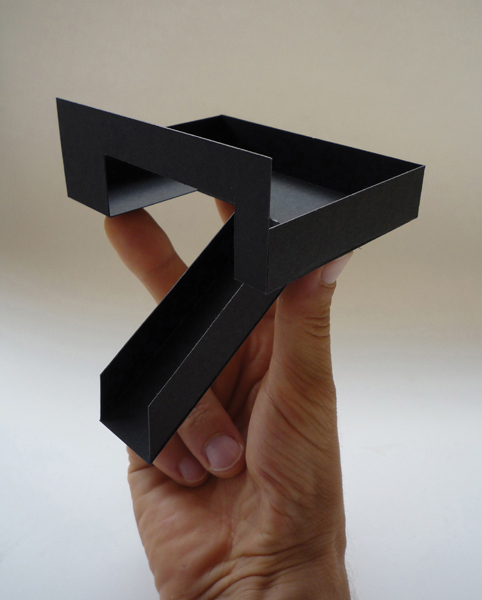 Its colour, meanwhile, became the foundational shade for a store with a keen sense of the Melbourne male aesthetic: "[Cameron] wanted something uncomfortable, which is very difficult in retail, to want to do that, and to understand the confidence in wanting to make a space which is very masculine and not alienating." Drawing on the existing elements of the chequerboard flooring and the simple geometrics of the filing boxes (which become the packaging for each purchase), DesignOffice completed the theatrical ambience of the store, with chairs and lighting of absolute quality.
This is an approach continued with the fitout for Mud Australia in New York, in which the product is displayed simply on Vitsœ's Universal shelving system (designed by Dieter Rams in 1960), while a glorious Slow chair (conceived by the Bouroullec brothers for Vitra in 2006) provides a tangible aspiration point. Ostensibly, the display aesthetic DesignOffice has developed is tantamount to artistic exhibition. Says Simpson: "There is a much bigger link between exhibition and retail design than is often acknowledged. It's all about understanding the product or the object or the exhibit and what it is that either needs to make it appealing or tell a story; trying to understand its story and respond to it."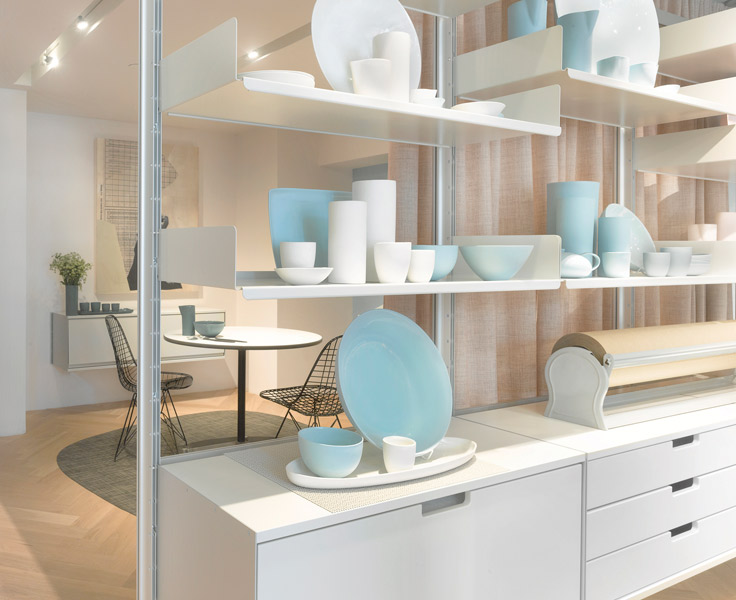 Essential to achieving the right space for Mud was first appreciating the product and also understanding the process of buying the product: rather than ordering a predetermined set, the process requires an investment of time as various combinations and colour weights are explored. As such, the tables used in the store are large enough for settings to be compared and for customers to swap and change pieces for an informed experience. "Online retailing is not a bad thing; people just need to shift their parameters. Stores have to be so much more dynamic, there are so many reasons to bring people into stores, but they have to be reasons that change and evolve and actually engage. The static window is not going to cut it," says Simpson.
On a much larger scale, the Corporate Culture showroom, housed inside the old Evans and Evans flag factory in North Melbourne, presented a unique challenge. Simpson explains: "Briefs like that don't come along very much. [Corporate Culture managing director] Richard Munao came to us and said, 'I have a four-storey showroom, how do I get people upstairs?'" Simpson and Mulvihill saw the project as an opportunity to draw on the full gamut of their combined talents. "It's a complete embodiment of architectural thinking and strategy, and interior design and craft," says Simpson.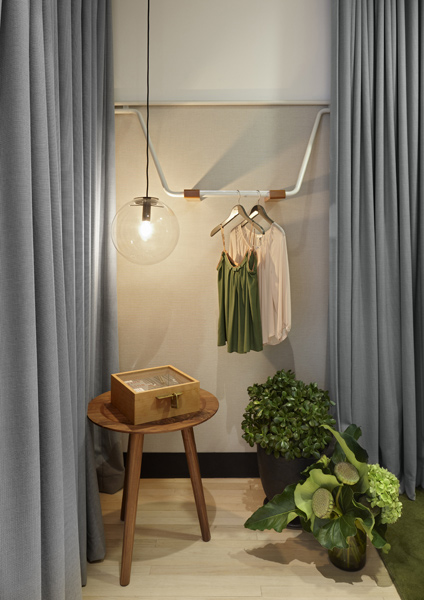 Visually connecting the space is an imposing central staircase of steel rising from a concrete podium. The floor plate is then repeated on each floor, so that the sculptural form is read as a single statement of grandeur. Coalescing the whole, the shape and angle of the staircase aligns sight lines, drawing visitors into the space and up to the next floor. The architecture of the stair is such that it both drops and rises slightly less than a metre at each floor, thereby allowing it to be without a balustrade. The harshness of such a robust structure has been balanced with the craftsmanship of a fine continuous wooden handrail. "The handrail became the idea of how you tie craft in and bring it back to furniture," says Simpson.
Perhaps key to DesignOffice's success is its integral understanding of the need for an exceptionally well-crafted brief, whereby both the design firm and the store have a clearly defined presence. "The brands that are doing really well, that are really thriving, are the ones who really know who they are," says Simpson. "So that's something we really try to understand at the outset of a retail project. We try to understand the customer, the values, the brand, the approaches."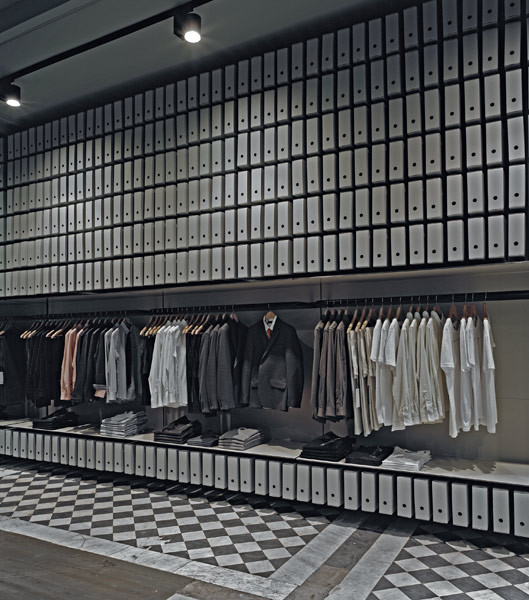 Through the process of understanding a client's personality and carefully refining the details of a particular idea, the firm has achieved visual and conceptual clarity in so many of its retail projects. Moreover, it is a philosophy that DesignOffice extends to hospitality, exhibition, commercial and residential projects that allows, for example, a presence to be created for a national chain or a cafe with equal regard for the individual qualities of that brand's identity.