Article by Online Editor
Photography by Sonia Mangiapane
Designer
Architect Kebbell Daish
From the balcony of Humbug, Peter Adsett's house-cum-artist's studio, you can look out across a gently sloping valley of green pastures to St Peter's, the small Catholic church servicing the modest parish Shoreham on the Mornington Peninsula, where his children were baptised. Adsett is a New Zealand-born abstract painter, but settled in Shoreham after meeting his wife Susie, a Peninsula local.
Adsett and I are standing on the balcony, inspecting the unusual façade elements of his new family home, designed by Kiwi practice Kebbell Daish. We're talking about doubt, and the many conversations Adsett has had over the years with his parish priest about its relationship to faith. I get the impression that for Adsett (unlike his priest) doubt, perception and the ability to question are crucial precursors to belief, and to meaning. Unsurprisingly, these notions also figure prominently in his work.
The conversation turns to The Incredulity of Saint Thomas by 16th century Italian renaissance artist Caravaggio, who is seen by many as the progenitor of modern painting. In the picture, Caravaggio depicts a meeting between Saint Thomas and the resurrected Christ. His finger knuckle deep in the spear wound at Christ's side, Saint Thomas's doubt is etched into his forehead, the wrinkles created by his steeply raised eyebrows thrown into sharp relief through Caravaggio's masterful use of chiaroscuro.
The religious subject matter however is deceptive. If Caravaggio's technique casts his subjects in a dramatic high contrast light bordering on black and white, his intent is much more ambiguous. While Saint Thomas's right hand is being commandeered by Christ in a gesture that seems to indicate not seeing, but feeling is believing, his left hand rests on his hip, forcing his elbow into a kink that presses out impossibly against the very membrane of the canvas. Very few believe Caravaggio could have made such a rudimentary error in foreshortening. The painter, it seems, is leaving room for doubt.
In addition to practising painting, Adsett also teaches it, and describes how he often refers to Caravaggio's work in his classes. Taking one of the old master's paintings, he will ask his students to describe different segments of it. Beginning first with the identifiable human figures, eventually they arrive at a section of the painting where the only way it can be described is as pure black paint. In muddying the waters between figure and ground, and in self-consciously manipulating the disjuncture between the expression of an idea and its interpretation, in Caravaggio's work we find the first seeds of painterly abstraction.
Adsett first met Sam Kebbell, the architect of Humbug, several years ago in Wellington, where Kebbell has his practice. At that stage, Adsett had no plans to commission a building, but Kebbell and he found common interest in a discussion around art's relationship to architecture. That connection established, the dialogue continued, and years later when Adsett found himself with a small patch of land in need of a building, it was Kebbell who he turned to. The pair, of course, saw the commission as the perfect opportunity to put into practice the substance of much of what they had been discussing over the previous years.
'When we started the project, one of the key goals was to try to collapse art and architecture onto each other again,' Kebbell describes. 'Throughout the 20th century there's been there's been this clumsy dancing between the two. It's so often the case that art is clipped on the front or bolted into the courtyard, and we really wanted to try and integrate the two forms of logic.'
The building though also had to serve two very pragmatic purposes – it was to be both the Adsett family residence and an artist's studio for Peter. On approach from the street, the house impresses as all of the above – a distinctly unique take on a fairly conventional residential typology.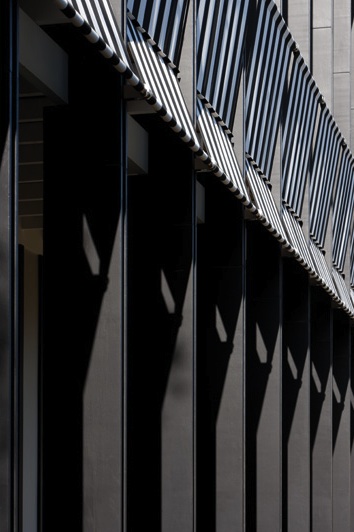 From what was originally a sloping site rising up away from the street, a podium has been created, setback from the road behind a buffer of garden beds and sheoak plantings. Utilising sheets of corten steel as retaining walls, the formerly sloping site has been landscaped to create a 12-metre by 12-metre lawn. Behind this, pushed as far to the rear of the block as planning regulations would allow, is an orthogonal two-storey volume that serves as the family's house. With its prominent garden setting and double-loggia street side, south west elevation, you could read the house as a variation on the Palladian villa. Built simply, it is a trabeated structure with a reverse board and batten cladding. When Kebbell began conceptualising the building, he thought of it first in terms of a fence, which this post and beam, repetitive frame recalls. The south west elevation as a result has a strong sense of horizontal rhythm, which has been enhanced by the use of black and white colour to define the various façade elements. As soon as Adsett saw the design, he was immediately reminded of French conceptual artist Daniel Buren, whose work is concerned with the integration of visual surface with architectural space. Buren became famous for draping striped deck chair canvas across historic, landmark buildings in France, and this connection became the inspiration for the street elevation's most unusual feature – the black and white canvas webbing that serves as both balustrade for the first floor verandah and 'deck chair'. This element is also the most explicit expression of the project's fascination with notions of figure and ground.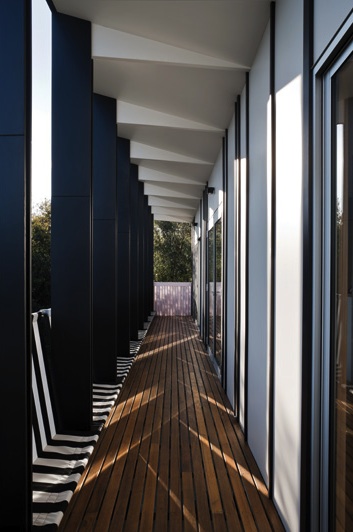 'We realised that the idea of figure and ground is an idea that's common to both art and architecture; they mean different things to each discipline, but there's a lot of commonality,' Kebbell explains. 'So we used this idea a lot to try to make it ambiguous, so that one particular element wasn't either figure or ground, art or architecture.'
On first impressions, it's the balustrade that strikes you as the 'art' component of this project. A bold graphic composition comprised of canvas, which is then framed by the vertical columns of the colonnade, it represents the classic art/architecture relationship, where architecture becomes the ground while the striped canvas, or 'artwork', is the figure; art as decorative appliqué.
Once on the verandah though, that relationship is confused – the canvas balustrade becomes a seat. In a neat inversion of the traditional villa typology however, whereby the verandah becomes a vantage point from which to survey the landscape, the seat doesn't face outwards as you would expect, but inwards into the master bedroom, which also serves as Adsett's studio. 'You're looking completely the other way into the house, and your back is against the canvas; it can't be figure, it can only be ground, but literally back-ground,' explains Kebbell. 'And so what becomes the figure is the work in the studio, what Pete is doing, which is what the building is all about.'
Standing on the balcony with Adsett, several of the building's other ploys in this respect become more obvious. From above, the 12-metre by 12-metre lawn in the middle of the site below us reads as figure, the site becoming the ground – a reading which directly contrasts with my earlier impression of the lawn as a kind of podium, or as Kebbell describes it, 'a classical sculptural plinth'.
Kebbell and Adsett both talk of how important the process of dialogue was to the final outcome, and of how this dialogue was not a 'collaboration', but a conversation held from two distinct disciplinary positions, each with a clear sense of its own internal logic. The building that has resulted is a rich brew of oscillating ideas, and both profess that the experience has had a transformative effect on their practice – Kebbell, in fact, is hoping to convince Adsett to join him on projects for other clients. To focus on this aspect of the project too much though, is to forget that this house is also a family home. Built humbly but well from plywood, concrete and besser brick, it is robust and simply planned. Sensibly, for what is a reasonably compact house for a family of four (certainly by today's bloated standards), it has a strong and close relationship to its outdoor setting, with permeable floor-to-ceiling double glazing on both the south and north elevations. In essence then, this artwork-cum-work of architecture is also a sensible, humble, simple family home.
Christened Humbug, an allusion to both its stripy exterior shell (like the lolly) and a reference to the Indigenous Australian term for mischief, or trickery, the building plays with our perceptions, piling on possible interpretation after possible interpretation in the interstices between black and white, figure and ground, art and architecture until we're never quite sure what to make of it. This is in many ways its great strength – with limited means at its disposal, it uses playful ambiguity to become more than the sum of its parts. A kind of transcendence, then, found not in the details, but in doubt, dialogue and the spaces between.
Maitiú Ward is the editor of Architectural Review Australia.