Article by Online Editor
Photography by Michael Evans
Designer
Above: Hawthorn Arts Centre upstairs foyer
In its vision for the future, the City of Boroondara viewed the renaissance of the Hawthorn Town Hall as integral to the artistic and cultural life of the community that embraces Hawthorn, Hawthorn East, Kew, Kew East, Camberwell, Balwyn, Balwyn North, Surry Hills and Ashburton. However, the Hawthorn Arts Centre complex will also have a defining impact on all of Greater Melbourne.
The City of Boroondara commissioned Peddle Thorp Architects to design and oversee the $17.9 million redevelopment of the Hawthorn Town Hall's emergence into the Hawthorn Art Centre. The redevelopment by Peddle Thorp encompasses the existing Hawthorn Town Hall and the connecting and adjacent office annex built in the 1980s.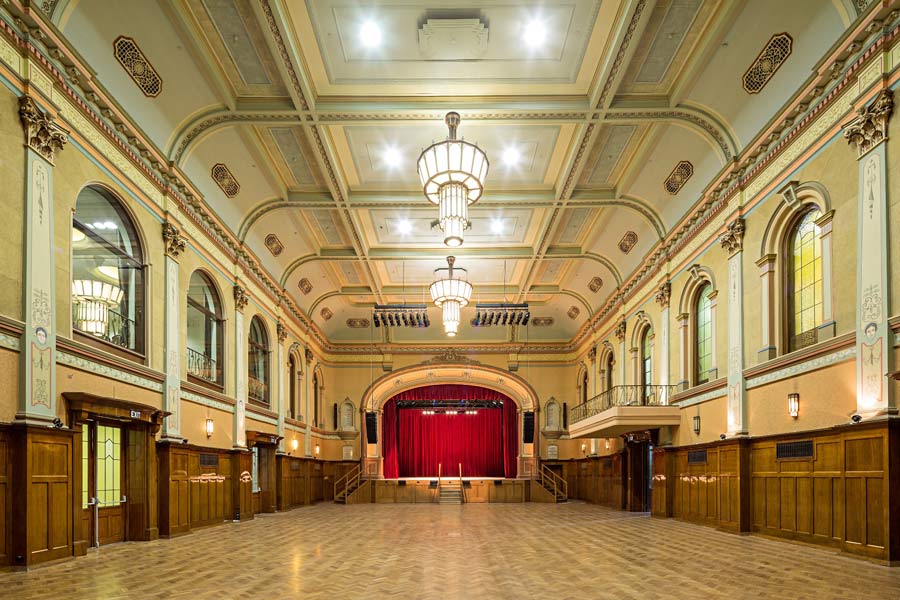 Peddle Thorp's directive was to "create a coherent and open cultural facility to accommodate the visual and performing arts and provide spaces to accommodate a variety of public functions". It was crucial that the spaces co-exist but at the same time remain separate, individual and private. Peddle Thorp has achieved this by the clever use of imposing sliding 'door walls' that open into large and small galleries and corridors providing a complexity of spaces that can accommodate a profusion of requirements.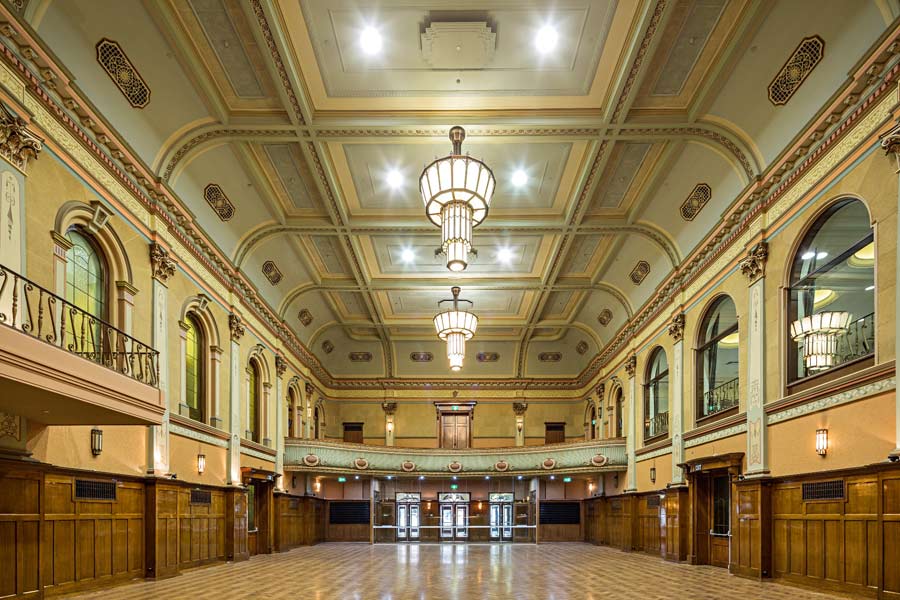 The imposing Second Empire entrance foyer has been treated respectfully and flows seamlessly into the renovated office annex; domed light wells marry the two areas together and a beautifully executed new Blackbutt parquetry floor flows into contemporary floorboards, the modern glass entrance accented by a statement piece of a marble Reception and Customer Service desk, measuring over 16 metres long, providing a key focus and an easy access and orientation from both entrances.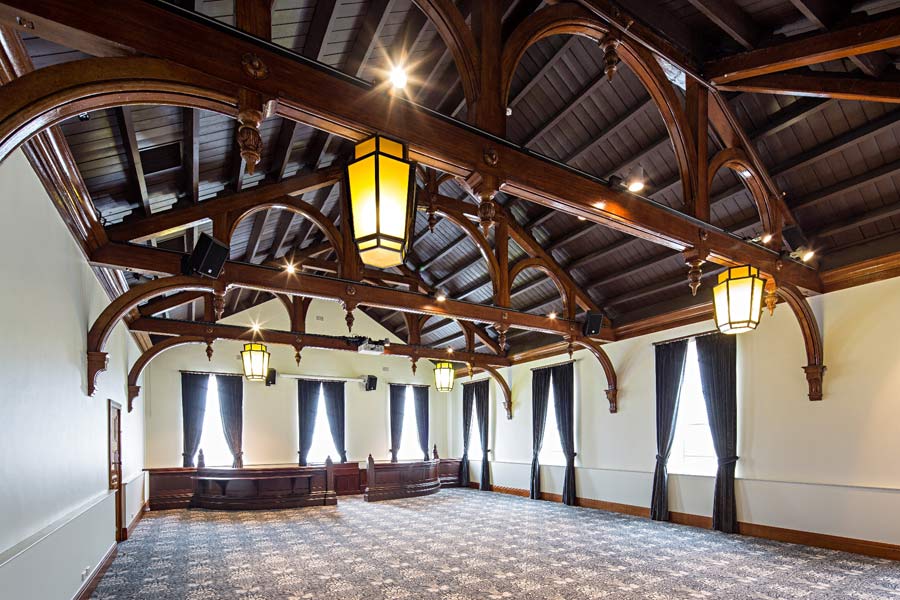 The colour palette of stark white walls juxtaposed with the 'wall doors' in grey and detailed floors provide a classic backdrop for art exhibitions, installations and event spaces, fitted with state of the art climate control.
Virtually every square metre has undergone a transformation of some kind – a utility area has been converted into an indoor/outdoor café with a fully operational commercial kitchen, the former Hall Keeper apartments have been converted into artist studios; basement spaces, where the Town Hall Gallery was originally located, have been converted into multi-purpose spaces for workshops, rehearsals and community activities.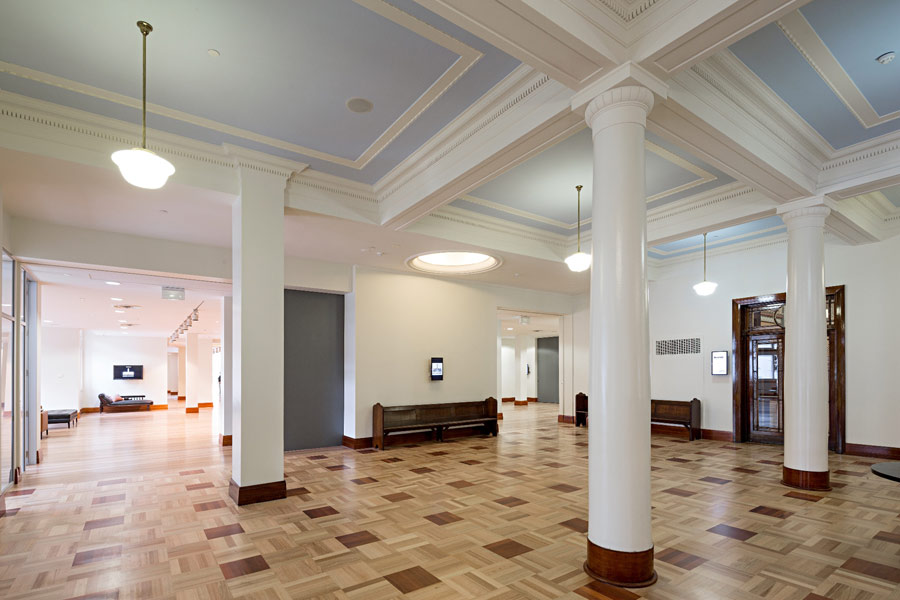 The original courthouse and later Lord Mayor's Chambers, with its magnificent vaulted cathedral ceiling has been beautifully restored. The opulent Main Hall and adjacent Chandelier Room have been fitted with the latest audio visual, lighting and communications technology but retain their original art deco charm and character.Commenting on its vision, Peddle Thorp state: "The quality of our environment has a direct influence on the quality of our lives. It is with this in mind that we approach the design and rejuvenation of the Hawthorn Town Hall into a multipurpose arts facility. It serves the local and wider community by providing a positive and engaging new centre for the development and display of the performing and visual arts.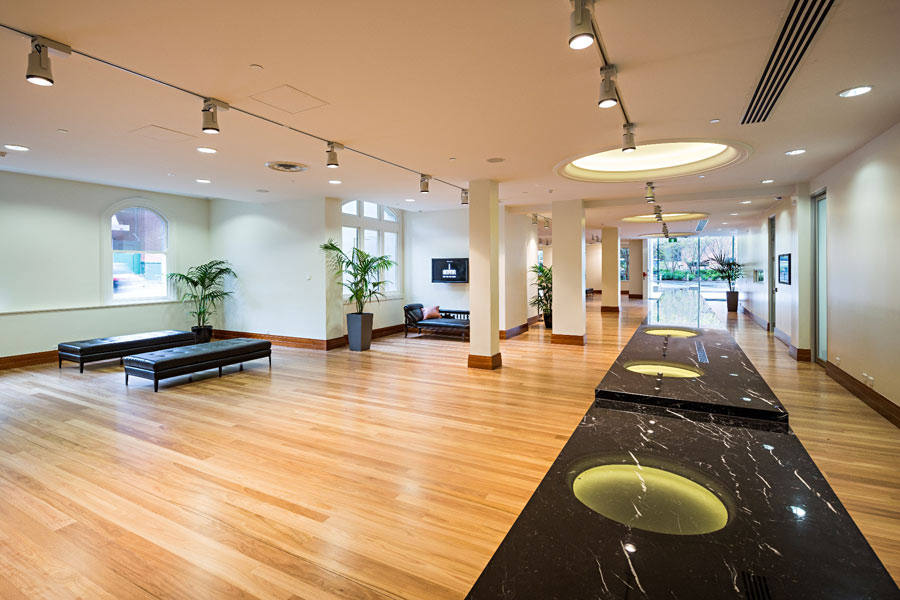 We have designed a facility that includes new and enhanced performance spaces: a new gallery space, a series of art development spaces, rehearsal, learning and making spaces, council office space and customer service facilities, meeting spaces, associated arts retail, community kitchen and café. In addition to these we have incorporated an integrated function facility, approximately 1000 square metres of flexible commercial office space, and an arts incubator in the former caretaker's residence.
The Hawthorn Town Hall project is born from an understanding of the functional needs of the various arts spaces and the potential need for them to work in combination and in isolation. The project makes the existing town hall, its surroundings and council offices into a truly community focused precinct."
Hawthorn Town Hall was originally designed by architect John Beswicke in the Second Empire style, and was completed in 1890. In addition to his skills as an architect and designer, Beswicke was an acknowledged draftsman as shown by his other commissions – Malvern, Brighton and Essendon Town Halls, and his mansion houses in Harcourt Street Hawthorn East where virtually the entire street has been heritage listed.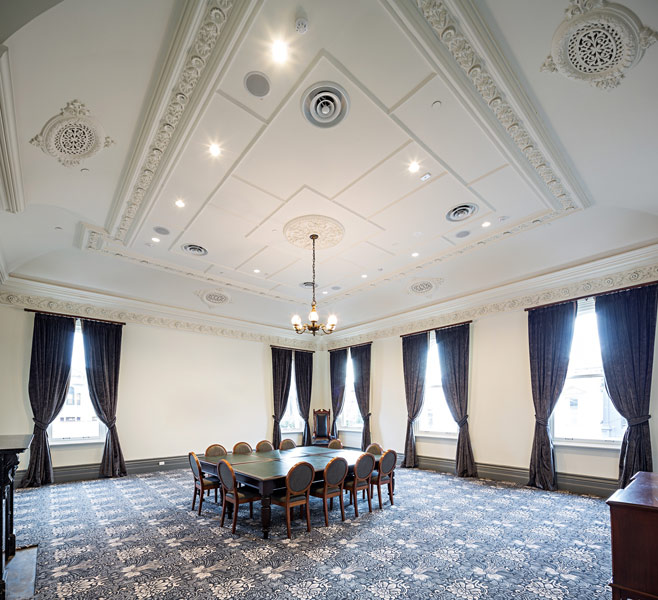 Second Empire architecture is recognised by its detailed ornamentation and decorative details featuring towers, balustrades, ornate cornices and embellished windows. Second Empire buildings are often L- shaped or rectangular and entirely symmetrical. Large and elaborative porticos clearly designate the position of the main entrance.
Apart from Hawthorn Arts Centre, important examples of Second Empire architecture in Victoria include the Hotel Windsor, the Princess Theatre, The Shamrock Hotel, Bendigo, while the French celebrate the exquisite Paris Opera and the Élysée Palace (home of the President of France) which was refurbished under the eye of Napoleon III, hence the name – Second Empire.