Article by Online Editor
Photography by Earl Carter
Designer
In simple terms, Joost Bakker's Greenhouse was more statement than eatery, more art than architecture. From the slogans such as "Corn, not porn" or "It's all about the soil" scrawled over the recycled uniforms of the staff, to the striking incorporation of hundreds of potted strawberry plants into the facade, everything about Greenhouse confronted you with Bakker's message: that holistic sustainability is not only achievable these days, it is desirable.
Starting back in 2008 when Bakker was invited to build a pop-up bar in Melbourne's Federation Square (with a permanent installation in Perth, which followed shortly after), Greenhouse has been, above all else, an exercise in promoting sustainability. Built from recycled or recyclable materials, and designed to produce no waste, every aspect of Greenhouse – from the completely recyclable magnesium oxide and bio-char cladding, to the reusable buckets it had its milk delivered in – was handpicked by Bakker to ensure that the restaurant left no waste. "It was a truly holistic approach to construction," he says. "We built this from the ground up…" And now it's gone.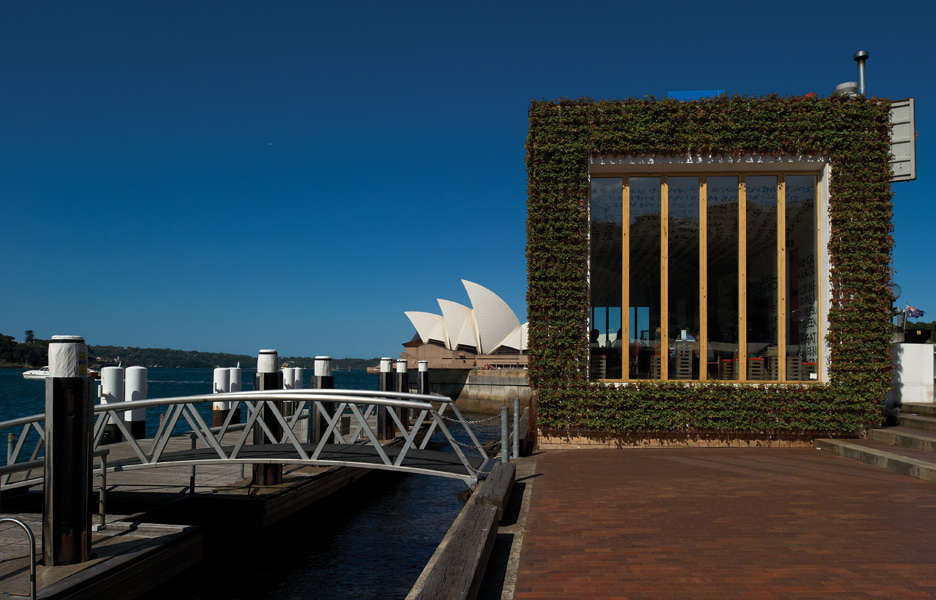 Making its last Australian appearance in Sydney, Greenhouse packed up back in April 2011, recently unloading its offering of sustainable ideas in Europe. Like a wandering band of nomads (in a shipping container rather than a caravan), Greenhouse is travelling the globe to share its sustainable principles with a wider audience.
"I believe we could easily live in a world without waste, because all this waste that we might think is useless can actually be used for a lot of different things," Bakker explains. This idea was thoroughly implemented in Greenhouse Sydney, the building itself making use of hay bales for insulation, as well as being powered by a Bio-Pro diesel generator – run off the oil from the deep fryers. "We could make our lives completely sustainable just by thinking about the end, the waste, at the start," he continues. "That's what this building is about, everything that has gone into it and is now being taken out of it has been considered before we even started construction."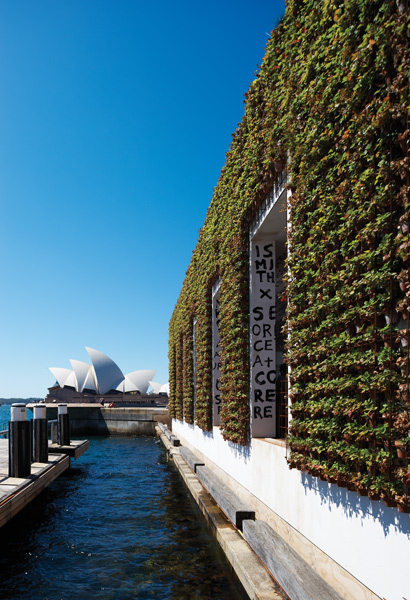 Designed to engage people with sustainable food and building practices, Greenhouse's design focuses on communicating a message rather than flaunting aesthetics. Its form is strikingly simple. A collection of containers and timber constitutes the structure, with touches of art and plant-life ornamenting the utilitarian design. "My design is pretty much just the most practical and simple way to build such a structure," he confesses without shame. "I think nature is nature, humans are humans, and no matter how clever you make it, you're never actually going to be able to recreate nature. I'd rather just build a building."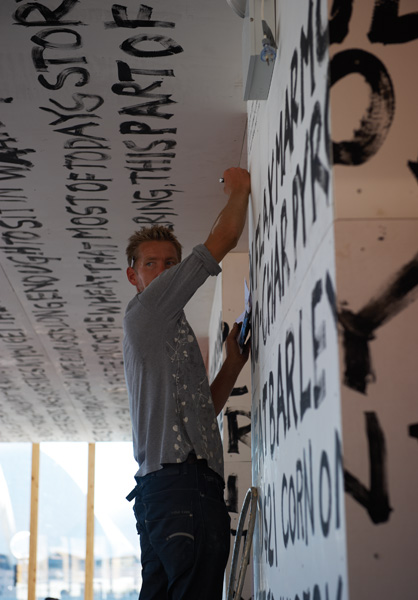 Modesty aside, Bakker has created much more than just a pop-up. With Greenhouse, he has not only shown that building with minimal-to-nil waste is more than feasible and possible, he has effectively created an experience that truly involves people in the act of sustainability. Refracting this environmental message into a dining experience, Greenhouse demonstrates the practical results of implementing a holistic approach to sustainability, in ways that an exhibition, installation or speech could not. "I could've built this as a display home," says Bakker. "People would come through and they'd walk away. Then they'd sit down and get some fish and chips."
Experience and resonance have always been at the centre of Bakker's motivations. Having been invited now to build Greenhouses in cities across Europe, his is a message – finally – heard loud and clear.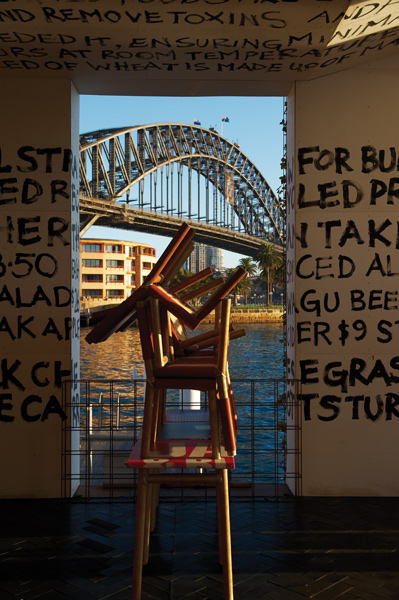 "I'm really proud of the fact that European countries are so excited about this idea," says Bakker. "I think Europeans are constantly reminding the rest of the world how sustainable they are, and considering how Australia is seen as such a basket case in terms of environmental issues – that these design festivals and governments over in Europe are so excited by this idea… It just makes me proud that it has come out of this part of the world."
The Triennale Museum in Milan is so excited about the idea that they have asked Bakker to erect a permanent Greenhouse in front of the museum. "They've given me the park directly in front of the museum and it's a fantastic site," he says. "When I was there it was covered in snow, so I'm really excited about that, and it's going to be a very different looking building to this one."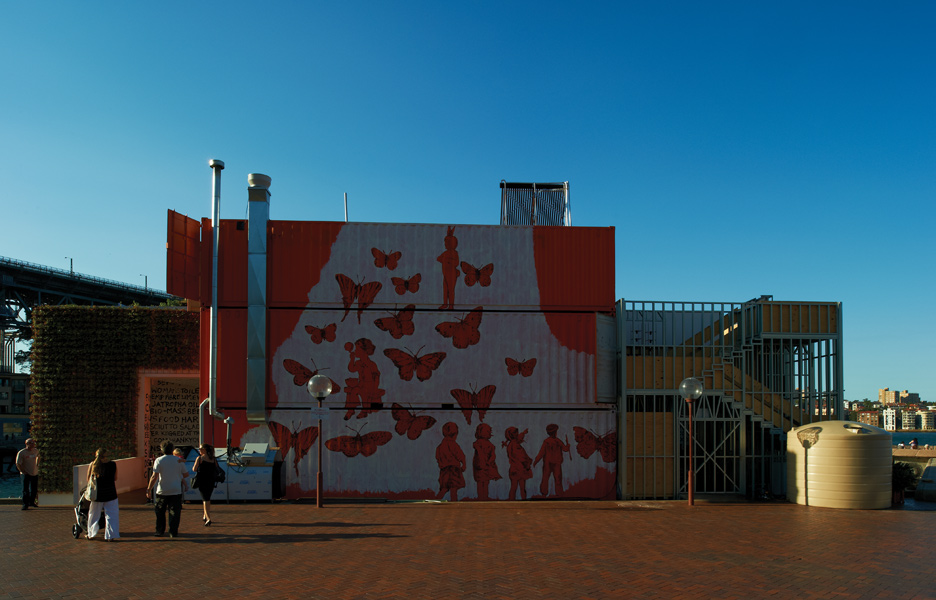 Speaking with him, it's apparent that the only thing rivalling his passion and ingenuity in promoting sustainability is his conviction. In the process of bringing Greenhouse to Sydney, Bakker and his wife stood to loose over $100,000 on the project. During its six-week run, he slept on a rolled-up tarp in front of the pizza oven – waking up twice each night to switch over loads of napkins from the restaurant's washing machine to the dryer. You don't hear of dedication like this all too often today, and it's this rare quality of Bakker's that gives Greenhouse its impact.
Where the question of how to achieve sustainability without losing a sense of quality has so often dominated contemporary discussions in design, a figure like Joost Bakker serves to show us that with smart design and a rigorous approach to our practice, doing so is achievable. Sacrifice and determination are needed on behalf of designers and consumers if we hope to continue into this new millennium in harmony with nature and our environment. This is not news to anyone, but what Greenhouse has shown us here in Sydney is that the sacrifice and determination are what is most needed. The tools have long been at hand.
Joost Bakker's Greenhouse returns to Melbourne for the 2012 Melbourne Food and Wine Festival. The Greenhouse will be open at Queensbridge Square, Southbank from 2-21 March. More details here.