Article by Online Editor
Photography by Iwan Baan
Designer
Architect Ryue Nishizawa
This article first appeared in Architectural Review Asia Pacific issue 127: The Residential Issue.
In Yasujiro Ozu's masterful film Tokyo Story (1953), an elderly couple sits on tatami mats in their living room. Outside in the street, a neighbour stops by. Through open sliding doors, the neighbour joins in their private conversation, which develops into a casual chat. When the elderly couple is alone again, their dialogue resumes seamlessly. It is that organic, almost nostalgic quality of Japanese neighbourhood life, virtually disappeared from Tokyo streets, that SANAA's Ryue Nishizawa has sought to capture in all his recent residential projects.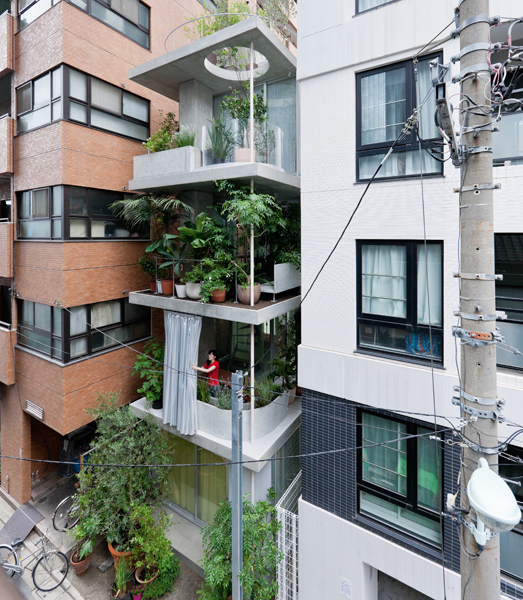 Garden & House is no exception, embodying the floating spatial quality found in traditional Japanese houses: flexible program, an absence of walls, smooth blending of inside and outside, close relationship with natural elements. The client, a woman who lived with her business partner in the suburbs, had grown dissatisfied with long commutes and her dark old house. As both are writers and editors in art and design, she found a tiny plot for a new home within walking distance of Tokyo's cultural centre. Located along a narrow, three-metre alley and encircled by towering condominiums and office buildings, the four-storey structure comprises simple, stacked, concrete slabs held by three reinforced concrete columns and a thin steel post.
The living room/kitchen, with library and small study, is on the first floor and is followed by the client's bedroom on the second floor, the bathroom on the third and the tenant's bedroom on the fourth. On the roof sits a concrete box serving as winter storage. As one ascends the slender spiral stair from bottom to top a richly contrasting spatial experience is created, with every floor offering a different and delicate interplay between inside and outside living. Similar to Nishizawa's Moriyama House, one has to leave the controlled space of the interior in order to reach the bath. To further accentuate this outdoor experience the floor of the exterior part is covered with soil.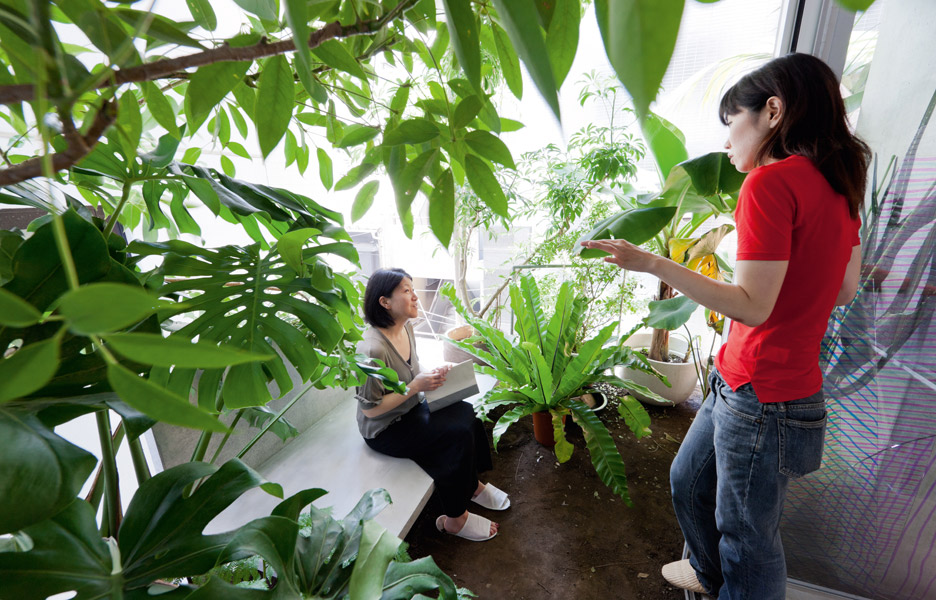 While Nishizawa explored possibilities of the wall in earlier projects, Garden & House goes further to challenge the notion of a traditional facade, of finite space. Instead of walls and windows sharply defining the relation between public and private, here a veil of mostly moveable, potted plants and curtains shield the inhabitants from the prying gaze. With little direct sunlight reaching the building, Nishizawa's strategy is to maximise the sense of openness, and for this reason, there is literally no space for walls. By employing a skeleton structure he makes the most of the void, defined by the outer walls of the neighbouring buildings. In order not to sacrifice privacy for openness, he carefully exploits the absence of abutting windows on the south side and moves the open spaces here. On the north side, he uses the columns and thin screens to shield sensitive areas from view.
Nishizawa stresses that his architecture encourages new ways of living. In order to protect privacy, the archetypal Japanese city dweller is condemned to a life behind closed curtains, sealed off from the outside in apartments cluttered with consumer goods. With its staggered arrangement of visibilities, the Garden & House requires a different kind of resident: disciplined, generous, willing to constantly renegotiate public and private in the practice of everyday life. In other words, a resident ready to accept that, like in Bentham's Panopticon, the constant possibility of being seen might transform the self. Garden & House offers an opportunity to return to, or create, a more open, more (self) conscious lifestyle.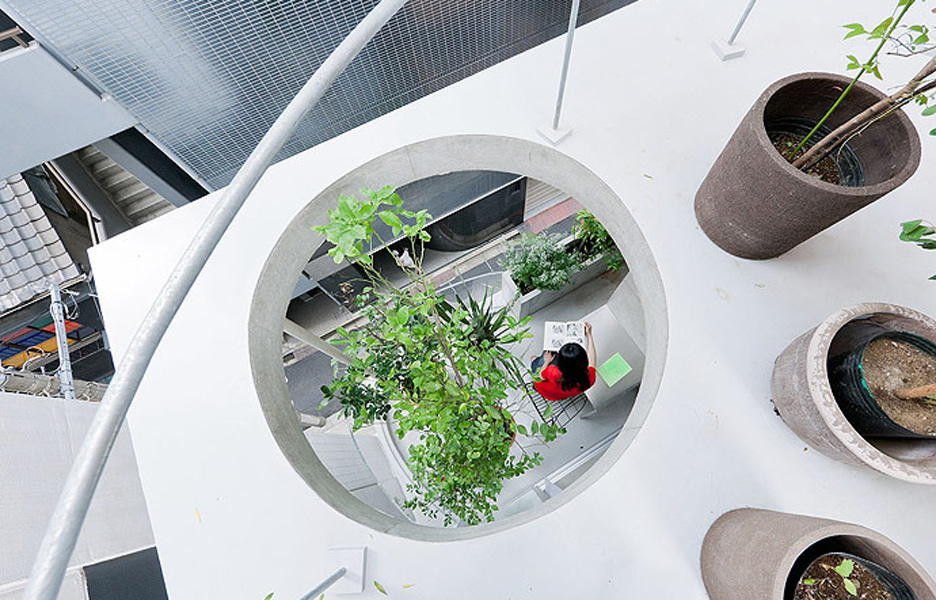 How carefully Nishizawa has treated this tiny project indicates the unusually long planning process of six years. In a small 2009 exhibition, Before Architecture, After Architecture, he lined up fewer than 114 study models of Garden & House, while concurrently working on such grandiose projects as the 30,000sqm Musée Louvre-Lens and the 27,000sqm Bezalel Academy of Arts and Design in Jerusalem. Nishizawa met with the clients more than 10 times, simply to discuss the arrangement and selection of the potted plants. He visited alone many times more for the same purpose.
While superficially resembling Stefano Boeri's huge Vertical Forest in Milan or ON design's tiny Roppongi Nouen Farm in Tokyo, and driven by Tokyo's lack of greenery, Nishizawa's choice of potted plants does not merely pander to the green zeitgeist. In recent years the traditional 'flower pot gardens' and 'potscapes' of Tokyo's alleys have attracted much attention. And just like a vertical version of these informal, often illicit green interventions into public space, Garden & House offers the inhabitants an opportunity to work with the building, to try out new plants and spatial arrangements, to claim authorship.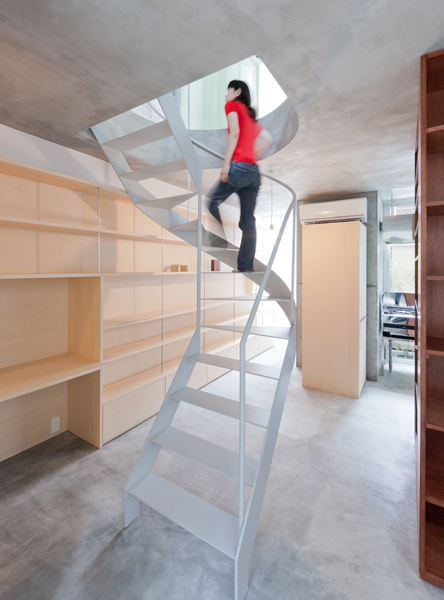 The need to constantly tend to the vegetational shielding – to cut back on overabundant foliage or to resuscitate withering plants – is reminiscent of another cinematic masterpiece: Hiroshi Teshigahara's Woman in the Dunes (1964). Like the woman of the film's title incessantly shovelling to protect her house from being buried under the sand, the occupants of Garden & House need to nourish their greenery in order to shield themselves from the outside gaze.
As such, it is on the residents' perpetual performance that the viability of Nishizawa's intricate and fragile concept ultimately depends.