Article by Online Editor
Designer Something & Son
Dalston Lane, in the London borough of Hackney, has long been recognised for its varied urban character. English writer, Patrick Wright, saw it as "a street corner of forgotten municipal services… a jumble of residential, commercial and industrial activities". His observations, though made some decades ago, still resonate – and despite recent apartment blocks and a major new rail line threading through the built fabric ahead of the 2012 Olympics, the "factories, clothiers, shops and small businesses" described by Peter Ackroyd in his behemoth London biography remain.
Such an environment seems apposite for a new urban initiative called FARM:shop, which unites the propagation of vegetables and animals with a community café, events venue and workspaces. Established by collaborative social entrepreneurs Something & Son, the diverse enterprise is premised on educating and encouraging locals to try different methods to grow their own food. More than that, though, the project represents a growing interest in different models for ecologically responsible and socially aware work/life patterns.
Formed by design engineer Paul Smyth, artist Andy Merrit and social scientist Sam Henderson, Something & Son is in itself an essence of new mutual models of working. As Merrit explains, "Something & Son came together because we could see the boundaries of our disciplines… and the opportunity to be creative within our own subjects, but together."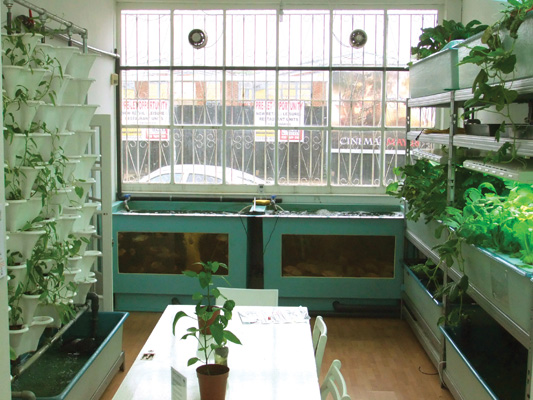 Its first project, CAR:park, for the 2008 London Festival of Architecture, literally planted out an automobile, transforming a car into a mobile park. At FARM:shop the agenda has broadened to show that: "Growing food is part of daily life, and is about showing processes rather than shutting them away like other manufacturing." Unlike similar urban gardening endeavours, such as Gotham Greens in New York City, the project is primarily intended to be publicly accessible and educational.
The reclaimed shop in which it is housed is one of four empty sites funded by Hackney Council's 'Art in Empty Shops' initiative and, among other guises, was previously a Turkish women's refuge. It now contains tanks of tilapia fish, hydroponically grown herbs, a polytunnel for vegetables, a rooftop chicken coop, hothouse tomatoes, a small kitchen and an attempt at growing mushrooms in the basement. Above are workspaces that can be hired by the day or month.
The relation between programs and spaces has been carefully considered. Merrit notes that the fish tanks and hydroponics are at ground floor, "Because of the weight of the water – and the fish are also the most visually spectacular." Here, too, is the café and a connection to the rear garden with its polytunnel, which has housed events including a disco and film launch. These elements immediately invite curiosity and draw people in from the lane, beginning the educative experience.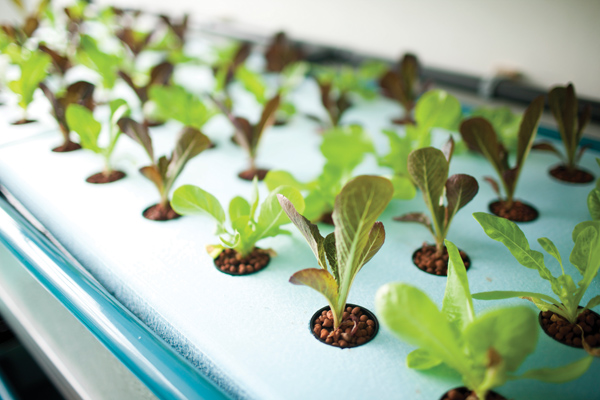 "Chickens are on the roof because it's north-facing, so we couldn't really grow much there," says Merrit. "It's a lightweight structure and free-standing, so we didn't need planning approval." As the energy consumption of the lights in the fruiting room is high, it is installed in a tiny room opposite a large communal meeting room with its table of recycled doors and a featured herb wall. Upstairs, the FARM:shop workspace tenants currently include animators, a graphic designer, social enterprises, a programmer and a sustainable engineer. Co-create consultant, Andy Schofield was an early adopter of the workspace. "FARM:shop's a bit like a pond for people – all swimming around and meeting each other," says Schofield. "The manifestation of 'the pond' is different for everyone involved."
The advantage of the mix for those renting desk space is its locus for accelerating growth. "There's something nice about working in a place that's literally growing food and animals – we're growing projects and relationships," says Schofield. "It's a fertile atmosphere."
Graphic designer Lindsay Noble agrees. "The whole building and the project has a kind of studious but creative atmosphere," she says. "It's a nice place to be and get things done – to grow your network and whatever you're up to. As a designer, I've gained work from meeting people here."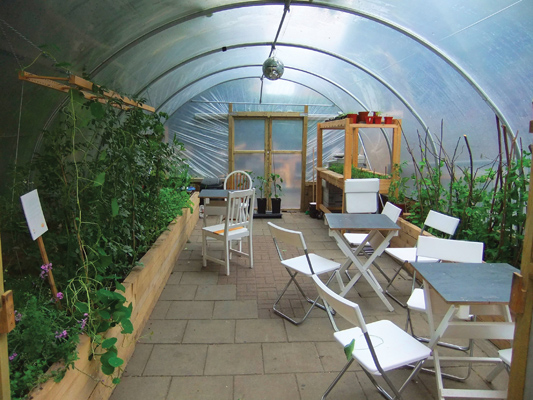 In comparison to traditional office models, sustainable engineer Tom Randall, who also works from FARM:shop, has noticed that when a client visits there's usually a case of the 'emperor's new clothes' about a venue. "Whereas, to a degree, bringing clients into this environment helps them realise just how homogenous and bland the world that they usually live in is," says Randall. The workspaces are rented at competitive rates, and all tenants share access to the large meeting room and Wi-Fi throughout the shop, as well as proximity to the café's coffee and 'home- grown' food. What's not to like about that?
Throughout the project, the sense of a shared, friendly network prevails. There clearly seems to be a general element of niceness about the entire setup, from its philanthropic beginnings to the volunteers who contribute to its day-to-day running. While we're popularly led to believe that nice guys finish last, especially in business, the recent transition of FARM:shop from a short-term loan experiment to a four-year plan with a formal lease suggests that its benevolent premise is not only desirable, but also sustainable – in all senses of the word.