Article by Online Editor
Photography by Peter Bennetts
Designer
Architect Onoff Studio
Some architects encase their built works in towering scaffolds of words: narratives, metaphors, witty homages and symbolic references. These verbal constructions can suggest another architecture altogether, one buried deep under the surface, a great frozen mass of meaning and intent concealed beneath the iceberg's tip. Michael Larionoff, of Onoff Studio, is not one of those architects. To hear him tell it, his latest project derived simply from the combination of the geometry of the plot and local planning regulations. "It was really just shaped up from the Res Code diagram and the site constraints," he says, with barely a trace of irony. Clad in an understated baseball cap and sandals on a hot Melbourne day, Larionoff rides his bicycle to the AR site visit, where he lets his client do most of the talking.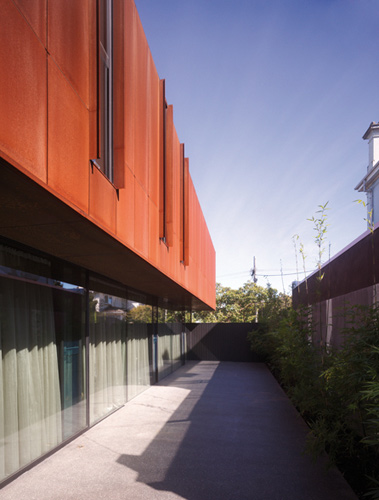 Kew's Studley Park in Melbourne makes an unlikely location for the 2008 winner of the AIA's best multi-residential project in Victoria. This award category is typified by stark and punchy housing developments nestled into gritty urban surrounds. Studded with grand homes, the Studley Park precinct has long surpassed its humble origins as a squatter's claim. Indeed the site for Larionoff's awarded Edgecombe Street townhouses was once the gap between the main residence and stables in the grounds of a Victorian-era mansion. The mansion remains today in a slightly ramshackle state, having outlasted later extensions and conversion into a nursing home. After the demise of the nursing home and the subdivision of the grounds, client Brendan, a builder and developer, purchased the land and divided it once more, bisecting the 600-square metre site into two attached dwellings. Brendan and Larionoff had previously collaborated on medium density housing in Richmond.
"It was important that the design look like a singular house on a street of singular dwellings," says Larionoff. Drawing on the example provided by a row of 1940s dual occupancy terraces across the street, the architect consolidated the mass and articulation of the project to make two dwellings appear as one; however, Brendan had never intended to create two identical houses – "a pigeon pair with a party wall". Accordingly, Larionoff slid one terrace beyond the other, maximising northern solar access on the site's long side boundary for both dwellings. The common wall between the terraces kinks to negotiate the irregular geometry of the site, resulting in non-identical twins. One house is compact in plan, the other elongated. "[Boroondara] Council was supportive once they saw the plan," says Brendan. "Their planners effectively green-lighted the project based on the plan." Objecting neighbours on all sides withdrew once Brendan explained his intentions.
Not only does the pair of terraces appear as a singular dwelling, it is uncompromisingly singular in appearance. A corten steel box atop a striated black timber plinth, the development appears strikingly machine age against a stately streetscape of porches, chimneys, white rendered brickwork and casement windows. Like slitted eyes, a row of black aluminium louvres delineates the street-facing western elevation. This coolly metallic aesthetic continues within, with polished concrete floors, flush black-stained grey ironbark joinery, reflective black glass splashbacks and black steel stair treads and handrails. Black oxide was mixed into the plaster, coating the sound-insulated party wall to give off a grey sheen, while the master en suite is clad in bluestone tiles. Brendan, who occupies one home with his young family of five and leases the other, sought a palette of darker tones. "I'm interested in really ultramodern architecture," he says. By night, garden lights cast bamboo shadows onto the corten façade. Like a metallic Medusa, a 36-bulb chandelier from Italy's Catellani and Smith hangs ominously over the dining table.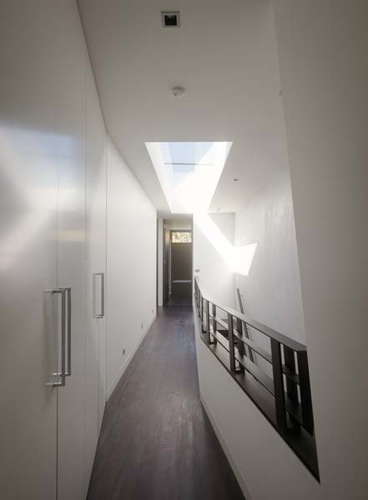 With so much metal on display, it's fitting that the true ingenuity of this project can be found underground. In order to keep the terraces visibly slender while accommodating an array of rooms, Larionoff distributed rooms below ground. Subterranean courtyards on the site's eastern and western boundaries admit light to the basement. This shrewd move enabled Larionoff to place rooms within the required street setback zone, taking pressure off the terraces' other two levels. Treated water for washing, ablutions and gardening is stored in 12,000-litre water tanks, while the basement also incorporates a ramp accessing two multi-car garages. "It was almost commercial in scale," says Brendan of the basement construction required to support the levels above. His team spent two days spraying 94L2 of concrete to create 20-centimetre thick shotcrete retaining walls and deep spanning concrete walls.
A close relationship between architect and owner/builder has clearly yielded results. "There was not too much toing and froing with the design," says Brendan. And while Larionoff is quick to shrug off the eloquence of this project, subtle shifts in alignment between levels, where a joinery unit seems to float over a precisely detailed stairwell, or a skylight opens like a fissure above a void, speak volumes about his architectural intent.
David Neustein has regularly contributed to a number of Australian design publications and has studied architecture and industrial design at the University of Sydney, RMIT and Fabrica, Italy. He currently runs his own design studio and teaches in the Master of Architecture program at the University of Melbourne.